William M. Parente (July 20, 1949 – April 20, 2009) was a New York real estate attorney who came into the spotlight following the murders of his wife and two daughters and his suicide. At the time, he was also under investigation by the FBI for an alleged Ponzi scheme.
Life and career
William Michael Parente was born in Bay Ridge, Brooklyn to Willie and Roccolyn Parente; the elder Parente was a New York State Police trooper. The younger William Parente grew up in Bay Ridge as an only child, summering with his family in Long Beach. Parente graduated Brooklyn College and Brooklyn Law School, assisted by Anthony J. Russo, an uncle who paid his tuition to both institutions.
Parente married Betty Mazzarella in 1977. After becoming a member of the New York bar, Parente joined a Wall Street law partnership, moving into a private practice in 1988 after discovering his wife was pregnant with their first child. After moving to Garden City, New York, Parente and family returned frequently to his old Brooklyn neighborhood for local delicacies, staying in touch with old friends, visiting his mother, and remembering his childhood Halloweens by returning to the same neighborhood with his two daughters each year for trick or treat.
Late in his legal career, Parente was involved in making what he called "bridge loans."
"He essentially worked as a bank," reported a friend, making comparatively high-risk loans to projects pending permit approval.
In order to fund those loans, he allegedly drew on assets from investments for which he had responsibility. When at least one investor called asking for money back, Parente could neither immediately return the funds, nor successfully explain his inability to do so.
The murders
On April 20, 2009, the bodies of four people were found by staff in room 1029 of the Sheraton hotel in Towson, Maryland. Police were called. The bodies were identified as those of William Parente, 59, of Garden City, Long Island, his wife Betty Mazzarella Parente (born February 6, 1951), and their daughters Stephanie, 19, and Catherine, 11. Stephanie was a student at Loyola College. The cause of death was found to be asphyxiation. It was later found that Parente had purchased a knife after killing his family.
Timeline of murders
Police believe that each of the murders took place at a different time. Betty was believed to be the first victim, having been killed some time during the day on April 19. Catherine was believed to have been killed soon after. Both victims were laid on a bed in the room. Stephanie, a speech-language pathology major, was believed to have been killed later on Sunday after she had left the Loyola campus for a visit from her family that had surprised her. Her roommates were also surprised because she had been studying for a chemistry exam to be taken the following day.
Around midnight, after the murders of Betty and their daughters, Stephanie's roommate had called the room at the Sheraton to check on her. Parente answered the phone, and replied that Stephanie had been staying there. He was believed at the time by Stephanie's roommate, who was unaware that Stephanie was already dead. That roommate later reported that Parente sounded "odd" over the phone, and did not sound like himself. Parente is believed to have killed himself some time on Monday morning. Hotel staff noticed that the Parentes did not check out on Monday, and there was concern from Loyola College about Stephanie not showing up that day.
Motive
The motive was believed to be Parente's financial difficulties and a pending investigation against him. It was learned by Baltimore County Police while they were investigating the crime that Parente was also being investigated by the FBI for a scheme in which investors were potentially defrauded out of $20 million. In particular, a complaint had been made against Parente for the alleged loss of $450,000.
According to the information learned in the financial investigation, $245,000 in checks Parente had written to investors had bounced, leading to complaints to the New York attorney general's office. Some investors reported following his death that they had "lost millions."
The FBI investigation, which is considered to be separate from that of the murders and suicide, is ongoing.
Response
The case was one of two familicides in Maryland in less than a week. The other one was that of Christopher Wood of Middletown, which had occurred on April 16. The two events, having been in such close chronological and geographic proximity, highlighted in the media the topic of familicide and suicide resulting from economic troubles.
The funeral service for Willam Parente was separate from that for the remaining members of his family.
Wikipedia.org
---
Murder-suicide inquiry turns to father's financial dealings
Fraud allegations were raised against N.Y. man
By Nick Madigan and Gus G. Sentementes - BaltimoreSun.com
April 23, 2009
BAYSIDE, N.Y.— One hint that something might have been amiss in William Parente's professional life came from a nondescript law office in a shopping center in Queens. Attorney Bruce Montague, uneasy about an investment he had made through Parente, asked for his money back - but got, he claims, nearly a half-million dollars in bounced checks.
Now, as detectives search for reasons that Parente would kill his family and himself in a Towson hotel room, attention is turning to the midtown Manhattan tax and estate lawyer's financial dealings.
"The FBI is looking into his financial dealings to determine if there was any impropriety ... to determine whether he committed any crimes, and if so, how many victims there are," James Margolin, an FBI spokesman in New York, said in a brief interview Wednesday.
Allegations spelled out
At Montague's request, Steven B. Drelich, a law firm partner, said in an interview that he wrote a letter to the New York state attorney general's office that spelled out allegations of fraud.
A spokesman for the New York attorney general's office, Alex Detrick, confirmed Wednesday that officials there had received a fax of the letter a day earlier, after news of Parente's death had broken, but he said that no investigation of Montague's allegations had begun, nor had a decision been made on whether to proceed with such a probe.
"We get thousands of complaints every day," Detrick said. "We haven't launched anything on this one."
Since news of Parente's death and Montague's allegations surfaced this week, another lawyer who works for Montague said their firm had received several calls from people claiming they had been defrauded by Parente. One person told of a $1.5 million loss, while another spoke of a $500,000 loss, the lawyer, Joseph D. Levy, said in an interview.
"He's upset, but he has the right perspective on it," Levy said of his boss, Montague, who did not return messages seeking comment. "It's nothing compared to what happened to the kids. The law firm does well. We'll move on."
Parente and his wife, Betty, 58, and two daughters, Stephanie, 19, and Catherine, 11, were found dead behind the locked door of a Sheraton hotel room in Towson on Monday afternoon. Baltimore County police officials said the women and the girl died from blunt force trauma and asphyxiation, and Parente killed himself by cutting.
Parente's older daughter was a sophomore at Loyola College. The Parentes left their home in Garden City, Long Island, on April 15, and Baltimore County police detectives believe the man killed his family Sunday.
Parente, who started practicing law in 1974 after graduating from Brooklyn Law School, was a tax and estate attorney who had a comfortable home in an upper-middle-class neighborhood on Long Island. The family also owned a beachfront condominium in Westhampton, property records show.
Working for investors
His investment activities remain murky. Drelich, Montague's partner, said that Parente "put together investment vehicles" by "pulling together money for investments with notes and mortgages" on behalf of various investors.
Montague runs a firm specializing in civil and personal injury litigation out of a two-story, red brick building in a shopping center in Bayside. The firm shares the second floor with a Weight Watchers office and a financial services firm.
The money that Montague lost was his own, and not funds from the law firm, Drelich said.
In an interview with Newsday, Montague said that Parente's investments yielded 10 percent to 15 percent returns. But in the end, Montague claimed that he lost about $450,000.
Montague is devastated by news of the murder-suicide, his associates said.
"We're at a loss because to kill the family is just unforgivable," Drelich said.
The funds, Levy said, can be replaced. "It's money," he said. "It's just money."
Nick Madigan reported from New York, and Gus G. Sentementes reported from Baltimore.
---
Police describe methodical killings in hotel
By Julie Bykowicz - BaltimoreSun.com
April 23, 2009
The phone in the Parentes' 10th-floor hotel room rang just before midnight. By then, a mother and two daughters staying there had been beaten and asphyxiated by the man who answered the phone. Not long after taking that call - from a college roommate of his older daughter - the man used a knife to commit suicide.
On Wednesday, Baltimore County police sketched a timeline for the murder-suicide of a Long Island family in a room at the Sheraton hotel in Towson. Officials described methodical killings over a period of hours Sunday, but a crime with no clearly defined motive since the killer left no suicide note.
William Parente, 59, a New York lawyer, asphyxiated his family members one by one, likely beginning with his wife, Betty, 58, a homemaker and charity fundraiser. Catherine, 11, was probably killed soon afterward. Then came Stephanie, a 19-year-old sophomore who abandoned her studies at the Loyola College campus late Sunday afternoon to make the five-mile trip north to the hotel, police believe.
Their bodies were laid out on a king-size bed. William Parente's body was found in the bathroom. He killed himself hours after his family, sometime early Monday morning. Police said there were no obvious signs of a struggle or that anyone had been drugged or restrained.
Taking notice of Stephanie Parente's absence from classes Monday, Loyola officials alerted the Sheraton Baltimore North hotel. Employees entered the locked room about 3 p.m. that day and found the bodies.
Investigators found no note, Baltimore County Police Chief James W. Johnson said, but they have learned about William Parente's "questionable financial dealings." County police are forwarding information, which Johnson would not describe, to the FBI's New York office.
"We continue to interview family, friends and work associates to determine the motive and the circumstances behind these violent acts," Johnson said.
An FBI spokesman in New York said an investigation into William Parente's financial dealings is under way. Also, a lawyer in Queens has written to the New York state attorney general's office alleging that he was defrauded by Parente.
Police said it was not unusual for the Parentes, a Roman Catholic family with Italian roots in Brooklyn, to make the 215-mile drive from Garden City to Loyola, where Stephanie was a speech pathology major. She was studious, friends said, and wanted to be a dentist.
The family checked into the hotel, near Towson Town Center mall, April 15; they were due to check out Monday morning.
Stephanie was surprised by her family's visit, said friend and fellow sophomore Gabrielle Paige, 19. Loyola had just resumed classes a day earlier, after a brief Easter break. Stephanie was preparing for final exams, Paige said. And the Parentes were scheduled to visit this Friday for an on-campus meeting about a study-abroad program in England, for which Stephanie and Paige had signed up, Paige said.
"None of it made sense," Paige said. "They just called her and said they were here in Baltimore. It seemed like they decided on a whim to come out here."
But once they were here, Stephanie's friends said, the family's visit was ordinary. "Nothing was amiss as far as her roommates could tell," said the Rev. Brian Linnane, Loyola's president.The family had breakfast together Sunday near the campus, a Loyola spokeswoman said, and Stephanie came back to her dorm room afterward. Stephanie had a chemistry exam Monday and was planning to study Sunday, friends said.
But she was nowhere to be found that night, though her chemistry book lay open on her dorm-room desk. Friends were concerned enough to call the hotel, Paige said.
One of Stephanie's roommates got through to the room about midnight, and William Parente told her that Stephanie would be staying the night with them.
The medical examiner listed the manner of death of the wife and daughters as homicide, police said, and the cause for all three as asphyxiation and blunt force trauma. Asphyxiation is the obstruction of normal breathing, but police did not say whether the three were strangled or smothered.
There were several objects in the room that could have been used to inflict the trauma, said Johnson, the county police chief, but investigators have not concluded what exactly William Parente used.
The mother and youngest daughter were killed "relatively close in time," said police spokesman Bill Toohey, though Johnson said evidence showed the mother died first. It is unclear whether the 11-year-old was in the room at the time.
Stephanie Parente was apparently killed later Sunday, police said.
"We might never know the exact sequence of what went on in that room," Toohey said.
William Parente's death was determined by the medical examiner to be a suicide caused by cutting with a knife. Police would not say where on his body he was cut.
On Long Island and on the Loyola campus, those who knew the Parentes were grieving.
"This continues to be a very difficult time for the entire campus community," said Courtney Jolley, a Loyola spokeswoman. She said there would be a private campus vigil Thursday night, and Loyola is continuing to provide counseling and support services.
Paige said Stephanie's four roommates were especially close to her. She said some of the women are putting on a brave face while others are not handling their friend's death as well.
"You would never see her without one of her roommates," Paige said. "Their hearts are just broken."
Baltimore Sun reporter Stephen Kiehl contributed to this article.
---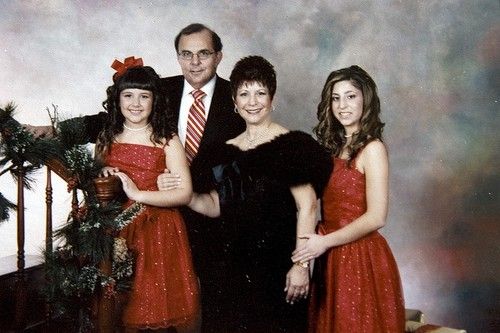 William Parente, 59, with his wife Betty Mazzarella Parente, 58, and their daughters
Stephanie, 19, and Catherine, 11.