Johnny Paul Penry (born May 5, 1956) is a Texas Death Row convict who is said to be mentally retarded. He was sentenced to death on April 9, 1980 for raping and stabbing 22-year-old Pamela Moseley Carpenter (sister of American football star Mark Moseley), who died of her wounds, on October 25, 1979. His lawyer claims that he has the reasoning capability of a seven-year old. His death sentence has been overturned three times by the U.S. Supreme Court in 1988, 2001, and 2006.
On February 15, 2008 Penry entered a plea agreement in which he accepted a sentence of life without parole. In the plea proceedings, Penry stated that he "is presently, and at all times relevant to these proceedings, not a person with mental retardation as that term is defined by the Texas Health and Safety Code, The Diagnostic and Statistical Manual IV-TR published by the American Psychiatric Association, and the American Association on Intellectual and Developmental Disabilities (formerly AAMR)." Penry and his attorneys also ratified the 2002 jury finding that he was not mentally retarded as well as the 2002 findings of fact and conclusions of law entered by then presiding judge Elizabeth Coker to the same effect.
Before the crime for which he was sentenced to death, Penry was sent to prison for five years in 1979 on a rape conviction. He was paroled two years later.
---
Texas Attorney General
Monday, November 13, 2000
MEDIA ADVISORY
Johnny Paul Penry Is Scheduled To Be Executed
AUSTIN - Texas Attorney General John Cornyn offers the following information on Johnny Paul Penry who is scheduled to be executed after 6 p.m., Thursday, November 16th.
Penry was convicted and sentenced to death for the October 1979 rape and murder of 22-year old Pamela Carpenter, in Livingston, Texas.
At the time of Pamela Carpenter's rape and murder, Penry had been on parole less than three months for another rape he committed in 1977.
Penry first saw Carpenter when he went to her home in early October with another man to help install new appliances Carpenter and her husband had purchased. In his confession to police, Penry admitted to being attracted to Carpenter when he saw her and that he thought of her often after seeing her in early October. Penry also admitted to noticing that Carpenter kept money in her purse, which would later be another motive he stated for going to Carpenter's house.
On the morning of October 25, 1979, Penry went to Carpenter's house after seeing a woman that reminded him of Carpenter. According to his confession, before Penry got to the door of the home, he opened his pocket knife and placed it in his back pocket. He then knocked on the door. When Carpenter answered, Penry asked her if her husband was home. When Carpenter replied no, Penry asked if he could come in and look at the new stove he had helped install. When Carpenter refused and told Penry to leave, he forced himself into her home, held his pocket knife at her side, and pushed her into the kitchen.
Carpenter began to scream and knocked the knife out of Penry's hand. Penry and Carpenter then struggled with each other. In the process, Penry told Carpenter to stop screaming or he would cut her throat. Carpenter was able to grab a pair of scissors and stab Penry in the back. The struggle continued as Penry dragged Carpenter into her bedroom. When Carpenter tried to get away, Penry tripped her. Penry then ordered Carpenter to take off her clothes. When she refused, he kicked her two or three times in the side. Carpenter then took off her clothes and Penry raped her. After the rape, Penry grabbed the scissors Carpenter had stabbed him with. He told her that he was going to kill her because, as Penry said in his confession, he thought "she would squeal on me." Penry then stabbed Carpenter in the chest. He then ran out of Carpenter's home.
Pamela Carpenter managed to call a friend to say that she had been raped and stabbed. Before Carpenter died at the hospital, she told doctors that she had been stabbed with scissors and she gave a description of her attacker that matched Penry.
Later in the day, police found Penry with two fresh puncture wounds on his back that appeared to be consistent with being stabbed by scissors, the murder weapon Carpenter told doctors Penry had used to stab her. After first lying to police, saying he got the wounds by falling off his bike, Penry told police, "I want to get it off my conscience, I done it."
EVIDENCE
Penry signed two statements confessing to the rape and murder of Pamela Carpenter.

Puncture wounds found on Penry's back were consistent with being stabbed by scissors, the murder weapon Pamela Carpenter told doctors Penry stabbed her with.

Carpenter sustained numerous injuries including a deep puncture wound to the chest, ruptured kidney, and numerous cuts and bruises, all of which were consistent with Penry's account of the violent sexual assault.
MENTAL CAPACITY
The issue of Penry's mental capacity has been presented to four separate juries and each jury found Penry to be legally competent to stand trial and/or rejected defenses based upon Penry's alleged mental retardation.

Penry's mother testified at the first competency trial for the defense. The basis of her testimony centered around the fact that Penry had a troubled childhood and described incidents where Penry abused his siblings. There was little if any discussion by Penry's mother about his mental capacity.

Dr. Kenneth Vogstberger, a board certified psychiatrist affiliated with Deep East Texas Regional Mental Health/Mental Retardation services, testified at the first competency trial that Penry was competent to stand trial and possessed no serious mental disease or defect. Dr. Vogstberger also stated that Penry had a good understanding of the nature of the charges against him and the trial proceedings. Dr. Vogtsberger also testified that Penry knew the difference between right and wrong.

Defense expert Dr. Randall Price testified under cross-examination at Penry's second trial that there had never been any objective medical evidence that Penry suffers from any brain damage or impairment. Price also stated that Penry knows the difference between right and wrong and would be a dangerous person in the free world.

Dr. Stanton Samenow, a psychologist who testified during the punishment phase of Penry's second trial, stated that Penry is aggressive, violent and dangerous. He also testified that Penry's history of anti-social criminal behavior showed that he possessed an ability to scheme, plan, and be purposefully deceptive.
APPEALS TIME-LINE
March 1980 - Penry found legally competent to stand trial.

April 1980 - Penry is convicted and sentenced to death.

January 1985 - Texas Court of Criminal Appeals affirmed Penry's conviction and sentence.

January 1986 - U.S. Supreme Court denied certiorari review.

May 1986 - Court of Criminal Appeals denied state habeas relief.

April 1987 - United States District Court for the Eastern District of Texas denied federal habeas relief.

November 1987 - Fifth Circuit Court of Appeals affirmed the District Court's decision to deny habeas relief.

June 1989 - U.S. Supreme Court reversed the Fifth Circuit's decision and ordered a new trial so that a jury could consider Penry's mitigation evidence during deliberations on punishment.

May 1990 - Penry found legally competent to stand trial. (Second time)

July 1990 - Penry retried in Walker County and found guilty.

February 22, 1995 - Court of Criminal Appeals affirmed the July 1990 conviction.

November 13, 1995 - U.S. Supreme Court denied certiorari review.

December 3, 1997 - Court of Criminal Appeals denied Penry's application for state habeas relief.

March 30, 1999 - Federal district court denied relief and denied permission to appeal based on Penry's petition for federal habeas relief.

June 20, 2000 - Fifth Circuit Court of Appeals denied permission to appeal.

July 25, 2000 - Fifth Circuit Court of Appeals denied rehearing.

Penry's writ of certiorari is pending with the U.S. Supreme Court. His clemency petition is also pending before the Texas Board of Pardons and Paroles.
PRIOR CRIMINAL HISTORY
In February 1977, Penry raped Diana Koch in Livingston, Texas. Koch testified that as she was getting out of her car to enter a department store in downtown Livingston, Penry forced his way into her car. Penry told Koch that his brother had been in an accident and asked her to take him to the accident scene down the road. Koch, although hesitant, began to drive down the road. As they drove, Koch became worried and reached down to use the CB radio in her car. When she did so, she saw that the wires had been cut. Penry then put a knife to Koch's ribs, pulled her head back by her hair and told her to keep driving. Penry then forced Koch to drive off the road in a remote area and forced her to take off her clothes at knife point. Penry then raped Koch.

After raping her, Penry tried to drive off, but the car got stuck on a dirt road, forcing Penry and Koch to walk. As they walked, Penry kept the knife at Koch's side. A pickup approached them and Penry told the driver "my wife and I need a ride." Penry and Koch then climbed into the back of the truck.

When the driver of the truck stopped at a small store, Koch began screaming for help. Penry tried to persuade people looking, that his "wife" was "throwing a tantrum." Koch kept screaming, which led two men to hold a gun on Penry until sheriffs arrived at the scene. Penry later pled guilty to raping Koch. He received a five year prison sentence, of which he served about half before being released on parole in August of 1979. He was on parole for less than three months before he raped and killed Pamela Carpenter.

At Penry's second trial, several prison guards at the Ellis Unit in Huntsville testified about incidents where Penry beat up and threatened other inmates and guards with various homemade prison weapons. They also testified about Penry having an aggressive and violent reputation among inmates and guards.

After the jury returned its verdict in Penry's first trial, Penry had to be restrained when he attempted to physically attack the prosecutor.
---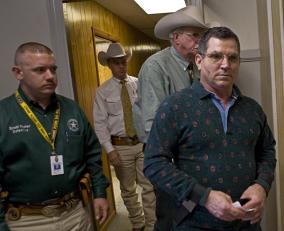 Johnny Paul Penry