Distraught over marital woes, Al Petrosky opened fire in a crowded grocery store in suburban Denver, Colorado, killing his wife and two others. The wife, Terry, worked in the store and had recently obtained a restraining order against him. Albert, didn't take it too well.
He decided to strap on a bullet-proof vest, grab his pistol, assault rifle chineese and hunting rifle, and head to Albertson's. There he shot his wife, the store manager and a sheriff's sergeant Timothy Mossbrucker, who was getting out of his patrol car.
As he tried to flee, the rampager was tackled by a construction worker who held him down until police arrived.
---
Gunman in Colorado Kills 3 and Is Seized
The New York Times
Sunday, April 30, 1995
A heavily armed man killed three people, including his estranged wife, at a supermarket in this Denver suburb on Friday morning before a construction worker hit him on the head with a stone and the police arrested him.
The gunman was wearing a military bulletproof jacket and was armed with a shotgun, a pistol and an assault rifle equipped with a bipod, witnesses said. He was identified as Albert L. Petrosky, 35, of Denver.
The man entered the supermarket, an Albertson's store, about 9:30 A.M. and fatally shot its manager and the manager of the delicatessen there, said a spokesman for the Jefferson County Sheriff's office, Robert Smith. Store workers told reporters that the gunman had threatened the deli manager, his estranged wife, over the telephone.
Witnesses said that when the man left the store he started firing wildly in the parking lot, where deputies had arrived. One deputy, Timothy Mosbrucker, 36, was shot while behind the wheel of his patrol car and later died at a hospital. A woman in the parking lot, Misty Hudnall, 23, was wounded in the leg and was hospitalized in fair condition.
The construction worker, whose name was not disclosed, crept up behind the gunman and hit him in the back of the head with a stone, knocking him to the ground, and then helped deputies subdue him, witnesses said.
The names of the two victims killed inside the store were not immediately made known.
---
Albert Petrosky
On April 28, 1995, Albert Petrosky walked into an Albertson's Grocery Store in suburban Denver, Colorado and gunned down his estranged wife and the store manager. Armed with an L.A.R. Grizzly 50 caliber sniper rifle, an SKS Chinese semi-automatic assault rifle, a .32 revolver, and a 9mm semi-automatic pistol, Petrosky then walked out into the shopping center parking lot, where he exchanged fire with a federal IRS agent passing by and killed Sgt. Timothy Mossbrucker of the Jefferson County Sheriff's Department.
Petrosky, who was known to his friends as "50-cal Al, fired all four weapons, including the 50 caliber rifle, during this murderous rampage.
After the incident, investigators found three fired 50 caliber cases and eight live 50 caliber rounds outside Petrosky's van, along with four live rounds inside the van. Petrosky, a 36-year old auto mechanic, was wanted at the time on a felony warrant, but nevertheless was able to buy the 50 caliber sniper rifle from a gun dealer without a background check because the federal Brady Law did not apply to long guns at that time. The dealer who sold him the super gun was later reported to have said, "I feel real bad about what happened."
It should be noted that Petrosky, who later committed suicide after having been convicted of three counts of murder, was not wealthy. He was an auto mechanic who spent a lot of time playing pool, had a criminal record, and was a wanted man. Yet he was able to afford his "toy for a big boy"—once again trashing the specious claim that 50 caliber sniper rifles are "too expensive" for criminals.
When authorities test-fired Petrosky's Grizzly 50 caliber rifle, according to Jefferson County Chief Deputy District Attorney Peter Weir, it blasted through a manhole cover "like a hot knife through butter." Barrett Firearms Manufacturing dismisses such evidence of the 50 caliber's power by this sneering red herring, posted on its Internet web site:
Capable of shooting through a steel manhole cover that is 3˝ inches thick. (If a manhole cover existed this thick, it would weigh 475 pounds. Has anyone ever seen one of these? Who would lift it?)
Clearly, the point is not the dimension or weight of any given manhole cover, however much Barrett wishes it were. The point is rather the power of the 50 caliber sniper rifle and its round. That power is well documented in—among other things—a U.S. Marine Corps demonstration for the Congress and Barrett's own promotional literature.
It happened that each of Petrosky's victims were killed by other weapons in his arsenal.r However, most people would agree that this incident qualifies as "criminal use" of a 50 caliber sniper rifle.
---
Jury hears grim inventory of Petrosky's rampage
By Charlie Brennan - Rocky Mountain News
March 29, 1996
Murder victim Terry Petrosky's body was riddled with 14 bullet holes when she was gunned down last year by her estranged husband.
Dr. Ben Galloway, the forensic pathologist who conducted autopsies on all three victims of the April 28, 1995, shooting rampage, testified Thursday.
His grim inventory of the human loss triggered no noticeable reaction from the relatives of the victims, although some bowed their heads to avoid seeing stark color photographs of their loved ones' remains.
Albert Petrosky, 36, is on trial for three counts of first-degree murder in the Jefferson County District Court case. He faces a possible death penalty if convicted.
Petrosky's lawyers admit he did the shootings but claim the episode was a crime of passion.
Galloway said Terry Petrosky, 37, was hit eight times from her torso down to her left leg, two shots to the chest proving fatal.
But counting exit wounds - one bullet entered and exited the same arm twice - he inventoried 14 wounds.
Albertson's store manager Dan Suazo, 37, was shot three times in the back, two of the wounds causing the fatal damage. Like Terry Petrosky, he was shot by a large-caliber handgun. It sent three bullets clear through his body.
Jefferson County Sheriff's Sgt. Timothy Mossbrucker, 36, shot in his patrol car in the parking lot as he arrived at the scene, was struck once in the face by one round from a .30-caliber SKS semiautomatic rifle.


---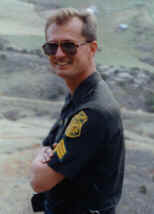 Jefferson County Sheriff's Sgt. Timothy Mossbrucker, 36, shot in his patrol car in the parking lot as he arrived at the scene, was struck once in the face by one round from a .30-caliber SKS semiautomatic rifle.