Second death after flat explosion
Tuesday, 16 March, 2004
Two people have died and seven people were injured following an explosion at a flat in the south side of Glasgow.
The incident took place on the ground floor of the three-storey building in Allison Street in the Govanhill area.
Families were evacuated from their homes and placed in temporary accommodation. It is expected they will have to spend a second night there.
One resident said he heard "an almighty explosion" at about 2120 GMT on Monday.
The first victim, who has not yet been identified, died shortly after the blast.
Strathclyde Police said a woman who was rescued from the fire and taken to the city's Victoria Infirmary died on Tuesday.
Out of the people rescued and taken to hospitals in Glasgow, all but one have been released.
One woman is said to be in a stable condition at the Victoria Infirmary.
The blaze was extinguished by firefighters working at the front and rear of the building.
John Doyle, a resident of the close where the fire started, said he sat down to eat his dinner at about 2120 GMT when there was "an almighty explosion".
He said: "The building shook and I ran to my bay window. Debris was still flying out from the ground-floor flat, flames were shooting out. I phoned emergency services.
"The walls in the close are gone, you can see right through the full flat."
Residents could not get out of the building by the front door because of the amount of debris and had to exit through the back court, Mr Doyle added.
"I was stuck in there for an hour, couldn't go into my hall, or stand up in my living room. I was just hanging out of the window because of the intense smoke," he said.
"I had difficulty breathing and my eyes were streaming with water."
Mr Doyle spent the night at his sister's flat not far from the scene and said he was concerned for fish he kept in his flat.
Gavin Colclough, who lives in the neighbouring close, also heard a "huge" explosion.
"The flames were so intense. The smoke was billowing up and people were screaming in the street," he told BBC News Online Scotland.
"Then the electricity started flickering. It was your worst nightmare. We just grabbed the cat and ran."
Raging fire
Inspector James Steele, of Strathclyde Police, said the fire was "raging" by the time they arrived at the scene.
He said an investigation would be carried out into the cause of the blaze but firefighters were still working to make the building safe.
"The fire has caused damage to the building and until we can make the building safe we can't go inside to check it," he said.
Superintendent Stewart Daniels said: "It is still very early days and nothing can be ruled in or out at this stage.
"Until the cause of the incident is confirmed, we are treating the building as a potential crime scene."
Station Officer Ian Tonner, of Strathclyde Fire Brigade, described the fire as "serious and very fierce".
"We not only had a serious fire on our hands, we had a serious rescue situation," he said.
Two occupants were rescued by fire crews using a turntable ladder and three had to be carried from the property. Glasgow City Council said 50 people were evacuated from 40 flats.
"Building control now have to examine the extent of the damage and decide whether these flats should stay up or not," said a spokesman.
Most of those evacuated spent the night with friends and family, although makeshift accommodation was offered at Holyrood Sports Centre in Aitkenhead Road.
The council housed 12 residents in a nearby hotel.
A spokesperson for gas company Transco said checks had found the gas main going into the building to be sound.
However, checks have not yet been carried out on service pipes inside the building.
Strathclyde Police said they hope to gain access to the flats on Wednesday morning to continue their investigations.
---
Man admits two Glasgow killings
Monday, 4 October, 2004
A man has admitted killing two people in a Glasgow tenement.
Samuel Petto, 24, pleaded guilty to the culpable homicide of Arthur Rowlinson by stabbing him at a flat in Allison Street, Govanhill, on 14 March.
He tried to hide the killing by burning Mr Rowlinson's body. Myra Donnachie, 52, died as a result of the fire which caused an explosion in the building.
Petto and two other men - Walter Thomson, 23, and Steven Telford, 18 - admitted murdering Ms Donnachie.
She died after the men doused Mr Rowlinson's flat with petrol to set off a huge explosion which wrecked the block of flats.
Charges dropped
Pleas of not guilty to attempting to murder six women and four men who were also residents of the flats, and to attempting to pervert justice by torching the flat in an attempt to conceal Rawlinson's death, were accepted by the prosecution.
Two other men, James Mullan, 35, and James Mullen, 24, walked free after the Crown withdrew the charge against them of murdering Ms Donnachie.
Charges against all five men of dealing in heroin and cocaine were also dropped.
The full details of the incident will be given at the High Court in Glasgow when the hearing resumes on Tuesday.
The Allison Street tenement block was so badly damaged that it was considered too dangerous for investigators to gain access to it for several days.
---
'Wicked' flat blast killer jailed
Friday, 22 October, 2004
A man who murdered a woman in an explosion which he caused to cover up the killing of a flatmate has been jailed for life.
Samuel Petto, 24, will serve a minimum of 18 years for killing Arthur Rawlinson and murdering Myra Donachie.
The High Court in Glasgow heard Petto had set fire to his flat in Allison Street in a failed attempt to cover up Mr Rawlinson's death.
Petto's two accomplices were also jailed for life.
The 24-year-old had earlier admitted stabbing Mr Rawlinson to death last March in a row over missing money.
Petto and accomplices Walter Thomson and Steven Telford then set fire to a tenement flat in a bid to conceal his crime.
They doused the ground-floor property in Allison Street with petrol before causing an explosion.
Petto pleaded guilty earlier this month to the culpable homicide of his flatmate and the murder of his upstairs neighbour, who died in hospital after the blast.
Thomson, 23, and Telford, 18, who also admitted murdering Mrs Donachie, 52, were told they must serve a minimum of 12 and 10 years respectively.
Passing sentence, Lord Bracadale told Petto: "You pleaded guilty to the murder of a completely innocent woman. It was committed in the course of an utterly reckless and hopeless scheme to destroy the body of a man you had earlier killed.
"It caused a large explosion which devastated the building and killed Mrs Donachie.
"This was a course of conduct which can only be described as one of great wickedness."
Donald Findlay QC, defending Petto, said the "utter folly" of the whole affair was that no one stopped to think for a moment about the consequences of the fire and claimed Petto had no intention to cause harm to anyone else.
Petrol cans
The court heard earlier this month how a drunken argument between Petto and Mr Rawlinson led to the tenement blast, which also injured 10 other people.
Petto had stabbed the father-of-five eight times after a row which began in the street in the early hours of 15 March and then continued inside the flat.
Money belonging to Petto had gone missing and he was convinced it had been stolen by Mr Rawlinson, who was living there temporarily following his release from prison.
Petto asked Telford and Thomson, who had no previous convictions, to help him burn the body.
An hour before the explosion, Telford was captured on CCTV buying three petrol canisters from a nearby garage.
The trio, who were drunk, poured petrol all over the flat before causing a massive explosion which knocked down the dividing wall and blew out the windows.
Petto, who had previous convictions for assault and attempted robbery, was blown out into the street by the force of the blast.
The explosion caused a fireball and thick smoke which trapped Mrs Donachie in her third-floor home, directly above the burning flat.
Residents of the building and those living in nearby tenements were evacuated and six fire fighters with breathing apparatus had to crawl over the rubble to get inside.
They found Mrs Donachie and the mother-of-two was taken to the city's Victoria Infirmary, where she was pronounced dead the next day.
Outside court, Mrs Donachie's son, Stephen, said he felt that justice had been done.
He fought back tears as he recalled the last time he saw her, the night before the blast on Mothers' Day.
He said his mother had been looking forward to the birth of her second grandchild, who was born a fortnight after the explosion.
Mr Donachie, whose sister Yvonne was seriously injured in the blast, said: "It's been a tragic loss for our family. No one could have said a bad word about my mother or my sister.
"It was like someone had hit me with a baseball bat when they said, 'You haven't got a ma anymore'."
---
Life sentence for killing flatmate and neighbour
By Arnot McWhinnie - News.Scotsman.com
23 October 2004
A MAN who murdered a neighbour by setting fire to a flat to get rid of the body of a man he had stabbed to death was jailed for life yesterday.
The High Court in Glasgow heard that Samuel Petto had killed his flatmate, 30-year-old Arthur Rawlinson.
Afterwards he set fire to the flat in Allison Street, Glasgow, causing a massive explosion which devastated the building and caused the death of his 52-year-old upstairs neighbour, Myra Donnachie, a grandmother.
Sentencing Petto, the judge, Lord Bracadale, ordered that he serve at least 18 years before being allowed to apply for release on parole. He also sentenced him to ten years for the culpable homicide of Mr Rawlinson.
In the dock with Petto were two accomplices, Walter Thomson, 23, and Steven Telford, 18, who were also jailed for life. Thomson was ordered to serve at least 12 years and Telford at least ten.
All three admitted murdering Mrs Donachie, of 308 Allison Street, Govanhill, Glasgow, who choked to death on thick smoke after Petto's flat, two floors below, exploded in a fireball on March 15 this year.
---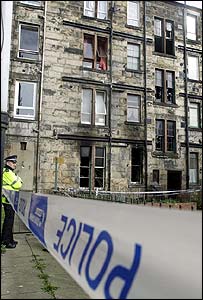 The scene of the fire and explosion in Govanhill.