Phillips, murderer of four, loses Supreme Court bid to avoid death penalty
By Ben Mook
June 27, 2011
Mario Phillips will remain on North Carolina's death row after what was the last state-level appeal of his 2007 first-degree murder convictions for killing four people during a robbery.
The North Carolina Supreme Court, with Judge Barbara Jackson not participating, upheld the original conviction and rejected Phillips' bid for a new trial, finding no errors in the lower court's rulings. The Supreme Court first heard the appeal in February 2010.
Barbara S. Blackman and Anne M. Gomez with the Office of the Appellate Defender represented Phillips at the hearing. Blackman said in a phone interview the next step will be to try to secure a writ of certiorari from the U.S. Supreme Court. Blackman said she felt there were enough issues with the ruling that could be addressed at the federal level.
At the original trial, and again in the appeal, Phillips' guilt was not questioned. Instead, the focus was on keeping him off of death row. The appeal was to change his convictions to second-degree murder.
Phillips, 43, one of 158 convicts on death row in North Carolina, was convicted on first-degree murder, kidnapping, assault and robbery charges stemming from a bloody drug robbery inside a Carthage area trailer home in 2003. The state has not executed an inmate since 2006.
One of the main arguments raised in the appeal was whether Phillips had effective counsel. Blackman argued that the original trial lawyer should have stepped down and served as a defense witness to avoid a conflict of interest.
The attorney, Bruce Cunningham of Southern Pines, had spoken with the chief of police on the day of the murders and said he was told Phillips was "stoned out of his mind" at the time. Cunningham notified the court early on about the potential conflict and opted to instead stay, but did put Cameron Police Chief Gary McDonald on the stand and question him about the statement, introducing it into the record.
On the stand, McDonald testified he did not remember saying that to Cunningham but did not deny he could have said it.
"Accordingly, we see no reasonable probability that the jury would have reached a different verdict had attorney Cunningham withdrawn as counsel and testified to his recollection of Chief McDonald's comment," the opinion reads.
Cunningham did not return calls for comment.
Blackman said she thought the court's ruling about the conflict of interest would not hold up if looked at by the U.S. Supreme Court.
"I don't believe the resolution was in accordance with U.S. constitutional law," Blackman said.
The judges also ruled against the argument that Phillips was impaired due to drug and alcohol use at the time of his arrest and questioning, as well as during the murders. The opinion points out multiple examples of Phillips' seeming coherent and in control during questioning. He even changed a sentence in his signed confession.
The court also pointed out the eyewitness and only survivor of the shootings testified that at the time of the murders, Phillips' "words were understandable and that '(h)e was fine," and 'he knew what he was doing.'"
The justices also did not put much weight on trial testimony that Phillips tried to kill himself after the murders by overdosing on anti-depressants since if he had, it would have had no effect on his state of mind during the killings. The judges said the evidence in the case did not need bolstering by having Cunningham testify.
"Accordingly, we see no reasonable probability that the jury would have reached a different verdict had attorney Cunningham withdrawn as counsel and testified to his recollection of Chief McDonald's comment," the opinion reads.
The crime
The murders occurred on Dec. 19, 2003 after Phillips learned his brother had been shot in the head in an unrelated incident. Convinced, wrongly, that his brother was dead, Phillips went on a bender of alcohol, ecstasy and marijuana. That morning he headed to his mother's house in the Carolina Lakes Trailer Park in Carthage to give her the news about her son. He was accompanied by his girlfriend, Renee McLaughlin, and his friend Sean Ray.
After speaking to his mother, the trio went to the home of neighbor Daryl Hobson to buy marijuana. Hobson did not have any but took them to another home in the park where he thought there might be some.
Inside the trailer were Eddie Ryals, 21, and his girlfriend Amanda Cooke, 15, along with Carl Justice, 18, and Joseph Harden, 19.
Things turned bad quickly when what was supposed to be a drug buy became an armed robbery. According to court records, Phillips pulled a revolver from his waistband and shot Ryals twice, hitting him in the chest and stomach. He also kicked Ryals and grabbed a shotgun and beat him in the face while demanding any drugs and money.
Phillips then kept shooting, hitting Justice and Harden. The wounds were fatal to both men.
Hobson and Cooke were then herded into the kitchen and ordered to lie down. Hobson died after he was stabbed in the chest and shot by Phillips at point-blank range in the neck.
So that his friend would be in as much trouble as he was, Phillips ordered Ray to kill Cooke. She was able to get off the floor, though, and struggled with Ray before Phillips shot her twice. Ray then stabbed the girl a total of 22 times and cut her throat before the two men doused the trailer in gasoline and set it on fire. Cooke, who had survived the attack, was able to get out of the trailer as it caught fire and got into the back of a truck, unaware that she had been spotted by Phillips and Ray.
The men picked her up and threw her in the back of another truck on top of some bags of garbage and drove her to a trash dump in the trailer park. They left her in the truck as emergency personnel began to respond to the fire. Cooke ultimately survived the attack and provided eyewitness testimony at Phillips' trial as well as Ray's, who received a life sentence, and at McLaughlin's, who got 16 years for her involvement in the murders.
Benmook.wordpress.com
---
Moore Man Gets Death Sentences for Quadruple Homicide
Wral.com
October 17, 2007
Carthage, N.C. — A Moore County jury handed up four death sentences Wednesday in the trial of a man found guilty of killing four people in a December 2003 robbery.
The jury took about four hours to decide the punishment of Mario Lynn Phillips, 35, who was the first of three people to go to trial for the quadruple homicide.
Eddie Ryals, 21, Carl Garrison Justice, 18, and Harvey Darrell Hobson, 20, all of Carthage, and Joseph Allen Harden, 19, of Vass, were killed on Dec. 19, 2003, in a mobile home on Heron Road, east of Carthage. All four had been shot and stabbed in what authorities said was a robbery. They said the three suspects made off with $170.
Amanda Cook Varner, who survived being shot twice and stabbed 22 times that day, identified Phillips as the gunman and said Renee Yvette McLaughlin and Sean Maurice Ray assisted him in the crime.
Defense attorneys tried to convince jurors that Phillips shouldn't be convicted of first-degree murder in the case because he is mentally ill, was addicted to drugs at the time and somehow thought his friends were responsible for shooting his brother in Fayetteville earlier that same day.
The sentence comes as questions about North Carolina's death penalty have put executions on hold.
In August, Superior Court Judge Donald Stephens ruled that the North Carolina Medical Board overstepped its authority when it adopted a policy that threatened to punish physicians for participating in executions.
The state Department of Correction sued the board in March, saying no physicians were willing to attend an execution, which state policy requires, for fear of losing his or her medical license.
Last month, attorneys for death-row inmates asked state officials to put off possible changes to North Carolina's execution protocol in light of the U.S. Supreme Court's recent decision to address the constitutionality of lethal injections.
---
Phillips gets death sentence
October 18, 2007
A Moore County jury decided Wednesday that Mario Lynn Phillips should die for murdering 4 men in December 2003.
The jury deliberated nearly 4 1/2 hours before sentencing Phillips for the murders of Eddie Lynn Ryals, Carl "C.J." Justice Jr., Joseph Allen Harden and Daryl Hobson.
They were shot and stabbed to death during a robbery in Ryals' home in the Carolina Lakes mobile home park in Moore County.
Ryals' girlfriend, Amanda Cooke Varner, was shot and stabbed but survived.
Renee Yvette McLaughlin and Sean Maurice Ray have been charged with helping Phillips commit the murders and robbery. They are awaiting trial.
As he has throughout the trial, Phillips showed little reaction. He has told the judge he is taking Prozac, an anti-depressant, and Haldol, a drug used to treat psychotic symptoms.
When Judge James Webb had Phillips stand so he could formally give him the 4 death sentences, Phillips listened for a few moments, then reached down to the table, poured himself a cup of water and drank it while the judge announced the punishments.
The death sentences pleased relatives of the victims.
"I think they all 3 deserve the death sentence," said Harvey Hobson, father of Daryl. "All 3 could have stopped at any time. Either one of them could have persuaded him not to do it, and they didn't and I think they ought to be put to death."
Harvey Hobson attended the trial daily since testimony began Sept. 12.
"There ain't no winners here," said Belinda Hobson, who was Daryl's stepmother. "Everybody has lost, including Mario's mother. And it's just sad that this happened and we can't turn back time. We'd love to have our kids back."
Phillips' mother, Bertie Phillips, also attended every day of the trial. She left the courtroom just before the sentence was announced. In the hall, she leaned heavily on a railing and said she was having trouble breathing. She declined an interview request after the sentencing.
The death sentences disappointed Libby Barnes, a woman who knew Phillips when he was a boy. She testified on his behalf.
"Mario's a victim, too, of the system. The system that failed him as a child," Barnes said. She said Phillips and one of his brothers grew up in horrible conditions of neglect and abuse as family members spent most of their time drinking and fighting.
"Not only did those children not have a bed to sleep in, a room to call their own, they had no where to get away from all this adult mayhem that was constantly going on," Barnes said.
Phillips received 4 death sentences for the murders. He was also sentenced to a minimum of 54 years, 10 months in prison for:
Attempted 1st-degree murder of Varner.
Assault with a deadly weapon with intent to kill, inflicting serious bodily injury on Varner.
1st-degree kidnapping of Varner.
1st-degree arson.
Robbery with a firearm of Ryals.
Phillips admitted to the crimes.
His lawyers argued he did not deserve the death penalty.
They said his ability to control his actions was impaired by the childhood of abuse, by drugs and alcohol in his system, by his low IQ and by rage and anguish from another, unrelated shooting. His brother Julian was shot in the head that day in Fayetteville.
After learning his brother was shot, Phillips went from Fayetteville to Moore County to tell his mother what happened, according to trial testimony.
He was with McLaughlin and Ray. The 3 met Hobson at a trailer in Carolina Lakes then went to Ryals' home nearby.
There they met Ryals, Varner, Justice and Harden.
The 8 people sat in the living room and talked for about 30 minutes. Phillips jumped up, pulled a revolver and started shooting and demanding drugs and money.
According to testimony, Phillips shot and beat the victims, Ray stabbed the victims and McLaughlin kept the victims under control while the other two searched the home. The ordeal went on between 1 and 2 hours.
Finally the house was set afire.
Varner, bleeding from 2 gunshot wounds and 22 stab wounds, lived. She crawled out of the burning home to get help, she testified, but was caught by Phillips, McLaughlin and Ray. She said they put her in a pickup and drove her to a burn pile. She thought they would finish killing her there. Instead, they abandoned her for dead after their truck got stuck and they heard firetrucks coming to put out the burning home.
---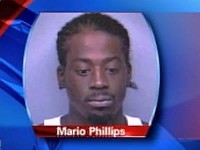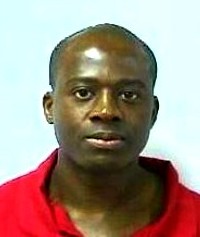 Mario Phillips