Charles E. Pierce is a vicious killer. He is serving a 20-year sentence for the 1969 murder of Michelle Wilson, a 13-year-old Boxford girl. In that case, Pierce accosted her as she rode her bicycle home from a friend's house, dragged her into his van, and strangled her. Then he had sex with her dead body and took her to some woods, where he bit her, beat her, kicked her in the head, put a 98-pound rock on her head and covered her with leaves, according to Robert Weiner, the Essex County first assistant district attorney who prosecuted the case in 1979 and 1980.
A glimpse into Pierce's twisted psyche is provided by the State Police detective captain who arrested Pierce in the Wilson case. About 10 years after the murder, Pierce confessed and led investigators to the spot where he put the body. The captain, who declines to be named, was sitting in the back seat of a police van with Pierce at the crime scene. At the time, Pierce was suspected in several child murders and also had active tuberculosis.
"A big, big moon came out and it was shining into the back seat," the captain says. "And I'm trying to get Charlie [Pierce] to tell me where some of the children [he killed] are, saying it would be nice to let the parents know that much.
"Charlie said, 'There are so many.'
"So I said, 'Well, how about if we start with the ones in Massachusetts?'
"Just then, clouds blocked the moon. He turned to me and started spitting on me, so I'd get his TB. And he hit me over the head with his handcuffs and said, 'You no-good [expletive.]' He rambled on, calling me other names. And from then on, he wouldn't say anything more to me or Dougie [Boxford police chief Douglas A. Warren]."
Pierce has prostate cancer and is not expected to live much longer. Hoping to hear a deathbed confession, Lawrence police detective Captain Michael Molchan and state investigator Sergeant Jack Garvin go to MCI-Shirley in January to meet the ailing inmate, who is 77 years old. Afterwards, Garvin describes the chilling encounter.
When he was convicted of the Wilson murder in June 1980, Pierce was a muscular man, 6' 2" and more than 200 pounds. Now he weighs barely 135. "His skin is hanging off him," Garvin says. Pierce's face is lined and drawn, with dark circles around baggy, bespectacled eyes. He is sitting in a wheelchair, covered with a blanket and wearing an oxygen mask.
Pierce tells the detectives that he murdered several children, including Janice Pockett, a 7-year-old girl from Tolland, Conn., and a 10- or 11-year-old Lawrence boy, whom he will not name.
The Lawrence boy had olive skin and wanted to go fishing, Pierce says. He killed him in his van, had sex with the boy's body and with the dead body of Janice, which he was carrying in the vehicle. He says he buried the children in graves about 30 feet apart, each two feet deep, using a spade he kept in his van. The burial site was a field in Lawrence, which he marked with pieces of coal.
The next day, Pierce recants his story. When detectives try to get more details, he becomes stubborn and belligerent.
"He threw his oxygen mask at me," Garvin says. "Then he pretended to keep falling asleep." When Pierce refused to talk any more, "I said I'd wait till he dies if I have to.
"He said, 'Good, then you can suffer with me.'
"I said I'd claim his body and take it out for the animals to eat. That was my parting shot."
---
Charles E. Pierce
March 2, 1999
A few weeks before Charles Pierce died, the convicted child killer confessed to killing two more children in Lawrence, Mass., more than 40 years ago. During an almost two-hour interview, in which he sometimes fell asleep or became confused, the former carnival worker provided the location of where the children's bodies and other details about the slayings.
On January, 1999, Pierce, who was serving time for killing a 13-year-old girl in 1969, was cancer-stricken and wheelchair-bound when he asked a corrections officer to bring the police. "He told one of the guards he wanted to clear his conscience," Molchan said.
Pierce hooked up to an oxygen tank, told police a horrific story of how he allegedly killed a boy he had befriended at an old theater and buried the child's body in a nearby field. He also recounted that sometime in the eight months prior to that killing, he had abducted a girl in Connecticut, murdered her and buried her body in the same field, about 30 feet from the boy.
Pierce gave vague directions to the field, leading investigators to what is now a ball field. But before proceeding, police say they want to put together some of the many problematic pieces of Pierce's story. For example, while the name of the girl Pierce gave is similar to the name of a girl who did disappear in Connecticut, that abduction happened in the early 1970s -- not in the 1950s. To confuse matters further, Pierce had a history of confessing to things and later recanting. When Connecticut authorities showed up at prison to ask him about his statements to Molchan, Pierce allegedly became agitated and denied the claims.
---
Deathbed tale leaves murder mystery
By Jim Patten - Eagle-Tribune Writer
Sunday, February 28, 1999
LAWRENCE -- The Haverhill drifter and carnival worker who kidnapped and killed 13-year-old Michelle Wilson of Boxford in 1969 has died in prison.
But three weeks before he died of cancer at age 78, Charles E. Pierce made a chilling confession to police -- and left them with another mystery to solve.
He summoned police to his bedside at the state prison in Shirley and told them he killed two more children in the mid- to late 1950s in Lawrence.
So far, police have been unable to identify the victims.
Lawrence Police Detective Capt. Michael S. Molchan said records of missing persons do not go back that far. Retired officers who served in the 1950s could not recall any cases that matched Mr. Pierce's reports.
That leaves police trying to sort out whether Mr. Pierce's story represented the ramblings of a dying old man or a true deathbed confession of his guilt in the deaths of two children who vanished long ago.
"He was incoherent at times. He'd talk for a bit, then fall asleep. He was in and out of it," Capt. Molchan said. "We don't know how much to put into his story."
Police are appealing to the public to help solve the mystery.
"I need some old-timers who may remember these events," Capt. Molchan said.
"It is a very cold case. If anybody knows any news stories or boys missing from the middle 1950s to the early 1960s, please call," he said.
Mr. Pierce told Capt. Molchan and State Police Detective Sgt. Jack Garvin he picked up a young boy outside the Strand Theater in Lawrence, drove up Broadway toward George's Diner and took a left, burying the boy in a field off West Street which may now be occupied by a Massachusetts Electric Co. building.
The Strand Theater closed in 1956 and became the Astor Theater, which closed after two years, Capt. Molchan said. George's Diner was torn down in the late 1950s, Capt. Molchan said.
Capt. Molchan said Mr. Pierce, who travelled extensively with carnivals, also told them he buried a girl he abducted from Connecticut in the same field as the boy.
It was not clear whether he killed the girl in Connecticut and buried her here or killed and buried her here, but he gave enough details of that killing to interest Connecticut investigators, Capt. Molchan said.
Capt. Molchan said Mr. Pierce claimed to have killed the young girl first, and then the boy, during an eight-month period during the mid-1950s and buried them within 30 feet of each other in the field off West Street, Capt. Molchan said.
"He told us he wanted to clear his conscience," Capt. Molchan said.
But "a day or two later Connecticut (police) went there and he said he fabricated the whole thing," Capt. Molchan said.
But according to newspaper accounts, Mr. Pierce had a history of confessing to these crimes, then recanting.
During his trial in the Michelle Wilson case, he attempted to have his taped confession thrown out, claiming he had read about the killing in the newspapers -- only to plead guilty before the case went to a jury.
Mr. Pierce has previously been linked to the slaying of a 7-year-old girl abducted in Tolland, Conn., and the murder of a girl in Sturbridge, near the Connecticut line.
But the Tolland girl was slain in 1973 and the Sturbridge girl in 1976, almost 20 years after Mr. Pierce told the Lawrence officers that he buried a Connecticut girl in their city.
"We are asking people with knowledge to call us. We don't know if he was making up stories. We do know Charles Pierce was questioned in the disappearance of the Connecticut girl," Capt. Molchan said.
Michelle Wilson, whose family had moved to Boxford six weeks before her death on Nov. 22, 1969, was returning to her Baldpate Road home when Mr. Pierce abducted her in his station wagon.
The discovery of her bicycle 1,500 feet from the family home touched off a massive search. Her body was found 19 hours later on Mill Road.
Mr. Pierce was arrested for the Michelle Wilson killing 10 years later in a Florida prison, where he was about to begin serving 10 years for sexual assaults on three boys in a Tampa suburb.
Florida authorities agreed to let him to return to Massachusetts.
Mr. Pierce was connected to the case by statements he made to another inmate and the medical staff at the Florida prison.
Mr. Pierce pleaded guilty on June 9, 1980, interrupting his trial after his taped confession was played to the jury.
Boxford Police Chief Gordon Russell said Mr. Pierce was allowed to plead guilty to second-degree murder because he had been diagnosed with cancer and it was assumed he would die in prison -- as he did, but almost 20 years later.
A second-degree murder conviction allows the possibility of parole. Had he been convicted of first-degree murder, he would not have been eligible for parole.
Mr. Pierce came up for parole in August, 1997, but, nearly blind and in a wheelchair, he waived his right to a hearing.
---
Timeline
1975
August - Two Lawrence, MA boys, age 10 and 11, are lured into the woods and raped by a man asking for help finding a lost poodle.
1976
August
10 year old Andy Puglisi vanishes from a public swimming pool in Lawrence, MA. The search for Andy lasts six days.
September
Wayne W. Chapman is arrested for a firearms violation in Junius, NY (Seneca County) during a routine traffic stop. Police search his van and find a cache of child pornography, rope, tape, handcuffs, a fake police badge and starter's pistol. Chapman is detained and interrogated by police from several states.
Chapman is charged with sodomizing several children in a 4-H club in Providence, RI.
Chapman is charged with the murder of 6-year old David Louison missing from Brockton, MA in 1974.
Police search the Brockton area for the body of missing six-year old, David Louison, based on a confession by Wayne W. Chapman. David's body is not recovered.
October
Wayne W. Chapman is publicly named as a suspect in Andy Puglisi case
November
Massachusetts Governor Michael Dukakis signs a warrant for extradition of Wayne W. Chapman from RI to MA for the rape of two Lawrence boys. Case #P2-1977-0053A
A Bristol county grand jury indicts Chapman on charges of sexually assaulting three young boys in 1975.in Fall River and Seekonk, MA. He is held without bail in Cranston, RI.
1977
January 1977
Wayne W. Chapman is extradited from RI to Massachusetts for rape of a child: 2 counts Lawrence, MA (0051300)
May 1977
Grand Jury testimony given by two boys – victims of the Lawrence rapes.
State and local police search the wooded area behind the pool for Andy Puglisi's remains. The search turns up nothing.
September 1977
Wayne W. Chapman is found guilty of raping the two Lawrence boys. The crime is a capital offense in MA. Essex County Superior Court sentences Chapman to 2 concurrent 15 to 30 year sentences. Docket #92368-69.
Chapman is sentenced to no less than 15 nor more than 30 years at MCI Cedar Junction.
1978
March 1978
Wayne W. Chapman is civilly committed to the Massachusetts Treatment Center for the Sexually Dangerous for a term on of "one day to life" SDP 163.
July 1978
A Plymouth County Grand Jury refuses to indict Wayne W. Chapman in the murder of six-year old David Louison citing 'no bills' i.e. not enough evidence.
August 1978
Wayne W. Chapman is arraigned in Bristol Superior Court. He receives 6-10 years for Sodomy and indecent Assault and Battery on a child under 14.
November 1978
Charles E. Pierce, a Haverhill, MA resident is convicted of rape of a child in Hillsborough County, Florida and is sentenced to five years in a Florida State prison.
1979
January 1979
Andy Puglisi's dental records are sent to Chicago to be cross-checked against the human remains of children found buried under the home of serial killer John Wayne Gacy. No match is made.
Connecticut State Police form a special task force to investigate the disappearance of several children including Janice Pockett, Dawn Cave, Mary Mount, Debra Sprickler, Kathleen Terry and Lisa Joy White.
March 1979
Charles E. Pierce confesses to the murder of 13-year old Michelle Wilson. Pierce is named as a suspect in the disappearance of Janice Pockett from Tolland, CT and is implicated in the murder of several children in the CT area.
November 1979
Charles E. Pierce is charged with the murder of Michelle Wilson. He pleads innocent and is committed to the Bridgewater State hospital in MA for observation.
1980
June 1980
Charles Pierce pleads guilty to second-degree murder of Michelle Wilson. He is sentenced to life at MCI Walpole. Docket #100230-100231
August 1980
State police dig an area in Tolland, CT searching for Janice Pockett based on information Charles Pierce has given them. Janice's body is not recovered.
February 1980
A child's body discovered in a Brockton basement is positively identified as six-year old David Louison.
1981
March 1981
Charles E. Pierce tells investigators he is responsible for 15-20 child murders since 1954. He names several children including William DeSousa of Chicago (1972) Janice Pockett of CT (1973) and Mary Catherine Olenchuk of Maine.
1982
July 1982
Lawrence police re-open the investigation into Andy's disappearance by bringing Psychic, Andrew Barnhart, in to help with the investigation.
Lawrence police interrogate a ten-year old boy who claims to have witnessed Andy's abduction six years earlier when the boy was 4.
1988
October 1988
Lawrence police Captain Fitzpatrick receives a letter from a State Trooper involved with Charles E. Pierce. The letter says Pierce has confessed to the murder of a Lawrence, MA boy and that Lawrence police should investigate. Lawrence police do not question Charles Pierce.
1989
December 1989
Wayne Chapman is approved to participate in Community Furlough Program allowing him to be released from the Massachusetts Treatment Center into the community on weekends.
1991
October 1991
Wayne W. Chapman's Section 9 hearing (Sexually Dangerous Persons) SDP 163. Despite protests from several psychiatrists and the Treatment Center itself Chapman is ruled 'no longer sexually dangerous' and his released from his civil commitment. He is returned to the prison system to serve the remainder of his criminal sentence.
1994
January 1994
Chapman refuses sex offender treatment based on religious affiliation.
Wayne W. Chapman suffers a heart-attack and survives.
1998
February 1998
Melanie Perkins contacts Andy's mother and begins filming family members, police officers and friends.
August 1998
The Lawrence Eagle Tribune prints featuring Perkins' search for answers in the disappearance of Andy Puglisi.
The Lawrence Police Department announce they are "officially re-opening" the investigation into Andy's disappearance and have assigned local and State police detectives to work on the case.
Melanie Perkins interviews Lawrence detectives who identify a neighbor, Gary Thibedeau, as another suspect in Andy's abduction.
September 1998
Melanie Perkins contacts Wayne Chapman requesting an interview.
Al Mintz, a Providence RI detective who investigated Wayne Chapman is located in Florida. Mintz remembers the Chapman case clearly and has retained files over the past 20 years.
December 1998
Melanie discovers a letter in a Lawrence police file that claims a prison inmate confessed to the murder of a Lawrence boy. No other information about the inmate is available. The inmate's name is Charles E. Pierce.
1999
February 1999
Melanie learns for the first time that Charles E. Pierce is a convicted child murderer who has confessed to the murder of a Lawrence boy. Judith Gaines sends an overnight letter to Pierce requesting an interview.
Charles Pierce dies of prostrate cancer on February 18, 1999.
April 1999
Based on a deathbed confession from Charles Pierce, Lawrence police bring cadaver dogs out to a site where Pierce claims to have buried the two children. The dogs don't react.
Later that same day, police bring the cadaver dogs to an area adjacent to the pool. Both dogs react.
May 1999
Melanie learns Charles Pierce was not in prison when Andy disappeared and that he told Lawrence police he was acquainted with Wayne W. Chapman and had seen him from time to time in Lawrence.
July 1999
The Boston Globe publishes an 8-part series about the filming of the documentary and the search for Andy. The series includes interviews with Andy's parents, Wayne W. Chapman, Andrew Barnhart and Perkins.
Wayne W Chapman reneges on his agreement to be filmed for the documentary. He subsequently agrees to an off-camera interview with Perkins.
Melanie meets with Wayne Chapman at the Souza Baranowski Center in Shirley, MA. He denies any involvement in Andy's disappearance and claims never to have been to Lawrence, MA despite the fact that he was convicted of the rape of two Lawrence boys in 1975.
National networks and local news shows begin covering Andy's story.
2000
December 2000
Montana police arrest Nathaniel BarJonah aka David Brown in the disappearance of Zachary Ramsay. BarJonah is a Massachusetts resident and known sexual predator previously held at the Massachusetts Treatment Center for the rape of several children in the Webster, MA area.
Fragments from a child's bones are found in BarJonah's garage along with a list of several boys from a camp in Webster, MA and a recipe for 'little boy stew'. It is alleged BarJonah has cannibalized children.
2001
June 2001
ABC News, PrimeTime Live airs "Predators Among Us", an investigation into a The Massachusetts Treatment Center for the Sexually Dangerous. It documents sexual predators who were released from the facility only to rape, molest or murder again. Therapist, Paula Erickson who worked at the Treatment Center in the 1990s, tells Cynthia McFadden that she went to the state capitol to warn people of the danger but no one would listen. A profile of Wayne W. Chapman is included as one of the sexual predators released from the Treatment Center. The news piece also includes a profile of Nathaniel Bar Jonah.
Melanie learns BarJonah and Chapman were colleagues and may have known each other before their civil commitments to the Treatment Center.
2002
Nathaniel Bar-Jonah is convicted earlier this year of sexually assaulting a 14-year-old Great Falls boy, and hanging the boy's 8-year-old cousin from a kitchen ceiling. Those assaults occurred in 1998 and 1999. . Bar-Jonah spent 11 years in the Massachusetts Treatment Center after one attack in which authorities said he tried to kill two boys. . Under a 1991 plea agreement with Massachusetts' prosecutors, Bar-Jonah was allowed to move to Montana with his mother. Montana authorities were outraged to learn of the deal after Bar-Jonah's arrest.
2004
August 2004
The City of Lawrence dedicates the corner adjacent to the Higgins Memorial Pool as "Andy Puglisi Square" a memorial plaque is placed on a boulder outside of the pool that Andy and his friends played before his disappearance.
The State Police crime unit excavates a larger area adjacent to the pool – the same area in which the two cadaver dogs reacted and the 'smaller' 1999 excavation occurred. Andy's body is not recovered.
October 2004
Wayne W. Chapman's criminal sentence ends. The Essex County District Attorney's office files a petition Chapman still Sexually Dangerous and return him to the Massachusetts Treatment Center
2005
October 2005
An Essex Superior Court judge rules the state's contention that Chapman remains a Sexually Dangerous person is insufficient and should not be allowed granting a motion by Wayne Chapman's attorney, John Day, to dismiss the case. The state appeals.
April 2005
The state Supreme Judicial Court 'vacates the decision' of an Essex County Superior Court judge who ruled the state's case against Wayne Chapman should be dismissed. The case is allowed to move forward to a probable cause hearing.
2006
June 2006
Crime scene investigators search the area behind the pool for Andy based on information from a potential eye-witness. Andy's body is not found.
August 2006
Andy's family holds a candlelight vigil honoring his memory at St. Patrick's Church in Lawrence, MA. It is the only church service ever held in Andy's honor.
2007
March 2007
Wayne W. Chapman's sexual dangerousness hearing is scheduled. The outcome will determine whether Chapman is returned to the Treatment Center or released into the community.
April 2007
A judge rules Wayne W. Chapman is still sexually dangerous and commits him to the Treatment Center at Bridgewater, MA for a term of 'one day to life'. Chapman's status for release will be reviewed annually.
May 2007
"Have You Seen Andy?" is screened for the first-time publicly at the Showcase Cinema in Lawrence, MA, the same theater Melanie and Andy attended as children. 400 people crowd the theatre.
June 2007
"Have You Seen Andy?" is broadcast on HBO/Cinemax. The film will continue to broadcast over the next five years.
---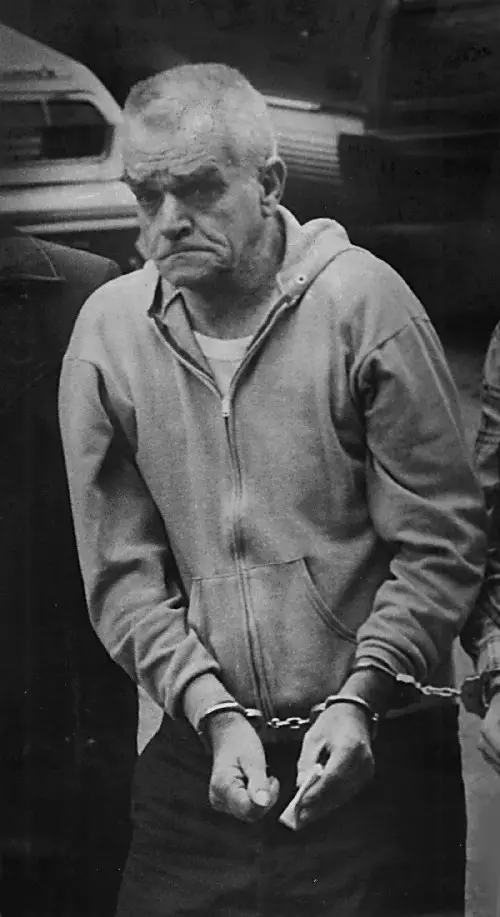 Charles E. Pierce