Murder of Adrienne Shelly
Adrienne Levine (June 24, 1966 – November 1, 2006), better known by the stage name Adrienne Shelly (sometimes credited as Adrienne Shelley), was an American actress, director and screenwriter.
Making her name in independent films such as 1989's The Unbelievable Truth and 1990's Trust, Shelly transitioned to a writing and directing career in subsequent years. She wrote, co-starred in, and directed the 2007 film Waitress, which won five awards and numerous film festival accolades.
On November 1, 2006, Shelly was found dead in her Greenwich Village work studio. While initially thought a suicide, police later arrested a construction worker who confessed to murdering Shelly when she caught him robbing her apartment.
Shelly's husband afterwards established the Adrienne Shelly Foundation, that awards scholarships, production grants, finishing funds and living stipends to artists. In her commemoration, the Women Film Critics Circle gives an annual Adrienne Shelly Award to the film that it finds "most passionately opposes violence against women."
Early life
Of Russian Jewish descent, Shelly was born Adrienne Levine in Queens, New York, to Sheldon M. Levine and Elaine Langbaum. She had two brothers, Jeff and Mark, and was raised on Long Island. She began performing when she was about 10 at Stagedoor Manor Performing Arts Training Center. She made her professional debut in a summer stock production of the musical Annie while a student at Jericho High School in Jericho, New York. She went on to Boston University, majoring in film production, but dropped out after her junior year and moved to Manhattan.
Career
Shelly's career breakthrough came when she was cast by independent filmmaker Hal Hartley as the lead in The Unbelievable Truth (1989) and Trust (1990). Trust was nominated for the Grand Jury Prize at the Sundance Film Festival, where Hartley's script tied for the Waldo Salt Screenwriting Award.
She appeared in a number of films during the 1990s, and as she segued toward a behind-the-camera career, she wrote and directed others, including 1999's I'll Take You There, in which she appeared along with Ally Sheedy. She won a U.S. Comedy Arts Festival Film Discovery Jury Award in 2000 for direction of the film, and Prize of the City of Setúbal: Special Mention, at the Festróia (Tróia International Film Festival) held in Setúbal, Portugal, for best director.
Shelly also guest-starred in a number of television series including Law & Order, Oz and Homicide: Life on the Street. She played major roles in over two dozen off-Broadway plays, often at Manhattan's Workhouse Theater. In 2005 she appeared in the film Factotum starring Matt Dillon.
Her last known work was writing, directing, co-set- and costume-designing, and playing a supporting role in the film Waitress, starring Keri Russell and Nathan Fillion, which premiered at the 2007 Sundance Film Festival. Shelley's daughter, Sophie, has a cameo at the end of the film.
Personal life
Shelly, who took her professional surname after her late father's given name, was married to Andrew Ostroy, the chairman and CEO of the marketing firm Belardi/Ostroy. They had a daughter, Sophie (born 2003), who was two years old at the time of her mother's death. Shelly described herself as an "optimistic agnostic."
Death
The 40-year old Shelly was found dead at approximately 5:45 p.m on November 1, 2006. Her husband, Andrew Ostroy, found her hanging by a bed sheet from a shower rod in the bathtub of the Abingdon Square apartment in Manhattan's West Village that Shelly used as an office. It initially appeared to be a suicide. Ostroy had dropped her off at 9:30 a.m. that day, and the building's doorman told journalists that he had accompanied Ostroy at his behest after Ostroy had not heard from Shelley that day. Upon reaching the apartment, they found that the front door was unlocked.
An autopsy was performed the following day. The New York City Police Department was suspicious of sneaker prints in the bathtub that did not match Shelly's shoes (she was found wearing only socks). Shelly's husband also indicated that there was money missing from Shelly's wallet. He denied allegations that she would have committed suicide.
Press reports on November 6, 2006, stated that police had arrested construction worker Diego Pillco, a 19-year-old Ecuadorian illegal immigrant who confessed to killing Shelly after she complained about the noise he was making in the apartment below hers. Pillco said that he "was having a bad day". Police said Pillco had made a taped confession implicating himself in the murder.
Diego Pillco entered his guilty plea on February 14, 2008.
He said that, contrary to his original story, Shelly had not complained about noise, but had in fact caught him stealing money from her purse after he slipped unnoticed into the apartment. When she tried to call the police, he grabbed the phone and covered her mouth as she began to scream. After Shelly fell, Pillco tied a bed sheet around her neck and decided to strangle her.
Originally, Pillco claimed he didn't know Shelly was still alive when he hanged her, but in court he admitted to choking her with a sheet, tying it around her neck and stringing her up to make it look like she committed suicide. The medical examiner determined that Shelly was still alive when hanged. Pillco was sentenced to 25 years in prison without parole on March 6, 2008.
At Pillco's sentencing on March 13, 2008, Shelly's husband, along with family members, said that they would never forgive him. Andy Ostroy said of Pillco "...you are nothing more than a coldblooded killer" and that he hoped he would "rot in jail".
In remembering Shelly, Ostroy said that "Adrienne was the kindest, warmest, most loving, generous person I knew. She was incredibly smart, funny and talented, a bright light with an infectious laugh and huge smile that radiated inner and outer beauty... she was my best friend, and the person with whom I was supposed to grow old".
Lawsuit
Shelly's husband sued contractor Bradford General Contractors, which had hired Pillco. The complaint alleged that Shelly would still be alive if the contracting firm had not hired him. Ostroy also sought to hold the owners and management of the building liable for Shelley's murder.
According to a New York Post article, among other allegations, the complaint stated that "'Pillco was an undocumented immigrant...' as were his co-workers, and that "it was in Bradford General Contractors' interest not to have 'police and immigration officials [called] to the job site' because that would have ground their work to a halt".
On July 7, 2011, the lawsuit was dismissed by Judge Louis York. The court determined that Ostroy had not established legal grounds to hold the contractor liable, writing "While this court sympathizes with [Ostroy's] loss, plaintiffs have not presented sufficient legal grounds upon which to hold Bradford ... liable for Pillco's vicious crime", and that there was likewise insufficient evidence presented to find that either the building's management agents or its owners "had reason to believe that Pillco was a dangerous person who should not have been allowed to work at the premises" in order to find them vicariously liable. Ostroy was said to be considering an appeal.
Legacy
Following his wife's death, Ostroy established the Adrienne Shelly Foundation, a non-profit organization that awards scholarships, production grants, finishing funds and living stipends through its partnerships with academic and filmmaking institutions NYU, Columbia University, Women in Film, IFP, AFI, Sundance Institute, Tribeca Film Institute and the Nantucket Film Festival. One of its grant recipients, Cynthia Wade, won an Academy Award in 2008 for Freeheld, a short-subject documentary which the Foundation helped fund. As part of its annual awards, the Women Film Critics Circle gives the Adrienne Shelly Award to the film that "most passionately opposes violence against women".
On February 16, 2007, the NBC crime drama series Law & Order broadcast an episode, "Melting Pot", that was a thinly-veiled dramatization of Shelly's murder. Shelly herself had guest-starred on the show in the 2000 episode "High & Low".
Shelly's film, Waitress, had been accepted into the 2007 Sundance Film Festival before her murder. The film, starring Keri Russell, Nathan Fillion, Cheryl Hines, Jeremy Sisto, Andy Griffith and Shelly herself, was bought during the festival by Fox Searchlight Pictures for an amount between $4 million and $5 million (news accounts on the actual amount vary), and the film realized a final box-office draw of more than $19 million. Waitress maintains an 89% "fresh" rating on Rotten Tomatoes.
Waitress and its cast have together won five film awards and received other nominations in various categories, including a Chlotrudis Award for best performance by an ensemble cast; Audience award for a feature film at the Newport Beach Film Festival, where cast member Nathan Fillion also received a Feature Film award for his role in the film; the Jury Prize at the Sarasota Film Festival for narrative feature; the Wyatt Award by the Southeastern Film Critics Association Awards; and nominations for a Humanitas Prize and an Independent Spirit Award for best screenplay.
Ostroy produced Serious Moonlight, a film written by Shelly and directed by Hines. The film stars Meg Ryan, Timothy Hutton, Kristen Bell and Justin Long. It premiered at the Tribeca Film Festival in April 2009 and was released later that year in December. In one scene of the film, a married couple are robbed and tied up with duct tape by a gardener.
Ostroy also spearheaded a move to establish a memorial to his wife. On August 3, 2009, the Adrienne Shelly Garden was dedicated on the Southeast side of Abingdon Square Park in NYC at 8th and 12th. It faces 15 Abingdon Square, the building where Shelly died.
Wikipedia.org
---
Husband of Actress Tells Killer to Suffer
By Anemona Hartocollis - The New York Times
March 14, 2008
At first, Andrew Ostroy, the husband of the murdered actress and filmmaker Adrienne Shelly, sounded as if he were reading from a police report.
He gave a clinically cold recitation of the circumstances of her death, culminating with her being hanged from a shower rod, similar to "the way you strung up pigs back home in Ecuador," in the words of the laborer who killed her.
Even when telling of her flowering career — her film "Waitress" was about to make its debut at the Sundance Film Festival — and his relationship with her, he spoke in a flat, unemotional voice, even as he thrust his hands in the pocket of his gray suit and called her "the love of my life."
But when he moved to the last part of his prepared remarks, he gave vent to all his grief and fury as he talked about his daughter, Sophie, who never imagined, when she said goodbye that day, that she would never see her mother again. That girl, he said, had been raised with "love and tenderness."
Cocking his head toward Diego Pillco, who has admitted killing Ms. Shelly, he said, "You sentenced that little girl to a lifetime of anguish and sadness and questions and feelings of what could've been."
"No sentence," he added, "would be enough for you."
After Mr. Ostroy spoke in State Supreme Court in Manhattan on Thursday, Justice Carol Berkman sentenced Mr. Pillco to 25 years in prison, as part of a negotiated deal in which he agreed in February to plead guilty to manslaughter. He will be eligible for a reduction of a maximum of 3 ½ years of his sentence for good behavior, but not for parole.
Mr. Ostroy found Ms. Shelly, 40, hanging by a sheet from the shower rod in the bathroom of the Greenwich Village apartment she used as an office on Nov. 1, 2006. Although her death was initially thought to be a suicide, Mr. Pillco, now 21, was arrested on Nov. 6, after the police matched a sneaker print on the bathtub to his shoes.
Mr. Pillco initially told the police that Ms. Shelly had complained about noise in the apartment below, where he was working on a renovation, and that he had followed her into her apartment to stop her from making a complaint because he was afraid of being arrested and deported.
When he punched her and accidentally knocked her unconscious, he said, he thought he had killed her and decided to fake a suicide. The medical examiner ruled that she had died as a result of being hanged.
Last month, Mr. Pillco changed his story during a plea hearing, saying that he had sneaked into Ms. Shelley's apartment while the door was ajar so that he could rob her. When she saw him and threatened to call the police, he covered her mouth, and when she fell to the floor, he decided to choke her and stage the hanging.
Law enforcement officials said they accepted the plea to manslaughter because if Mr. Pillco had gone to trial, he was likely to stick by his first confession, in which he described the death as an accident, and a jury might not have convicted him of the original charge, second-degree murder, which carries a sentence of 25 years to life.
Justice Berkman told Ms. Shelly's family that although she could not offer them comfort, she hoped that they would find some comfort in her child. "I hope that the task of raising that child and raising her as a healthy, wonderful person like her mother will at least comfort you," Justice Berkman said.
Ms. Shelly's mother, Elaine Levine, also spoke, sighing repeatedly as she said with a slight Queens inflection — her daughter was born Adrienne Levine in Queens — that she suffered the bottomless ache of a mother who had lost her child. She, too, spoke of the baby her daughter "had waited so long to have." Saying she could not forgive Mr. Pillco, she said she wished only that he would be forced to serve every day of his 25-year sentence.
In his anger, Mr. Ostroy, a marketing executive, called Mr. Pillco an animal and a beast for, he said, taking the life of a "loving woman who, unlike you, had so much to give to society."
He said he was "haunted by the image of you walking this earth, a free man 23 ½ years from now, as a man with much of his life still left to live." (The 16 months that Mr. Pillco has spent in jail since his arrest is considered time he has already served.)
"I want you to suffer like she suffered," he said, "to live a life of fear, the same fear she felt when she realized she was about to die."
Speaking through a translator, Mr. Pillco responded to Mr. Ostroy by saying that he, too, had never imagined his life turning out this way.
"I came with a purpose here, to work and help my family out," he said. "But my life has changed."
He said that he accepted the justice of his punishment. "I left my house with the purpose of working, not to hurt anyone, and this is what I deserve," he said.
---
Adrienne Shelly's killer pleads guilty, gets 25 years
By Laura Italiano - NYpost.com
February 14, 2008
A construction worker admitted in chilling detail today that he strangled indie-actress Adrienne Shelly in her Greenwich Village apartment because she caught him trying to rob her.
In his courtroom confession, Diego Pillco, an illegal immigrant from Ecuador, recounted how he choked the wife and mother with a sheet, strung her body up from a shower rod and fled — hoping to make the murder look like a suicide.
Pillco, 20, will get 25 years in prison — almost certainly followed by deportation — as a result of today's Manhattan Supreme Court guilty plea to first degree manslaughter.
The confession differed radically from what Pillco had long told cops — that he sparred verbally with Shelly after she came downstairs to complain of construction noise.
Pillco had been doing construction one floor down from Shelly, renovating an apartment where the floor was covered with gypsum dust, and was caught after cops matched his gypsum dust-caked boot bottom to a perfectly-preserved print on Shelly's toilet lid.
He admitted that robbing Shelly of her purse as she arrived home was his real, more sinister motive — although investigative sources believe rape may have been an original motive as well, though thwarted by the violence that followed.
Shelly screamed when Pillco reached for her, he said yesterday.
"So out of desperation, I got scared and I covered her mouth," Pillco admitted.
"When I noticed she fell to the floor, I was very scared. When she fell to the floor, I saw a sheet, and I decided to choke her — and that's what happened."
Here, the judge interjected: "And then you tied the sheet around her neck and you strung her up?"
"Si," Pillco answered. "Yes, and I made it look like it was suicide."
The plea brings some closure to the tragic, Nov. 6 murder of Shelly, an actress, writer and director who'd lived on Abingdon Square with her husband, Andy Ostroy, the CEO of a Manhattan-based strategic marketing service, along with his teenaged daughter, and the couple's 3 year old daughter.
Her last movie, "Waitress" which she wrote, directed and acted in, would wind up triumphing at the Sundance Film Festival, going on to garner warm reviews and big ticket sales at theaters nationwide last summer.
Pillco, a small, roundish man, rendered yesterday's plea without emotion. But for the row-full of Shelly's family and friends in attendance, it prompted waves of tears, sad sighs, and even bitter laughter at one point, when Pillco, speaking through a Spanish translator, asked for forgiveness.
One of Shelly's brothers broke into angry laughter.
"No! No!" the victim's mother, Elaine Langbaum, hissed from her seat, her fists clenched at her throat and her eyes burning.
"I don't think you'll get that sir," Manhattan Supreme Court Justice Carol Berkman told Pillco of any absolution.
---
Actress's Death Is Ruled Murder, and Worker in Building Is Charged
By Thomas J. Lueck - The New York Times
November 7, 2006
When Adrienne Shelly, an actress, was found dead in her Greenwich Village office last week, the police suspected suicide. Her body, with a sheet tied around her neck, was hanging from the shower curtain rod in the office bathroom.
But family members and friends were skeptical. Her show business career was thriving, they said, and she was a devoted mother to her 3-year-old daughter. They insisted that she would not have taken her own life.
And some investigators were skeptical, too. Yesterday, the police charged a 19-year-old construction worker with murder, saying her death was the horrific result of a chain of events set off by a complaint common to New York City residents: construction noise.
The police said that after Ms. Shelly argued with the worker about the noise on Wednesday, he struck her in the face.
Then, suspecting that the blow was fatal, he hanged her from the shower curtain rod in an attempt to make her death look like a suicide, investigators said.
"We have felt adamantly that what happened was not the result of suicide," said Rachel Sheedy, Ms. Shelly's agent, when informed of the arrest yesterday. "It is a great relief knowing that the police have taken us seriously."
It was unclear whether Ms. Shelly died from the blow or from being hanged. Ellen Borakove, a spokeswoman for the city medical examiner, said an autopsy had been conducted but the manner and cause of death had not been determined.
The construction worker, Diego Pillco of Prospect Avenue in Greenwood Heights, Brooklyn, was charged yesterday with second-degree murder, the police said. A native of Ecuador who arrived in the city in July, Mr. Pillco had been working in a third-floor apartment directly beneath the one Ms. Shelly used as her office at 15 Abingdon Square, in Greenwich Village, the authorities said.
Ms. Shelly, 40, lived not far away on Varick Street with her husband, Andy Ostroy, and her daughter, Sophie. She used the Abingdon Square apartment as the base of a career that included leading or featured roles in two dozen Off Broadway plays as well as movies and television shows.
She first gained recognition for her film roles in Hal Hartley's dark comedies "The Unbelievable Truth" and "Trust." She was featured last year in the movie "Factotum," starring Matt Dillon, and she had recently finished directing "Waitress," which is under consideration for inclusion in the Sundance Film Festival.
Ms. Shelly, born Adrienne Levine, was a Queens native who started performing as a child in arts camps on Long Island and upstate. She dropped out of Boston University after her junior year and moved to Manhattan.
Several investigators said Mr. Pillco admitted to Ms. Shelly's murder yesterday.
"He admits to hitting her, believes he had killed her and wanted to fake her suicide," said one investigator, who asked not to be identified because the investigation was continuing.
Ms. Shelly's body was found Wednesday by her husband. At the time, the police said, they found few signs of trauma or struggle.
"It appeared to be a suicide — he staged it as a suicide," the investigator said. But he said investigators "never just accepted it for what it was staged to be."
Detectives from the Sixth Precinct in Greenwich Village were particularly troubled by an unexplained footprint found in the bathroom. They examined the shoes of everyone who had entered the apartment, including police officers and emergency workers, but found no match for the print.
They canvassed the building, and found that renovation work was under way in some apartments. The detectives matched the footprint from Ms. Shelly's bathroom to one they found at one of the work sites, and then used the match to track down Mr. Pillco, the authorities said.
Mr. Pillco was picked up Sunday night and taken to the Sixth Precinct station house, where he made his admissions early yesterday, investigators said. He was escorted from the station to a waiting police car last night wearing a Yankees cap low over his forehead, partly obscuring his face from photographers and television crews.
Neighbors at Mr. Pillco's apartment building said he was hard-working and respectful. He lived in a basement apartment with his cousin and held a variety of odd jobs, they said.
"He sent money home to his mother and father," said Frank Lingo, a neighbor. "He minded his business. He never bothered me or anyone else near here. He seemed like a good kid. I've never seen him hang out."
Chris Pannhorse, another neighbor, said: "He was always respectful to me and my wife. He's a good kid. Because that is what he is to me, just a kid."
The arrest came after a memorial service for Ms. Shelly on Sunday that drew hundreds of mourners.
According to The New York Post, Mr. Ostroy spoke at the service, repeating his insistence that his wife would not have committed suicide.
"There's no way on this planet that she would have left that child," he said. "Nobody is ever going to tell me that woman walked away from Sophie."
Reporting was contributed by Al Baker, Kate Hammer, Daryl Khan, Colin Moynihan, William K. Rashbaum and Emily Vasquez.
---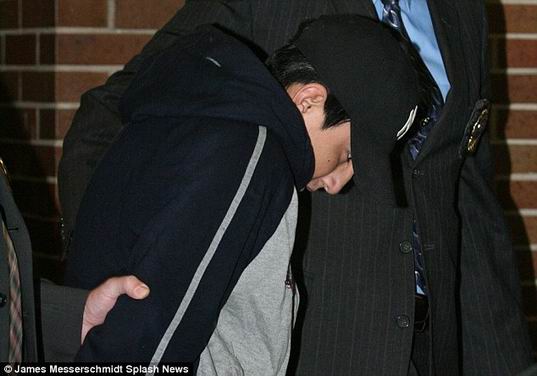 Diego Pillco
The victim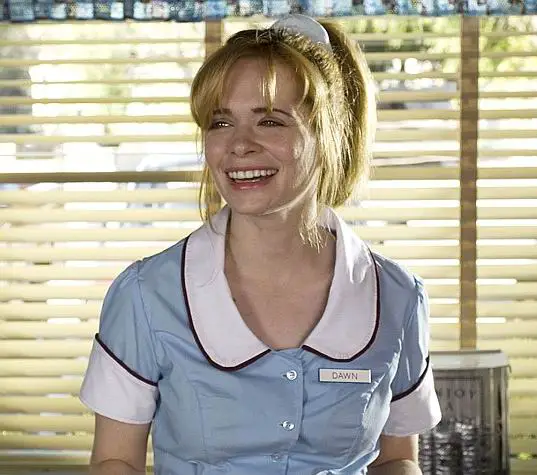 Adrienne Shelly was an actress and filmmaker who starred in 2007 film Waitress (above, Shelly in the film).