Idaho Supreme Court rejects death sentence appeal
The Associated Press
February 22, 2008
Idaho Supreme Court today rejected an appeal by a double murderer who claimed his death sentence should be voided because it's unconstitutional to execute inmates deemed mentally retarded.
Gerald Pizzuto Jr., 52, was convicted and sentenced to die in 1986 for beating to death a Marsing woman and her nephew who were prospecting north of McCall.
Last fall, Pizzuto's attorney filed a motion appealing a lower court ruling dismissing his claim that the death sentence should be reversed because he was clinically mentally retarded at the time of the slayings.
Federal Public Defender Joan Fisher argued that during a pre-sentence investigation, a physician testified that Pizzuto scored 72 on an IQ test, was unintelligent, impulsive and could not anticipate the consequences of his actions.
U.S. Supreme Court ruled in 2002 that it is unconstitutional to execute anyone who fits the medical definition of mentally ill. One standard in Idaho code for defining mental retardation is an IQ of 70 or below, according to the opinion.
Because Pizzuto sought to apply that law retroactively to his case, Idaho law requires that he prove he was mentally retarded at the time of the crimes, when he was 29, and that the retardation occurred before his 18th birthday. He also argued that IQ scores are accurate within five points, meaning his score could have been as low as 67.
The state responded that same margin of error standard could be applied to raise Pizzuto's IQ to 77.
A lower court dismissed Pizzuto's claim in 2003, ruling his appeal was untimely and failed to prove his mental retardation claims.
In a unanimous opinion issued today, justices agreed.
"One requirement of proving mental retardation is that Pizzuto had an IQ of 70 at the time of the murders and prior to his 18th birthday," the justices wrote. "He did not offer any expert opinion showing that he did."
Pizzuto was convicted of killing Berta Herndon, 58, of Marsing, and her 37-year-old nephew Del Dean Herndon, of Moresfield Neb., as they were prospecting in an area know as Ruby Meadows, about 26 miles north of McCall. He also was convicted of one count of grand theft.
At trial, prosecutors argued that Pizzuto approached them with a .22 caliber rifle as they arrived at their mountain cabin. Inside the cabin, he tied their wrists behind their backs and bound their legs to steal money. Later, he bludgeoned Berta Herndon to death with hammer blows to the head, then hit her nephew over the head with a hammer before shooting him between the eyes, according to court records.
---
Gerald Ross Pizzuto
On July 26, 1985, Idaho authorities launched a sweeping manhunt for the killers of Alberta Herndon and her nephew Delbert, beaten to death near their gold claim, 100 miles northwest of Boise.
Three suspects were arrested, but one - initially identified as "Jerry Gilbertson" - escaped from custody after stealing a tourist's pickup truck. "Gilbertson" was later identified as Gerald Pizzuto, a native of Orland, California, sought in connection with two Seattle homicides. Rita Drury, age 51, had been shot to death while babysitting her grandchild on March 16, 1985, and 31-year-old John Jones was gunned to death in his bed, two weeks later. Robbery was suspected as a motive in both slayings, and warrants had been issued naming Pizzuto as the gunman.
Regrettably, no information on the disposition of Pizzuto's case was available at press time. It appears that the nomadic slayer may be one of those who got away.
Michael Newton - An Encyclopedia of Modern Serial Killers - Hunting Humans
---
Pizzuto, Gerald Ross
(1956-
SEX: M RACE: W TYPE: N MOTIVE: CE
DATE(S): 1985
VENUE: Idaho/Wash.
VICTIMS: Four
MO: Victims of both sexes shot/bludgeoned in robberies
DISPOSITION: Condemned on two counts, 1986; also convicted of grand theft and robbery.
---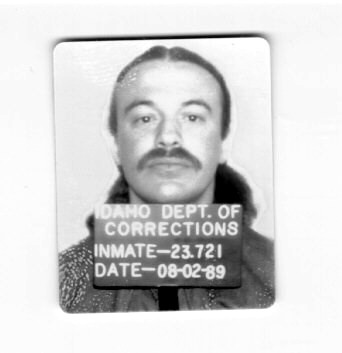 Gerald Ross Pizzuto, 1989.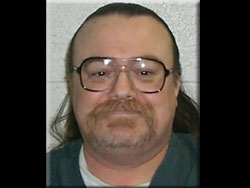 Gerald Ross Pizzuto, 2008.