Sam Poo was a Chinese bushranger in Australia who was active in the Coonabarabran region of New South Wales during 1865.
Poo was a Chinese emigrant to Australia during the Gold Rush, but instead of mining took to highway robbery on the road between Gulgong and Mudgee. A skilled and elusive bushman, he evaded capture from the authorities for several weeks. He often targeted solitary travelers on foot, both Chinese and Whites, and was also responsible for the rape of a settler's wife.
On the 3 February, 1865 the Senior Constable John Ward of the New South Wales Police Force was returning to Coonabarabran from a prisoner escort to Mudgee. Near the locality known as Barney's Reef he was informed that a Chinese man had been robbing passing travellers in the vicinity, and was nearby in the scrub.
Following a short search, Senior Constable Ward located the offender's camp and approached him. When the offender saw the constable he dived into the bush. A long foot chase ensued, during which the pursued shot the Constable in his chest, mortally wounding him. The murderer was later identified as the Chinese bushranger Sam Poo.
Two weeks after the incident Sam Poo was finally tracked down. When confronted by police troops he attempted to escape, but was shot in the thigh. Continuing to fire from the ground, he was finally subdued, and taken to a prison hospital in Mudgee. When he recovered nine months later he was taken to Bathurst, where he was tried and hanged on 19 December, 1865.
Wikipedia.org
---
Chinese Bushranger
Sam Poo was a Chinese bushranger who robbed people on the Gulgong-Mudgee road, always meeting his victims on foot.
Nicknamed 'Cranky Sam', he was unpopular with his own people as well as the rest of the inhabitants of the district.
Sam Poo was armed with a pistol and a shotgun. He first robbed 10 of his countrymen on the Gulgong Mudgee Road, then attacked and raped a settler's wife.
Gold miners at Talbragar (then Denison Town), the nearest settlement, were outraged, but not sufficiently to stop their prospecting and chase him down.
Trooper John Ward was the sole law keeper, trying to capture Sam Poo on his own. Ward caught up with Sam Poo at Barney's Reef, where they had a cowboy style shootout, dodging behind rocks and trees, shooting all the way. Ward was shot in the chest and later died. He was married with five children.
Sam Poo was sentenced to death by Judge Edward Hargreaves at Bathurst in 1865.
MudgeeHistory.com.au
---
Sam Poo
The Chinese mystery man, Sam Poo, turned up late 1864 at the Talbragar diggings. He was a taciturn loner who mixed with neither whites nor Chinese. There were rumours that he had been a Chinese laundryman in Sydney.
Sam Poo set up a tent on the outskirts of the field and walked around the area a lot. He was nicknamed "Cranky Sam" due to his surly manner. One resident of Chinatown said "Him no good. Him bad man – no like".
Then it was noticed early in January 1865 that Sam Poo was no longer around. Apparently he had packed up and left Talbragar. Two days later ten Chinese prospectors left the Talbragar diggings and set out along the Mudgee Road. At a lonely spot on the road Sam Poo bailed them up at pistol point. He relieved them of their small calico container filled with gold dust that they had concealed under their pigtails.
Sam Poo continued to do hold-ups, but he selected solitary wayfarers on foot, both Chinese and whites. On 8th February 1865 he attacked and raped a woman, holding her a prisoner all day. He let her go at nightfall, then he disappeared into the darkness.
Trooper John Ward set out alone on 10th February 1865 dressed as a civilian on foot. He came upon Sam Poo, who suddenly dived into the bush and ran. After a long chase Trooper Ward caught up with him at a deserted goldfield known as Barney's Reef. They engaged in a running gunfight until Trooper Ward was shot in the chest.
Sam Poo took Ward's weapons and set off into the bush. Ward lay helpless all day and night, and about noon the next day the station owner, James Plunkett, who was riding by, found him. Trooper Ward gasped out what had occurred before whispering "Take care of my wife and children" with his dying breath.
A widespread manhunt was swung into action with armed and mounted posse-men from as far away as Bathurst joining in. For two weeks they scoured the district in vain. Then a blacktracker named Harry Hughes volunteered his services. Early on the morning of 15th February 1865 he was taken to the site of the murder where he quickly picked up the trail of Sam Poo. He led the troopers to a place about 6 km away where they found the Chinese bushranger.
A dogged running fight ensued for several hours. Finally Trooper Todd shot Sam Poo in the thigh, he fell but continued to fire from the ground. They rushed him, but Harry Hughes reached him first. He clubbed the bushranger with his rifle butt, breaking the stock and fracturing Sam Poo's skull.
Sam Poo was taken to Mudgee more dead than alive and was lodged in hospital under guard. Doctors tended him and after nine months he was taken to Bathurst for trial. After being found guilty of Trooper Ward's murder he was hanged at Bathurst Gaol on 19th December 1865.
HillEndFamilyHistory.com
---
The Policeman That Sam Poo Killed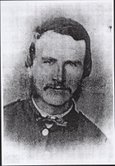 Senior-Constable John Ward was born in England and he joined the Old Police on 1st February 1858. He transferred to New Police as a mounted trooper in 1862. He was described as 29 years old, 5' 10 ½" tall, had brown hair and blue eyes, and his complexion was fair. Ward was promoted to Senior-Constable on 1st May 1863.
In early 1865 a Chinese gold miner, Sam Poo, thought to be mentally unbalanced, started sticking up people on the road to Mudgee. He also kidnapped and raped a young woman. Ward went looking for the Chinaman, who upon spotting the trooper ran into the surrounding bush. Ward rode after him and when he caught up called on him to stand and drop his weapon (a cut down shotgun). Sam Poo aimed at the trooper and said "You policeman – me fire".
The trooper leapt from his horse and tried to use the animal as cover as he drew his Colt navy revolver. Ward's hesitancy in shooting the Chinaman proved to be fatal for him, for Sam Poo fired, hitting the policeman in the pelvic area. Ward fell to the ground, discharging one shot from his Colt in the process. He them fired twice more at the Chinaman, who was running away through the bush.
The trooper lay bleeding on the ground until he was found by Mr M J F Plunkett, the squatter on whose run the shoot out had taken place. Plunkett arranged for Ward to be taken to his homestead, and sent for the doctor who lived 50 miles away. The doctor arrived the next day, but examination showed that Ward was beyond medical help.
The trooper told Mr Plunkett that he knew he was dying and asked what would become of his wife and family. Later he dictated a full statement about his encounter with Sam Poo to the squatter. Ward said he was a member of the Church of England, and asked Plunkett to pray for him. This the squatter did using a book of Common Prayer. The trooper then asked the squatter to send for his wife and family. However, John Ward died shortly after giving his request, passing away on 4th February 1865. His family arrived at the homestead after he had been buried.
A meeting was held in Mudgee, where a large sum of money was raised for Senior-Constable John Ward's widow and children. This support acknowledged the supreme sacrifice the trooper had made in the performance of this duty.
HillEndFamilyHistory.com