On April 9, 1983, arrest warrants were issued in Costa Mesa, California, charging Tony Protopappas, a local dentist, with murdering three of his patients over the past six months.
The warrant set bail at half a million dollars, but the amount was reduced to $300,000 after Protopappas surrendered on April 12, putting up his Laguna Beach home as collateral for the bond.
According to the charges filed against him, Protopappas had deliberately overdosed three female patients, causing their deaths in his office.
The first to die, on September 30, 1982, was 23-year-old Kim Andreassen, an 88-pound dialysis patient whom Protopappas injected with nine different anesthetic drugs, during an operation to remove her wisdom teeth. Catheryn Jones, age 31, was next, dispatched on February 13, 1983. The final victim was 13-year-old Patricia Craven, murdered six days later.
On July 31, 1984, after four months of testimony and five days of intense deliberation, a jury convicted Protopappas on three counts of second-degree murder.
Three months later, on October 22, he was sentenced to concurrent terms of fifteen years to life on each conviction. Summing up the case, the judge said, "It's very difficult and very sad. Dr. Protopappas's life is basically destroyed forever."
Michael Newton - An Encyclopedia of Modern Serial Killers - Hunting Humans
---
Coast Dentist Is Sought In Deaths of 3 Patients
The New York Times
April 10, 1983
An arrest warrant has been issued for a 37-year-old dentist, charging him with murder in the deaths of three patients.
The warrant, which sets bail at $500,000, was signed Friday by Judge Stephen Stewart of the Orange County Municipal Court. The three-count complaint accuses the dentist, Tony Protopappas, of killing Kim Minna Andreassen on Sept. 30, Cathryn Louise Jones on Feb. 13 and Patricia Marguerite Craven on Feb. 19.
Dr. Protopappas's lawyer, Robert Coviello, said the dentist would surrender to face the charges. All three patients were anesthesized by Dr. Protopappas shortly before death, the authorities said.
---
Not Guilty Plea Entered, By Dentist in 3 Deaths
The New York Times
April 14, 1983
A 38-year-old dentist charged with murdering three patients with anesthetics surrendered Tuesday and pleaded not guilty in a court appearance.
Dr. Tony Protopappas gave himself up five days after an arrest warrant was issued for him.
He was booked on the three murder charges immediately after his arraignment in Orange County's Harbor Municipal Court.
Judge Selim Franklin set bail at $500,000 but said he would lower the amount if Dr. Protopappas put up his Laguna Beach home, a mountain cabin and his office building as collateral. The defense attorney, Stanford Shaw, estimated the property was worth $300,000.
The Deputy District Attorney, Jim Cloninger, opposed a bail reduction, saying ''it would be a logical conclusion'' that Dr. Protopappas might try to flee prosecution.
---
Dentist convicted in patient deaths rejected again in parole bid
June 3rd, 2008
A former Costa Mesa dentist who made national headlines in the early 1980s when he was convicted of second-degree murder in the deaths of three patients was rejected last week in his latest bid for parole.
Tony Protopappas, who operated a high-volume, heavily-advertised dental clinic for nine years until he was convicted in 1984, will not be able to re-apply for parole until 2010.
Protopappas, now 61, admitted for the first time during his parole hearing at Folsom Prison last Thursday that he killed the three victims, said Deputy District Attorney Matt Lockhart, who opposed Protopoppas' release.
But Protopappas declined to elaborate on exactly what he did that caused the deaths of his patients. Lockhart argued that the ex-dentist was attempting to take responsibility for his crimes to enhance his chance for parole without providing substance.
In less than four months during late 1982 and early 1983, two women and a 13-year-old girl died after they were put under anesthesia while under Protopappas' care.
Protopoppas was not accused of deliberately killing the patients, but of
using anesthesia procedures he knew were inherently dangerous and likely to cause death.
He was sentenced to 15-years to life in July 1984 for the deaths of Kim Andreassen, 23, Patricia Craven, 13, and Cathryn Jones, 31. He has been turned down for parole ever since.
Protopappas admitted during prior parole consideration hearings that he had been abusing cocaine and alcohol for two years before the deaths.
---
SEX: M RACE: W TYPE: S MOTIVE: PC-nonspecific
MO: Dentist who deliberately overdosed three female patients, age 13-31, with anesthetic
DISPOSITION: three concurrent terms of 15 years to life, 1984.
---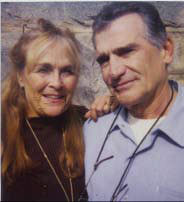 Rosalind Russell with Dr. Tony Protopappas at the Old Folsom Prison in 2007.