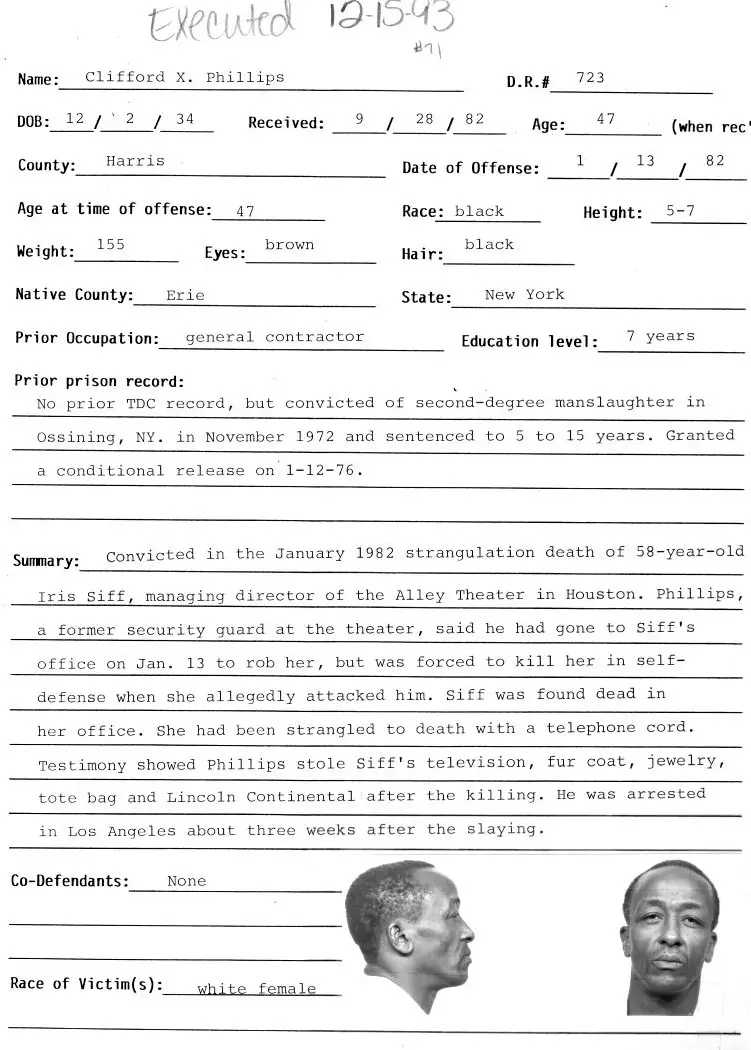 Date of Execution:
December 15, 1993
Offender:
Clifford Phillips #723
Last Statement:
I want to express my feelings regarding the mishap of the deceased Mrs. Iris Siff. That was a very unfortunate incident and only God knows why it was an unintentional situation that took place. I want to express my remorse to the family and the discomfort and pain I caused in their lives. Only God will determine if I am truly guilty or innocent of being the type of person I have been drawn up to be by the press and media. I have given my wife the power and energy to be a disciple of Islam. I rescued her from a wretched life in Ireland. I thank Allah for sending her to me. Certainly murder cannot be an instrument of Allah. My wife is very devoted.


Clifford X. Phillips
Age: 58 (47)
Executed: Dec. 15, 1993
Education level: 7th grade or less
Phillips entered the fourth-floor office of Alley Theatre director Iris Siff on Jan. 12, 1982, and demanded money. After a struggle, he strangled Siff, 58, then fled with her television, fur coat, purse, jewelry and vehicle.
Phillips, who once served time for killing his 3-year-old son, previously had worked as a security guard at the theater. He claimed he killed Siff in self-defense after she attacked him.
---
Texas Executes Killer of Director
December 16, 1993
A former security guard at a Houston playhouse was executed by injection early today for strangling the theater's director during a holdup.
The convict, Clifford X. Phillips, 59, went to his death hours after the Supreme Court refused to block the execution.
It was the 71st execution in Texas since the state resumed use of the death penalty in 1982. That is nearly one-third of the executions in the United States since the Supreme Court in 1976 allowed capital punishment to resume.
Mr. Phillips was convicted in the 1982 murder of Iris Siff at the Alley Theater. Mrs. Siff, 58, was working late on a government grant application when she was strangled with a telephone cord.
Mr. Phillips had been dismissed as a guard a few weeks earlier for sleeping on the job.
His lawyers had argued that Mr. Phillips, who is black, was a victim of racial discrimination. The jury was all-white and the victim was white.
Mr. Phillips had served seven years in prison in New York State for killing his 3-year-old son in 1970 by forcing water down the child's throat. The child's body was found in a suitcase. He was also accused of beating his daughter into a vegetative state.
"Enough is enough is enough," Joseph Siff, Mrs. Siff's son, said on Tuesday. "This man has had three strikes. As far as I'm concerned he's given up his rights to the potential for rehabilitation by his own actions."
Mr. Phillips gave a rambling final statement that lasted nearly five minutes. In it he expressed love for his wife, gave thanks to Allah and expressed remorse for the slaying.