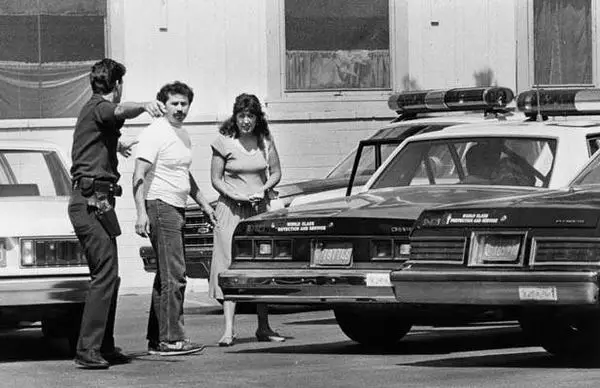 An LAPD officer motions the way for Manuel and Angelina De La Torre, whose car the Night Stalker, Richard
Ramirez, tried to steal. When Angelina refused to turn over her keys, Ramirez assaulted her by punching
her in the stomach. Photograph taken by Chris Gulker.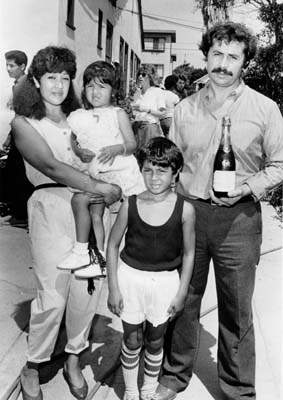 Angelina and Manuel De La Torre of East Hubbard Street pose with their children Amber and Manuel Jr.,
and gifts. Night Stalker Richard Ramirez attempted to steal Angelina's car, and when she refused to
turn over her keys, he assaulted her. Photograph by Mike Sergieff.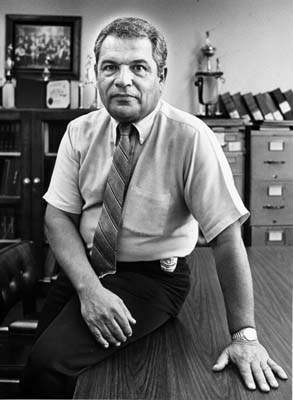 LAPD Detective Leroy Orozco, sitting on an office desk. The detective thought that the Satanism
angle might help crack the case, so he assigned investigators to talk to witches, and had one
officer research the heavy metal band AC/DC.
Photo by Leo Jarzomb.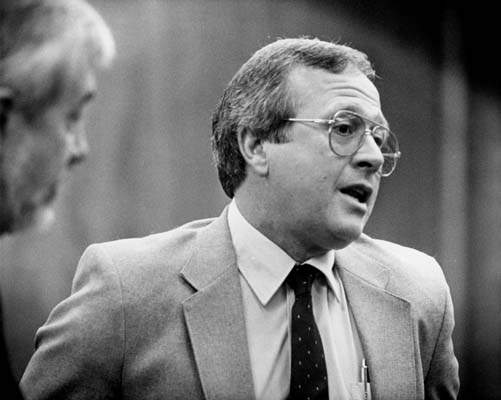 Frank Salerno, Night Stalker Task Force commander in the LA Sheriff's Department.
Photo by Mike Mullen.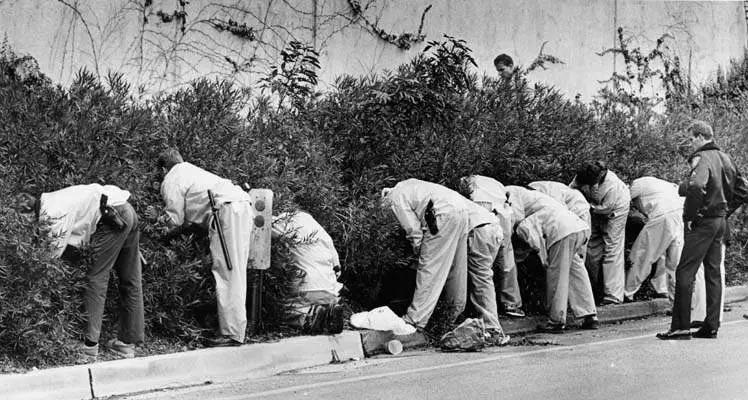 Sheriff's cadets search for evidence in shrubs along the York Blvd. onramp to the Glendale Freeway,
hoping to find evidence in the Night Stalker case. Authorities on the scene stated that they found
five or six pieces of "possible" evidence.
Photograph by Paul Chinn.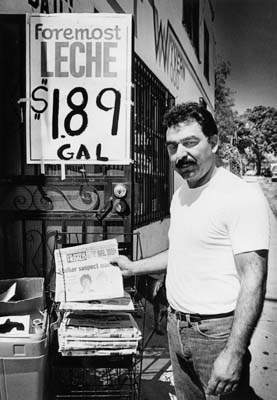 Armando Lojero holds up a copy of the LA Herald which identified Stalker suspect as Richard Ramirez.
Lojero, owner of the Wyvernwood store on the corner of 8th and Evergreen, said that Ramirez took
the newspaper from the stand in front of his store after seeing himself on the first page.
Photograph by Leo Jarzomb.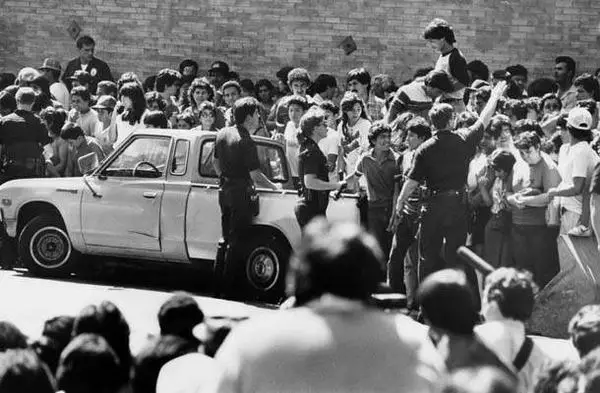 Crowds gather around a poice car at LAPD's Hollenbeck Station, in an attempt to catch a glimpse
of the Night Stalker. Photo by Mike Sergieff.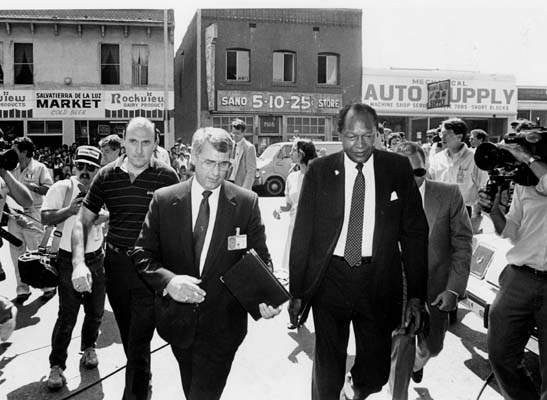 Mayor Tom Bradley visits Hollenbeck station after the Night Stalker suspect was arrested.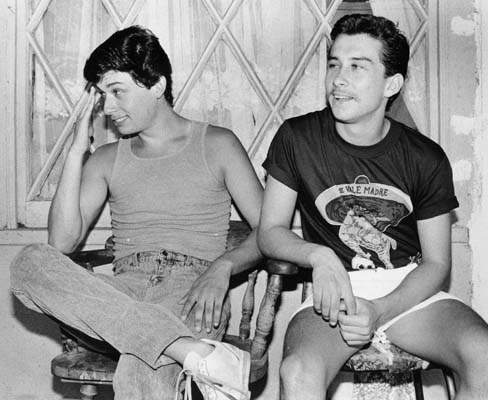 Jaime and Julio Burgoin of East Hubbard Street, who helped capture the Night Stalker
suspect, hold a press conference on their front porch. Photo by Mike Sergieff.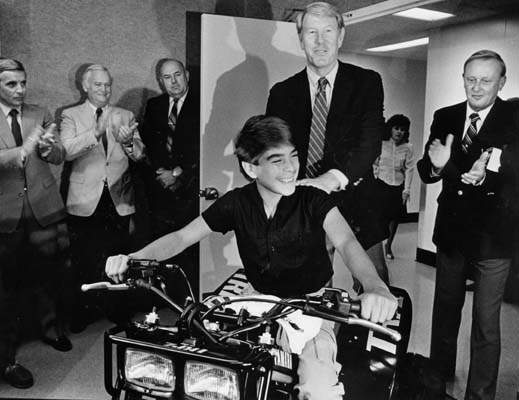 Joseph Romero III, sitting on his new Yamaha ATV, is lauded at Orange County Sheriff's
headquarters for giving information that helped crack the Night Stalker case. The boy
provided information on the Toyota the Night Stalker used in Mission Viejo.
Photograph by Anne Knudsen.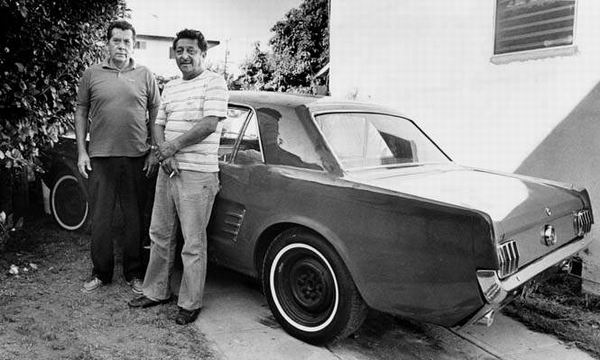 A photograph of two of the "heroes" of the Night Stalker capture. Jose Burgoin, at left, pursued Ramirez
after he tried to steal the Mustang of Faustino Pinon, right. Photograph by James Ruebsamen.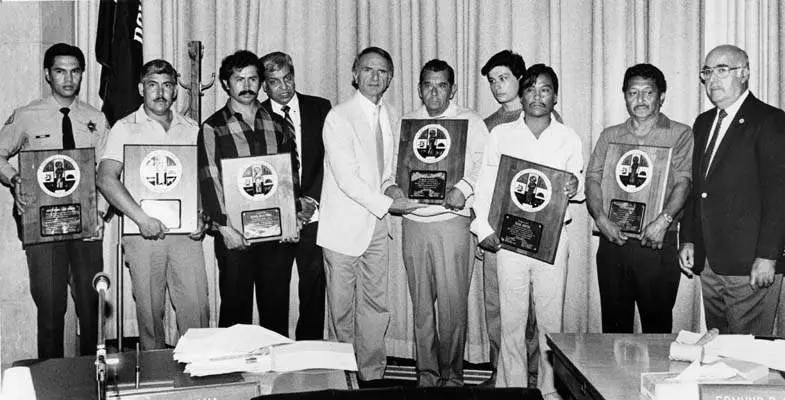 Supervisor Ed Edelman, center, presents plaques to the men who helped capture Night Stalker suspect
Richard Ramirez in an East LA neighborhood. Standing left to right are Deputy Andres "Andy" Ramirez,
Carmelo Robles, Manuel De La Torre, Jose Burgoin, Frank Moreno, and Faustino Pinon. Also pictured
are Sheriff Sherman Block, Julio Burgoin, and an interpreter.
Photo by Mike Sergieff.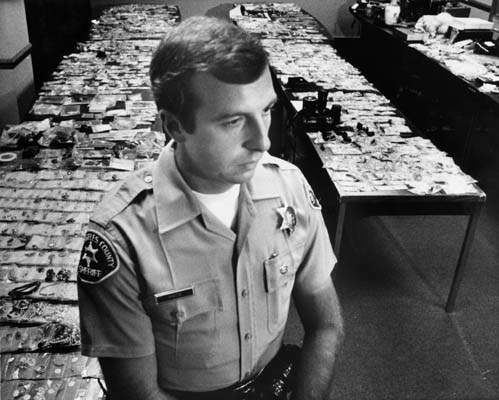 Deputy Tom Martin guards the evidence of stolen items recovered from the Night Stalker case.
Behind the deputy at least eight rectangular tables are visible with various gold and other items,
marked in plastic bags. Photo by Anne Knudsen.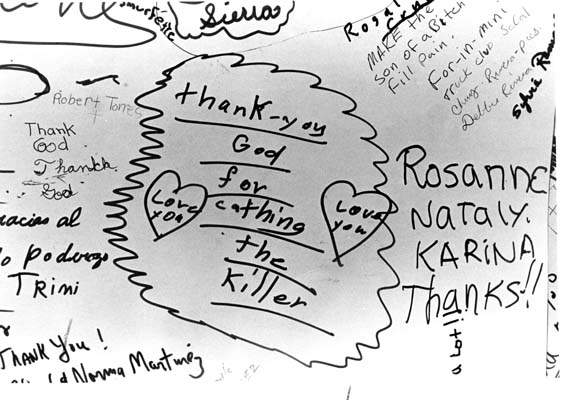 Well wishers leave words of thanks for Faustino Pinon, on a sign at his Hubbard Street home, for
helping capture Night Stalker Richard Ramirez. Photo by Dean Musgrove.