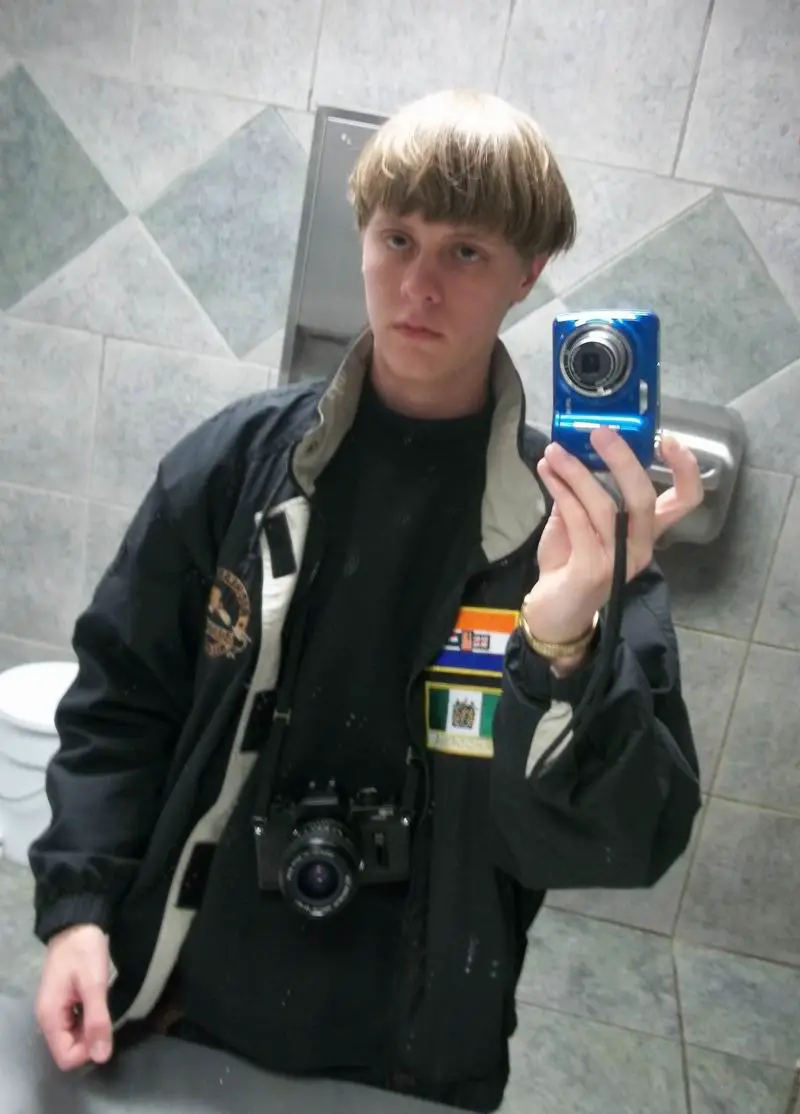 In this selfie, Roof is pictured with a jacket adorned with flags of both an apartheid-era South Africa
and former white supremacist state of Rhodesia.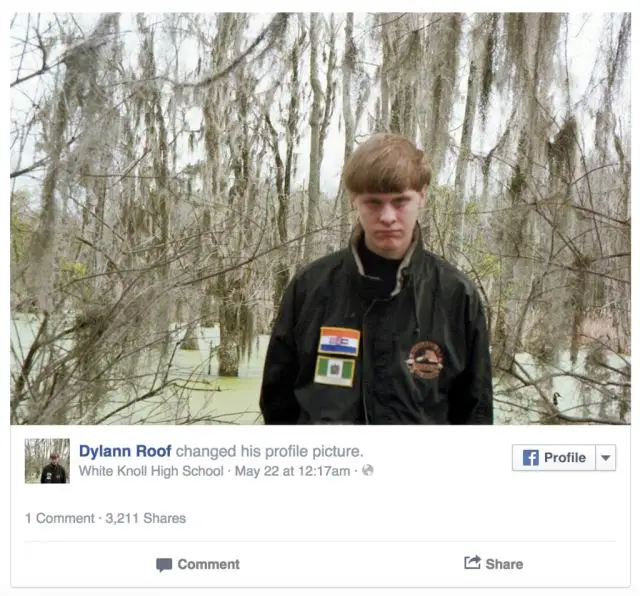 Dylann Roof's private Facebook page.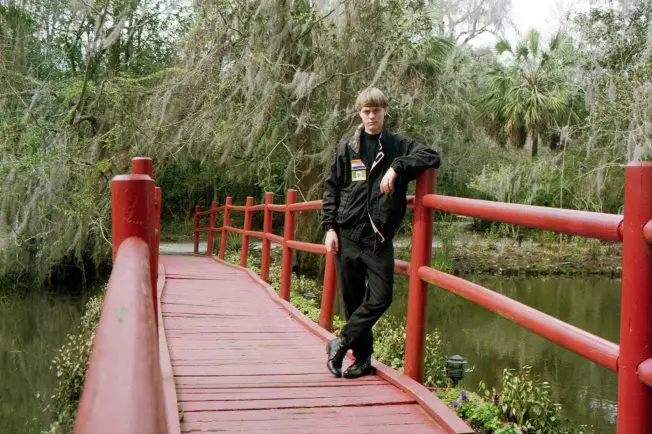 Living in a trailer park, Roof reportedly told his friends at the park that he wanted to kill people at a local
college but no one took him seriously due to his "deadpan sense of humor."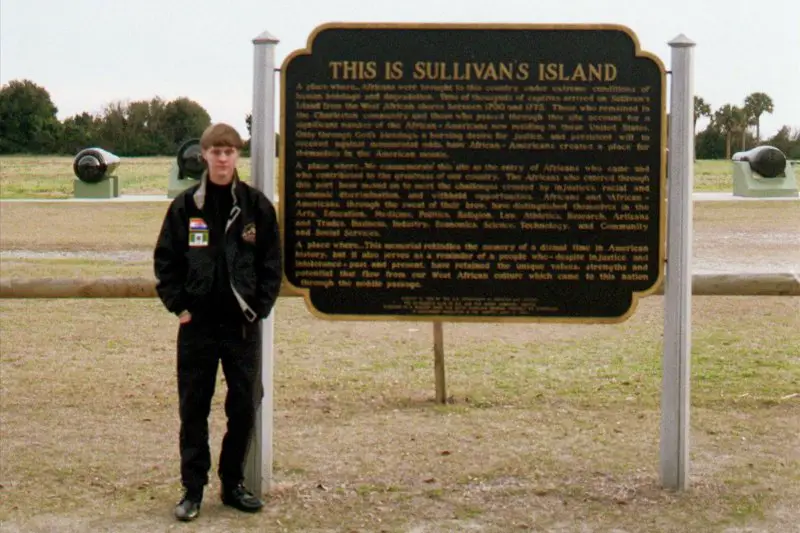 Dylann Roof stands beside a sign at Sullivan's Island in South Carolina. The island is famous for being the
disembarkation port for over 40% of the estimated 400,000 slaves transported from Africa. It was the
largest slave port in North America and clearly a favorite spot for the white supremacist Roof.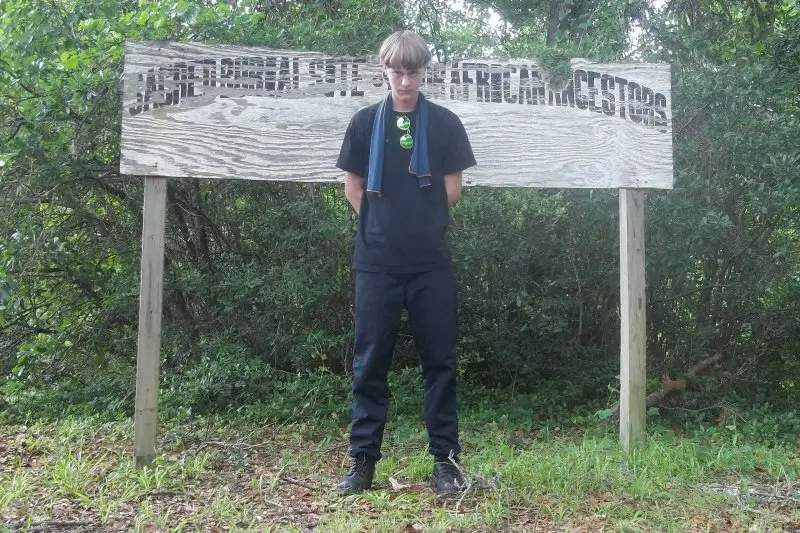 Dylann Roof is pictured here in front of a worn-away sign that we believe reads "sacred burial site of our
African ancestors." Roof is very open about his racism as he frequently posted images mocking
people from black to Jewish and wore apartheid-era South African flags.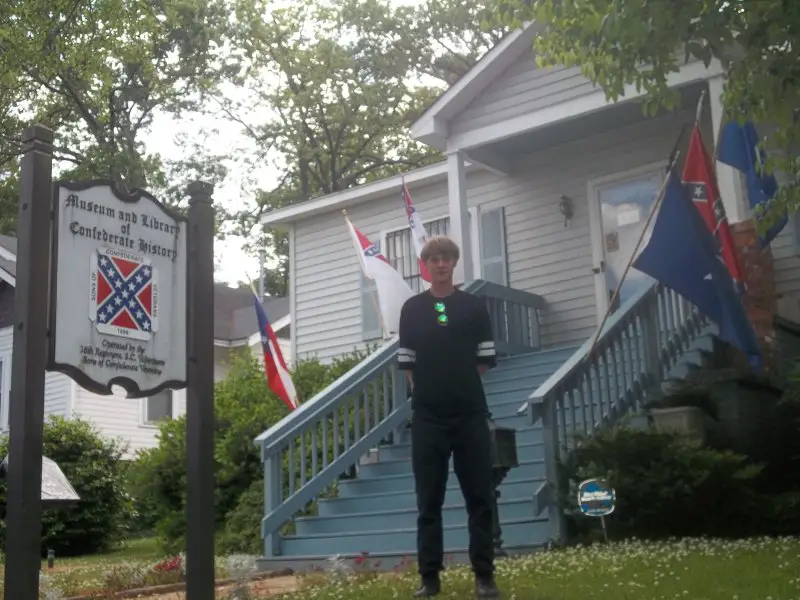 In a rare occurrence, Roof is pictured here actually smiling a bit as he stands in from of the Museum
and Library of Confederate history. People that knew Roof mentioned that he had a lot of Southern
pride and strong conservative beliefs.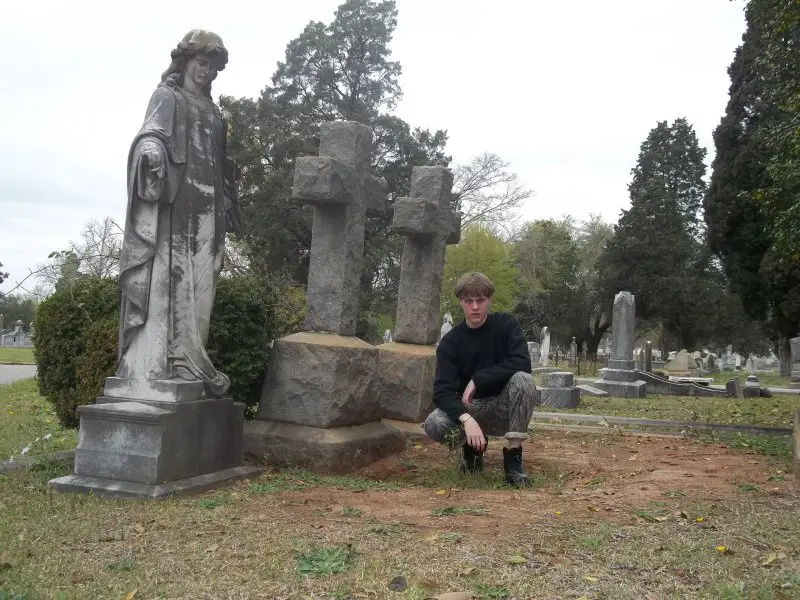 While the location of this cemetery is unknown, it must have been significance to Roof as he is seem
posing beside gravestones.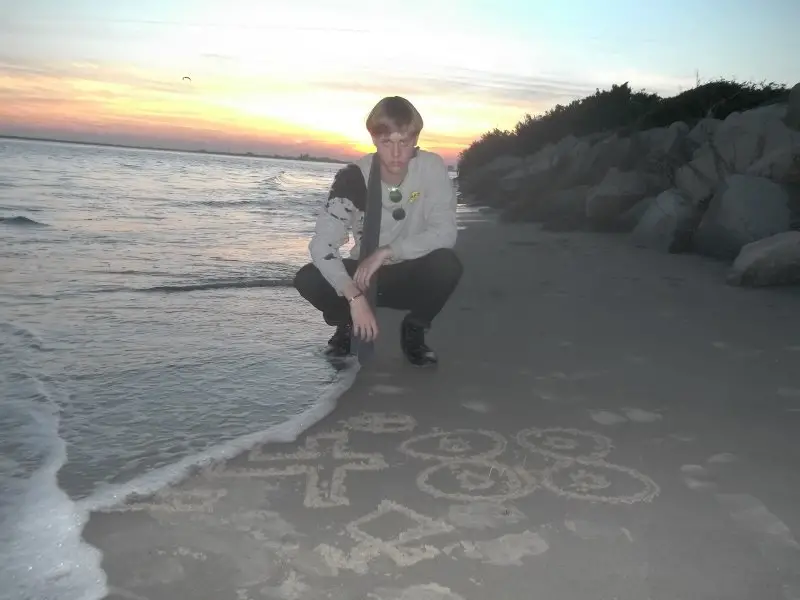 Dylann Roof was clearly a supporter of white supremacy as illustrated in most of his photos. Here, Roof
stands over the number "1488," a common white supremacist code that corresponds to murderer
David Lane and Adolf Hitler regarding Jewish people.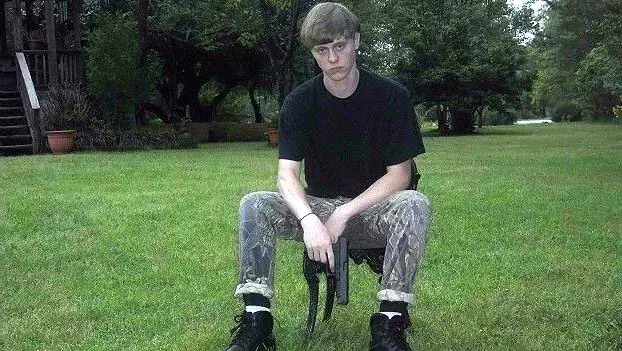 With a sullen look on his face, Dylann Storm Roof is pictured here seated while holding a handgun.
According to reports, Roof has already been arrested at least twice, once for drug possession
and another for trespassing.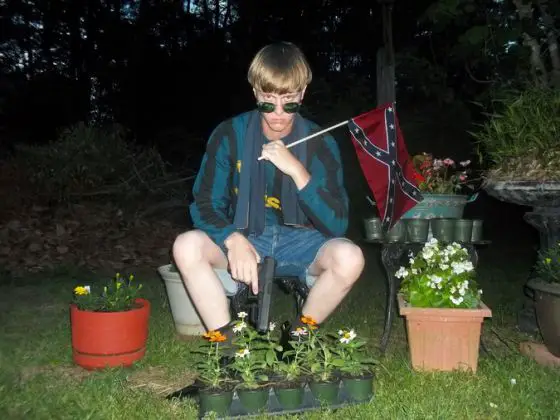 In this photo, Roof is yielding a handgun and a confederate flag while seated among flowers
at an unknown location.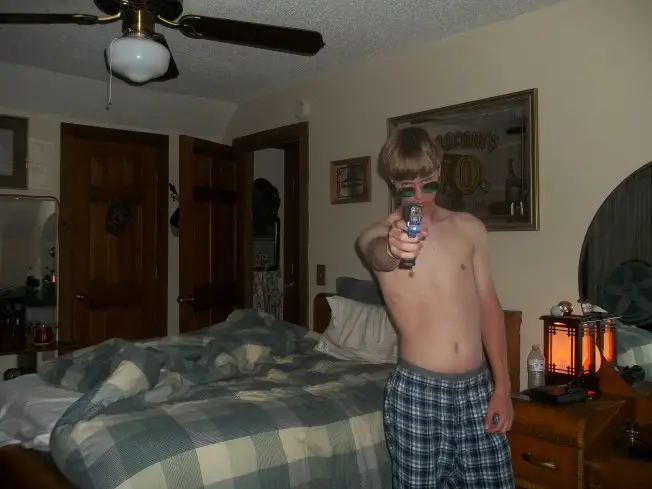 In this grim photo, suspected Charleston shooter Dylann Storm Roof points a handgun directly at the camera
while donning nothing but boxers and sunglasses. On June 17, a white young male, identified as Roof,
entered a black church and opened fire killing 9 people.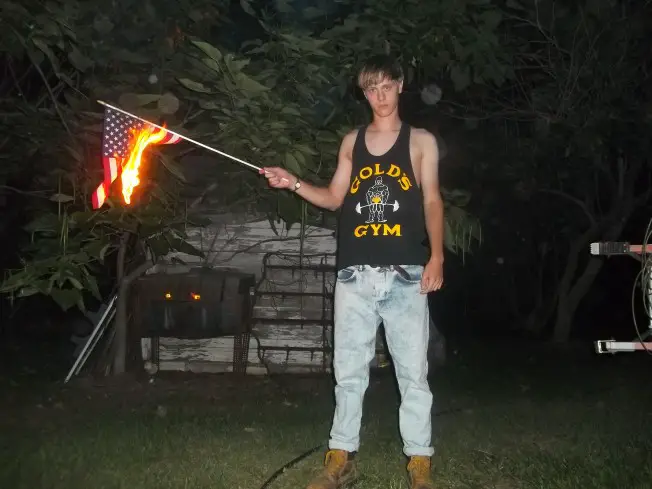 It's the ultimate form of disrespect and Roof has no shame in doing so. In a text document on the
website reportedly linked to Roof, he writes about his hatred for the American flag saying
"I hate the sight of the American flag."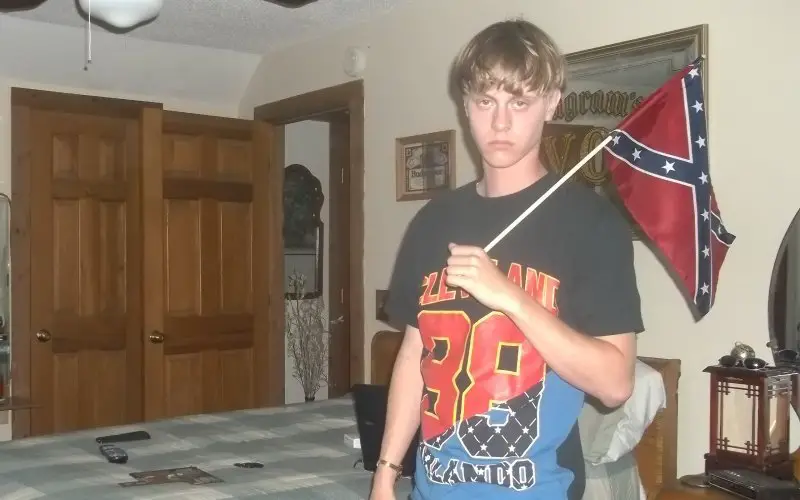 Dylann Roof frequently showed his pride of the Confederate flag by posing with it on numerous occasions.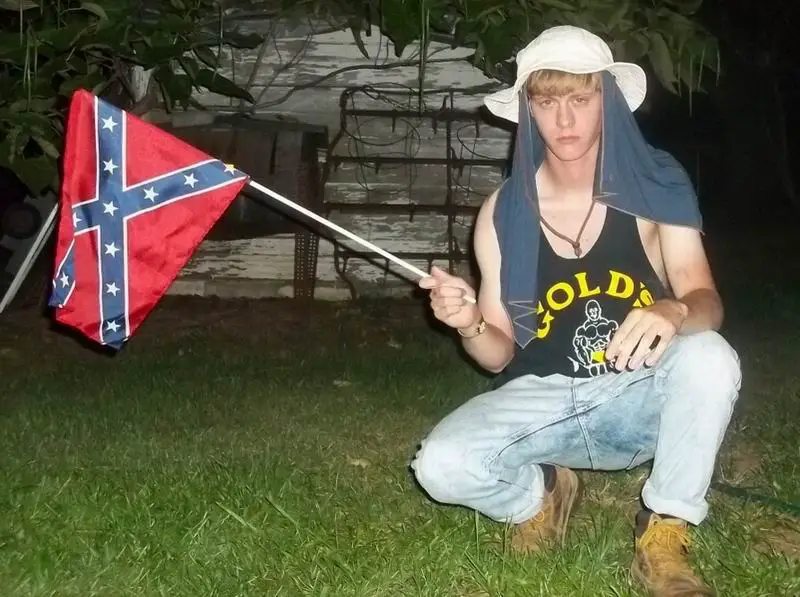 Roof is a strong supporter of the Confederate flag as he frequently would photograph himself with it
and even adorned his car with one. Everyone that knew Roof knew of his open racism as he also
talked about shooting people one day.