Manhunt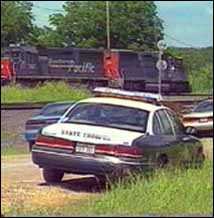 Police looking for Resendiz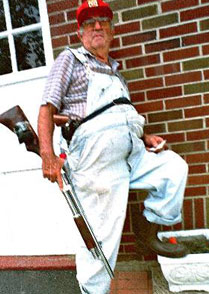 Bill Aldridge, 72, of Wolf Lake, Ill., stands watch at his home armed with a 12-gauge shotgun, a .22-caliber
revolver and a small derringer in his front pocket. He and his wife live just 122 feet from railroad tracks.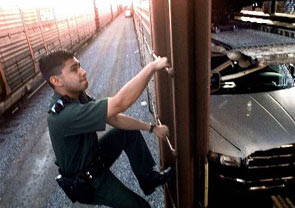 U.S. Border Patrol Agent Arturo Trevino climbs
a Union Pacific train car carrying trucks in Texas.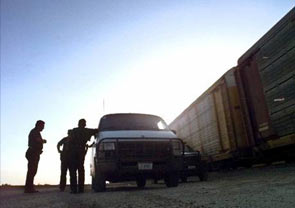 U.S. Border Patrol agents confer after checking a Union Pacific train north of Laredo, Texas.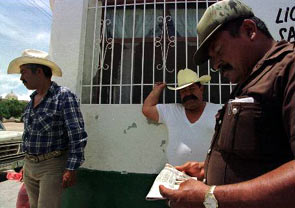 A police officer, right, in Mexico looks at a photo of Resendiz.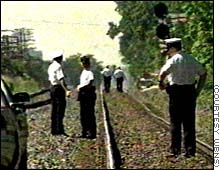 Police in Columbus, Ohio, comb areas around railroad tracks for Resendiz.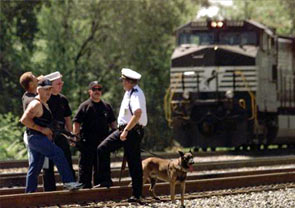 Columbus, Ohio, police stand on railroad tracks in front of a 75-car freight train stopped
in a residential neighborhood as they search for Resendiz.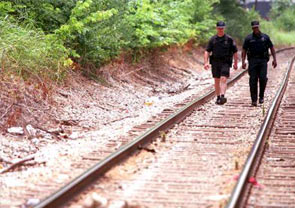 Lexington, Ky., Metro police Officers Kevin Patrick, left, and John Washington
patrol railroad tracks.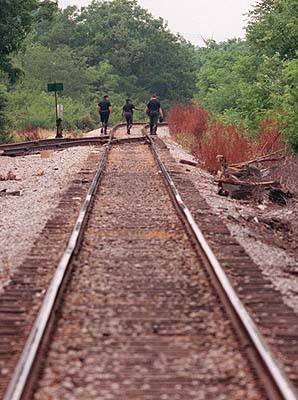 Police officers search along local railroad tracks for suspected serial killer in Lexington, Ky.
Lexington police were handing out flyers and looking around the area's
railroad tracks trying to find a lead to Resendiz's location.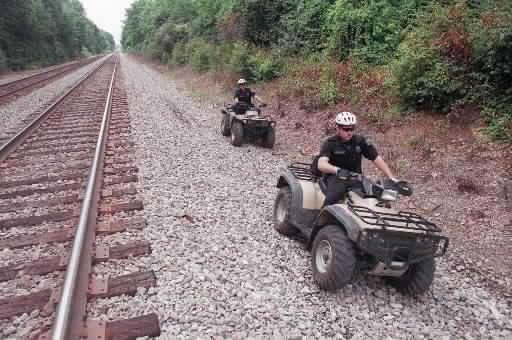 All-terrain vehicles shatter the stillness along a stretch of railroad tracks through Kentucky
woods as Lexington police Officers Eddie Pearson, right, and Walt Ridener look
for campsites where suspected serial killer may be hiding.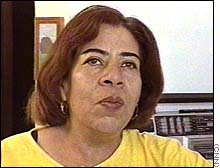 Julieta Dominguez
The common-law wife of suspected serial killer Angel Maturino Resendiz was recently interviewed in the United States by the FBI and Texas police, as authorities continue efforts to track down the Mexican-born drifter.
Julieta Dominguez was secretly flown from Mexico to Houston during the last several days. She provided historical information about Resendiz's lifestyle and frequent travels.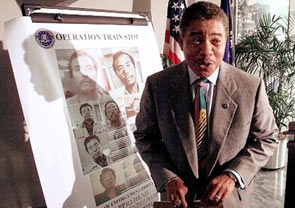 Don K. Clark, special agent-in-charge of the Houston FBI office, headed the task
force that worked to capture Resendiz.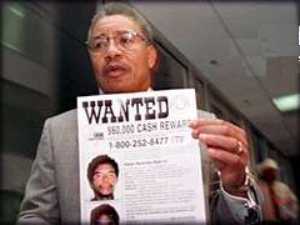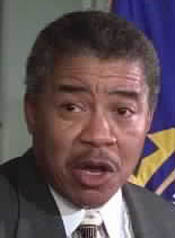 "I don't regret having made any decisions that I had to make in this case,"
says Don K. Clark, head of the FBI's Houston office.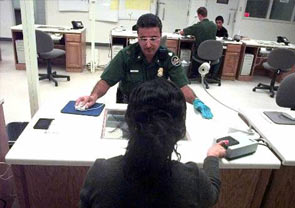 U.S. Border Patrol Agent Robert Perez records an undocumented immigrant's
fingerprint and photo in Laredo, Texas.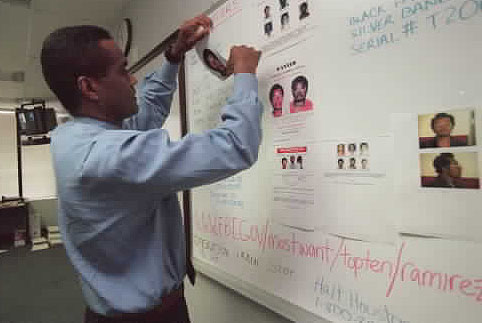 FBI Special Agent Rolando Moss tapes a photo of Rafael Resendez-Ramirez to a board
in Houston's FBI headquarters. More than a dozen agencies have been collecting
information that they hope will lead to the suspect's arrest.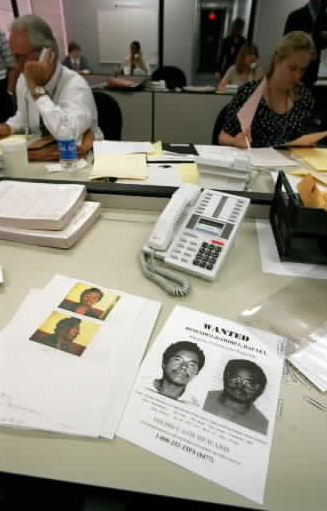 FBI investigators take tips about murder suspect
Angel Maturino Resendiz at the command center.