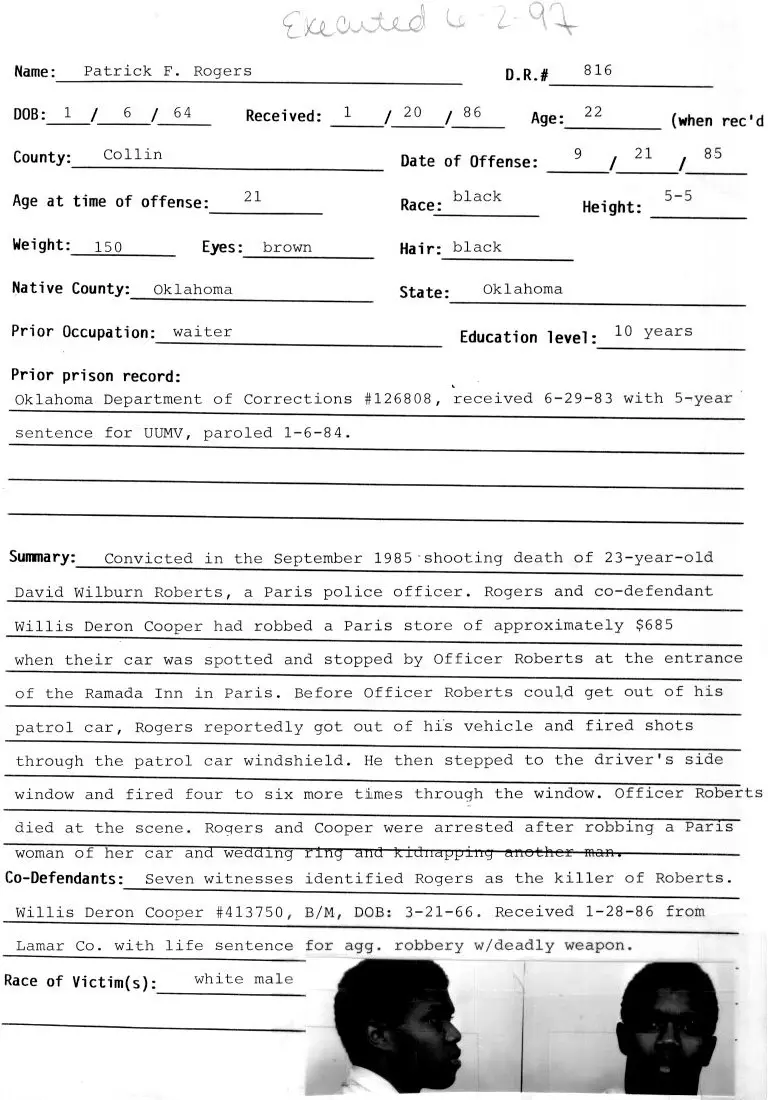 Date of Execution:
June 2, 1997
Offender:
Patrick Rogers #816
Last Statement:
Yes, I would like to praise Allah and I am praying to Allah. Allah is most gracious. I will ask Allah for forgiveness because he created me and he will forgive me.
All of the brothers on the row stay strong. (Some words about Allah that I couldn't understand.)
I love my family, my mother. I will see her sooner or later. Life goes on.
Don't let these people break (couldn't understand) you. Keep true to nature. You do not have to act like them. Rise above it. (couldn't understand)
Praise Allah –
(some more Allah mumbling)


Patrick Rogers, 21, was executed on June 2, 1997 for killing David Roberts, a 23-year-old Paris Texas police officer, after he and an accomplice fled from a holdup at an ice cream store.
Rogers and Willis Cooper robbed Braum's Ice Cream and Dairy Store around 9 a.m. in Paris, Texas, on Saturday, Sept. 21, 1985. Rogers and Cooper made the four female employees of the store go into the back cooler. Cooper was holding the gun. "Rogers was telling him to shoot the women the whole time, but he wouldn't fire," County Attorney Kerye Ashmore said.
Later, one of the women telephoned 911 and Roberts responded to the call. When Roberts pulled over the two suspects, Rogers got out of the truck and shot Roberts through the windshield of the police car. Then he opened the door, and shot him five more times. Rogers and Cooper got back in the truck and drove off.
Public Information Officer Todd Varner was the first one to arrive on the scene. "He had already called me for backup and I was on my way," Varner said. "I got there a minute after he was shot."
While fleeing from police, Rogers and Cooper entered the home of a 50-year-old handicapped woman. They handcuffed her and stole the family car. They tried to kidnap two other elderly ladies and then held a man hostage while fleeing in his truck. Rogers and Cooper were arrested around 5 p.m. 12 to 15 miles north of Paris.
Rogers blamed his actions on the drugs he was taking, PCP. The murder weapon, however, was never found. "Rogers kept changing his story of where he threw the gun," Varner said.
During the trial, Rogers admitted to firing the gun toward the police car. In the punishment phase of the trial, Ashmore had Rogers re-enact his actions. Rogers said he was aiming at the car not the officer. "He fired all shots toward the driver's side of the windshield," Ashmore said.
Throughout the trial, Ashmore said Rogers showed no remorse. "He has an anti-social personality," Ashmore said. "He is manipulative, controlling, and without a conscience."
Rogers' case was appealed five times. Rogers' defense attorney and witness of the execution, Susan Karmanian, said one of the most unusual things about the case was the lack of evidence presented. "Patrick's first defense attorney made no serious effort to locate people willing to testify on Patrick's behalf," Karmanian said. "We located 40 people."
She said one of the most important aspects of the case that wasn't considered was Patrick's state of mind. "He was in a drug induced stupor," Karmanian said. "The jury was not given the right to look at that aspect."
Rogers' last appeal was overruled on June 3, 1996. His last meal consisted of a Coke. He had many final statements. He prayed to Allah and told his fellow death row inmates "life goes on, you all stay strong." To the victim's family he said, "What you want to see, you're going to get." His final words were "kind of bad, isn't it."
Rogers was announced dead at 6:17 p.m. on June 2, 1997. Roberts' mother and brother also witnessed the execution.
---
Making him suffer
Some family members of victims have a deep need to see the murderers suffer as their loved ones did. "After it was done, we came out, and it was like, `Is that it?' " recalls Danny Roberts. "My brother suffered terribly when he died. I really wanted to see them bring [Patrick Rogers] into the room and strap him down. They should have let us see a little bit of the terror in Rogers's face that my brother must have felt."
Danny's brother, David, a 23-year-old Paris, Texas, police officer, was killed Sept. 21, 1985, when he pulled Rogers, then 21, over to question him about a robbery. Before Roberts opened his police cruiser door, Rogers fired a stolen pistol. Roberts's widow later gave birth to his son. The Roberts family watched as Rogers was executed June 2.
"Do I hate Patrick Rogers?" asks Danny Roberts. "The first few years after my brother died, yeah. But I don't know the man. I just know what he did."