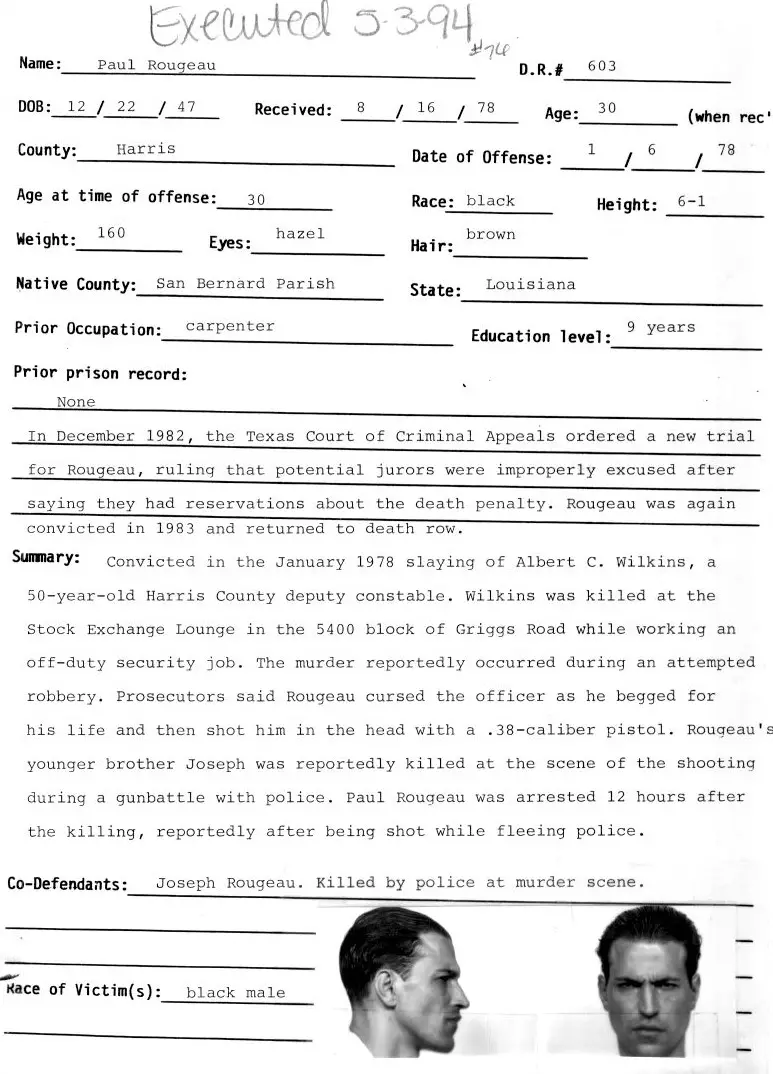 Paul Rougeau
Age: 46 (30)
Executed: May 3, 1994
Education level: 9th grade
Rougeau, his brother and another man entered to rob the Stock Exchange Lounge in southeast Houston on Jan. 6, 1978. Rougeau was convicted of killing security officer Albert Wilkins, 50, an off-duty Harris County deputy constable, though he claimed he was innocent.
Joseph Rougeau was killed at the scene during a gunbattle with police. Their accomplice pleaded guilty to murder and testified against Rougeau in exchange for a 40-year sentence.
---
Paul Rougeau was convicted of capital murder for the murder of a police officer during an aggravated robbery attempt at a Houston nightclub. Rougeau, then 30, was convicted twice for the killing of Albert C.Wilkins, 50, a Harris County deputy constable. Wilkins had been working at the Stock Exchange Club in Houston as a security guard when he was fatally shot on Jan.6, 1978.
Rougeauís first conviction in 1982 was reversed after the trial judge excused a prospective juror merely on the lawyers showing that the prospective death penalty might affect the jurorís decision. After the case was returned to the trial court, the State agreed to recommend a life sentence if Rougeau would plead guilty. Rougeau refused the offer. He was retried and given the death penalty in 1983.
Rougeau, his brother Joe and Curtis Gillory, each of who frequented the Houston nightclub, committed the robbery. Testimony showed that Rougeau cursed Wilkins as the officer begged for his life and then shot him in the head with a .38-caliber pistol. Then Rougeau, his brother and Gillory exited the club and a shoot-out with the police ensued. Joe was killed, Rougeau managed to escape and Gillory was arrested outside of the club. Rougeau fled in a car, but was arrested about 12 hours later with an apparent gunshot wound to the buttocks.
Gillory made a plea bargain agreement and testified for the state. He received 40 years for his participation in the crimes. Rougeau, an ex-carpenter from St. Bernard Parish, La. said that he was innocent and would be wrongly put to death for the Jan.6th murder. Rougeau said that the shooting was related to a drug deal involving his younger brother Joseph. Rougeau had no prison record before the murder.
Rougeauís attorneys appealed to the U.S. Supreme Court, contending that his trial lawyers were incompetent and that Texas death penalty statute was unconstitutional. Attorney Steven Thorpe handled all of Rougeauís state and federal habeas corpusí appeals and said that he feels Rougeau had bad representation in both trials.
Despite lawyerís attempts to keep him from the death chamber, Paul Rougeau, 46, was put to death by lethal injection on May 3, 1994 in Huntsville.


---
Texas Executes a Guard's Killer Who Was Convicted in 2 Trials
The New York Times
May 4, 1994
A 46-year-old man was executed by injection early today for killing a security guard in a botched 1978 holdup at a Houston bar.
The man, Paul Rougeau of St. Bernard Parish, La., went to his death hours after the United States Supreme Court refused a stay of execution.
Mr. Rougeau told three sisters and a niece who had gathered in the death chamber to watch him die that he loved them, adding, "Peace be with you all." He then told the warden that he would have no final statement.
Mr. Rougeau was twice tried and convicted of murdering Albert Wilkins during a holdup by three men that erupted into a gun battle with the police. Witnesses said Mr. Rougeau had cursed Mr. Wilkins and shot him in the head as Mr. Wilkins, 50, pleaded for his life. Mr. Wilkins, a deputy constable, was moonlighting as a guard.
Mr. Rougeau's younger brother, Joseph, was killed in an exchange of gunfire with officers who had pulled up outside the bar. Mr. Rougeau was wounded and fled but was arrested 12 hours later. The third participant testified against him as part of a plea agreement. Identified by Voice
The holdup men wore ski masks when they entered the bar, but Mr. Rougeau, a frequent customer, was identified by at least two patrons by his voice.
Mr. Rougeau contended that he had nothing to do with the robbery and that he had run from the bar when the shooting began.
"I know in my mind the same that God knows," he said in an interview last month. "My execution won't change the real punishment that's coming in the hereafter for those who think they can get away with this."
Explaining his bullet wounds, Mr. Rougeau said he was shot at an apartment the day after the holdup. Prosecutors said a bullet that could have been used as evidence remained in Mr. Rougeau's buttocks, but he denied that and refused to let surgeons look for it.
On appeal to the Supreme Court, Mr. Rougeau contended that his lawyers had been incompetent and that the Texas death penalty law was unconstitutional.
His first conviction was thrown out in 1982 by an appeals court, which ruled that potential jurors had been improperly excused for expressing reservations about the death penalty. He was retried the next year.