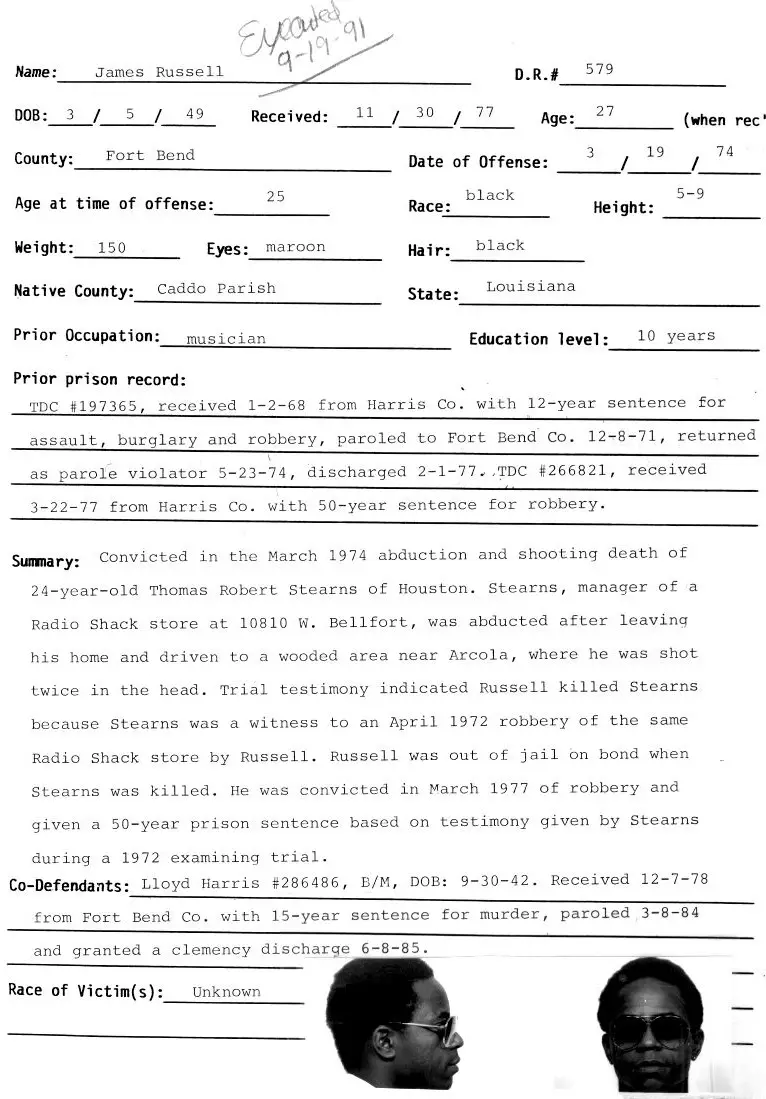 Date of Execution:
September 19, 1991
Offender:
James Russell #579
Last Statement:
His final statement lasted 3 minutes. He thanked everybody that fought against his sentence. He spoke to his family and said he would carry their love with him.


James RUSSELL
Growing up, James "Sugarman" Russell was charming, charismatic and well liked by his peers, but the man who earned his nickname because he was "so sweet" also had a dark side.
"If you looked in Webster's Dictionary under sociopath, it had his picture," said Brian W. Wice, a criminal defense attorney in Houston.
Russell, 42, was executed on Sept. 19, 1991 for the 1974 abduction and murder of Thomas Stearns in Houston. Stearns was scheduled to testify as a witness against Russell in the robbery case, but a day before the trial began, 24-year-old Stearns was kidnapped by Russell and his accomplice Lloyd "Sonny" Harris.
"The level of brutality in the murder was disgusting," said Randy Schaffer, a defense attorney in the robbery case tried after the murder. "They locked Stearns in a car trunk, sexually assaulted him and urinated in his mouth. He was executed with a gunshot to his head at point-blank range with a .38 caliber automatic pistol."
Stearns' body was found 22 days after his abduction in a deserted field in Arcola, about 20 miles south of Houston. Stearns, a University of Houston student trying to work his way through college, left behind a wife and an 18-month-old daughter.
"Russell began breaking into machines and stealing quarters until his rap sheet grew to robbery, rape and finally murder," said Earnest Taylor, former director of the Fort Bend County major crimes task force. "He started out wrong in the early years," said Taylor, adding that Russell's grandmother would often bail him out of trouble.
"James Russell was a victim of love," said Taylor, who knew the family well. "She (his grandmother) loved that boy with all her heart and did everything she could do for that boy including getting him out of trouble. She taught him there was no consequence for his behavior and finally he killed Tom Stearns and she couldn't get him out of that one."
The murder investigation went on for three years. In the meantime, prosecutors wanted to lock up the man who retaliated against a witness in the robbery case. Jurors convicted Russell of robbery and gave him a 50-year jail sentence. It was later reversed on appeal, but it bought enough time for investigators to build a strong murder case against Russell.
The jury took less than three hours to find Russell guilty of capital murder and only 23 minutes to sentence him to death. "He (Russell) said he didn't do it and that he hung out with some bad people and that's why he was being executed," said Wice, who interviewed Russell for an in-depth investigative article.
The case stayed in the court system for about 16 years before Russell, who had been in an out of prison since he was 18, was put to death. Russell was executed by lethal injection in the middle of September 1991, and he spent his last minutes talking about all the people he had met in his life.
"He didn't spend a second talking about the victim or their family," said Wice, a witness of the execution.
His grandmother died a few months after Russell's sentence was carried out. Taylor, now chief of police in Sugar Land, believes it was from a broken heart. "She went to her grave believing he was framed on this murder case."
---
944 F.2d 202
James RUSSELL, Petitioner-Appellant,
v.
James A. COLLINS, Director, Texas Department of Criminal
Justice, Institutional Division, Respondent-Appellee.
No. 91-2987.
United States Court of Appeals,
Fifth Circuit.
Sept. 18, 1991.
Appeal from the United States District Court for the Southern District of Texas.
Before CLARK, Chief Judge, GARWOOD and JOLLY, Circuit Judges.
PER CURIAM:
James Russell appeals the denial of his motions related to his second petition for a writ of habeas corpus by the United States District Court for the Southern District of Texas. He was convicted by a jury of capital murder and sentenced to death in 1977. He is scheduled to be executed on September 19, 1991. This court has reviewed the pleadings, memoranda, and exhibits filed before it and in the actions both in the state court and in the district court below. For the reasons set forth, the motions are denied and the appeal is dismissed.
* This court heard Russell's first habeas appeal in Russell v. Lynaugh, 892 F.2d 1205 (5th Cir.1989). The procedural history to that time may be found in that opinion. Following this court's denial of his appeal and the denial of reconsideration of that ruling, the United States Supreme Court denied his petition for a writ of certiorari. Russell v. Collins, --- U.S. ----, 111 S.Ct. 2909, 115 L.Ed.2d 1073 (1991), reh'g denied Russell v. Collins, --- U.S. ----, 112 S.Ct. 27, 115 L.Ed.2d 1109.
Russell filed a second petition in the state trial and appellate courts on September 9, 1991. The 268th Judicial Court for Fort Bend County, Texas, issued findings of fact and conclusions of law and an order denying the motion to stay execution on September 16. The Texas Court of Criminal Appeals denied his appeal on September 17.
The petition before us was filed before the United States District Court for the Southern District of Texas on September 17. Simultaneously, Russell asked for an evidentiary hearing and the opening of discovery. The district court denied relief today, on September 18, and petitioner has appealed.
II
The facts of the case have been often recited and are only tangentially relevant here. Russell was indicted for kidnapping and murdering Thomas Stearns. Stearns was the manager of a store that Russell allegedly robbed, and Russell was accused of killing him in order to avoid prosecution for the robbery. There was evidence that Russell grossly abused Stearns before killing him. The state's case largely relied upon the testimony of accomplices, particularly Sonny Harris and Ann Smallwood. Russell defended on the basis of alibi.
In his first petition, Russell raised several claims, notably that a venireman named Hoover was challenged for his views on the death penalty and wrongly excused under Wainwright v. Witt, 469 U.S. 412, 105 S.Ct. 844, 83 L.Ed.2d 841 (1985) and Adams v. Texas, 448 U.S. 38, 100 S.Ct. 2521, 65 L.Ed.2d 581 (1980), and that he received ineffective assistance of counsel. The Witt claim was denied by two judges of this court, respectively, because of the procedural bar, 892 F.2d at 1211, and on the merits, 892 F.2d at 1216.
Russell's ineffective assistance claim was based on a failure of his counsel adequately to discover alibi witnesses and character witnesses, on a claim of conflict of interest, and on claims that his counsel wrote shoddy briefs on appeal and that he was drunk in court. Each of these bases were reviewed and the claim was denied. 892 F.2d at 1214, 1215.
Russell raises a variety of grounds in his second petition. He again claims that he received ineffective assistance of counsel, now because of his trial counsel's failure adequately to cross-examine key state witnesses, to object to the prosecutor's improper racially-based argument, and to seek impeachment of a state witness through the introduction of polygraph evidence. Russell contends that the state impermissibly refused (and continues to refuse) to produce tape recordings of Harris' and Smallwood's interviews with the police, and that his Adams claim relating to venireman Hoover persists. He also claims that the state prejudiced the jury by "race-baiting" and by introducing evidence of victim character and impact in the guilt phase of trial and by general prosecutorial misconduct.
III
The state moved in the district court to dismiss Russell's claims in his second petition as an abuse of the writ under rule 9(b) of the Rules Governing Section 2254 Cases. Rule 9(b) provides thatA second or succeeding petition may be dismissed if the judge finds that it fails to allege new or different grounds for relief and the prior determination was on the merits, or if new and different grounds are alleged, the judge finds that the failure of the petitioner to assert those grounds in a written petition constituted an abuse of the writ.
In McCleskey v. Zant, --- U.S. ----, 111 S.Ct. 1454, 113 L.Ed.2d 517 (1991) reh'g denied, --- U.S. ----, 111 S.Ct. 2841, 115 L.Ed.2d 1010, the Supreme Court clarified the abuse of the writ. The state has the burden to plead abuse. This burden is satisfied if the state notes the petitioner's prior writ history with clarity and particularity, identifies claims which appear for the first time in the later petition, and alleges abuse by the petitioner.
For the petitioner to disprove the claim of abuse, he must show cause why the claim was not raised in the first petition. This would include claims that he was impeded by some objective factor external to his defense, such as by government interference or the reasonable unavailability of the factual basis of the claim.
The petitioner must also show that he was actually prejudiced by the errors of which he complains. If he cannot satisfy both the cause and prejudice requirements, he is not entitled to an evidentiary hearing to develop the claim. Even so, the court will excuse his failure timely to raise the claim if he can show that a fundamental miscarriage of justice--the conviction of an innocent person--will result by failure to entertain the claim. --- U.S. at ----,111 S.Ct. at 1470.
The State of Texas moved in the United States District Court to dismiss pursuant to rule 9(b), alleging the claims of the petitioner with specificity and arguing that the petition constitutes a blatant abuse of the writ. In Russell's reply to the motion to dismiss, he asserted that a miscarriage of justice would result from the conviction here because of the racial remarks that were made to the jury.
Russell did not suggest that there is any new evidence or any new theory that was not available to him at the time of his first petition. Nor did he suggest that there is any evidence that would prove he is innocent. At most, he suggested that there may be tape recordings in the state's possession that might have permitted additional cross-examination of state witnesses, which might have reduced the already weakened credibility of Russell's accomplices' testimony. The district court applied the McCleskey standard to the state's assertion of abuse of the writ, in the light of the petitioner's reply, and denied relief.
We have found no claim in the petition now before us that could not have been raised by the petitioner at the time of his first application for the writ. We iterate that the issues raised on this habeas appeal are that he received ineffective assistance of counsel, that the state may have impermissibly refused to produce tape recordings by Harris and Smallwood, that he still has a viable Adams claim relating to venireman Hoover, and that the jury was prejudiced by "race-baiting" and by the introduction of evidence of victim character and impact in the guilt phase of trial and by general prosecutorial misconduct. All of these claims were apparent on the face of the record at the time of the petitioner's conviction in 1977; each could have been raised then. Russell does not proffer any cause for having failed to have raised them earlier.
The sole exception that is raised to escape the rule 9(b) bar of these claims is that manifest injustice might result because, it is suggested, Russell was convicted on the unreliable testimony of Harris. But no argument that Russell makes in this habeas petition is based upon an assertion that he is innocent of the crimes of which he was convicted. Each argument is collateral to such an assertion. His offers of proof and the evidence sought for the impeachment of Harris would serve only to destroy Harris' credibility as a witness, not to prove that Harris is in fact the murderer, or that Russell is in fact innocent. Indeed, the evidence establishing Russell's guilt of this murder leaves no room to doubt the jury verdict.
In any event, his claim of ineffective assistance of counsel based on counsel's cross-examination of Harris is meritless. Harris' credibility as a witness was impeached before the jury in substantial measure by the defense counsel. The petitioner has not shown that further impeachment would have altered the jury's verdict of guilt. Moreover, it is not credible in fact (as this court has previously found) that counsel was unconstitutionally ineffective, and there is no reason to depart from our earlier ruling for the reasons now raised.
Thus because there is no basis for innocence in this record, there is no basis for Russell's argument that manifest injustice will result from a finding of abuse of the writ. The suggestion that manifest injustice would result because of ineffective assistance without some evidence that the man was in fact innocent is a mistaken application of that principle as described in McCleskey.
We have, despite our finding of abuse of the writ, examined Russell's claims of "race-baiting" and victim impact statements by the prosecutor in detail. We have also examined his claims of suppressed evidence and the newly made bases for his claim of ineffective assistance of counsel. None of the facts that underlie these arguments, all of which were known to Russell at the time of his first petition, demonstrate a manifest injustice, i.e., innocence, as required in McCleskey. Indeed, in the light of the state trial court's findings of fact, which rejected most of Russell's allegations of fact and which we presume to be correct under section 2254(d), there remains little support for these untimely allegations.
IV
Finally, Russell claims that Rule 9(b) does not apply to bar his Adams claims related to venireman Hoover since the earlier panel applied a procedural bar to this claim and did not decide it on its merits. Because the majority of this court has already denied that claim in its previous opinion, it may not be raised in the same form. In any event, in Russell's second state habeas petition, the trial court, on whose findings the state appellate court based its denial of relief, plainly and unequivocally applied the procedural bar, which serves now to bar our review of the merits once again. Thus, Russell's claim with regard to venireman Hoover is meritless.
V
For the reasons stated herein: The motion to proceed in forma pauperis on appeal is GRANTED. The application for a certificate of probable cause is DENIED. The motion of the petitioner for stay of execution is DENIED. The appeal is