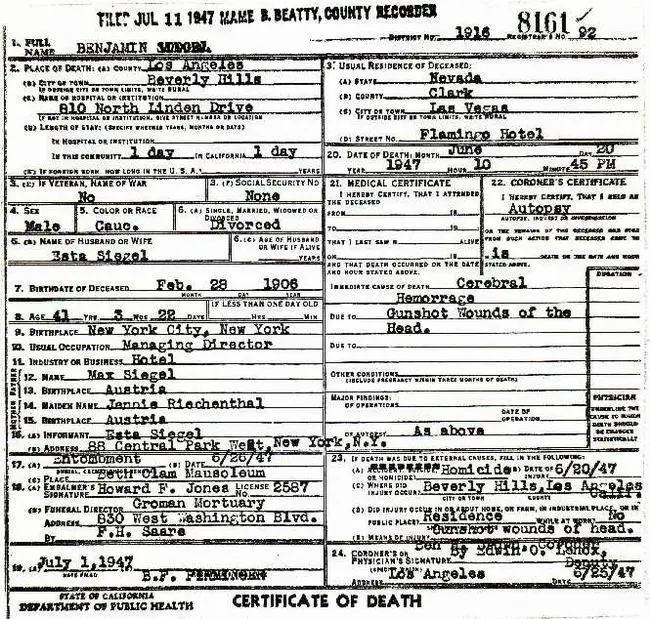 Certificate of death of Benjamin "Bugsy" Siegel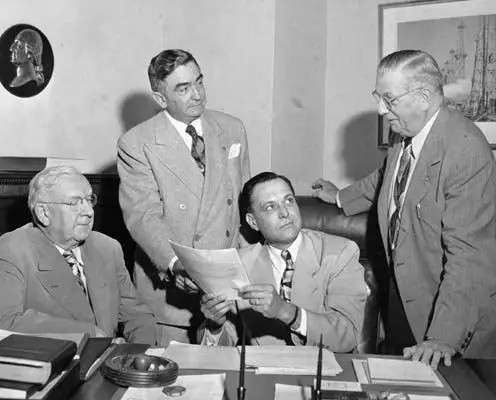 Law enforcement officers are shown at an "information pool" conference on the gang murder of Bugsy
Siegel. Left to right are District Attorney William E. Simpson, Sheriff Eugene W. Biscailuz, Walter
H. Lentz, chief special agent of the State Department of Justice, and Undersheriff A. C. Jewell.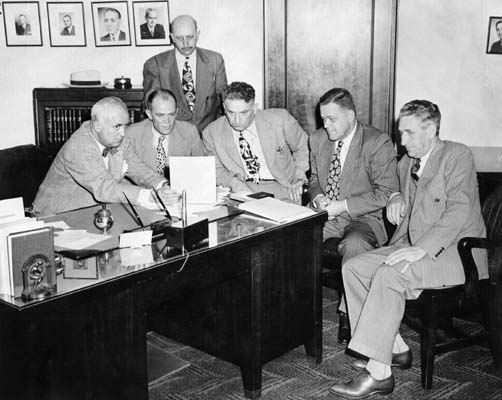 Benjamin "Bugsy" Siegel murder conference attendees, seated left to right: S. Ernest Roll, Chief
Department District Attorney; Police Captain W. W. White; Sheriff Lt. Joe Vigneau; Chief C. H.
Anderson; and H. Leo Stanley. Standing: Inspector Norris Stensland.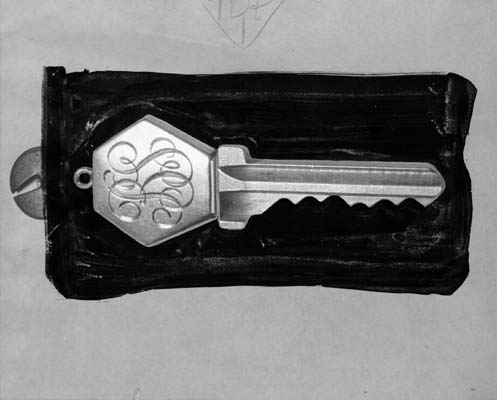 Gold key, with initials B. S., found and believed owned by slain gang chief.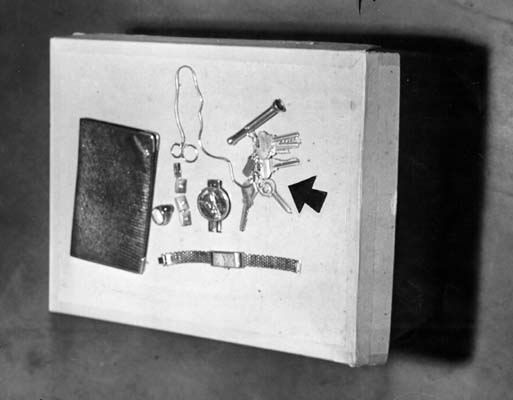 Among the personal effects found on the body of Bugsy Siegel are six keys,
a wrist watch, a ring, a billfold and a set of cuff links.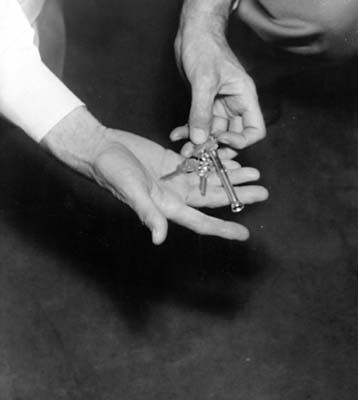 Two gold keys and gold plunger with needle found on Benjamin "Bugsy" Siegel.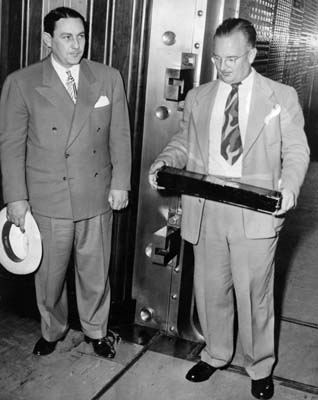 Attorney General Fred N. Howser, left, and B. J. Parchman from the public administrator's
office are shown with Bugsy Siegel's safety deposit box. Authorities were taking the box
out in an effort to probe the financial affairs of the slain gangster.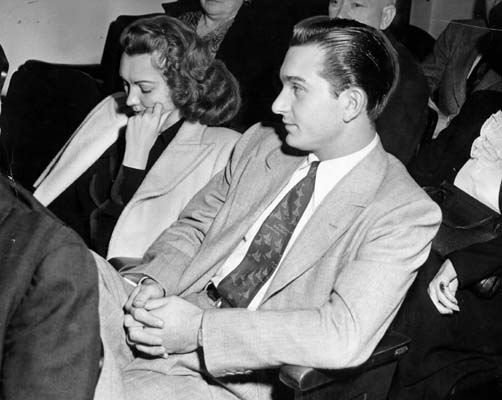 Jerrie Mason, secretary to Virginia Hill, in whose mansion Bugsy Siegel was slain, and
Charles Hill, brother of Miss Hill, at Siegel's inquest June 25, 1947. They assertedly
were in another part of the house when a hail of bullets killed Siegel.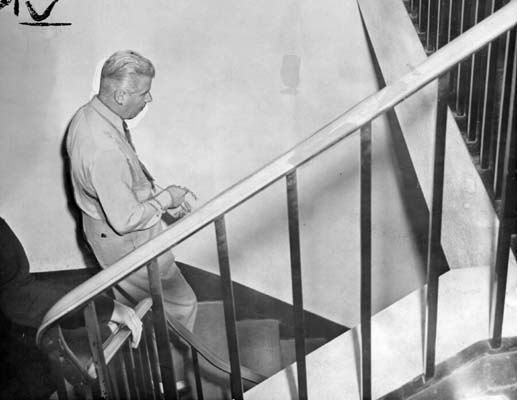 Allan Smiley leaving the Beverly Hills Police Station. He was in the living room
of the house in which Benjamin "Bugsy" Siegel was killed.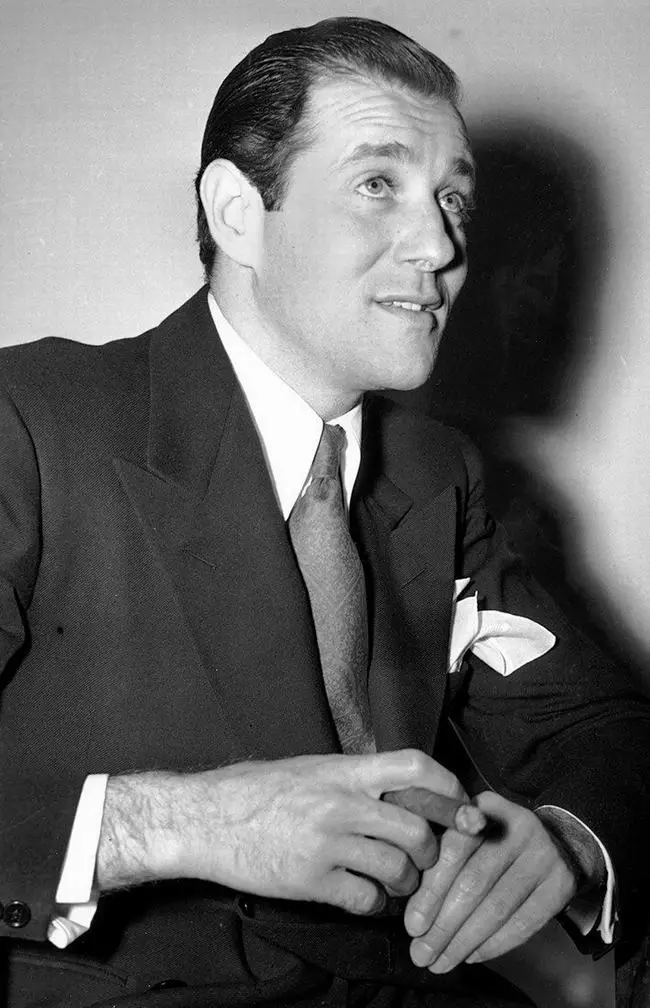 Benjamin "Bugsy" Siegel

Benjamin "Bugsy" Siegel biography