Steve Wade and Harry Kirk executed 38-year-old miner William Smedley at Armley Gaol on 14th August 1947. On 22nd July at Leeds Assizes Smedley had been found guilty of the murder of 27-year-old prostitute Edith Simmonite.
Edith's strangled body had been found by eleven-year-old Peter Johnson on a bomb-site in the Bridge Street area of Sheffield on 8th March. Edith had lived in a women's hostel on West Bar Green for the previous six or seven years and was well-known in the public houses in the area where she plied her trade.
Six weeks later the police seemed no nearer catching the killer when Smedley walked into Doncaster police station claiming to know the identity of the killer. It was, he said, a former resident of the hostel in which Smedley lived. Smedley went on to tell detectives that the man had subsequently moved to Rhyl. Smedley and a detective went to Rhyl to try and trace the supposed murderer but while they were there Smedley confessed that he had killed Edith. They had known each other for some months. On the night of the murder they had been out drinking together and Edith had been taunting him that she had given him a venereal disease.
At his trial he claimed that he no intention of hurting the girl and tried to get a verdict of manslaughter, but the jury found otherwise and returned a verdict of guilty.
Murder-UK.com
---
Murder in the Snow 1947. William Smedley
On 8th March amongst the bomb damaged buildings in a derelict out building in Spring Street an eleven year old Peter Johnson came across a womans body. The lad was the son of licencee of the Stag Inn on Wilson Street.
The woman was a 27 year old local prostitute called Edith Simmonite who lived at the womens hostel on West Bar Green. Landlord of the hostel Charles Fisher told police she had gone out Friday night and he had not seen her since.
One man who was seen in Ediths company on the night was William Smedley. Later that evening Smedley sent a telegram to his sister Doris Butler in Doncaster "Come Saturday morning. Urgent. Brother in terrible trouble."
The whole story was printed in THe Sheffield Telegraph March 10th,12th June 11th July 22nd 1947. And the Sheffield Star March 10th, 13th,24th. May 14th, 22nd, 30th. June 10th July 23rd. August 14th 1947.
William Smedley was the last man to be executed for a Sheffield murder
SheffieldHistory.co.uk
---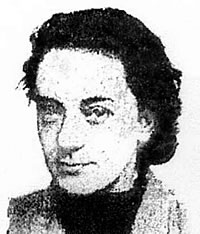 The victim, 27-year-old prostitute Edith Simmonite