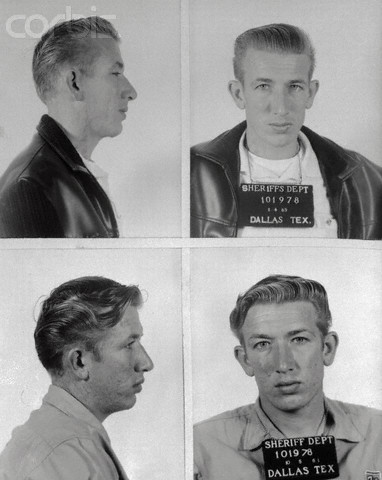 The Dallas County Sheriff Department released two different mug shots of Richard B. Speck, 25,
the accused slayer of eight student nurses in Chicago. Chicago Police Supt. O.W. Wilson said
July 16 "identification was positive based on finger prints." The suspect was later discovered
July 17 at a hotel in Chicago's skid row section. Speck is shown in a 1965 photo (top)
and in a 1961 photo (bottom).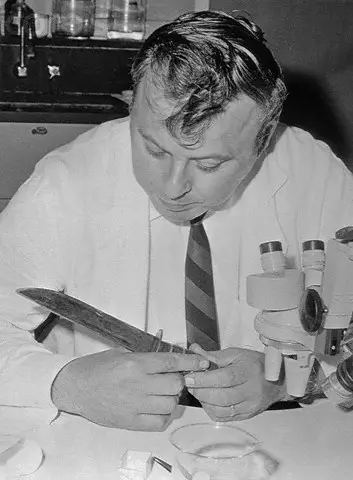 Police department crime laboratory technician Louis Vitullo holds a knife which was sold for $1
by mass murder suspect Richard Speck, a few hours after the slayings of 8 student nurses.
Speck, who was caught early July 17th, reportedly sold the knife to a friend in a saloon.
(July 18, 1966)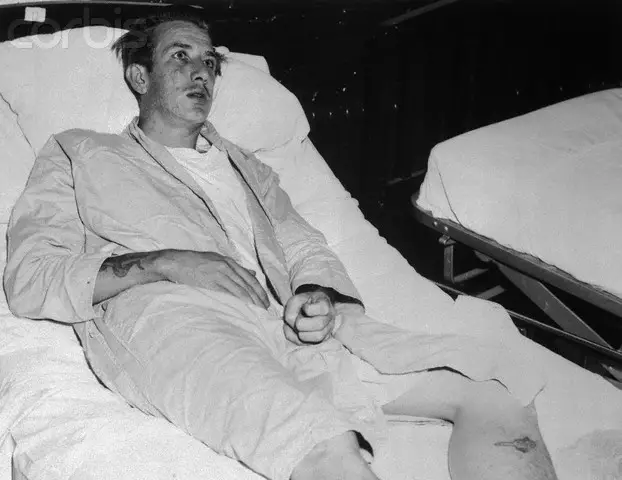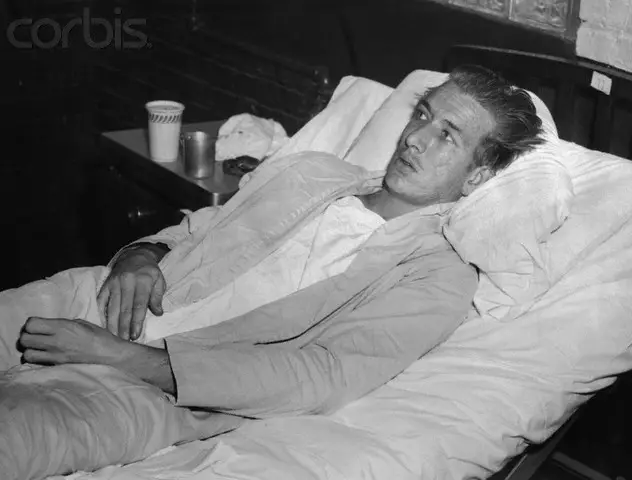 Richard Speck, accused slayer of eight student nurses, stares into space from his cot in the Cook County
Jail Infirmary following his arraignment in court here. Speck pleaded not guilty to the eight indictments
charging him with murder. (August 1, 1966)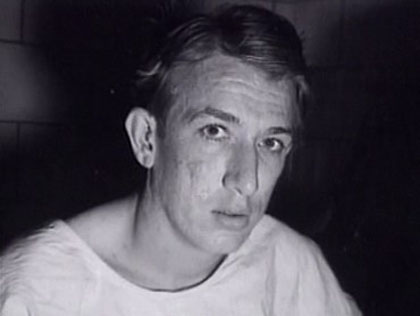 Richard Speck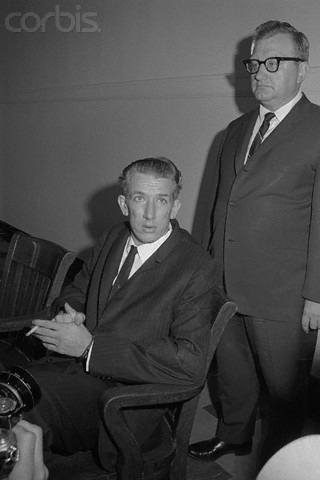 Richard Speck, accused of the murder of eight Chicago Nurses, sits limply in his chair,
hands clutching a cigarette, as he listens to his lawyer Gerald Getty make his demand
sfor a sanity hearing before Judge Herbert Paschen August 18th. Getty is asking for a
panel of psychiatrists to examine Speck and determine his sanity.
(August 18, 1966)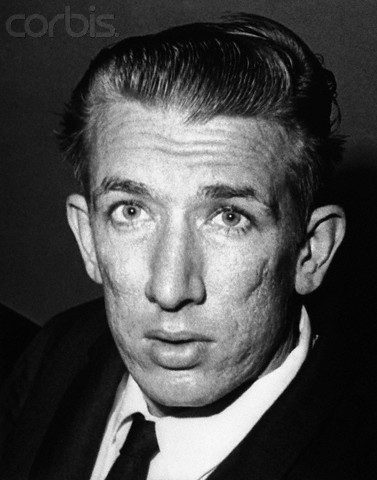 Richard Speck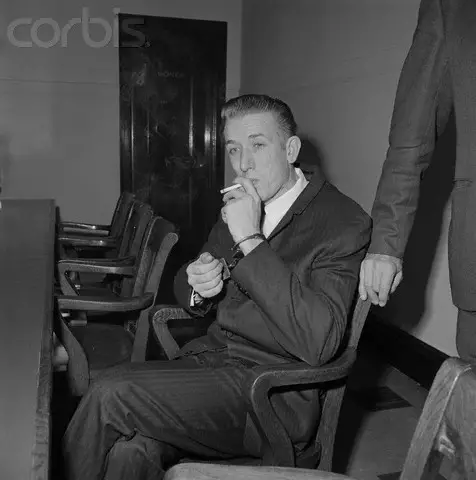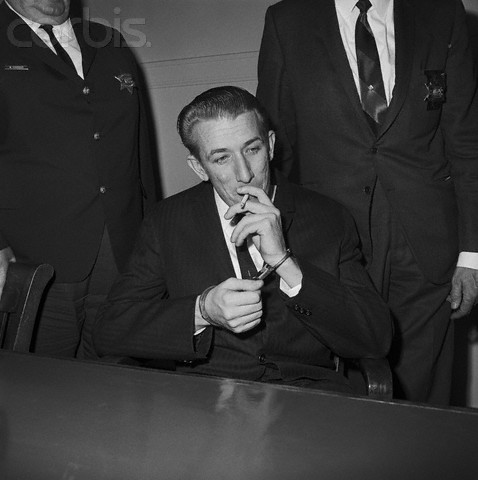 Handcuffed Richard Speck, accused slayer of 8 nurses smiles bradly as he puffs on a cigarette
during his fourth court apperance here 10/24. Speck's appearance was brief lasting three minutes
with his attorney asking for a continuance unitl 11/14. Public defender Gerald Getty told the Judge
he had not recieved all the reports from a team of psychaitrists who are trying to detrmine if
Speck is competant to stand trial. (October 24, 1966)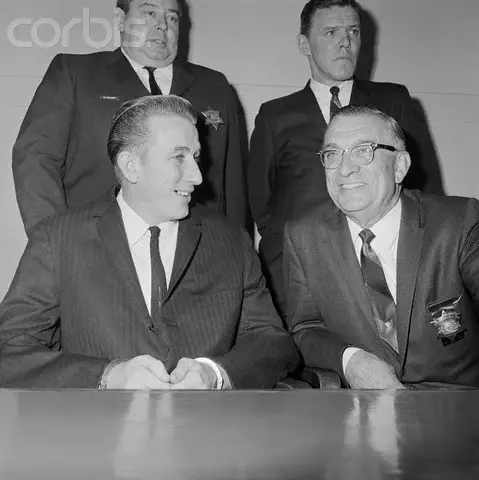 Richard Speck, accused slayer of 8 nurses, manages a slight smile at his 4th court appearance
was a brief one lasting only 3 minutes. his lawyer asked for a conditioner until 11/4 when he
expected to have all reports from trial continuance was granted. (October 24, 1966)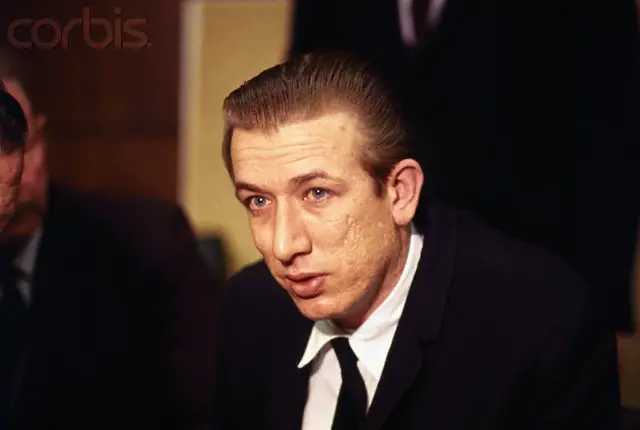 Richard Franklin Speck, sits in court before being returned to Chicago on April 17, 1967.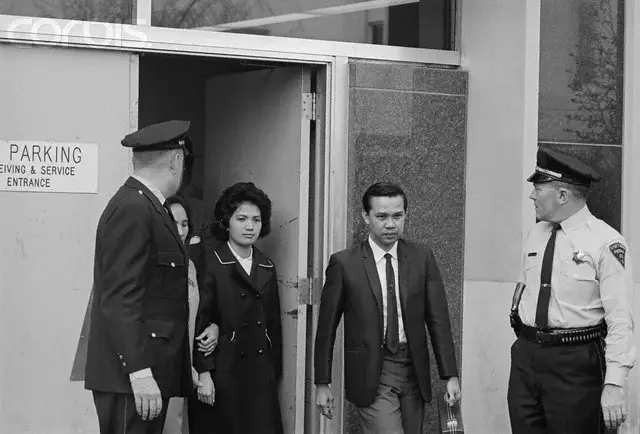 The Lone Survivor. Peoria, Illinois: Corazon Amurao leaves the court here with her mother (partially hidden,
second from left) after her cross examination in the trial of Richard Speck in April, 1967. Miss Amurao, 24,
is the sole survivor in the brutal Chicago massacre of eight student nurses.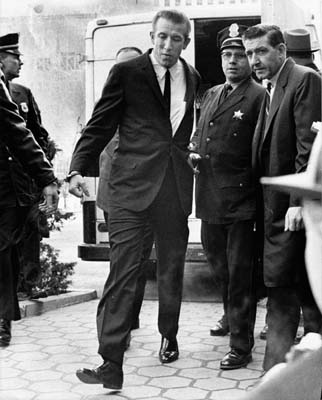 Richard Speck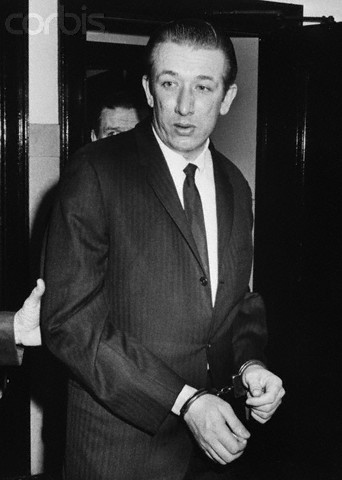 Convicted mass murderer Richard Speck enters court argue for a new trial on May 15, 1967.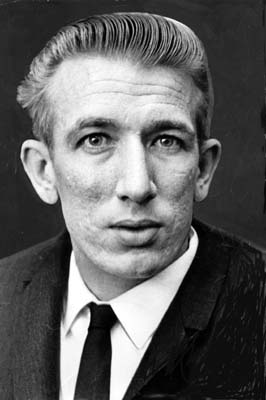 Richard Speck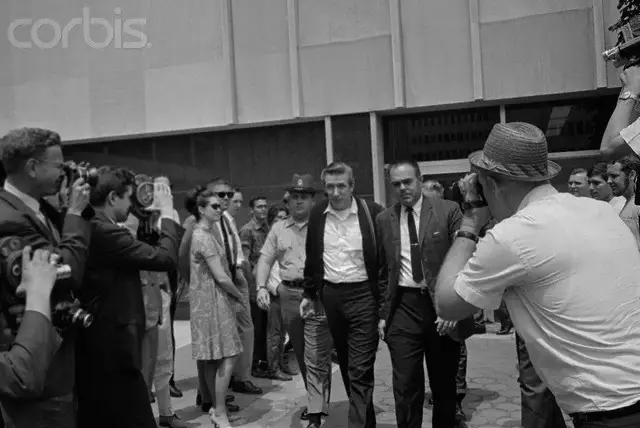 Richard Speck is led from courthouse after being sentenced to die in the electric chair for the murder
of 8 Chicago nurses. Speck was sentenced by Judge J. Paschen. Escorting Speck are deputy Jerry
Sample (left) and Richard Diekoff. (June 5, 1967)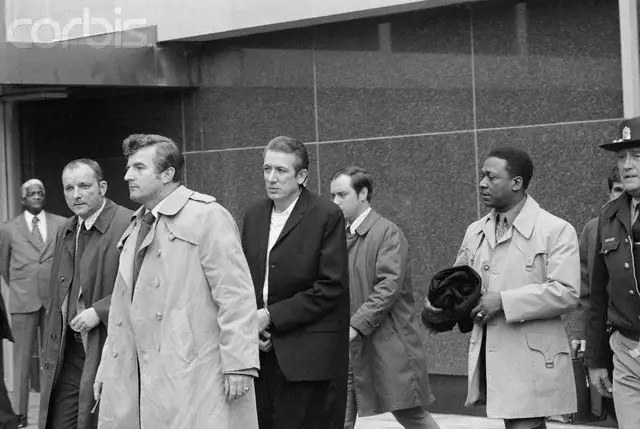 Peoria, Illinois: Richard Speck is led from the Peoria County Court House under heavy guard after being
re-sentenced to eight consecutive terms of 50 to 150 years for the 1966 slaying of eight nurses in
Chicago. Speck was re-sentenced because the US Supreme Court threw out the death penalty.
(November 21, 1972)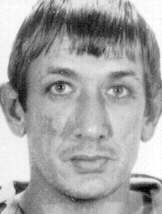 Richard Speck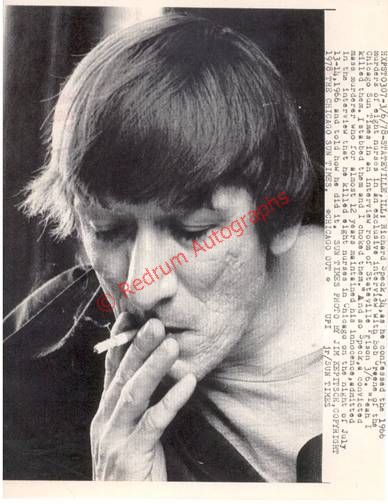 Richard Speck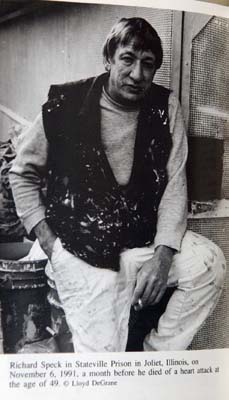 Richard Speck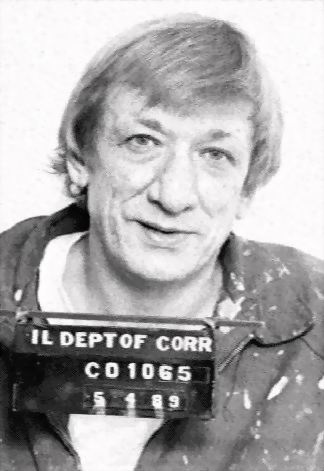 Richard Speck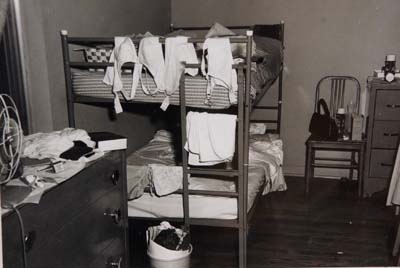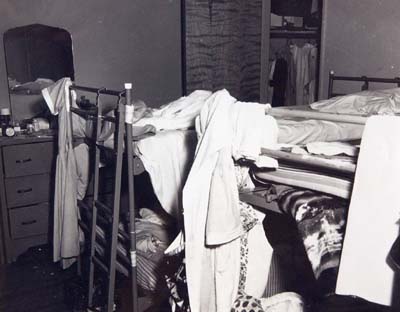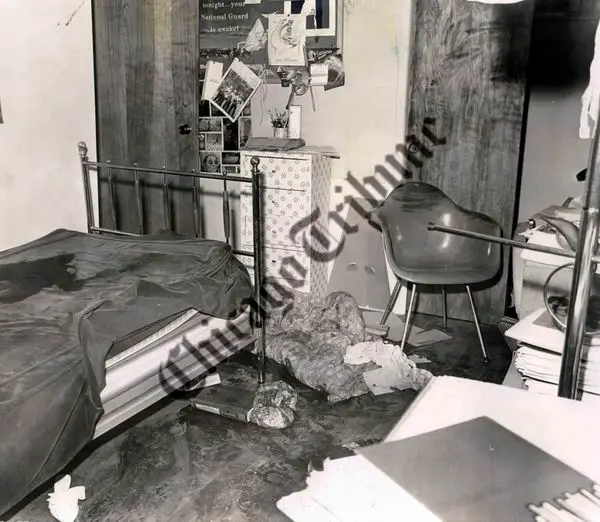 Crime scene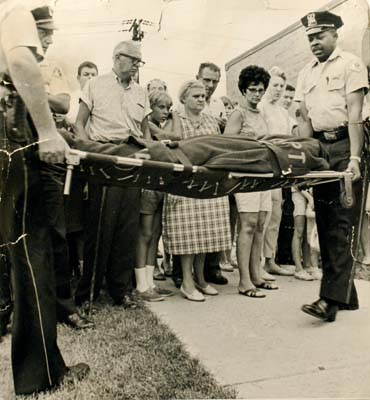 The victims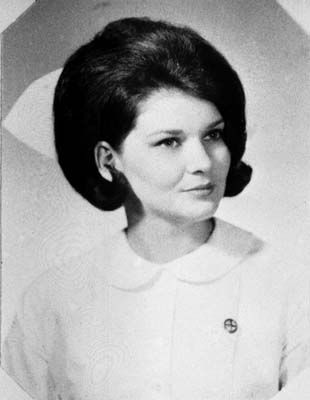 Gloria Jean Davy, 22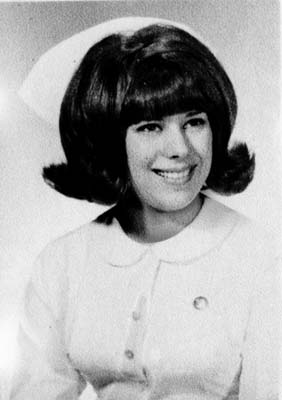 Patricia Matusek, 20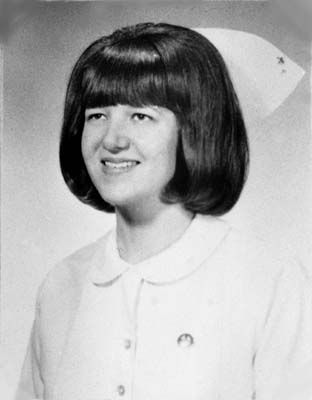 Nina Jo Schmale, 24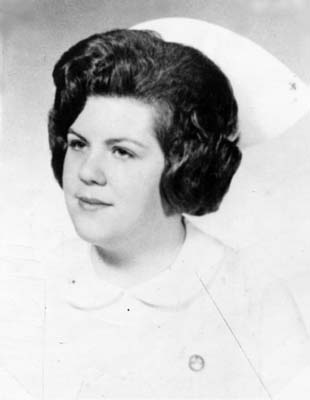 Pamela Wilkening, 20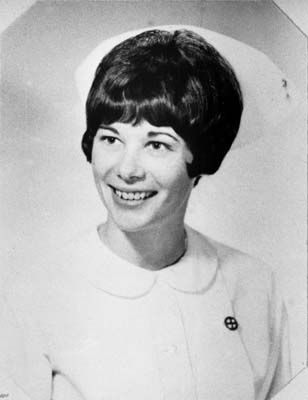 Suzanne Farris, 21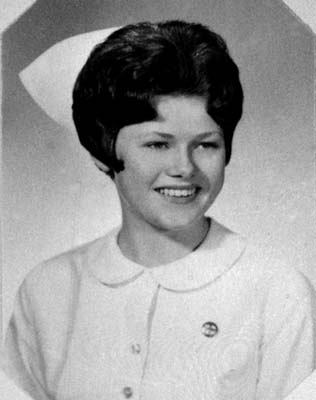 Mary Ann Jordan, 20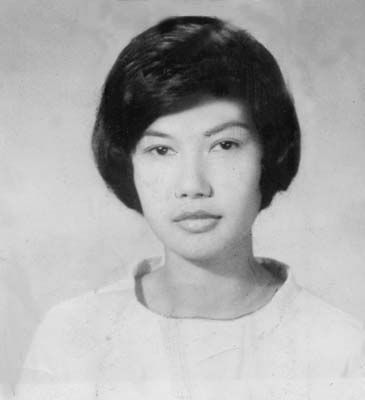 Merlita Gargullo, 22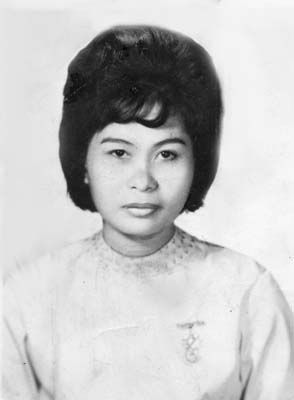 Valentina Pasion