Joseph "Mad Dog" Taborsky (March 23, 1924 – May 17, 1960) was a murderer who was sentenced to death after a string of brutal robberies and murders in Connecticut during the 1950s.
Six people were killed during a string of armed robberies and murders that became known as the "Mad Dog Killings". A number of others were shot, beaten, or pistol-whipped but survived. Taborsky earned his nickname due to the savagery of the killings that condemned him to death. In 1957 Connecticut package store hours were modified to close at 8:00 pm from 11:00 pm due in part as a response to the crimes of Taborsky and his partner Arthur "Meatball" Culombe.
He was executed by electric chair at the age of 36. His execution in 1960 was the last in Connecticut (and in New England) until that of Michael Bruce Ross in 2005. Taborsky donated his body to Yale School of Medicine, and his ashes were later buried in the garden of Christ Church Cathedral.
First time on death row
Taborsky is an anomaly in Connecticut death penalty lore. He is the only convict sent to death row not once, but twice, for different crimes. Taborsky first came to Connecticut's death row for the 1950 murder of Louis Wolfson, a West Hartford liquor store owner, during a robbery. His younger brother Albert, who was also his co-conspirator, testified against Taborsky at the trial in exchange for a life sentence.
In prison, however, Albert exhibited signs of mental illness and was institutionalized. Joseph Taborsky, having learned through the prison grapevine that his brother Albert wound up in an insane asylum, appealed his case.
In 1955, the Connecticut Supreme Court reversed Taborsky's conviction (and death sentence) because the sole witness against him - Albert - was incurably insane. Because there were no other witnesses to the robbery and murder of Wolfson, Taborsky could not be tried again. Thus, he was freed from death row, after less than three years, in early October 1955. Taborsky appeared appropriately humble, stating, "You can't beat the law. From now on, I'm not even going to get a parking ticket."
Second time on death row
After his release from prison, Taborsky met another felon, Arthur "Meatball" Culombe, who would become his accomplice during the "Mad Dog Killings". In one grocery-store robbery, a 3-year-old girl was running around the store as Taborsky beat her grandparents unconscious. When Taborsky ordered Culombe to shoot the girl, Culombe hid her beneath a deli case, told the girl to be quiet, and fired a shot into the floor. Taborsky left, believing that the girl was dead.
Because of this incident, his low IQ, and his cooperation with the authorities, Culombe was given a life sentence. Taborsky, however, received the death penalty on June 27, 1957. He thereby became the only convict sent to Connecticut's death row on two separate occasions for two separate crimes. On May 17, 1960, Taborsky, age 36, was executed by electric chair for the "Mad Dog Killings". Before his execution, he would also confess to the 1950 murder of Wolfson.
Murder victims
"Mad Dog" murders:


Edward Kurpewski and Daniel Janowski were killed on December 15, 1956. They were both shot in the back of the head.

Samuel Cohn was killed on December 26, 1956. He was killed by a gunshot wound to the chest.

Bernard "Buster" Speyer and Ruth Speyer were killed on January 5, 1957. Both shot in the head.

John M. Rosenthal was killed on January 26, 1957. Like Cohn, he was shot in the chest.
Wikipedia.org
---
The Mad Dog Killer
By Mara Bovsun - NYDailyNews.com
January 24th 2009
It seemed like old times when Joseph Taborsky landed on Connecticut's death row in May 1957. He had been there before.
The first time was because of his little brother's big mouth. The second time, he had no one to blame but his own big feet.
Taborsky's first trip to the death house started on the night of March 23, 1950, when Joe, 25, asked his younger brother Albert if he wanted to go out and "get some money."
Joe had been a crook since he was 7 and started stealing tricycles. By the time they were in their 20s, both brothers were members of a five-man gang that was terrorizing local businesses, so Joe's invitation meant only one thing.
With Albert behind the wheel, the Taborsky brothers cruised around, looking for a mark. They found one, a West Hartford liquor store owned by Louis Wolfson, 40. Albert stayed in the car, and in a few moments his brother leaped out. "The guy jumped me," Joe yelled. "Hurry up and get out of here."
Albert said he had no idea what had happened, until he opened the newspaper the next day and learned that Wolfson had been shot and was in the hospital, clinging to life.
Wolfson died three days after the shooting, having told police that his assailant was young, white, baby-faced, was wearing a trench coat, and that his light hair could use a haircut.
Thugs' mom calls cops
There were no leads until January 1951, when the Taborsky boys' mother called police, and said Albert had something to tell them. The younger brother confessed to driving the car that night on a robbery spree that ended at Wolfson's store. He insisted that his brother had fired the fatal shot. His share of the holdup money was $32.
The brothers were tried and convicted on June 7, 1951, based largely on Albert's confession. Al pleaded guilty to second-degree murder and got a life sentence. His brother was condemned to die in the electric chair, the sentence to be carried out on Nov. 7.
But shortly before the scheduled execution, a complication popped up.
Always mentally frail, Albert had a breakdown, started babbling that he was Christ, and ended up in the "bug ward," as his brother put it.
Joseph's lawyers pounced like tigers onto the issue of the little brother's sanity. If the key witness was crazy, they argued, how much stock could be put in his confession?
It became known as the "Cain and Abel case," brother against brother, and one of them was delusional. After 52 months on death row, Taborsky was granted a new trial, and, because the only witness was incurably insane, he was freed. Upon his release, he told his story to Hartford Courant reporter Gerald Demeusy, who would later write a book on the case called "Ten Weeks of Terror."
Taborsky said he had found the Lord while he waited in a 9-by-9-foot cell, watching as others went to the electric chair. But, he said, his newfound religion didn't ease the bitterness of knowing that he would likely lose his life for a crime he didn't commit.
Upon his release in October 1955, he vowed to go straight.
"I'm not even going to get a parking ticket," he said. He declared that he felt like a man back from the dead, and announced plans to get married, get a job and move to Brooklyn.
A little more than a year later, shop owners started dying around Hartford again, a wave of terror dubbed the "Mad Dog Killings" by the press. First, during an ice storm on Dec. 15, a tailor in Hartford was shot in the head and neck, but survived. A New Britain gas station attendant, Edward Kurpewski, and his customer, Daniel Janowski, both 30, were not so lucky. Both died of bullet wounds to the head.
The killers spared Janowski's 14-month-old daughter. A bus driver found the bodies and the terrified little girl the next morning.
Eleven days later, Dec. 26, liquor-store owner Sam Cohn died of a gunshot wound during a holdup. Then on Jan. 5, a tall man entered an East Hartford shoe store, asked for a pair of size 12s, then pistol-whipped the proprietor. During the robbery, Bernard and Ruth Speyer made the unlucky decision to go shoe shopping, and paid with their lives, both dying with bullets in their brains. Almost a month later, pharmacist Jack Rosenthal was murdered in his drugstore, shot in the chest.
Detectives focused on the one solid clue they had - the assailant's size-12 feet. They started by checking the shoe sizes of every Connecticut ex-con. Police were not surprised to learn that Taborsky was one of the bigfoots.
Police brought him in, along with Arthur Culombe, whose photo had been picked out by they shoe-store owner as his assailant's accomplice. He could not make a positive identification, however, when shown Taborsky's mug shot, despite his lantern jaw that had earned him the street sobriquet "The Chin."
Culombe quickly confessed to eight holdups, involving six murders. But he insisted he had only been along for the ride, and that Taborsky did the killing, cackling as he fired the fatal shots, usually into his victim's faces or heads.
Taborsky stayed tight-lipped for days, but then he cracked, confessing to being behind the recent killing spree.
And, oh, he added, he also was the guy who shot Louis Wolfson back in 1950.
Reached at her sister's home in Brooklyn, Wolfson's widow, Ethel, was distraught. "God help those poor families for what they've got to go through," she told a reporter. "By the time Taborsky got out the whole Wolfson family felt like criminals. I loved Hartford, but the people talking about us left a bad taste in my mouth. ... I wonder how these people feel now."
Killer finally swatted?
After a nine-week trial, five of which were consumed in trying to pick an impartial jury, Taborsky and Culombe were found guilty, and sentenced to die in the chair.
Culombe's sentence was commuted to life. But the State of Connecticut would not make the same mistake twice by granting clemency to Taborsky.
His second stay on death row would be his last, and his execution would be the last one in the state until 2005.
Taborsky willed his body to science and his eyes to the eye bank, and remained calm to the end. On the day of his execution, May 17, 1960, he asked for a big banana split and a cherry soda as his last meal, and bid farewell to his fellow doomed men.
In parting, he told one particularly impressionable inmate, Ben Reid, 20, that he was going to come back as a "big fly."
And so it could be argued that Taborsky made one more trip to death row. Just moments after the execution, Reid went berserk. He said a fly had appeared on his wall at the time of Taborsky's death, and Reid was convinced he had been visited by the spirit of the Mad Dog Killer.
---
Mad Dog' Taborsky The Last Man Executed By Connecticut
By Kenton Robinson - TheDay.com
December 26, 2004
Somebody somewhere could be looking at the world today through Joseph Taborsky's eyes.
Before he was strapped into the electric chair, one of the last acts of the last man put to death by the state of Connecticut was to will his eyes to the eye bank. It was an uncharacteristic act of charity by a man so ruthless that newspapers had christened him and his partner "The Mad Dog Killers."
In the winter of 1957, Joseph "Chin" Taborsky and Arthur "Meatball" Culombe, a man with the mind of a child, wound up a string of armed robberies that terrorized the state.
They left five men and one woman dead (most shot execution style in the back of the head) and another dozen beaten unconscious, some so brutally pistol-whipped their faces were unrecognizable.
During his trial, Taborsky would laugh as gruesome evidence was introduced in court, and he would give spectators the willies by pointing his finger at them and mouthing the word "Bang!"
So it was that on the night of May 17, 1960, when Taborsky was due to die, only a handful of protestors stood outside the state prison in Wethersfield.
For the most part, the people of Connecticut wanted Joseph Taborsky dead.
"They wanted violence, whether it be hanging or shooting or the electric chair," says Gerald Demeusy, 87, one of the last surviving witnesses of Taborsky's execution.
Demeusy, the crime reporter for The Hartford Courant, had been as close to Taborsky as anyone ever got. He had been Taborsky's ghostwriter, producing the killer's memoirs for Inside Detective magazine after he was released from death row for a previous murder. He was released when Albert, his younger brother, the only witness who could finger him for the crime, was diagnosed as "incurably insane."
In his retirement, Demeusy has authored the whole story of Taborsky's life of crime. His book is titled "Ten Weeks of Terror: A Chronicle of the Making of a Killer."
If Taborsky's eyes are alive today inside somebody's head, they are looking upon a state grown queasy at the prospect of putting another murderer to death, even as it counts down the days to the Jan. 26 execution of serial killer Michael Bruce Ross.
This time opponents of the execution are vocal and numerous, and the state public defender's office is fighting vigorously to stop it.
If Ross is executed as scheduled, it will be by lethal injection, a supposedly painless clinical procedure akin to putting down a domestic animal. Witnesses will watch through a pane of glass.
It will be nothing like it was in Taborsky's day, says Demeusy, who had the dubious honor of sitting through six executions.
There was nothing clinical about the death chamber then, he says. "It was a hanging chamber at one time, and it was in tough shape. The paint was flaking off the walls, and you still had the trappings of the gallows in there."
Reporters who were sent to cover it were seated no more than five feet from the electric chair with nothing between them and the victim but thin air.
The first time he covered an execution, Demeusy says, he was afraid an arc of electricity would jump across those five feet.
"I had a concern the goddamned thing would leap," he says. "I thought, 'Christ, what'd they put me so close to the chair for?'"
He remembers thinking, "I can't watch this." And for a moment he closed his eyes. But not for long. He quickly remembered that it was his job to write the story for the morning paper. He had to watch.
"The first one was tough. It was hard to believe that you just saw a life being taken. You know, the guy still alive, walking in, he sits down, the next thing you know he's dead minutes later. You don't really grasp it, you know? And it shook me up quite a bit," Demeusy says.
The execution itself took mere minutes: Three 30-second jolts of 2,000 volts were poured into the victim's body.
But, Demeusy says, the whole thing was pretty gruesome.
"Any hair on the guy goes up in flames. I can't think of a case where we didn't have that. So if you want to say that he burned to death or you want to say flames engulfed him, it's true," he says. "But that's the way it is with the electric chair. It touches off the hairs ... not on the head but on the legs and anywhere on the body."
The other unnerving thing about it was "these guys were going through these spasms like they were going to come back to life. Every time they would turn the rheostat wheel and give them another 30 seconds, the guy would come back to life. Then you have the fear that maybe they're not going to kill them."
That fear was not ill founded.
Demeusy's second execution was a twofer. As the first man's body was lifted from the chair, a second man, Robert Malm, a submariner who had raped and strangled an 11-year-old girl, was strapped in.
Malm, Demeusy says, was convicted on scant evidence, but did not choose to appeal, saying, "Killing me will kill the monster inside me that made me do what I did to that girl."
Three blasts of current later, Malm's heart was still beating. The doctor who was required to pronounce death said, "This man is still alive."
Meanwhile, the blue smoke reeking of burnt flesh and hair was descending, Demeusy says, and all the reporters were sinking lower and lower in their seats to avoid breathing it in.
"My concern was, 'Jesus, what if he comes back to life?' We sat there and the doctor kept checking with his stethoscope for about two minutes ... and finally said, 'This man is dead.'"
The witnesses, Demeusy says, couldn't scramble out of there fast enough.
Robert Murphy, then of The New Britain Herald, also witnessed an execution, though not that of Taborsky.
He was sent to watch the execution of Frank Wojculewicz, a paraplegic after he got a bullet through the spine in a gunbattle with police.
They had to modify the electric chair to accommodate him.
"The thing that got me was the power of the state to put a guy who was in a wheelchair or a gurney and wheel him in and reconstruct the electric chair so it looked like a Barcalounger, so he would fit in it," Murphy says. "The thing about this guy is he couldn't do anything. That's what impressed me. That's what got me. The state can take a guy that is, and this is not the politically correct term, crippled and execute him."
The other thing Murphy vividly remembers: "The executioner looked like Elmer Fudd. He was bald-headed, slightly built, the last guy you would think was an executioner. The warden said he also did executions for Sing-Sing."
The most remarkable thing about Taborsky's execution, Demeusy says, is that Taborsky didn't stop it. Right up until the end, Demeusy thought that Taborsky, who had waived all appeals, would stop the whole thing at the last minute by saying he'd changed his mind.
That, Demeusy says, would be just the sort of thing that Taborksy would find funny.
Instead, Taborsky walked down the line of cells that made up death row saying goodbye to the other inmates.
He even shook hands with Culombe, who had dodged the chair by ratting out his partner.
"I later saw Culombe in prison, and he said, 'Jeez, that was horrible, saying goodbye to Joe.' And as they were taking him out, he hollered out, Joe, good luck to you tonight, no matter where you go!'"
When Taborsky came to Benny Reid, a superstitious young man convicted of beating an old woman to death, Reid was shaking with fright.
"Benny said, 'I'm going to say a prayer for you, Joe,' and he was crying,' Demeusy says. "And Joe told him, 'Don't worry about it. I'll be back as a fly right after it's over.'"
As Taborsky was being strapped into the chair, his eyes locked on Demeusy. He lifted his one free hand and said, "Hi." He seemed to say something else, but Demeusy couldn't make out what it was.
He was strapped down, the metal helmet placed over his head "It looked like a mixing bowl" and the black mask draped over his face. The executioner pulled the switch. Taborsky's body thrashed in the chair, and his hair burst into flame.
Three jolts later, a guard tore open his shirt for the stethoscope. Taborsky's skin, Demeusy remembers, was blue.
At 10:36 p.m. Joseph Taborsky was dead.
Moments later, Benny Reid let out a scream.
There was a fly on his ceiling.
"He was hospitalized for three months for psychiatric care," Demeusy says. "He went absolutely berserk."
And somebody somewhere got Joseph Taborsky's eyes.
---
Taborsky, Joseph L., and Culombe, Arthur
In 1951, at age 27, Joseph Taborsky was convicted and sentenced to die for the holdup-murder of Louis Woolson, a liquor store proprietor in west Hartford, Connecticut. Taborsky's accomplice -- and the chief witness against him -- was his brother Albert, sentenced to a term of life imprisonment for his participation in the crime.
Four years later, after Albert had been ruled insane, the state supreme court overturned Joseph's conviction, ordering a new trial. Deprived of its key witness, the prosecution dropped all charges against Taborsky, and he was back on the street by 1956, joining forces with 33-year-old Arthur Culombe for a new series of holdups and murders.
On December 15, the duo turned up at a gas station in New Britain, Connecticut, executing owner Edward Kurpiewski and one of his patrons, 30-year-old Daniel Janowski, with close-range shots to the back of the head. The day after Christmas, 65-year-old Samuel Cohn was gunned down in his East Hartford liquor store.
Moving on to North Haven, the killers held up a shoe store on January 5, 1957, murdering owners Bernard and Ruth Speyer before they escaped with $50 in cash. John Rosenthal, a 68-year-old Wartford druggist, was the last to die, shot down in his store on February 10.
Arrested on February 23, Culombe swiftly confessed to the series of crimes and fingered Taborsky as the "brains" behind the rampage.
By March 1, police had Taborsky's signed confession in hand, and both gunmen were sentenced to life imprisonment on conviction for murder.
Michael Newton - An Encyclopedia of Modern Serial Killers - Hunting Humans
---
Taborsky, Joseph L. (1924- ); Culombe, Arthur (1923- )
SEX: 2M RACE: W TYPE: N MOTIVE: CE-felony
DATE(S): 1951-55
VENUE: Conn.
VICTIMS: Seven
MO: Taborsky killed his first holdup victim in 1951; teamed with Culombe four years later for a series of robbery-murders.
DISPOSITION: Taborsky condemned, 1951; acquitted at retrial after chief witness went insane; life terms for both, 1956.
---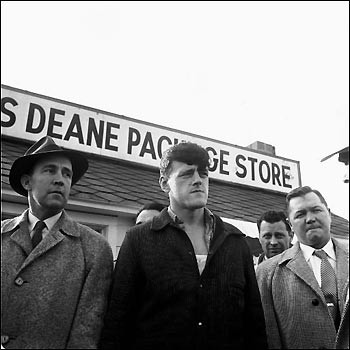 Joseph L. Taborsky