Man kills ex-wife, brother-in-law before turning gun on himself
CourtTV.com
May 5, 2006
FERNANDINA BEACH, Fla. (AP) — A man who had been ordered to stay away from his ex-wife fatally shot her and her brother-in-law and injured her sister before turning the gun on himself, authorities said.
Denny O'Dell Taylor Sr., 60, died outside a school Thursday from a self-inflicted gunshot wound to the head, said Nassau County Sheriff Tommy Seagraves. Shortly before that, Taylor confronted his former family in the parking lot of a nearby hospital, Seagraves said.
Roy E. Rogers, 67, died outside Baptist Medical Center-Nassau.
The gunman's ex-wife, Frances Stephens Taylor, 55, was flown to Shands Jacksonville hospital, where she was later pronounced dead.
Her sister, Sara C. Rogers, was in serious condition Friday morning at Baptist Medical Center, hospital officials said.
The family had a history of domestic violence, and an injunction had been issued ordering the gunman to stay away from his former wife and her sister, authorities said.
"We're still trying to piece this thing together," Seagraves said.
School officials said there were no injuries to students or personnel at Emma Love Hardee Elementary School, where Seagraves said Taylor shot himself in the parking lot as deputies arrived.
The school was placed on lockdown, but parents were allowed to pick up their children early, said Sharyl Wood, executive director of administrative services for the Nassau County School Board. School psychologists were sent there for anyone needing counseling, she said.
Fernandina Beach is a wealthy resort area, about 35 miles northeast of Jacksonville.
---
Shootings leave 3 dead, 1 wounded
Nassau man kills ex-wife's brother-in-law, himself
By Charlie Patton, Jeff Brumley, Michael Laforgia and Bridget Murphy -
The Times-Union

Friday, May 5, 2006

FERNANDINA BEACH -- For months, members of Frances Stevens "Sue" Taylor's family lived in fear that her estranged husband might do something violent, court records show.

Apparently distraught over an impending divorce, in March he came to the North Jacksonville home of her sister and her brother-in-law, where he held them and his wife at gunpoint for more than an hour. Then, on April 18, he told his sister-in law "to prepare to meet your maker," she said in a petition seeking an injunction against him.

"I fear that he will carry out his threat of violence," she told the court in the April 21 filing.

Thursday, he did what she feared, police said.

In a hospital parking lot in Fernandina Beach, he shot his ex-wife, her sister and her brother-in-law. Later, outside a Fernandina Beach elementary school, he shot himself to death.

Left dead were Denny O'Dell Taylor Sr., the 60-year-old shooter, his wife, Sue Taylor, 55, and his ex-brother-in-law, Roy E. Rodgers, 66. Sue Taylor's sister, Sara C. Rodgers, 57, was in serious condition at Shands Jacksonville.

The Taylors' problems began coming to a head months ago after 38 years of marriage, according to police and court records.

According to a Nassau County Sheriff's Office report, Denny Taylor, who lived on Blackmon Road in Yulee, was arrested on the morning of Feb. 10 on charges of domestic battery and possession of a controlled substance. The arrest report said he struck his wife twice after she confronted him for taking some of her prescription medication for recreational purposes.

On Feb. 22, a Nassau County judge granted Sue Taylor a protective order barring her husband from contacting her or coming near her. He was also ordered not to approach the Rodgerses' Jacksonville residence, where Sue Taylor had moved, or to possess any firearms or ammunition.

On April 24, Sara Rodgers called the Jacksonville Sheriff's Office to report that someone had punctured three of her car's tires.

By then, Denny and Sue Taylor were officially divorced.

Late Thursday afternoon, after the shooting, some children played in a backyard pool at the Fernandina Beach home of Taylor's daughter and son-in-law, Brenda and Jeff Murray. Jeff Murray's mother said the couple wasn't home and that they were too shaken to talk about the day's events.

Mary Smith, a Fernandina Beach resident and close family friend, said Denny Taylor was distraught that after 38 years his marriage was coming apart. She said that when she last saw him in March, he blamed many of the couple's problems on disagreements they had about his namesake, his son Denny Jr., who is now in prison.

Smith said Taylor suffered from diabetes and recently had a stroke. He was a retired businessman who at one time ran a dump truck company and a truck stop in Yulee near Interstate 95. Smith said Taylor seemed lonely but didn't give her any reason to think he was going to hurt anybody. He adored his grandchildren, she said.

Boe Lewis, 43, who lived next door to the Taylors in Yulee for about a year, called Denny Taylor "a neighborhood legend" and a well-known jack of all trades.

Of Sue Taylor, he said, "She was a character."

Lewis remembered one time when a storm was coming, she ran over to the backyard fence and pressed a hurricane lantern on him, even though he already had one of his own.

He said they didn't come out much, but that he'd see them sitting together on their front porch swing.

They were friendly people, Lewis recalled, and would talk your ear off.

"You go over there, you weren't going to come back for an hour," he said. "All they did was smoke and drink Coca-Cola."

He remembered seeing police and emergency workers swarming his neighbor's yard one night a couple of months ago and learned later they had had some kind of fight.

"I could tell when they were fighting," he said. "One would sit on the front porch, one would sit there in the back."

Dolores Smith, 55, who lives across the street from the Taylors' house and used to drink coffee with him and his wife, remembered him as a nice man.

She said Denny Taylor had been in the hospital before problems with his wife started, and that he was in and out of the hospital during the separation.

Smith said Taylor and his wife had been separated for about two months and that during that time Taylor lived with his daughter. He moved back into his house on Blackman after the divorce, she said.

"I saw him the day before yesterday and I waved at him," Smith said. "He's just been very unhappy."

Sue Taylor and the Rodgerses were apparently on their way to a doctor's appointment at a building next to Baptist Medical Center Nassau when Denny Taylor confronted them and began shooting at 10:26 a.m.

Denny Taylor then fled in a gold Chrysler, crashing into another car at 14th Street and Sadler Road as he went through a red light. He was driving about 70 mph and his driver's door was still open as he hit the back of a Toyota, according to the Florida Highway Patrol. No one was hurt in the crash, which did only minor damage.

He then pulled in front of Emma Love Hardee Elementary, where his daughter worked, and shot himself in the head.

Office personnel tried to phone the parents of all 400 students to reassure them the children were safe. About 350 students were picked up by parents before school ended at 2:35.

Alphanette Waters, whose daughter is in fourth grade, said she heard officials ask that parents not rush to school to pick up their children.

School is scheduled to be in session today and counselors will be on hand to provide support for students, teachers and staff.
---
Shooting rocks Fernandina
Man kills 2, injures 1, turns gun on himself
By Kevin Turner,
Nassau Neighbors staff writer

Saturday, May 6, 2006

FERNANDINA BEACH -- At about 10:30 Thursday morning, students and staff at Emma Love Hardee Elementary heard a chilling message over the intercom:

"Oh my God," front office paraprofessional Barbara Menzella said before she announced a code that put the school on emergency lockdown. All the students were sent under their desks, and all school and classroom doors were locked, said Carole Lendry, whose 10-year-old son attends the school.

Outside the school, Denny O'Dell Taylor, 60, had just pulled up to the school's front entrance. He then shot himself to death.

Menzella said when she saw Taylor's car speed up to the front entrance, she locked the door as quickly as she could.

"I did a full lockdown. The code is for the teachers. We have a set schedule we do in these situations. Someone else called 911," she said.

Lee Williams of Fernandina Beach was riding his bicycle on Sadler Road when he saw Taylor's gold 2002 Chevrolet sedan speed down 14th Street and strike a car in the intersection as it turned on Sadler Road. He followed on his bicycle, he said.

"He came in to the school and just drove right up front. I heard a gunshot, 'Pow!' A lot of police were right behind him," Williams said.

Taylor's suicide at the elementary school on Susan Drive was the second act in a morning of violence.

The Nassau County man had just sped from a parking lot at Baptist Medical Center Nassau on 18th Street where he went on shooting spree, killing his ex-wife, Frances Stevens Taylor, 55, seriously wounding her sister, Sara C. Rogers, 57 and killing her brother-in-law, Roy E. Rogers, 66.
Frances Taylor had a restraining order against her ex-husband, the Nassau County Sheriff's Office reported Thursday. Sheriff's Office officials in a statement released Thursday afternoon said they were still investigating the incident, but said it may have resulted from a "continued domestic violence situation."
Debbie Summerville, a visibly shaken patient at Baptist Medical Center Nassau on Thursday, said she chatted with Frances Taylor minutes before she was killed. Taylor was a patient in the same office.
"She said she left him [Denny Taylor] yesterday," Summerville said.
Shortly after Frances Taylor left the office, Summerville said she heard about six shots.
Summerville said she saw Denny Taylor in the parking lot before the shooting.
"We saw him sitting right there," she said, pointing toward the parking lot. "He had something between his legs, and he was just shaking his head."
As Frances Taylor neared her car, Denny Taylor rose and shot her, Roy Rogers and Sara Rogers, Summerville said.
The news of the shootings at the hospital and school spread rapidly through Fernandina Beach and on national news services as the city was busy preparing for the annual Isle of Eight Flags Shrimp Festival.
"As long as the kids at the school are fine, I'm fine," said Sharyl Wood, Executive Director of Administrative Services for the Nassau County School District.
Menzella said all of Emma Love Hardee's children made it home safely by the time school was out at 2:35 p.m.
There were anxious moments before, though.
After the 10:30 a.m. shooting, rumors spread among Emma Love parents like wildfire. Some heard teachers were shot, some heard students were shot.
"We heard there was a shooting at the high school," parent Cindy Schaefer said, only learning later the incident actually happened at the school her son attends.
Parent Janet Blake said she knew a school employee who reassured her the children were safe. Meanwhile, school staff were busily calling parents with the same message. They told them even though the school was on lockdown, parents could pick up their children from one school entrance.
"We weren't panicked because someone was telling us it was OK." Blake said in the school parking lot Thursday. "All the other parents are getting their kids."
Lendry, whose son is a fifth-grader at the school, was at a doctor's appointment in Jacksonville when she heard what happened. Her husband picked up their son from school, but she said she's still stunned.
"My heart goes out to the family. This just doesn't happen in little Mayberry," she said.
School District Superintendent John Ruis said Thursday the school's lockdown went well.
"The lockdown was to ensure the safety of the children. At no time were our children in immediate danger. Our school has remained secure," Ruis said. "We'll debrief some staff this afternoon and assess the impact on the students. We do have a school psychologist in the school right now. We have crisis management procedures for different types of crises, but this was a lot different than anything we've experienced at a school."
Medical center staff gave emergency aid Thursday to the victims who were then taken to Shands Jacksonville. Spokeswoman Mimi Stewart said despite the shootings just outside the facility, operations and patient care continued.
"It was a normal day as far as inside the hospital is concerned," Stewart said shortly after the shootings.
But outside the medical center and all around Fernandina Beach, normalcy seemed far away.
"I'm shocked. I moved here from Jacksonville to get away from all this," Summerville said.
---
History of violence
Feb. 10: Nassau County sheriff's deputies respond to a domestic disturbance at the Taylor residence on Blackmon Road. Frances "Sue" Taylor tells deputies that her husband, Denny, punched and slapped her in the head. The incident occurred after she tried to take her prescription medication away from him, she told police.
He "frequently steals and ingests her medication for recreational purposes," according to the the arrest report.
Taylor is arrested and charged with domestic battery. Deputies find a bottle of painkillers in his pants pocket. Assistant State Attorney Jerome Smiley Jr. said the case was still under investigation.
Feb. 22: Sue Taylor is granted a protection order prohibiting her husband from approaching her or coming within 500 feet of their Yulee home. He is also barred from coming within 500 feet of her sister's house in Jacksonville.
March: Sue Taylor's sister, Sara Rodgers of Jacksonville, tells police that Denny Taylor came to her house with a gun. Taylor trained the gun on her, her husband and her sister, forced them to sit on a couch and told them he was there to kill them. Sue Taylor pleaded with him not to and he eventually left. The incident was not reported to police until April.
April 18: Sara Rodgers tells Jacksonville police that her sister's estranged husband called and asked "if I was ready to meet my maker." She immediately called police and filed a report.
April 19: Sue Taylor's petition to dissolve the couple's 38-year marriage is granted in Circuit Court. Their doublewide mobile home is awarded to her ex-husband, while other assets are to be split between them. The protective order she had received in February is also dissolved.
April 24: Sara Rodgers calls Jacksonville police to report that three of her tires have been slashed by someone.
May 2: Sara Rodgers obtains another protective order against Taylor.
May 4: Denny Taylor shoots his ex-wife, her sister and brother-in-law in a medical center parking lot behind Baptist Medical Center Nassau in Fernandina Beach. Roy Rodgers is killed while Sue Taylor and Sara Rodgers are wounded. Taylor flees the scene, then shoots himself to death in front of a local elementary school.
The Times-Union
---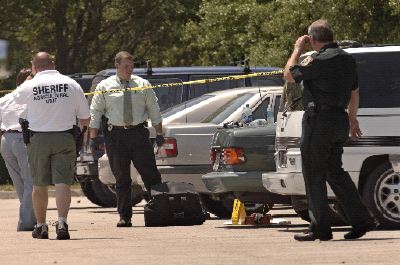 Investigators work at the scene of a triple shooting a parking lot at Baptist Medical Center Nassau in Fernandina Beach where one victim died. The gunman then drove about 2 miles to Emma Love Hardee Elementary School, where he shot himself.
(Will Dickey/The Times-Union)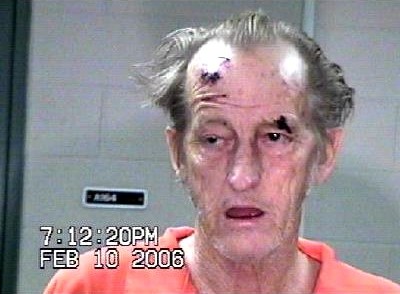 Denny O'Dell Taylor Sr.
Shown in a February Nassau County jail photo, police say he confronted his ex-wife with a gun in a parking lot and wounded her and her sister.