Soghomon Tehlirian (Armenian: Սողոմոն Թեհլերյան) (April 2, 1897, Pakarish near Erzincan, Ottoman Empire – May 23, 1960, San Francisco, California, United States) was a native of Yerznka, an Armenian Evangelical (Protestant) and Armenian Genocide survivor.
He assassinated the former Grand Vizir Talat Pasha in the Charlottenburg District of Berlin, Germany in broad daylight and in the presence of many witnesses on March 15, 1921 as an act of vengeance for his role in orchestrating the Armenian Genocide. This assassination was a part of the Dashnak Party's Operation Nemesis.
Trial
Tehlirian was tried for murder, but was eventually acquitted by the German court. The trial of Tehlirian was a rather sensationalized event at the time, with Tehlirian being defended by three defense attorneys, including Dr. Theodor Niemeyer, professor of Law at Kiel University.
The trial examined not only Tehlirian's actions but also Tehlirian's conviction that Talat Pasha was the main author of the Armenian Genocide. The defense attorneys made no attempt to deny the fact that Tehlirian had killed a man, and instead focused on the influence of the Armenian Genocide on Tehlirian's mental state. It took the jury slightly over an hour to render a verdict of "not guilty" on grounds of temporary insanity.
Legacy
The trial influenced Polish lawyer Raphael Lemkin, who later reflected on the trial, "Why is a man punished when he kills another man? Why is the killing of a million a lesser crime than the killing of a single individual?" Lemkin would later coin the term "genocide".
Hannah Arendt, in her 1963 Eichmann in Jerusalem, compares Tehlirian to Shalom Schwartzbard, who assassinated Ukrainian statesman Simon Petlyura in Paris in 1925, for what Schwartzbard believed to be Petlyura's culpability in the anti-Jewish pogroms in the Ukraine. Arendt suggests that each man "insisted on being tried", in order "to show the world through court procedure what crimes against his people had been committed and gone unpunished."
[T]he one in the center of the play, on whom all eyes are fastened, is now the true hero, while at the same time the trial character of the proceedings is safeguarded, because it is not "a spectacle with prearranged results" but contains that element of "irreducible risk" which... is an indispensable factor in all criminal trials. Also, the J'accuse, so indispensable from the viewpoint of the victim, sounds, of course, much more convincing in the mouth of a man who has been forced to take the law into his own hands than in the voice of a government-appointed agent who risks nothing. And yet... it is more than doubtful that this solution would have been justifiable in Eichmann's case, and it is obvious that it would have been altogether unjustifiable if carried out by government agents. The point in favor of Schwartzbard and Tehlirian was that each was a member of an ethnic group that did not possess its own state and legal system, that there was no tribunal in the world to which either group could have brought its victims.
Film adaptation
The 1982 American film Assignment Berlin, directed by Hrayr Toukhanian, accurately chronicles Talaat Pasha's assassination in Berlin.
Wikipedia.org
---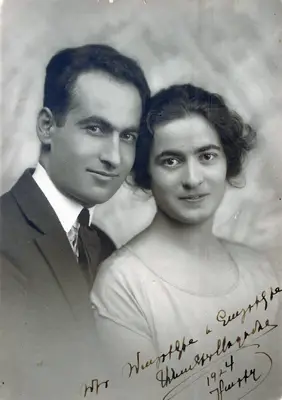 Soghomon Tehlirian and his wife Anahit Tatikian.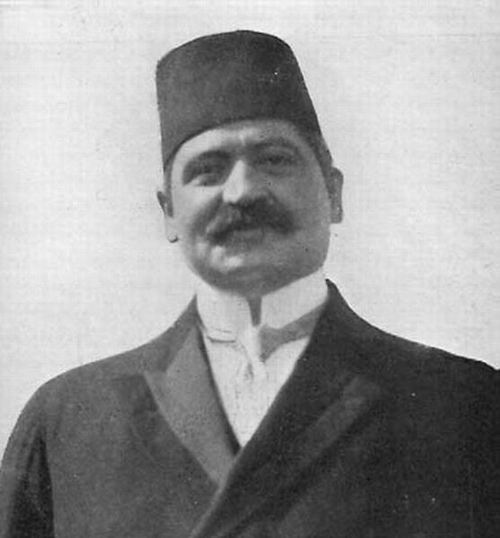 Portrait of Mehmet Talaat Pasha, Minister of Interior of the Ottoman Empire between 1913 and 1917, and primary executor of the Armenian Genocide.