Suspect gives details of teacher's shooting
Amarillo Globe-News
October 15, 2000
HOUSTON (AP) - A 23-year-old suspected of fatally shooting a high school teacher during a 1997 robbery testified Friday that the gun went off as the teacher tried to grab the weapon.
Bernardo Aban Tercero, who was nabbed by Border Patrol agents last year near Weslaco, faces a capital murder charge in the March 31, 1997, shooting death of Robert Keith Berger.
Berger stepped into a Houston dry cleaning shop for a clothes order when he was shot. He took his toddler daughter in with him while his wife remained in the car. Both witnessed the shooting.
Tercero testified that Berger was the aggressor, walking slowly toward the robber, who held a pistol in his right hand pointed at the ceiling, according to the Houston Chronicle.
"With my left hand out, I said, "Stop!' and I took some steps back. That's when he took advantage of the movement and grabbed the gun with both his hands," Tercero testified under questioning by his defense attorney Gilbert Villarreal.
Tercero claimed Berger struggled about two minutes with him.
"When our struggle started, he would push the gun to my head and I would move my head back and push the gun toward him. I believe it could have been me or him," Tercero told the jury.
But when the shot was fired, it was Berger who fell face forward onto the floor with a bullet to the left back side of his neck, said prosecutor Sally Ring.
Berger, 38, had taught junior and senior English at Reagan High School for one year when he was killed. Previously, he had taught at the High School for Performing and Visual Arts.
Witnesses told police two men entered the shop by a rear entrance and demanded money from the clerk. One of the men walked over to Berger and said something, and the two began struggling, witnesses said.
If convicted, Tercero could face the death penalty. The jury is scheduled to return for closing arguments Monday.
---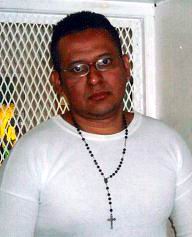 Bernardo Aban Tercero