In April 1948 Donald George Thomas was tried at the Old Bailey for the murder of PC Nathaniel Edgar. He was found guilty and sentenced to death but this was later commuted to life imprisonment.
Police Constable Nathaniel Edgar was only 33 when he was murdered by Donald George Thomas on 13 February 1948. PC Edgar was investigating a spate of burglaries and was questioning a suspect when he was shot three times. Donald George Thomas was trying to cover his tracks.
---
Donald George Thomas
On 13th February 1948, PC Nathaniel Edgar was on plain-clothes duty in Wades Hill, Winchmore Hill, north London. There had been a string of burglaries in the area and, when he noticed a man acting suspiciously, he stopped and questioned him. People in the area heard the sound of three shots and, when they came to investigate the cause, saw a man running away. They found the policeman lying in the driveway of a house, dying. Before he expired, in hospital an hour later, he managed to tell colleagues that he written down the name and address of his killer, "Thomas, Donald, 247 Cambridge Road, Enfield," in his pocketbook.
Thomas, born twenty-three years earlier in Enfield, was already wanted by the army. He had deserted the previous October. While he had moved on from Enfield he was soon traced to lodgings in Clapham.
The photograph of Mrs Noreen Winklass, a cinema usherette and mother of three who had taken up with Thomas and had left her home in Camberwell, was published in the newspapers on 17th February. The photograph was recognised by a Mrs Connie Sneed as that of one of her lodgers, who was occupying a top floor room with a young man.
When they went to arrest him, police officers had to overpower Thomas as he tried to retrieve a gun from under his pillow. Bullets from the Luger he had tried to grab matched those that killed PC Edgar, and Mrs Sneed told police that he had admitted the murder to her. Thomas had a criminal record with periods of probation before he was sent to an approved school at the age of sixteen. He had been called up in January 1945 and deserted immediately. After two years on the run Thomas had given himself up and had been sentenced to 160 days detention. This had not deterred him, however, and he had deserted again upon his release.
His trial took place at the Old Bailey in April 1948 and Thomas was sentenced to death. Because of an experimental no-hanging period his sentenced was commuted to life imprisonment. He was released on licence in April 1962.
Murder-uk.com
---
Temporary Guns
Time.com
Monday, Mar. 01, 1948
Three staccato shots startled the sleepy residents of Wade's Hill Road in London's Southgate district. The listeners, and all London, were even more startled to learn that the gunfire had killed unarmed Police Constable Nat Edgar—the first bobby to be shot in metropolitan London in 26 years.
As he died, Constable Edgar mumbled a name. Scotland Yard went into high gear: it cancelled all leaves, issued extraordinary (and temporary) permission for sleuths to carry guns. Four days later, the Yard's men tracked down suspected Burglar Donald George Thomas in a boardinghouse, arrested him for the murder of Constable Edgar.
The day after, London's policemen put their unused guns away, calmly went back on duty, unarmed as usual.
---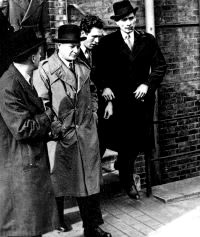 Donald George Thomas under arrest.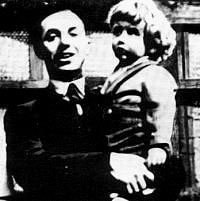 The victim, PC Nathaniel Edgar, with his daughter.