The Hartford Distributors shooting was a mass shooting that occurred on August 3, 2010, in Manchester, Connecticut, United States. The location of the crime was a warehouse owned by Hartford Distributors, a beer distribution company. The gunman, former employee Omar Thornton, shot and killed eight people before turning a gun on himself.
The shooting
Thornton, a 34-year-old black man, was called into his place of employment for disciplinary purposes. Thornton had been recorded on surveillance video in the Hartford Distributors warehouse stealing beer on a previous occasion. Hartford Distributors is a wholesale distributor of Budweiser beer products and wine. Given the options of being fired or resigning, Thornton signed the resignation papers and was being escorted out of the building. Instead of leaving, he took two Ruger SR9s from his lunchbox and opened fire.
At the time Thornton started shooting, there were around 40 employees in the building. In just a few minutes, Thornton murdered eight coworkers, and seriously injured two others.
Many employees made calls to 911, with some callers identifying Thornton. Police arrived on the scene just three minutes after the first 911 call. Police entered the building 10 minutes after the first 911 call. Thornton hid in a locked office. As more police entered the building, Thornton called his mother and explained to her what he had done. He told her he planned on turning the gun on himself. As police closed in, Thornton called 911, saying his motive for the massacre was racism he had experienced in the workplace. He told the 911 operator that he wished he had killed more people. Soon after hanging up on 911, he killed himself with a shot to the head.
Aftermath
Family members of Thornton have stated that he had complained to them that he was being racially discriminated against at his job. Thornton's girlfriend claimed that he had seen a picture of a noose and a racial epithet written on a bathroom wall. Thornton was African American in a facility that had mostly white employees. Company and union officials as well as workers at the facility have denied the murderer's charges of racism.
The union notes that he never filed a complaint with the union or any government agency. Forensic psychiatrist Keith Ablow stated, "I've evaluated plenty of murderers during my career... and I can tell you that people don't commit atrocities because of name-calling." A police probe did not find proof of racism at Hartford Distributors, with other minority workers at Hartford Distributors interviewed by the police disagreeing with Thornton's allegation that the company was "a racist place".
The massacre is the deadliest workplace shooting in Connecticut history. Connecticut suffered a similar workplace shooting at the Lottery Headquarters in Newington on March 6, 1998, which left five dead including the shooter.
Christy Quail and Sean Quail were arrested for receiving the property alleged to have been stolen by Thornton. Sean Quail was arrested on August 17 in an incident where he sprayed bug-repellent at reporters covering the case. Quail was charged with three counts of first-degree reckless endangerment, three counts of third-degree assault, carrying a dangerous instrument, and breach of peace.
Wikipedia.org
---
Troubles Preceded Connecticut Workplace Killing
By ay Rivera and Liz Robbins
August 3, 2010
It was the busiest time of the day at Hartford Distributors, the morning shift change. And among the dozens of warehouse workers, sales representatives and executives inside the sprawling building in Manchester, Conn., was the company's newest truck driver, about to lose his job.
The driver, Omar S. Thornton, 34, came in at 7 a.m. on Tuesday for a disciplinary hearing. Mr. Thornton had been with the company for two years, still new in a family-run workplace where others had been on the payroll for decades. He had reason to be worried: his bosses said they had video showing him stealing beer from the company. He might also have had cause to be angry: he had complained to his girlfriend of being racially harassed at work, the woman's mother said, and lamented that his grievances had gone unaddressed.
His bosses gave him a stark choice: resign or be fired. Mr. Thornton, according to the authorities, instead drew a handgun, opened fire and moved through the warehouse as his toll mounted. He shot fellow drivers, a company executive and a local union president, the authorities said.
When he was done, eight people lay fatally shot, two more were wounded, and Mr. Thornton, following the blueprint of so many other mass shootings, had killed himself, the authorities said.
"He came in to meet with the company, and after that all hell broke loose," said John Hollis, a legislative affairs representative for the Connecticut Teamsters. "He pulled the gun and ran through the warehouse."
The rampage, the latest in a series of American workplace tragedies, lasted just minutes and set off a response from as many as a half-dozen police agencies. The authorities cordoned off the warehouse and entered it to discover one victim after another, ultimately finding Mr. Thornton in an office area, said Chief Marc Montminy of the Manchester Police Department.
"He was alive when police responded," Chief Montminy said. "Police began clearing the building. He was funneled into an office area and took his own life."
The chief said it was unclear whether Mr. Thornton had fired more than one gun in the attack. One law enforcement official said Mr. Thornton used a 9-millimeter Ruger in the attack. Another official, Lt. Christopher Davis of the Manchester police, said numerous guns were registered to Mr. Thornton, a tall, heavyset man with significant debts, a career as a truck driver for a number of companies in the state and a girlfriend who could not make sense of the slaughter.
The identities of some of the dead and wounded trickled out on Tuesday, as the authorities sought to notify family members. Among those killed was Bryan Cirigliano, 51, president of Teamsters Local 1035, which represents drivers at Hartford Distributors. Mr. Cirigliano had been present for the disciplinary hearing, a union official said.
Another victim, Steve Hollander, an executive with the company and the grandson of the company's founder, was shot, but he was treated at Hartford Hospital and released. In addition, one victim was still at Hartford Hospital in critical condition, a spokeswoman said.
"We don't know if he walked around randomly shooting," Chief Montminy said at a news conference, "but we do know we found victims throughout the building."
Joanne Hannah said that her daughter Kristi had been dating Mr. Thornton for parts of the last eight years and that Mr. Thornton, who was black, had been having problems with co-workers. "Things were being put on the bathroom walls," including a "hangman noose," Ms. Hannah said.
Union officials said Mr. Thornton never registered a complaint. "He never filed anything with the union," said Christopher Roos, an official with Teamsters Local 1035. "As far as I know, there was never a state claim or a federal claim. Mr. Thornton was brought into the office about a disciplinary issue, and that was it."
Details about the disciplinary proceeding were sketchy, including how much beer Mr. Thornton was accused of stealing. Mr. Thornton, who graduated from East Hartford High School in 1996, had no criminal history outside of driving infractions, records indicate.
"He was a quiet person, not a mean bone in his body," said Clayton Mack, 53, who shared a house with Mr. Thornton and Kristi Hannah for several years in Enfield, north of Hartford.
It was the nation's deadliest rampage since 13 people were gunned down at Fort Hood, Tex., last November. Maj. Nidal Malik Hasan, an Army psychiatrist, has been charged in that case.
The attack on Tuesday was Connecticut's deadliest shooting since a state lottery worker fatally shot four supervisors in 1998 before committing suicide.
In a statement, Gov. M. Jodi Rell called the latest shootings a "senseless act of violence."
"In the wake of this tragedy," Ms. Rell said, "we are all left asking the same questions: How could someone do this? Why did they do this?"
The authorities said they would investigate the possibility that Mr. Thornton had in fact been harassed at the workplace over his race.
Joanne Hannah, the mother of Mr. Thornton's girlfriend, said he had shown her daughter cellphone pictures of the walls of the bathroom at the warehouse, where slurs had been written and a stick figure hanging from a noose had been drawn.
Ms. Hannah also said Mr. Thornton had once called her daughter from a bathroom at the warehouse and held the phone up so she could hear his supervisor and another employee talking disparagingly about blacks.
Ms. Hannah said that after Mr. Thornton shot his victims, he called his mother and said he "wanted to say goodbye, to tell everyone he loved them and that he had shot five people."
Mr. Thornton's cousin Annette Levine described his final phone call to his mother as more incendiary, saying he had told her that he had shot "the five racists."
"Those were his last words to her," Ms. Levine said. "He loved her, and they pushed him over the edge."
The disciplinary hearing appears to have lasted about a half-hour and to have involved Mr. Thornton, a union representative and one or more management officials, including Steve Hollander.
Mr. Hollander told The Associated Press that Mr. Thornton "didn't argue. He didn't admit or deny anything. He just agreed to resign."
One person familiar with details of the hearing said that Mr. Thornton then went to get a glass of water. His back to Mr. Hollander, he reached into what appeared to be a lunch bag, turned and opened fire, the person said.
Mr. Hollander said two people standing near him were shot in the head and killed, but he was only grazed in the jaw and the arm. "By just the grace of God, I don't know how he missed me," he said.
After the initial police response, buses took the employees from the warehouse to Manchester High School, where union representatives and Ross Hollander, the president of Hartford Distributors, were comforting families of the victims, Mr. Hollis, the Teamsters official, said.
Hartford Distributors, one of the state's largest wholesalers of beer and wine, was founded in 1944 and has been owned and operated by the Hollander family since the 1960s. The company moved from East Hartford to Manchester 16 years ago.
Bill Bartlett, who retired from the company, was at the high school comforting his former colleagues on Tuesday. "I lost a lot of friends today," he said.
The victims included Louis Felder, 50, a father of three from Stamford, Conn., who worked at the company as director of operations. Among the others identified were Victor James and Craig Peppin, who, like many at Hartford Distributors, had worked there for years.
Mr. James, who was 60 and lived in Windsor, Conn., had driven a Budweiser truck for 30 years and was looking forward to retiring, his mother, Gloria Wilson, 86, said. He had two daughters and four grandchildren.
"I know a lot of people say that about their families, but this fellow loved children, and he took such good care of his grandchildren," Mrs. Wilson said.
Mr. Peppin, 60, had worked at the company for more than 30 years, said his brother, Ron Peppin. Mr. Peppin, 49, said he heard about the shootings on the radio and knew right away that it was the time when Craig, who lived in South Windsor, would have been at the warehouse.
---
Transcript of Omar Thornton's 911 Call
August 5, 2010
Dispatcher: State Police.
Thornton: Is this 911?
Dispatcher: Yeah, can I help you?
Thornton: This is Omar Thornton, the, uh, the shooter over in Manchester.
Dispatcher: Yes, where are you, sir?
Thornton: I'm in the building. Uh, you probably want to know the reason why I shot this place up. This place here is a racist place.
Dispatcher: Yup, I understand that
Thornton: They treat me bad over here, and they treat all the other black employees bad over here too, so I just take it into my own hands and I handled the problem — I wish I coulda got more of the people.
Dispatcher: Yeah. Are you armed, sir? Do you have a weapon with you?
Thornton: Oh yeah, I'm armed.
Dispatcher: How many guns do you have with you?
Thornton: I got one now, there's one out, one out in the uh, the uh, factory there.
Dispatcher: Yup. OK, sir.
Thornton: I'm not gonna kill nobody else, though.
Dispatcher: Yeah, we're gonna have to have you surrender yourself somehow here, not make the situation any worse, you know what I mean?
Thornton: These cops are gonna kill me.
Dispatcher: No they're not. We're just gonna have to get you to relax
Thornton: I'm relaxed, just calm down.
Dispatcher: … to have you, you know, turn yourself over.
Thornton: We're just talking, you're gonna play something on the news, you know I'm gonna be popular, right [inaudible] the right thing. SWAT team just rolled by in army gear. You don't know where I'm at, but, I don't know, maybe you can trace it from this phone call. But, yeah, these people here are crazy, they treat me bad from the start here, racist company. They treat me bad, I'm the only black driver they got here. They treat me bad over here, they treat me bad all the time.
Dispatcher: This is a horrible situation, I understand that…
Thornton: You don't need to calm me down, I'm already calmed down. I'm not gonna kill nobody else — I just want to tell my story so that you can play it back.
Dispatcher: You're gonna help me get you out of the building, OK?
Thornton: All right, I'm a, I get — don't worry about that, I got that taken care of, I don't need anybody to talk me into getting me out. …
Dispatcher: Where in the building are you, Omar?
Thornton: I'm not gonna tell you that. Where they find me, that's when everything will be over.
Dispatcher: Yeah, just, you know, where are you located, are you up in the offices?
Thornton: Where they fired me, everything be all right. … Manchester itself is a racist place.
Dispatcher: Yeah, now, um, what time did you get there today?
Thornton: Um, It was about 7 o'clock
Dispatcher: Yeah. This morning?
Thornton: Yeah, about 7 a.m., yeah, they told me to come early today.
Dispatcher: What type of weapon do you have?
Thornton: I got a Ruger SR9, 15 shot.
Dispatcher: A Ruger? SR9?
Thornton: Automatic, yeah
Dispatcher: Is it a rifle?
Thornton: No, no, it's a pistol. I like pistols too, they are my favorites.
Dispatcher: Now, uh, you're gonna make the troopers and the people come in and catch ya? You're not gonna surrender yourself?
Thornton: Well — I guess, I guess uh, maybe I'll surrender … nah. They come and get me, have them come get me.
Dispatcher: Yeah, we wouldn't want to do it like that, Omar. You know, it's already been a bad enough scene here this morning, we want you to relax.
Thornton: I'm relaxed though, I'm done.
Dispatcher: Yeah, we don't want any more, any more, uh, you know, people to lose their life, here.
Thornton: I'm not gonna kill nobody else.
Dispatcher: OK.
Thornton: I'm not coming out, I'm not coming out, they gonna have to find me. Probably use some dogs or whatever, I don't know what you're gonna do. Anyway.
Dispatcher: How much ammunition you have with you?
Thornton: I got uh, I shot, uh oh .
Dispatcher: What was that?
Thornton: It's all right. I guess it's got me … I have to take care of business. Tell my people I love them, and I gotta go now.
Dispatcher: Omar. I really want you to help me stop this situation. OK?
Thornton: OK.
Dispatcher: If you work with me we'll get this to stop, OK? Omar? Omar? Omar? OK … [to others] Still alive...
Courant.com
---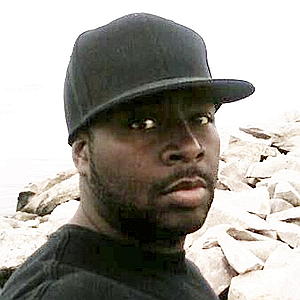 Omar S. Thornton