Louis Till (died July 2, 1945) was an American soldier and the father of Emmett Louis Till, whose murder in 1955 at the age of fourteen mobilized the African-American civil rights movement.
Louis Till was executed by the U.S. Army in 1945 after being found guilty of murder and rape. The circumstances of his death were little known even to his family until they were revealed after the trial of his son's murderers ten years later, which affected subsequent discourse on the death of Emmett Till.
Life
Louis Till grew up an orphan in New Madrid, Missouri. He married Mamie Carthan in Argo, Illinois in 1940, and she gave birth to their son, Emmett Louis Till, on July 25, 1941. They separated in 1942, after he attacked her violently and she defended herself by throwing boiling water on him. Eventually Mamie obtained a restraining order against him; after violating this repeatedly, a judge forced him to choose between enlisting in the U.S. Army or facing jail time. Choosing the former, he joined the Army in 1943.
In 1945 Till was court-martialed on charges of the murder of an Italian woman and the rape of two others in Civitavecchia. After a lengthy investigation he was convicted, and was executed by hanging near Pisa on July 2, 1945.
He is buried in Plot E of Oise-Aisne American Cemetery. A fellow prisoner of the poet Ezra Pound, who had been imprisoned for his fascist radio broadcasts in support of the Axis powers, Till is mentioned in lines 171-173 of Canto 74 of Pound's Pisan Cantos:
Till was hung yesterday

for murder and rape with trimmings
The full circumstances of Till's death were unknown at the time to his widow. Mamie Till would later say that she was only told her husband's death was due to "willful misconduct", and noted that bureaucracy had frustrated her attempts to learn anything more. The details of Louis Till's execution only fully emerged ten years later, after the murder of his son and subsequent trial.
Emmett Till, then fourteen, was kidnapped and murdered on August 28, 1955 in Mississippi, after reportedly flirting with a white woman. The two men charged with the murder, the woman's husband and his brother, were both acquitted of the crime in September.
After the trial, which received much attention from the national media, Mississippi senators James Eastland and John C. Stennis uncovered details about Louis Till's crimes and execution and released them to reporters. The Southern media immediately leaped upon the story: various editorials claimed that the National Association for the Advancement of Colored People (NAACP) and the Northern media had covered up or lied about the truth of Emmett Till's father.
Many of these editorials specifically attacked a short editorial that had appeared in Life magazine, which presented Louis Till as having died fighting for his country in France. This article was in fact the only published piece that ever lionized the elder Till, and Life quickly retracted the error.
For white Southerners, however, the impression was left that the erroneous Life article was representative of the Northern media in general. Other editorials went so far as to associate Emmett Till's actions with his father's crimes. These editorials essentially portrayed Emmett as a burgeoning rapist after the fashion of his father, thereby making his murder justified.
---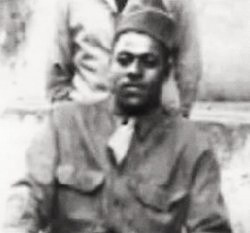 Louis Till in Italy