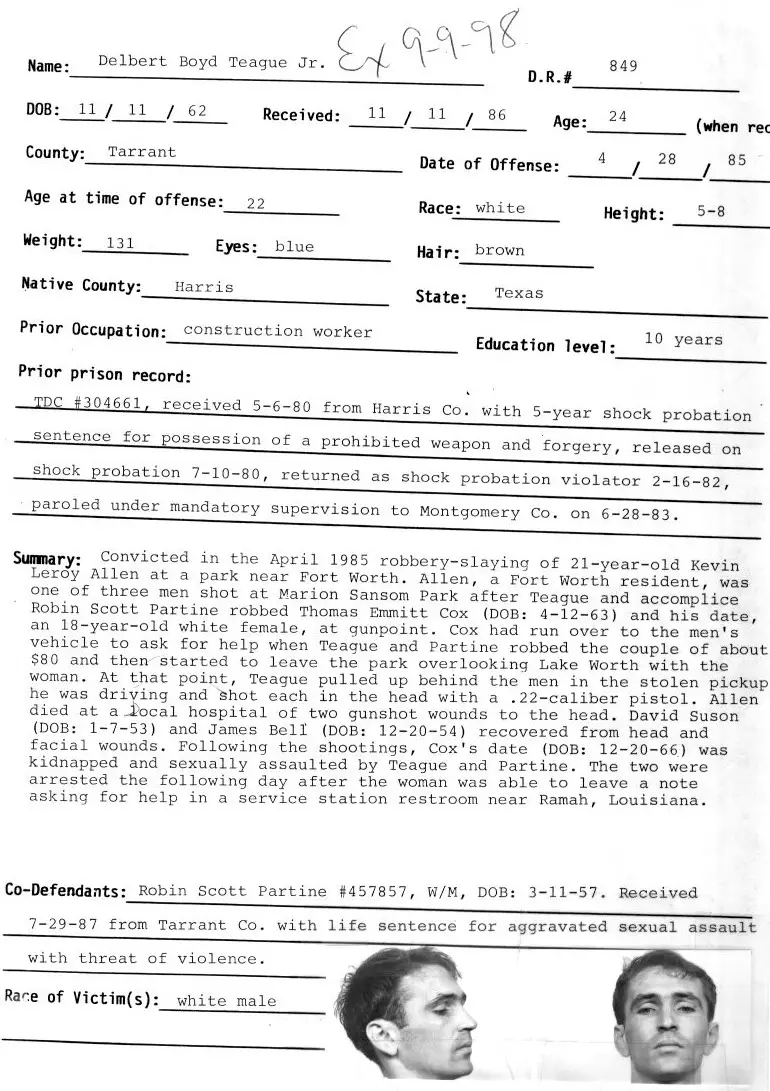 Date of Execution:
September 9, 1998
Offender:
Teague Jr., Delbert
Last Statement:
I have come here today to die, not make speeches. Today is a good day for dieing Est Sularus Oth Mithas (My Honor Is My Life).
Delbert Boyd Teague Jr., 37, described by prosecutors at his murder trial as a "1-man slaughterhouse" killed Kevin Allen in 1985. Allen, 21, was 1 of 3 men shot in the head with a .22-caliber pistol at Inspiration Point, a scenic turnout.
As part of the same incident, a woman was abducted and driven hundreds of miles from Texas to Louisiana. She was repeatedly raped. The 2 other men shot in the head survived.
Asked if he had any final statement, Teague said, "No."
In a prepared statement released after the execution, Teague said, "I have come here today to die, not make speeches. Today is a good day for dying."
He concluded with the Latin Phrase, "Est sulares oth mithas," which prison officials translated as, "My honor is my life."
Teague was pronounced dead at 6:24 p.m., 7 minutes after a dose of lethal drugs was released into his arms.
1 of the 2 needles in the execution procedure entered near a tatoo of the Grim Reaper on Teague's right arm.
The U.S. Supreme Court last week rejected an appeal in his case, and there were no last-minute attempts to halt the execution.
"It's not one of the things you take great joy in," Wes Ball, 1 of the prosecutors who tried Teague, said of the punishment. "But there wasn't anything about his case that I thought I would ever have any regrets about the outcome. It was appropriate.
Teague, who was from the Houston area, had an extensive criminal record.
In May 1982, he pleaded no contest in the shooting death of a Houston man and was sentenced to 2 years in prison for involuntary manslaughter.
He also got 5 years for forgery and weapons possession convictions but was paroled 13 months later. As a juvenile, he was imprisoned for coaxing a homeless person into his car, then pushing the man out while driving on a Houston freeway. He also had an arrest for aggravated robbery.
Court records show Teague and an accomplice, Robin Partine, of Arlington, were fleeing the Tarrant County park after abducting the 19-year-old woman and pistol whipping, robbing and tying up her 23-year-old boyfriend, Thomas Cox. As Teague and Partine were driving away in a stolen truck, Allen and 2 friends were driving into the area.
Cox had managed to free himself and ran to Allen for help. Teague suddenly reappeared and opened fire, hitting the 3 men in the truck. Allen died of his wounds. 1 of the other 2 suffered permanent brain damage. The 3rd wounded man recovered and testified at Teague's trial.
"These young men happened to be at the wrong place at the terribly wrong time," Scott Wisch, a former Tarrant County assistant district attorney who also prosecuted Teague, said. "Teague perceived them as interfering with the abduction."
The woman was driven to Houston, then Beaumont and into Louisiana, where at a truck stop she managed to leave a note in a rest room appealing for help. An employee there found the message and notified sheriff's deputies, who arrested Teague and Partine in Iberville Parish after a 100-mph chase. The abducted woman also testified at Teague's trial.
2 months before the Allen slaying, Teague and Partine, also an ex- convict, were arrested in Oklahoma for burglary of a bowling alley. They were using false identities, however, and were allowed to post bond.
Partine, now 41, is serving a life term for aggravated sexual assault. He had 2 previous convictions in Indiana where he was released from parole supervision in 1982 after serving less than 3 years of a 14-year sentence.
---
Delbert Teague and his cohort, Robin Partine, robbed Donna Irwin and her date, Tommie Cox, late at night at a scenic area overlooking Lake Worth in Tarrant County.
After Teague bound Cox with a rope and left him lying face down on the ground, Teague and Partine kidnapped Irwin and left the scene in a truck driven by Teague. As they left the area, they passed three young men in a four-wheel drive vehicle going the other way in the direction where Cox had been left.
Teague turned the truck around and began to follow the four-wheel drive vehicle. Cox had managed to set himself free, and he approached the four-wheel drive vehicle on foot as it drove toward him. When the four-wheel drive vehicle stopped, Cox told its occupants about what had happened and asked for help.
Teague suddenly appeared on foot, shot each occupant in the four-wheel drive vehicle at least once in the head, and took their wallets. Cox escaped uninjured. One of the occupants of the four-wheel drive vehicle, Kevin Allen, 21, died from his injuries and another suffered permanent brain damage. The other occupant, James Bell, recovered from his wounds and testified at Teague's trial.
After the shootings, Teague and Partine left the scene in their truck with Irwin. Later that night, they took turns sexually assaulting her. Teague and Partine were eventually arrested in Louisiana after Irwin left a note in a women's restroom at a gas station. Irwin also testified at Teague's trial.
---
Delbert Teague Jr.
On April 29, 1985 Delbert Teague Jr. and Robert Partine were arrested just west of Baton Rouge for the robbery, kidnapping and slaying they committed in Fort Worth the night before.
The night the crime took place, young Forth Worth couple Donna Irwin and Tommy Cox were sitting in Cox's pickup at Inspiration Point, a park overlooking Lake Worth. At about 11 p.m., Teague and Partine drove up to the couple asking if Cox had a marijuana joint.
Teague and Partine jerked Cox out if his truck and proceeded to assault and rob the couple. The men abducted Irwin and began to drive away. Cox flagged down an approaching vehicle for help after which Teague and Partine backed up and began shooting at Cox and the three men whom he had just flagged down.
Cox managed to escape. The three men shot in the head were Kevin Allen, David Susan and James Bell. Allen died en route to the hospital, while Susan suffered permanent brain damage. Bell was shot in the jaw and released in fair condition.
The following day Irwin was able to scribble out a distress note in a truck stop restroom. A customer at the truck stop found the note and gave it to an attendant, who notified law enforcement officials.
The men were captured five miles east of the truck stop. "Irwin was really lucky, it was like divine providence interacting, which made for a miracle feel good rescue," Prosecutor Scott Wisch said.
Teague and Partine were booked at the Tarrant County Jail under $500,000 bond each. Teague was also on parole for forgery, weapons convictions and manslaughter.
Both men were also arrested in May 1984 on suspicion of burglary of a bowling alley in Oklahoma. Teague then posted a $5,000 bond before Montgomery County officials learned he was on parole.
Teague was able to slip through the system in Oklahoma by using his alias, Jonathan D. Dillard. "However, when Teague and Partine were found they had an incredible amount of evidence in their possession. Teague had all of his fake IDs, the IDs of the men who were shot and the sales receipt for the purchase of the weapon under his name," Wisch said.
Teague was found guilty of robbery and first degree murder and sentenced to death on Aug. 20, 1985.
In an appeal attempt on January 1986, he filed for a change of venue claiming the case would be biased based on the media coverage it had received. A hearing was held in June 1986 where Teague brought into evidence several different forms of media that broadcast his case.
It was established that he failed to prove that any members of his jury were prejudiced by the publicity. "There was a great amount of professionalism on the media's part. This was one of my best put together cases in my 20 years of work," Wisch said.
Teague again appealed his case on June 23, 1993. He raised twenty two points of error to the court. All were overruled.
"As far as I am concerned this was a slam-dunk case for the state. If there was ever a case that screamed out the death penalty, this one did," Prosecutor Wes Ball said.
Delbert Teague Jr., 37, was executed on Sept. 9, 1998. He was the 158th person executed since Texas resumed the death penalty in 1982.