The shooting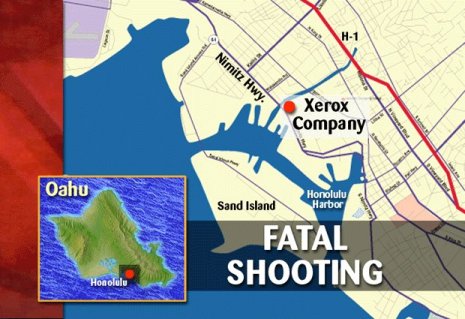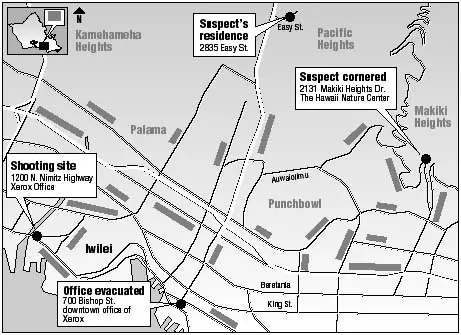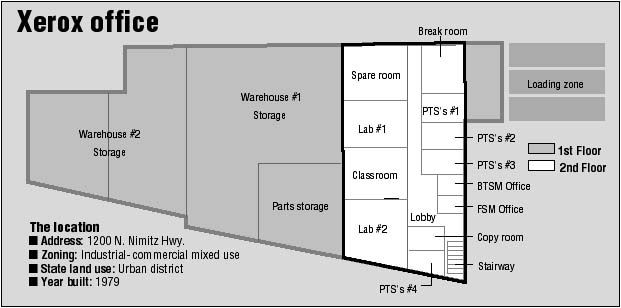 Police said Bryan Uyesugi was the registered owner of 17 guns, including a 9mm handgun believed to have been used in this morning's shooting. He was turned down for a firearms permit in 1994, after he was arrested for criminal property damage at work, said police Sgt. John Kamai. That arrest followed an argument with co-workers at Xerox, Kamai said.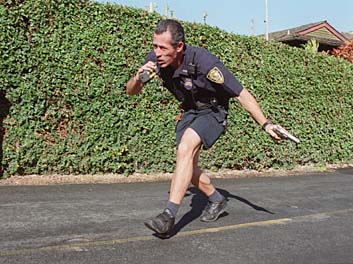 A police officer runs with his gun drawn near the suspect's house in Nuuanu. This was after
a shooting at the Xerox office building on North Nimitz Highway
(By Ken Sakamoto, Star-Bulletin)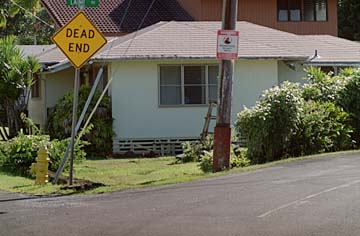 Police surrounded Bryan K. Uyesugi's home on Easy Street and Laimi Road in Nuuanu after the shooting.
(By Ken Sakamoto, Star-Bulletin)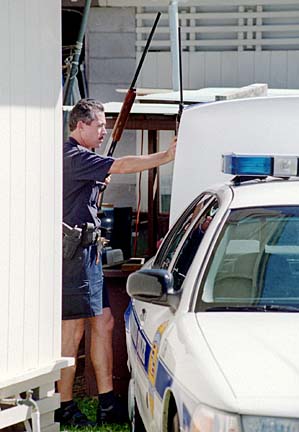 HPD officers remove some of the firearms registered to Byran Uyesugi from his Easy Street home in
Nuuanu on Monday afternoon. Police confiscated 11 handguns, five rifles and two shotguns.
(By George F. Lee, Star-Bulletin)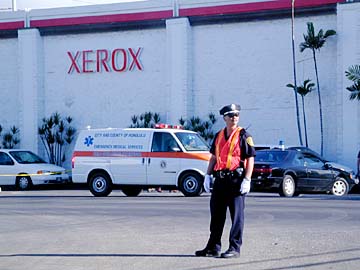 Police and emergency crews were on scene after a shooting at the Xerox Building on North Nimitz Highway.
(By Craig T. Kojima, Star-Bulletin)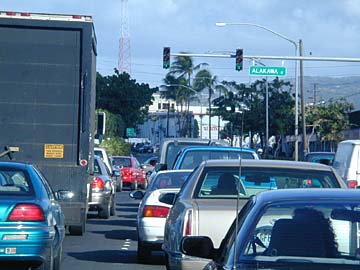 Traffic on Nimitz Highway was brought to a halt when police closed traffic lanes
in the vicinity of the Xerox building in Kalihi-kai.
(By Craig T. Kojima, Star-Bulletin)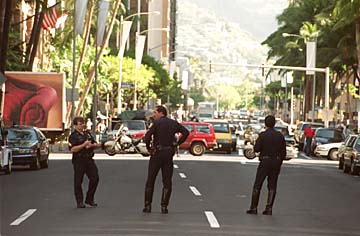 Police close off streets near 700 Bishop Street, Xerox's downtown office.
(By Dennis Oda, Star-Bulletin)
The events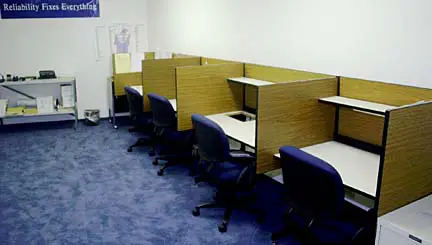 The Tech Rep/Computer Room where two died.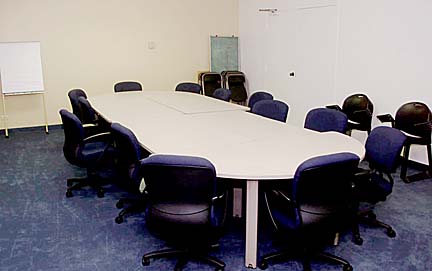 Conference Room where five died.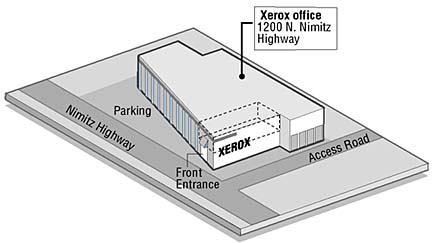 Using the Xerox building's second-story floor plan, here's a look at the events of Nov. 2, 1999,
shortly after 8 a.m., according to the prosecutor.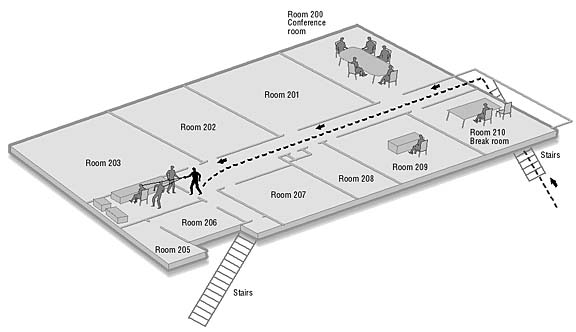 A "calm" Byran Uyesugi enters the building; under his shirt is a loaded semi-automatic handgun and two extra magazines of ammunition. He sees Lance Hamura on the first floor and chats briefly.
Then he goes to the second floor, down the hallway and to the Tech Rep/Computer Room. He unholsters his gun and kills two men -- Ron Kawamae and Jason Balatico -- but spares Randal Shin.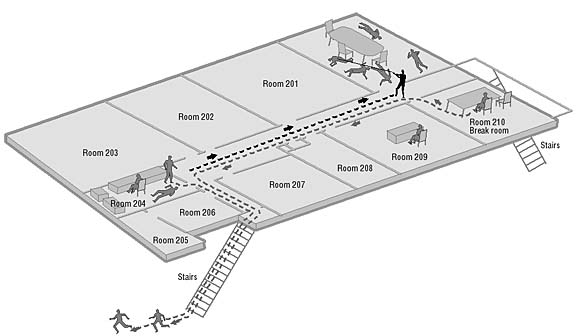 Uyesugi walks back to mauka side of building and goes to the Conference Room (Room 200), where he kills five more men: Melvin Lee, John Sakamoto, Ron Kataoka, Peter Mark and Ford Kanehira.
In the break room across the hall (Room 210), Ronald Yamanaka hears the gunshots and emerges to see Uyesugi in "the combat stance." He runs to the Tech Rep/Computer Room and sees two bodies and Shin still in shock. The two flee via the makai staircase. In Room 209, Steve Matsuda, on the phone with Xerox headquarters, hears gunshots. He also flees down the makai staircase.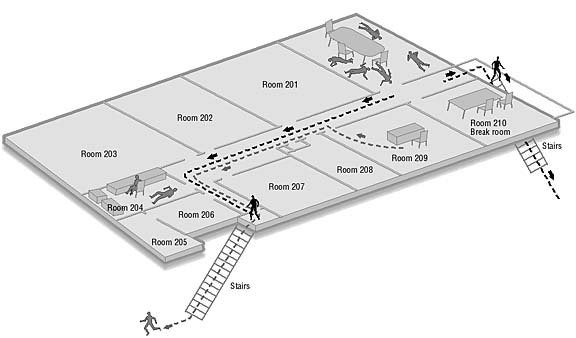 Uyesugi fires at Matsuda as he flees down the stairs. But he misses, then reholsters his gun under his shirt and calmly leaves the building via the mauka staircase. He drives away in a company van and parks near the Hawaii Nature Center in Makiki where he is spotted by a jogger at 9:45 a.m. After three hours of negotiations, he surrenders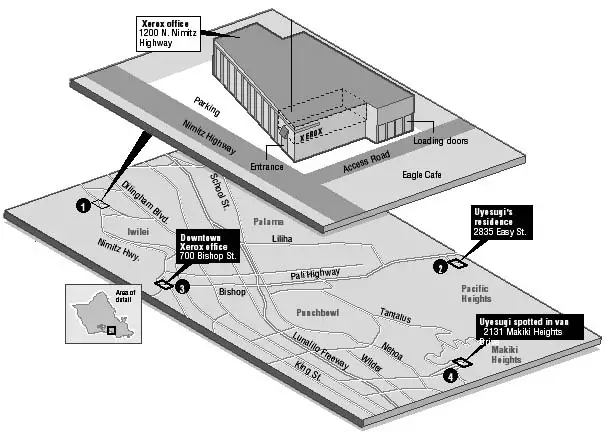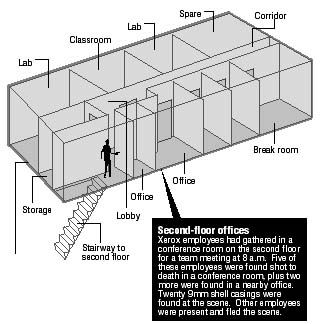 The weaponry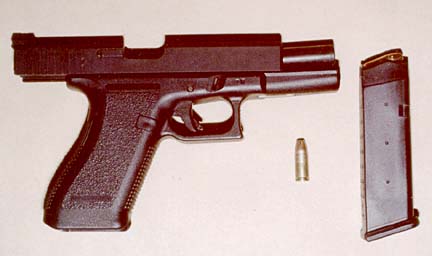 The gun: A 9mm, semi-automatic Glock Model 17 handgun; it was loaded with a magazine containing 17 rounds.

The ammunition: High-velocity, hollow-point bullets. "(They) flatten and shred on impact with human flesh and
bone," says Prosecutor Carlisle. "It rips through the body."
The victims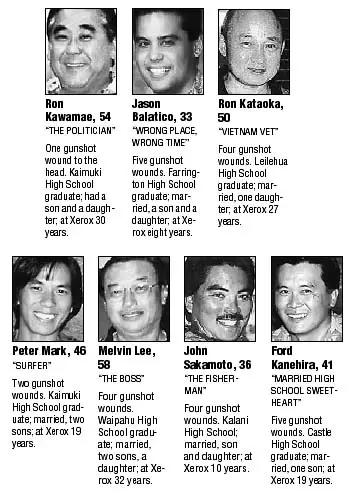 Survivors