Date of Birth: January 30, 1964
Defendant: Caucasian
Victim: Caucasian

On February 9, 1996, Adams accompanied Michelle Anglin, a real estate sales person, on a tour of a model home. When they reached an upstairs bedroom, Adams overpowered the diminutive Anglin, tore off her clothing, and attempted to sexually assault her while he choked her to death.

Buttons from her blouse were found in the bedroom closet, along with semen stains. Household furnishings were damaged as Anglin fought for her life. When her husband and other family members were unable to reach her by pager, police went to the model homes office to do a welfare check. They found her body stuffed under the bed in an upstairs bedroom.

Adams was convicted of first-degree murder; kidnapping; attempted sexual assault; and, second degree burglary.

PROCEEDINGS



Presiding Judge: Honorable Ronald S. Reinstein
Prosecutor: John Ditsworth
Start of Trial: July 1, 1997
Verdict: July 14, 1997
Sentencing: November 21, 1997

Aggravating Circumstances



Previously convicted of serious offense
Especially cruel

Mitigating Circumstances



None offered or found Stay of Execution issued by US District Court in the scheduled execution of inmate James ADAMS ADC#131965
---
Murdered woman's mom talks to 3TV after killer commits suicide
By Mike Watkiss - Azfamily.com
March 16, 2010
PHOENIX – A notorious Arizona death row case ended unexpectedly Sunday when a 46-year-old inmate committed suicide.
James Van Adams was sentenced to death for murdering and sexually assaulting a young real estate agent in the Valley about 14 years ago.
3TV's Mike Watkiss spoke to the family of Michelle Cohen Anglin about Adams' suicide.
In 1996 this was a high-profile homicide case that rocked the state. A beautiful young real estate agent was murdered while showing a home.
Now the man responsible is dead by his own hand and, according to the victim's family, that is welcome news.
"There's evil in the world and know that everyone out there…that you can't trust everyone," Cindy Scott.
Valley resident Scott is a woman who can talk with authority about the topic of evil. In addition to being a young busy mom raising two children, Cindy is also a well-respected detective with the Phoenix Police Department.
Fourteen years ago, Cindy's family was rocked by evil when Cindy's beautiful younger sister, Michelle Anglin, was brutally murdered as the 22-year-old real estate agent was showing a home to a man named James Van Adams.
He was a convicted sex offender masquerading as a prospective home-buyer.
Cindy says, "It's horrible and I wouldn't wish it on anyone but unfortunately the evil is out there and it's gonna happen to somebody again and they're gonna have to deal with this."
It is a heartache that has never left Cindy or her mother Peggy. It was a very high-profile story in the late 1990s that is now back in the news with word that James Van Adams, the man who was convicted and sent to death row for sexually assaulting and killing Michelle Anglin has killed himself inside a cell in an Arizona prison.
Peggy tells 3TV, "This man it's like one day, one afternoon he took a grenade and threw it in my family and destroyed it and he hung himself." Peggy goes on, "He strangled her. He got a little bit of what he did to her."
At her east Valley home on Wednesday Peggy makes no pretense and says she is "ecstatic" over the news of Van Adams.
He was a registered sex offender who had done prison time in California for sexually assaulting another real estate agent before he moved to Arizona, taking the life of Peggy's beloved daughter Michelle just three months after Michelle's wedding.
"She was a wonderful girl," Peggy says. "She walked this earth for 22 years and I enjoyed every moment of it."
---
IN THE SUPREME COURT OF ARIZONA
STATE OF ARIZONA, Appellee,
v.
JAMES VAN ADAMS, Appellant.
Supreme Court No. CR-97-0471-AP
Appeal from the Superior Court of Maricopa County
¶1 Appellant James Van Adams appeals his conviction and death sentence for first-degree premeditated murder. The jury also convicted Appellant of kidnaping, attemptedsexual assault, and second-degree burglary. Appellant filed anotice of appeal from these convictions, but did not brief theseissues on appeal. We, therefore, affirm these convictions and sentences. See State v. Greene, 192 Ariz. 431, 444 n.2, 967 P.2d106, 119 n.2 (1998); Ariz. R. Crim. P. 31.2.b.
We review this case on direct, automatic appeal pursuant to article VI, section 5.3, of the Arizona Constitution, Arizona Revised Statutes (A.R.S.) section 13-4031(1989), and Rule 31.2.b, Arizona Rules of Criminal Procedure. For the following reasons, we affirm Appellant's conviction and sentence.
¶2 On February 9, 1996, police discovered the body of Michelle Lee Anglin, a 5'1", 96 pound, 22 year-old woman, in the master bedroom of a tri-level model home at the Briarwood subdivision of Dave Brown Homes in Phoenix.
Ms. Anglin had been working alone at the subdivision as a real estate salesperson that day. After family members were unable to reach her by pager o rtelephone, Ms. Anglin's sister, a Phoenix police officer, called 911 with a "check welfare" request.
The first officers to arrive at the scene found the model home office door unlocked, the lights and music on, and numerous personal items belonging to Ms. Anglin. They conducted a preliminary search of each of the three modelhomes, and during this first search located three shirt buttons belonging to Ms. Anglin in the third model's upstairs master bedroom closet.
The officers also observed that two candles in that model's master bathroom had been knocked over, one into eachsink. Everything else appeared undisturbed.
¶3 The police then began a more thorough search of the modelhomes, and particularly of the third model home. They located Ms. Anglin's lifeless, twisted, disrobed body under the third model's master bed and noticed semen stains in that model's master closet. The police found broken ceramic candlesticks and articles of Ms.Anglin's clothing under the bed and saw paint and plaster chips in the master bath and under the bed.
¶4 An autopsy revealed no evidence of sexual trauma, but didisclose that Ms. Anglin had been grabbed, choked, and killed by asphyxiation, as evidenced by three bruises to the left side of her neck and one opposing bruise on the right. Both the Phoenix crime laboratory and the Department of Public Safety (DPS) laboratory conducted DNA testing of the carpet sample.
Although initial results excluded Appellant as the contributor, and he was so notified, re-testing of the sample by the crime lab produced contradictory results, which included him as a contributor. Additional testing performed by DPS verified the latter result.
¶5 Although the police conducted extensive finger and footprinting of the model, none of the prints recovered matched Appellant. Further, none of the witnesses who viewed photo lineups positively identified Appellant as being at the subdivision near the time of death, fixed at between 4:00 p.m. and 5:00 p.m. on February 9, 1996.
¶6 The state presented several pieces of evidence to implicate Appellant as Ms. Anglin's assailant. A vehicle license check of Appellant's truck placed him within a few miles of the Briarwood homes on February 9 at approximately 3:25 p.m.
Sometime between 3:45p.m. and 4:15 p.m. on that day, Ms. Anglin, speaking by telephone to another Homes by Dave Brown sales agent, said that a prospective buyer had just arrived at her subdivision. The fellow agent's return calls to Ms. Anglin between 4:30 p.m. and 5:00 p.m. went unanswered.
A neighbor, who lived in the subdivision and arrived home from work on February 9 between 4:00 p.m. and 4:15 p.m., recalled seeing a white male exiting the steps of the third model home and noticed a black, Chevrolet, full-sized, older model pickup truck, similar in description to Appellant's, in the model home parking lot.
Prospective buyers who visited the subdivision that day between 4:00 p.m. and 4:30 p.m. recalled seeing a man walking from the direction of the second and third model homes and noticed that candlesticks in the third model's master bath had been knocked over and into the sinks.
Employment records indicated Appellant either left work on February 9 around noon and failed to return, or left work on February 8 and did not report to work on February 9, after calling in "sick" due to car troubles.
Appellant's employer and a co-worker each testified that when they next saw Appellant, a facial injury and black eye that were not present on February 8 or 9 were now evident. Evidence presented at trial also established that Appellant had been to the Briarwood subdivision on previous occasions.
¶7 The state also adduced evidence concerning interactions between Appellant and other sales agents several years earlier in California, several months earlier at Briarwood, and several hours prior to Ms. Anglin's murder.
Susan Wright, an employee of Homes by Dave Brown, revealed that she had several face-to-face meetings with Appellant at the Briarwood subdivision, and numerous telephone conversations with him while at Briarwood and at another subdivision to which she was transferred.
Her first encounter with Appellant at Briarwood occurred in September or October, 1995, at which time Appellant requested that Ms. Wright, who was working alone, accompany him to the third model. Ms. Wright recalled that Appellant stood closer than normal to her and that, although he indicated he had questions about the model, once inside he asked none.
Upon the arrival of other prospective buyers, the two immediately left the model and returned to the office. Then, on November 5, 1995, Appellant again visited the subdivision and filled out a guest registration card as "Jim Adams." Appellant made numerous other visits and telephone calls to Ms. Wright, each time asking her out on dates.
¶8 Kim Ramos, a young real estate sales associate at a nearby subdivision, testified concerning an encounter she had with Appellant at approximately 2:00 p.m. on February 9, 1996. Appellant arrived at the subdivision in an older model, black Chevrolet truck and asked her to accompany him to the two-story model home to answer some questions.
Although Ms. Ramos did accompany him to the model, she testified she was apprehensive and uneasy about Appellant, in part because of how closely he walked next to her. She also stated that she did not spend any appreciable amount of time with him in the model before returning to the sales office, and felt Appellant's questions concerning the model's tile flooring and fourth bedroom/den option were "stupid."
Appellant's undisputed visit with Ms. Ramos that day was confirmed by a guest registration card that Appellant filled out at Ms.Ramos' request, on which he listed his name as "James Adams" and provided his correct address and telephone number. Ms. Ramos, whowas able to positively identify Appellant and his truck through photographs, told police that at the time she met Appellant none of his facial injuries depicted in the photographs taken after Ms. Anglin's murder existed.
¶9 Finally, the state presented the testimony of Melissa Cunningham concerning a 1990 encounter she had with Appellant in California. Ms. Cunningham, a young, petite, 5'4", 102 pound sales agent, was working alone at a new home subdivision when Appellant requested that she accompany him to view the model homes that were still under construction.
Appellant said he was particularly interested in a two-story model and its upstairs master bedroom and closet. Ms. Cunningham spent a few minutes with Appellant in that model's master bedroom and closet. As they walked down the stairs, Ms. Cunningham, who was in the lead, heard two thumps, like footsteps, felt a shove, and fell down to the floor below.
Appellant apologized, saying that he had tripped on a nail. As both of them searched for the nail, Appellant grabbed Ms.Cunningham from behind, placing one hand around her neck and choking her, while twisting her head to the left with his other hand. He told her he would break her neck if she said anything, dragged her down the hallway and into the kitchen, threw her to the ground, and attempted to sexually assault her, while ripping and tearing her clothes from her body. Ms. Cunningham managed to escape and obtained Appellant's truck license plate number.Appellant was convicted in California of assault with intent to commit rape, a felony. Ms. Cunningham identified Appellant during this trial as her assailant.
*****
For the foregoing reasons, we affirm Appellant's conviction of first- degree premeditated murder and death sentence.


---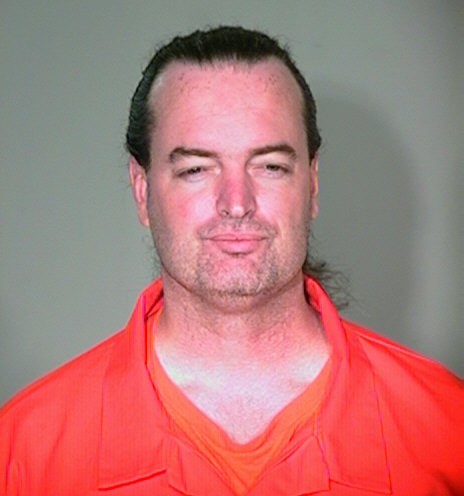 James Van Adams