Born in Utrecht, Holland, Hans van Zon was a very quiet child. According to those that knew him he would quite often drift away into a fantasy world. He was also a very selfish kid, something that his mother can take all the blame for by making him feel as though he was the center of the universe.
His scholastic record proved that he was far from outstanding, and from his average school years, he went on to a less-than-average working life that was littered with dismissals that were all linked to a his most outstanding flaw - Dishonesty.
According to those he met during his adult years, he claimed to work for, amongst others, the C.I.A. Other occupations Hans claimed included fashion designer, private detective, movie star and a tycoon. Obviously he never really left that fantasy world.
But despite his stupid lies, Hans had perhaps the most important thing in this world going for him, he was attractive. And with looks comes trust.
The first person who stupidly trusted Hans was Elly Hager-Segor. In July 1964, She agreed to go out with the attractive liar, obviously deciding style was more important than substance. At the end of her first date with Hans, he pretended that he had missed the last train home, and begged her to let him stay the night. She agreed.
In fact she probably wanted him to stay as they ended up 'making love'. But Elly must have needed to get up early the next morning because later on when Hans had recovered sufficiently to go for another ride she declined. Big mistake Elly.
Hans was very upset at the knock back so he strangled poor Elly, then just to make certain of his work, he cut her throat with a bread knife.
The next person stupid enough to trust Mr. van Zon was homosexual film director (did I fail to mention that Hans played for both sides?) Claude Berkely in Amsterdam in 1965. Unfortunately I don't know how Claude was killed, but I'm assuming that he was also strangled.
Next one up was a bit of an accident as Hans tried, unsuccessfully, to kill his wife, Cloroline Gigi. Not surprisingly she went to police following the failed attempt.
But I guess there was no evidence because a few weeks later Hans went on to snuff the life out of his girlfriend, Coby van der Voort. The M.O. was different this time with Hans loading her up on barbiturates (she thought they were an aphrodisiac) then absolutely destroying the woman with a lead pipe which must have turned him on pretty badly because he followed it with a bit of sexual abuse. He then finishing her off with a few stabs with a knife.
In May 1967, Hans randomly attacked Jan Donse with the lead pipe, killing her with no motive. Unless sexual satisfaction counts.
When August came around I guess the urge rose up in Hans again as he went out and killed a farmer, Reyer de Bruin, with that same metal pipe.
But then Hans got lazy. He struck an old lady (I don't know what her full name is, but it has a Woortmeyer in it) over the head with his now favourite murder weapon. But he just didn't hit her hard enough to kill her. So, when she woke up she was able to alert police who found our not so humble 'hero' not long afterwards.
At his trial Hans van Zon explained that all of his murders were not planned by him, but that some of them were set up by another man, Old Nol. It seems that Hans was not only a master at bullshitting, but also pretty quick to brag about his deeds. One night he got drunk with Old Nol and told him about his first murder. Old Nol then blackmailed him into doing his bidding. In fact, Woortmeyer, the old lady that survived his final attack, was a former 'lady-friend' of Old Nol that he wanted revenge on.
Needless to say, Hans van Zon received life for his crimes. And Old Nol, despite sounding like another lie of van Zon's, received 7 years.
Brian Lane & Wifred Gregg's "Encyclopedia of Serial Killers."
---
Zon, Hans Van
Born in April 1942, at Utrecht, Holland, Hans van Zon was a lethargic child, remembered for his exaggerated courtesy toward adults and his preference for younger playmates. An introverted youth, he was dismissed from several jobs for petty theft and seemed to live increasingly in a fantasy world of his own creation.
At age 16, he moved to Amsterdam and bought himself a new, expensive wardrobe, settling down to make his way as a con man and swindler.
Van Zon's favorite trick was to pose as a student, bilking sympathetic strangers of cash for a "trip home." Handsome and bisexual, he enjoyed affairs with men and women alike.
Van Zon's first known victim was Elly Hager-Segov, murdered after a date on July 22, 1964. Elly had already taken Hans to bed once that night, and when she rejected his new advances he choked her unconscious, stripped her, and cut her throat with a bread knife.
In 1965, Van Zon reportedly murdered homosexual film director Claude Berkeley, in Amsterdam. (A confession to both crimes was later recanted, with Van Zon asserting that he derived his intimate knowledge of the murders from "psychic visions.")
A short time later, he married an Italian chamber maid, living on her wages while he continued his affairs with other women. In 1967, Van Zon's wife told police he was planning to kill her, and he spent a month in jail -- for violating his probation on earlier charges -- before they were reconciled.
On April 19, 1967, Van Zon murdered his occasional mistress, Coby Van der Voort, first drugging her with a supposed aphrodisiac, then bludgeoning her with a lead pipe, stripping her body, and stabbing her with a bread knife. Unsuccessful in his attempt to rape the corpse, Van Zon still bragged of the crime to an acquaintance, ex-convict Oude Nol, and found himself the target of blackmail. In return for his continued silence, Nol demanded that Van Zon "assist" in the murder and robbery of selected victims.
On May 31, 1967, Van Zon entered the fireworks shop run by 80-year-old Jan Donse, clubbing the man to death with his favorite lead pipe before looting the till and dividing the proceeds with Nol. In August, he killed farmer Reyer de Bruin at Heeswijk crushing his skull with the pipe, then slashing his throat for good measure.
The crime spree came to an end soon after, when a widow named Woortmeyer -- once romanced by Oude Nol -- survived Van Zon's clubbing and fingered him for police. In custody, Van Zon implicated Nol, and both men were held for trial.
On conviction of murder, Van Zon was sentenced to life, while Oude Nol drew a term of seven years in prison.
Michael Newton - An Encyclopedia of Modern Serial Killers - Hunting Humans
---
Hans Van Zon
SEX: M RACE: W TYPE: T MOTIVE: Sex./CE
DATE(S): 1964-67
VENUE: Amsterdam, Netherland
VICTIMS: Five
MO: Bisexual slayer; killed two female lovers, one gay man, and two male robbery victims
DISPOSITION: Life term, 1967; robbery accomplice Oude Nol drew a seven-year term.
Michael Newton - An Encyclopedia of Modern Serial Killers - Hunting Humans
---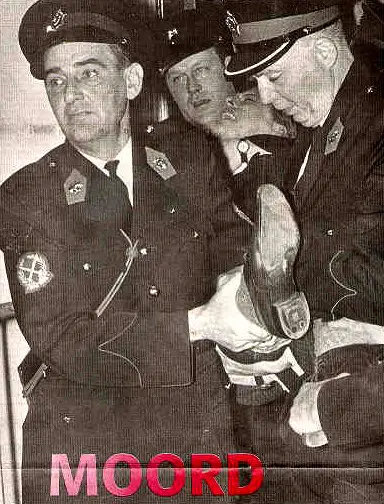 Hans Van Zon arrest.