Man in Ghaziabad gets death sentence for battering five children to death
Indiatvnews.com
May 28, 2013
The additional district and sessions judge on Monday pronounced death sentence for Ravindra Verma, 45, on charge of battering five of his children to death in Vijay Nagar four years ago.
The judge Arun Chandra Srivastava described this as a 'rarest of rare case' and said the man killed his children in a barbaric manner without any provocation. The convict had also injured his wife, who later survived and became the prime witness.
Later, the woman turned hostile and told the court that her husband was "innocent".
The court also imposed Rs 1 lakh fine on the convict.
On June 8, 2009, the bodies of the five children were found in their home in Rosy Colony. Police was told that the father, after a quarrel with his wife, battered his five children with a "silbatta" (stone used to crush grains and spices).
The five childre, Anjali, 13, Preeti, 11, Priyanka, 9, Devraj, 5 and Yuvraj, 9 months, were found badly battered to death.
Ten witnesses were produced in court by the prosecution, but the children's mother Durgawati later changed her statement.
On Monday, Durgawati said, her husband was innocent.
---
Ghaziabad: 'Drunk' man kills five children, leaves wife critical, attempts suicide
Pragya Kaushika - IndianExpress.com
June 9, 2009
A 40-year-old truck driver allegedly bludgeoned his five children, including a nine-month-old, to death on Sunday night before critically injuring his wife and attempting suicide after an argument with her.
The incident took place in Rosy Colony, in Ghaziabad's Vijay Nagar area.
The police suspect the incident took place following a row with his wife after Ravinder Verma (40), who was unemployed for the past couple of months, returned home on Sunday night in an inebriated state. Relatives who live near Verma's house told the police on Monday that they had not heard anything the night before, or on Monday morning. According to Ravinder's younger brother, Amit, one of Ravinder's daughters brought him tea every morning but as no one turned up on Monday morning, he became anxious.
"We knocked at the door but there was no reply," Amit Verma said. "One of our neighbours then jumped on the terrace and saw bloodstains near the stairs. I went inside and found my brother, sister-in-law and my nine-month-old nephew lying in a pool of blood. My brother said, "Everything is finished."
"And then he fainted."
Amit Verma, too, works as a driver.
Ghaziabad's Superintendent of Police (City) Rahul Yadvendu said Ravinder Verma had smashed the heads of his four children, who were asleep, with a grinding stone. "He then hit his wife Durgawati and the nine-month-old child, who were sleeping in another room," Yadvendu said. "The infant died immediately; Durgawati was found unconscious and critically injured.
"Ravinder was also found in the same room with wrists slit."
The victims were identified as Anjali (12), Priti (10), Ashu (8), Devraj (6), and Priyanka (nine-months-old).
According to Ravinder's relatives, he was "mentally ill" and had attacked his children and wife earlier.
Verma came to Ghaziabad about 20 years ago from Bihar's Siwan district. He did odd jobs but was unemployed for the past two months. His financial condition was not good, and police suspect that, too, could be a reason for his actions.
"Since my eldest brother Subhash was a widower, my parents stayed with him," Amit Verma said. "Ravinder used to argue with them as well."
Both Ravinder and Durgawati were admitted to MMJ Hospital in Ghaziabad.
"Durgawati was referred to GTB Hospital in Delhi," SP Yadvendu said. "Her condition was critical; Ravinder was declared stable."
A case of murder and attempt to suicide has been registered at the Vijay Nagar police station. Inspector General (Meerut range) Gurbachan Singh Lal met the family's relatives.
---
Ghaziabad police arrest 'killer' father
Twocircles.net
June 9, 2009
Ghaziabad: An unemployed truck driver who allegedly killed his five children and attempted to commit suicide after critically injuring his wife has been arrested, police said Tuesday.
A case under sections 308 (attempt to commit culpable homicide not amounting to murder) and 309 (attempt to commit suicide) have been registered against Ravindra Verma, who while heavily drunk, brutally killed his five children, critically injured his wife and attempted to commit suicide. The maximum term of imprisonment under section 308 is seven years.
Meanwhile, Verma's wife Durgawati is out of danger and is recovering fast. In her first statement, she said Verma attacked her when she was trying to protect the children from her husband. She said he had first attacked her with a knife, and then hit her on her head with an heavy iron object.
Verma, 38, and Durgawati, 35, were found with stab wounds in their house in Rosy Colony by his mother around 7 a.m. Monday. The five children were lying dead, police said.
The children were identified as Anjani, 14, Preeti, 10, Mona, 8, Devraj, 5, and nine-month-old Lucky. They appear to have been killed with a blunt instrument. Their bodies have been sent for autopsy.
Originally a resident of Bihar's Siwan district, Verma moved to Ghaziabad about 15 years ago and started working as a truck driver but was sacked about two months ago.
His younger brother Avdhesh said Verma's family life was severely disrupted since he used to sit idle at home. Whenever his wife insisted he find a job, they used to have a fight. He said a fight Monday might have led to the tragedy.
About three years ago, Verma killed his two-month-old daughter by throwing her on the floor of the house in a fit of rage.
Inspector General of Police (IGP) Gurbachan Lal said that economic stress might have led Verma to take such extreme step, while Divisional Commissioner Radha Chauhan claimed economic deprivation could have not been the only reason and some psychological factors might have also been there.
---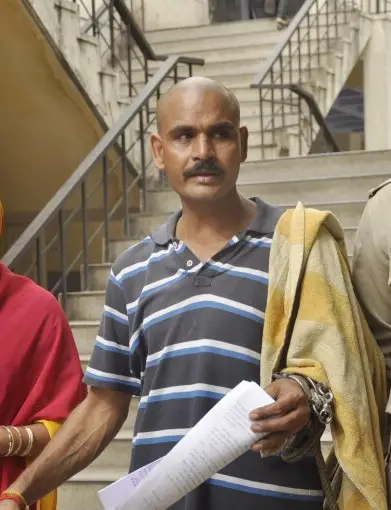 Ravindra Kumar Verma, who killed his five children in 2009 was awarded death penalty for
the crime at Ghaziabad Court on May 27, 2013 in Ghaziabad, India. On September 13,
2009 he brutally murdered his five children aged from 9 months to 13 years due
to financial and domestic problems.
(Photo by Sakib Ali/Hindustan Times via Getty Images)