Scott Watson (born 28 June 1971) is a New Zealander who was convicted in May 1999 after an 11-week trial of the murders of Ben Smart and Olivia Hope on his boat Blade on 1 January 1998.
The bodies of Smart and Hope have never been found. A sonar search of the entrance to Tory channel, an area of interest to the investigating police, found "there is no indication that the missing remains of Ben Smart and Olivia Hope are present or visible on the sea bed inside the search area". Watson had 48 prior convictions, including some for theft and assault, and was subsequently convicted for one more assault while in prison. He is serving a life sentence with a non-parole period of 17 years and is expected be released on 8 July 2016.
The New Zealand Court of Appeal rejected an appeal by Watson. In 2003 Watson's lawyers Mike Antunovic and Greg King applied to the Privy Council, it found no grounds for further appeal. Watson is applying for a royal pardon.
The disappearance of Smart and Hope
On the morning of 1 January 1998, two young New Year's Eve partygoers disappeared. Ben Smart (21) and Olivia Hope (17) had attended an all-night party to see in the New Year at Furneaux Lodge, in Endeavour Inlet, in the Marlborough Sounds, at the northern point of the South Island of New Zealand.
They were reported missing by Gerald Hope, Olivia's father, on Friday 2 January. No sightings of them had been made since the early hours of 1 January. Initially, their disappearance was treated as a missing persons enquiry.
Later developments
The defence appealed Watson's conviction, and the case went to the Court of Appeal in April and May 2000. Three Appeal Court judges heard submissions from both the prosecution and the defence, but decided there was no new evidence to recommend a second trial. They disregarded the defence's submission that the "two trip" theory had appeared "out of the blue" late in the trial. Questions have been raised about the manner of the police investigation, notably by Mike Kalaugher, who in 2001 published a book which was critical of the police methods used to obtain the conviction of Scott Watson, and by Keith Hunter, in a 2003 television documentary, and a 2006 book.
Having been turned down for an appeal to the Privy Council, Watson wrote to New Zealand's Governor General in 2008, seeking advice as to obtaining a Royal Prerogative of Mercy.
In 2009, the Ministry of Justice appointed Kristy McDonald QC to investigate the case as a result of Watson's appeal to the Governor General.
Watson married Coral Branch in Paremoremo prison in 2004. They split in 2007.
In 2007, Watson was found guilty by a magistrate of assaulting another inmate in Paparua Prison. In 2008, his appeal against that conviction failed.
A 2010 report by the Independent Police Conduct Authority cleared police of allegations by Keith Hunter and Chris Watson. It found the police investigation had fallen short of best practice in areas which "had no significant bearing on the outcome of the investigation". No evidence was found that would support Hunter's other claims.
Bibliography
Jayson Rhodes & Ian Wishart Ben and Olivia - What Really Happened? (Auckland: Howling At The Moon Publishing, 1999) ISBN 0-9582054-4-2

John Goulter Silent Evidence (Auckland: Random House, 2000) ISBN 1-86941-386-5

Mike Kalaugher The Marlborough Mystery (Auckland: Tandem Press, 2001) ISBN 1-877178-91-8

Murder on the Blade? television documentary, 2003

Keith Hunter Trial by Trickery: Scott Watson, the Sounds Murders and the Game of Law (Auckland: Hunter Productions, 2006) ISBN 0-473-11721-5

Mike White "Ben and Olivia 10 years on – Did We Get it Wrong?/Sounds of Disquiet" North & South, December 2007, 46-56.
Wikipedia.org
---
Report backs police handling of Marlborough Sounds murders
Stuff.co.nz
13/08/2010
Police fell short in some areas of their investigation into the murders of Ben Smart and Olivia Hope, but their mistakes did not have a significant bearing on the inquiry's outcome, the Independent Police Conduct Authority (IPCA) has found.
Scott Watson was sentenced to life imprisonment with a minimum non-parole period of 17 years after being found guilty of the 1997 murders in the Marlborough Sounds.
The IPCA launched an inquiry into the police investigation after it received complaints from journalist Keith Hunter and Watson's father Chris.
No complaint was received from Scott Watson himself.
In a report released today, the IPCA found the investigation, known as Operation Tam, fell short in three respects.
An affidavit to obtain search warrants signed by Detective Inspector Rob Pope, now the Deputy Commissioner, contained errors and fell short of the high standard of accuracy needed for warrants.
However, the authority rejected Mr Hunter's allegation that Mr Pope had intended to mislead, and found the errors did not "strike at the heart of the document".
Mr Pope had not known the document was inaccurate when he signed it, and his mistake did not constitute misconduct or neglect of duty.
The authority found it was "highly undesirable" for a member of the investigation team to give a suspect profile of Scott Watson to a community group.
It also found the construction of photo montages of Watson, and the methods used to show them to witnesses, were undesirable.
However, a lack of documentation meant the authority could not determine how decisions about the montages were made, and by whom.
Mr Hunter had complained the montages put Watson at a disadvantage because they showed him with his eyes half-closed.
Authority chairwoman Justice Lowell Goddard said today that areas in which Operation Tam fell short had no significant bearing on the outcome of the investigation.
The inquiry was conducted reasonably and rationally, and police remained open-minded throughout.
"On the basis of what Detective Inspector Rob Pope knew, it was reasonable and appropriate for him to focus resources on investigating Scott Watson. Indeed, he would have been remiss had he not," Justice Goddard said.
The police investigation was conducted in a small community in which many people knew each other and discussed the case openly.
It also took place under intense media scrutiny, with witnesses and people who knew Scott Watson frequently appearing in the media.
"The unprecedented and unrelenting nature of the media focus throughout the inquiry can only have served to make an already complex and difficult investigation even more so," Justice Goddard said.
Ad Feedback "In these difficult circumstances, some actions of police fell short of best practice, some mistakes were made, and these were compounded by the actions of others, in particular the media and members of the community who openly discussed the investigation with each other and with reporters."
The IPCA found no evidence behind many of Mr Hunter's complaints.
Mr Hunter alleged Mr Pope had concluded Watson was guilty within five days of the investigation, ignored evidence to the contrary, created and circulated false rumours about Watson, told a "strategic lie" to media about whether Watson was a suspect, bought the testimony of secret witnesses, and planted DNA evidence.
The authority noted that many of the issues raised in Mr Hunter's complaint were available to Watson's defence team to raise at trial and on appeal.
However, it noted also that the conduct of the trial and appeal were not matters within its jurisdiction.
Justice Goddard said the authority's investigation was exhaustive, with investigative staff and legal analysts spending hundreds of hours examining some 25,000 documents.
Operation Tam was the largest police investigation ever conducted by New Zealand police at the time. About 1650 people who were in the Marlborough Sounds at the time had to be contacted, and more than 100 vessels were identified and traced.
---
Hide seeks answers on Sounds murders
By Emma Page - Stuff.co.nz
October 18, 2009
ACT leader Rodney Hide wants authorities, including police, to answer allegations about their conduct in the Scott Watson case which saw the then 26-year-old convicted for the Marlborough Sounds murder of Ben Smart and Olivia Hope almost 12 years ago.
Yesterday Hide attended an Act-arranged public meeting at a cafe in his Epsom, Auckland, electorate, where journalist and campaigner Keith Hunter spoke to a crowd of 40 people about the Watson case.
Hunter, who has made a documentary in support of Watson's innocence and written a book about processes which led to his conviction, emphasised his belief that during the case certain police, the prosecution team, the judge and the Court of Appeal members involved "acted without integrity and without any regard whatever for truth and justice".
He said he intended to make it as hard as he could for the justice system to ignore its conduct.
Smart, 20, and Hope, 17, disappeared during the early hours of New Year's Day, 1998. They were last seen boarding a yacht moored off Furneaux Lodge in the Marlborough Sounds. Watson was arrested the same year and convicted of their murder. An appeal was later rejected by the Court of Appeal and Watson has now appealed to the governor-general for a Royal Prerogative of Mercy.
Hide told the Sunday Star-Times he was a fan of Hunter's 2007 book Trial By Trickery: Scott Watson, the Sounds Murders and the Game of Law. He would like to see authorities, including Crown Law and police, provide a step-by-step response to each of Hunter's criticisms – which address the use of jailhouse informants, the misquoting or misinterpretation of evidence, manipulation of the media, misleading the jury, and the prosecution introducing a new scenario in its closing address.
"It's very hard to read that book and then hear a deafening silence and then have confidence in the processes," said Hide.
Hide does not describe himself as a Watson "supporter", saying Hunter's book was more about the justice system than a particular case.
"It was a very impressive piece of work. I'm concerned that the damning criticisms of the police and justice system in this book have gone unanswered and I suspect I know the reason – I think they must be valid."
Ad Feedback Hide did not speak at the meeting, saying he was there to lend support and to listen and learn.
Green Party MP and human rights spokesman Keith Locke also spoke at the meeting. He told the Star-Times that readers of Trial by Trickery were left with "the clear conclusion that there could have been a miscarriage of justice".
He would like to see an Independent Criminal Appeals Review Office set up, and constitutional changes that would make appeals more independent of executive government.
The meeting was organised by Act members Brian Nicolle, John Banks' former campaign manager, and Stuart Macfarlane, a former lawyer who wrote a book about the Erebus crash. Auckland Regional Council's chairman Mike Lee also attended and told the Star-Times he thought Watson was innocent.
Meanwhile, Ben Smart's father John, 70, died last Sunday of melanoma. His funeral was held on Friday.
---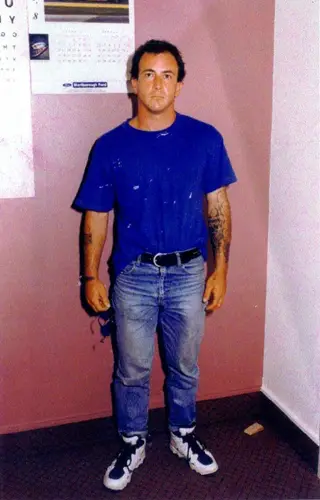 Scott Watson photographed by the police on 8 January 1998.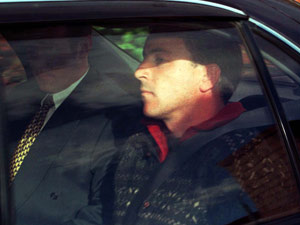 Scott Watson is taken to the Christchurch District Court in a police car before being charged with the murder of Ben Smart and Oliva Hope in 1998. Source: Getty Images.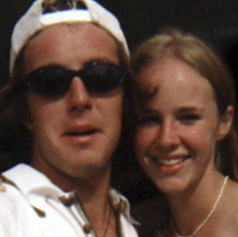 Ben Smart and Olivia Hope