Daniel Wilkinson (c. 1845 – November 21, 1885) was the last person to be executed by Maine. He was hanged for the murder of a police officer after a burglary in Bath, Maine.
In the early morning hours of September 4, 1883, Wilkinson and his accomplice John Ewitt were caught attempting to break into the D.C. Gould Ship Chandlery and Provision Store in Bath. As Wilkinson and Ewitt were running away from one police officer, they collided with Constable William Lawrence. Wilkinson immediately shot Lawrence in the head with a .32 caliber revolver.
Wilkinson was arrested in Bangor, Maine less than a week after the incident and was charged with murder on September 11, 1883. It was discovered that Wilkinson was an escapee from the Maine State Prison. Ewitt had travelled to England; his extradition was never sought by Maine. Wilkinson's trial began in the Bath Superior Court on January 4, 1884. He was convicted by the jury of first degree murder on January 7, 1884 and was sentenced by the judge to death by hanging.
The death sentence was carried out at the Maine State Prison in Thomaston on November 21, 1885. Wilkinson did not die instantly from the hanging but slowly died of strangulation. The nature of Wilkinson's death, which was similar to the executions of two other inmates the previous April, was used by anti-death penalty activists to argue that Maine should abolish the death penalty, which it did in 1887.
Wikipedia.org
---
Fallen Officer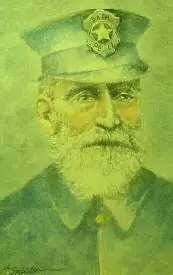 Officer William Lawrence
On the night of September 4, 1883, shortly after midnight, Bath Police Officer Kingsley, a 'rookie' of only two months, was checking doors along his downtown beat in the shipbuilding community of Bath, Maine. As he walked along Commercial Street he heard "the sound of splintering wood". Because the gas street lamps had been extinguished earlier in the evening, he was unable to clearly see anyone. As Officer Kingsley neared a storefront on Broad street he shouted "What's going on there?" He suddenly heard running footsteps and ordered the fleeing suspects to stop. When they did not stop he fired a warning shot: "I blew my whistle when they ran and called out for them to stop or I'd shoot. The hind man turned his head around and said ' you wouldn't shoot would you?' I told the two to stop. Two as I thought went up Arch Street and the other went on. When I got to the corner I sang out again 'Stop or I'll shoot!' There was no answer and I fired".
The suspects, who had attempted to break into D.C. Gould Ship Chandlery and Provision Store, hastily made their escape but not before killing a patrolman on the beat adjacent to Officer Kingsley's. Constable William Lawrence, affectionately known to the townspeople as "Uncle Billy" had been patrolling the Front Street area when one of the burglars ran directly into his arms. This meeting caught both the burglar, Daniel Wilkinson, and Officer Lawrence off guard. In his desperation to escape, Wilkinson shoved a .32 caliber revolver into the face of Officer Lawrence and fired. The bullet, according to the autopsy report, entered Officer Lawrence's brain and killed him instantly. Officer Lawrence did not even have an opportunity to draw his own weapon.
At age 63, "Uncle Billy" was a "most respected member of the police force" and the townsfolk were deeply affected by his death. At first, people accused rookie officer Kingsley of accidentally shooting Officer Lawrence in his haste to apprehend the burglars. This theory was disproved however when a private detective, hired by the town to investigate the murder, arrested and obtained a confession to the crime from Daniel Wilkinson. The Police Chief at the time, Marshall James Bailey, recommended that Detective James Wood of Boston be employed since his own department was not equipped to handle a homicide investigation.
Wood was paid ten dollars a day plus expenses for his services and refused a one thousand dollar reward offered by City Mayor James Ledyard. The reward was for evidence that would lead to the arrest and conviction of any person or persons who caused the death of Police Officer William Lawrence. Wood declined the reward claiming that the reward could prejudice a jury.
It took Detective Wood only a matter of days to apprehend Wilkinson. Wilkinson was arraigned on September 11, 1883, one week after the murder of Officer Lawrence. Wilkinson's accomplice, an Englishman named John Ewitt, who had no part in the actual murder, successfully escaped to England and was not extradited due to a recent treaty agreement between the two nations. Wood had tracked Wilkinson by following a lead developed in Portland, Maine. According to Detective Wood's actual notes, he had been routinely checking Portland's boarding houses. One landlady advised Wood that she had not heard from two of her boarders and still had their possessions. Upon checking their belongings, Wood found unusual shaped match sticks that resembled those recently found at the scene of a burglary in Brunswick, Maine, a town only a few miles south of Bath. He had determined that the Brunswick burglary and the attempted break in Bath were alike in too many ways to ignore and concluded that the both crimes were committed by the same individual. This led Detective Wood to Bangor, Maine, where he subsequently arrested Wilkinson.
Wilkinson, who was 38 years of age, was tried and convicted of first degree murder on January 7, 1884. According to Detective Wood's accounts, Wilkinson's council, a young attorney named Herbert Heath, was "most able" but the defendant was nonetheless sentenced to death after a Bath Superior Court trial that lasted only four days. Wilkinson was hung on November 21, 1885 at the Maine State Prison. Because Wilkinson did not immediately succumb when dropped from the gallows, and instead died an agonizing death, he was the last person to die by this means in Maine. The death penalty was abolished altogether in Maine in 1887.
CityofBath.com