The Lockheed Martin shooting was an act of mass murder that occurred on July 8, 2003 at the Lockheed Martin plant in Meridian, Mississippi, United States. The gunman, 48-year-old Douglas Williams, an assembly line worker at the plant shot 14 of his co-workers with a shotgun, killing six of them, before committing suicide. Eight of his victims, and five of those killed, were black.
It was the deadliest workplace shooting in the United States since December 2000, when Michael McDermott killed seven co-workers at Edgewater Technology in Wakefield, Massachusetts.
Shooting
On the day of the shooting Williams had to attend a mandatory ethics and diversity class together with 13 others, among them several black employees. According to some colleagues Williams arrived at the plant in a very agitated state and made threats to kill black workers, though others who had talked to him prior to the shooting stated that he "gave no indications that anything was wrong."[3] At the meeting Williams stayed only for a few minutes. After having a normal conversation with his colleague Al Collier, who described it as a "friendly little talk",[4] he suddenly stormed out of the room with the words "Y'all can handle this."[3] Telling his supervisor, Jeff McWilliams, that he would take the matters into his own hands Williams went to retrieve several guns from his pick-up truck. Armed with a 12 gauge Winchester shotgun, a Ruger Mini-14 on his back, bandoliers with ammunition draped across his chest and a bandana on his head he returned to the annex, where the meeting was held.
At approximately 9:30 a.m. Williams entered the room, yelling "I told y'all to stop (expletive) with me! Didn't I tell y'all not to (expletive) with me?",[3] and began shooting. He first killed Mickey Fitzgerald, a white employee, who tried to calm him down, with a shot in the face, before turning his attention towards a group of four black workers cowering on the floor. Remarking "There's four right there." Williams killed Sam Cockrell, whom he believed to have made complaints about him to the management, wounded Al Collier, who was shot in the back and right hand, as well as Charles Scott, and fatally wounded DeLois Bailey, when she was trying to run out of the room. Steve Cobb, the plant manager, as well as Brad Bynum, Chuck McReynolds and Brenda Dubose, whose head and hand were grazed by bullet fragments, were also wounded by ricochet. Williams then went out of the room, but returned after a short while and, searching and calling for Jack Johns, the production manager, he continued shooting.
Williams eventually left the annex and headed for the main factory, searching for other employees who had reported him to the management for making racist threats. There he was apprehended by his colleague Pete Threatt, who tried to take away his gun, but Williams pushed him out of the way, lowered the shotgun with the words "Get out of my way or I'll kill you, too."[3] and moved on. While Threatt tried to make the others aware of the gunman, screaming for people to take cover, Williams walked through the plant and shot five other people, most of them at point blank range. He killed Charles J. Miller, Thomas Willis and Lynette McCall at their work stations and wounded Henry Odom and Randy Wright, before his girlfriend and co-worker, Shirley J. Price, began pleading with him to stop shooting. Williams then committed suicide in front of her by shooting himself in the torso, thus ending his rampage which had lasted approximately ten minutes.
Three more weapons were later found by police in his car, a .22 Magnum Derringer, a .45-caliber Ruger P90 pistol and a .22-caliber rifle with a scope.
Victims
Six people were killed in the shooting.
DeLois Bailey, 53, succumbed to her wounds on July 15
Sam Cockrell, 46, of Meridian, Mississippi
Micky Fitzgerald, 45, of Little Rock, Mississippi
Lynette McCall, 47, of Cuba, Alabama
Charles J. Miller, 58, of Meridian, Mississippi
Thomas Willis, 57, of Lisman, Alabama
The injured were: Brad Bynum, 29, Steve Cobb, 46, Al Collier, 49, Brenda Dubose, 55, Chuck McReynolds, 62, Henry Odom, 57, Charles Scott, 65 and Randy Wright, 55.
Motive
As five of the six people killed by Williams, divorced father of two, were black and co-workers described him as making racist remarks, it was initially believed that the murder might have been racially motivated, though police stated that the shooting was more likely random, as most of the injured were white.
One of Williams cousins said he was not a racist and even had black friends, though Williams's cousin also described him as being depressed. He also said that Doug Williams had expressed concern "about something to do with a meeting at work." It was said that Williams had threatened others for no reason and was angry at everybody. He had run-ins with management and fellow workers and felt mistreated.
Wikipedia.org
---
Worker kills 5, self at Mississippi plant
Columbia Daily Tribune
July 8, 2003
MERIDIAN, Miss. (AP) - An employee opened fire at a Lockheed Martin plant today, killing five people before killing himself, authorities said. Eight other people were taken to hospitals. Lauderdale County Sheriff Billy Sollie confirmed the deaths and injuries."He had a shotgun and a semiautomatic rifle and he appeared to open fire at random on employees," Sollie said.The shooting broke out around 9:30 a.m.
---
Six dead in shooting in Lockheed Martin plant
CNN.com
July 8, 2003
Those listed as deceased are Mickey Fitzgerald of Little Rock, Mississippi; Sam Cockrell (ph) of Meridian; Lynnette McCall (ph) of Cuba (ph), Alabama; Thomas Willis of Lisbon (ph), Alabama; Charlie Miller of Meridian, and the shooter, Doug Williams, also of Meridian.
The shooter entered the building with what is believed to have been two weapons, one being a 12 gauge shotgun, the other being a mini 14 .223 caliber semiautomatic weapon. At this time, there are no indications that he discharged the .223 rifle. All wounds appear to have been suffered utilizing the .12 gauge shotgun.
We have been told that there were additional weapons taken from the vehicle of the shooter at the scene. I believe that consisted of a .22 caliber magnum Deringer, a P-91 .45 caliber Ruger (ph) pistol, a .22 caliber rifle with a scope. There were also additional large quantity of ammunition in the vehicle.
---
Miss. man opens fire at work, killing 5
The Wichita Eagle
July 9, 2003
MERIDIAN, Miss. -A factory worker known as a racist "hothead" who talked about killing people opened fire with a shotgun at a Lockheed Martin plant Tuesday, leaving five fellow employees dead before committing suicide. Dozens of employees at the aircraft parts plant frantically ran for cover screaming "Get out! Get out!" after Doug Williams, dressed in a black T-shirt and camouflage pants, started firing.
---
Six Dead in Miss. Plant Shooting Rampage
MERIDIAN, Miss. - A factory worker known as a racist "hothead" who talked about killing people opened fire with a shotgun and a rifle at a Lockheed Martin plant Tuesday, leaving five fellow employees dead before committing suicide.
Dozens of employees at the aircraft parts plant frantically ran for cover after assembly worker Doug Williams, dressed in a black T-shirt and camouflage pants, started firing during a morning break. As many as eight people were wounded in the nation's deadliest workplace shooting in 2 1/2 years.
"At first I thought it was something falling on the ground. Then I walked to the aisle and saw him aiming his gun. I took off. Everybody took off," said Booker Steverson, who was helping assemble airplane parts when he heard the first shot.
Exactly what set Williams off was not immediately clear, but co-workers said he had had run-ins with management and several fellow employees.
"Mr. Williams was mad at the world. This man had an issue with everybody," said co-worker Hubert Threat. "It's not just about race. It was just the excuse he was looking for."
Williams was white, and four of his victims were black; the fifth was white.
Nevertheless, Sheriff Billy Sollie said it appeared Williams fired at random with the shotgun and the semiautomatic rifle. "There was no indication it involved race or gender as far as his targets were concerned," Sollie said.
Several co-workers said they were not surprised when Williams was identified as the killer.
"When I first heard about it, he was the first thing that came to my mind," said Jim Payton, who is retired from the plant but had worked with Williams for about a year.
Steverson said Williams was known as a racist who did not like blacks. And Payton had said Williams had talked about wanting to kill people. "I'm capable of doing it," Payton quoted Williams as saying.
One of those killed was Lanette McCall, a black woman who had worked at the plant 15 years. Her husband, Bobby McCall, said she expected Williams to harm someone someday.
"She said he made a threat against black people," a distraught McCall said. He added: "Obviously, he was a sick guy. I wish somebody had given him some help before he done destroyed my life and my kids' life."
Russell Wright, who works at the plant but was not there Tuesday, described Williams as "a hothead."
The sheriff said he had no information on whether the gunman had been in trouble with his bosses. He said Williams had attended a meeting Tuesday morning with other employees, some of whom were later shot.
"We are not sure if those killed were friend or foe," the sheriff said.
Austin Clark, who called in sick Tuesday, said Williams made accusations when he was angry. "He's had problems with white people, too," said Clark, who is white. "I have no idea what set him off."
Law officers made vehicles go through checkpoints outside the plant at midday as about two dozen people waited to learn the fate of their loved ones.
Some of the wounded were hospitalized in critical condition.
The shooting stunned residents of Meridian, a city of 40,000 near the Alabama line whose economy is largely dependent on the military. It is home to the Lockheed plant, a naval air station and an Air National Guard training center.
"We know one another, almost everyone knows someone who works in the building, or has a relative who works in the building," said Craig Hitt, president of the Lauderdale County Board of Supervisors.
The Rev. Kathy Spells pleaded for racial unity the city mourns its losses. "It's time to get together and pray and get this racist thing over with," Spells said.
It was the nation's deadliest workplace shooting since a software tester in Wakefield, Mass., killed seven people the day after Christmas in 2000.
The Meridian plant employs about 150 people and builds parts for C-130J Hercules transport planes and vertical stabilizers for F-22 Raptor fighter jets.
"All of us at Lockheed Martin are shocked and incredibly saddened that this incident occurred," spokeswoman Meaghan Mariman said at the company's Bethesda, Md., headquarters.
Lockheed Martin is the biggest defense contractor in the United States. The corporation had sales of $24 billion in 2001. It employs about 125,000 people.
Gov. Ronnie Musgrove said: "Mississippi's family grieves today for this senseless tragedy. My thoughts and prayers are with the families and friends of those lost."
---
Meridian shooter 'mad at the world' officials look for motive in Lockheed attack
Columbia Daily Tribune
July 9, 2003
MERIDIAN, Miss. (AP) - Police were trying to determine why an assembly-line worker described as "mad at the world" left a business meeting at an aircraft parts plant only to return and gun down 14 colleagues, killing five. Doug Williams shot himself yesterday after his lethal rampage at the Lockheed Martin plant. Co-workers said the 48-year-old worker had had run-ins with management and several fellow employees.
---
Factory killer got counseling
St. Louis Post-Dispatch
July 10, 2003
Doug Williams sat in a meeting with managers at his factory job Tuesday, listening to them explain the importance of being honest and responsible. Also on the agenda: getting along with co-workers, regardless of sex or race. Finally, Williams had heard enough. He walked out of the room, telling co-workers, "Y'all can handle this."Minutes later, he returned with a shotgun and a rifle. He sprayed the room with shotgun blasts, killing two people.
---
Killer defended by girlfriend, shooting: Woman calls factory worker a victim, human
Long Beach Press-Telegram
July 11, 2003
The girlfriend of the factory worker who killed five fellow employees this week interrupted a memorial service Thursday by standing up in the church and saying the gunman also should be viewed as a victim.
Mayor John Robert Smith was speaking during the community service when Shirley Price stood and spoke: "Excuse me. Don't criticize this man. He was human too ... don't exclude him. He was a victim, too. ... He was a kind and loving human being."
Price broke into tears and left the church. Her boyfriend, Doug Williams, committed suicide after shooting 14 co-workers, killing five, at the Lockheed Martin aircraft parts plant Tuesday.
---
Lockheed worker: Gunman made many death threats, Company said Williams showed 'unacceptable behavior'
Telegraph Herald
July 12, 2003
MERIDIAN, Miss. (AP) - A Lockheed Martin employee says the man who killed five co-workers and himself this week repeatedly threatened to kill him and other blacks at the plant nearly two years ago. Four blacks were among those killed by Doug Williams in Tuesday's shooting at the aircraft-parts plant, although most of the nine injured were white, as was Williams. Several co-workers have described him as a racist. Aaron Hopson, of Meridian, told The Associated Press.
---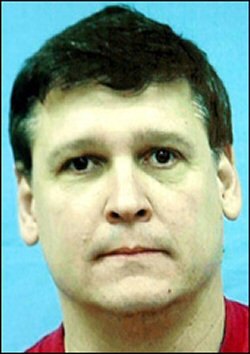 Doug Williams