WILLIAMS, LARRY C. # 6
OFF DEATH ROW SINCE 07-08-88
DOB: 03-28-1958
DOC#: 10213 White Male
LaPorte County Circuit Court
Judge Robert S. Gettinger
Venued from Marshall County
Prosecutor: Ralph R. Huff, Fred R. Jones
Defense: Jere L. Humphrey
Date of Murder: April 12, 1979
Victim(s): Jesse Hubbard W/M/45 (Acquaintance of Williams)
Method of Murder: stabbing with butcher knife
Summary: Williams and Larry Perkins agreed on a scheme to blackmail Jesse Hubbard and went to his house for that purpose.
They drank beer, smoked pot, and watched TV for awhile, when they decided to rob him instead. Perkins hit Hubbard on the head with his pistol and Williams stabbed him several times in the chest with a butcher knife. He then hit him with a whiskey bottle and a piece of pipe.
The men attempted to wipe off their fingerprints, took Hubbard's billfold, and went to Williams' mother's house to split the money.
The State's star witness was Perkins, who had entered into a plea agreement with the State involving this murder and two others.
Conviction: Murder, Felony-Murder, Robbery (A Felony), Conspiracy to Commit Robbery (A Felony), Habitual Offender
Sentencing: September 11, 1980 (Death Sentence, 90 years, 30 years, 30 years, 30 years)
Aggravating Circumstances: b (1) Robbery; Convicted of another murder on 05-09-80
Mitigating Circumstances: 21 years old at the time of the murder, beer and marijuana intoxication, stealing, dealing drugs all his life, lived in poverty, his younger brothers are also in trouble with the law, abandoned by his father at age 11.
On Remand: New DP Sentencing Hearing conducted and aborted by mistrial on grounds of juror misconduct.State then withdrew request for death sentence. LaPorte County Circuit Court Judge Robert S. Gettinger sentenced Williams to consecutive terms of 60 years (Murder), 30 years (Robbery), and 30 years (Conspiracy to robbery) totaling 120 years imprisonment.
---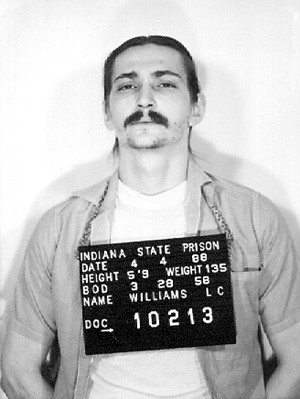 Larry C. Williams