WILLOUGHBY, MITCHELL, DOB 10-5-58, was sentenced to death September 15, 1983 in Fayette County for the participation in the murder of three people with Leif Halvorsen, also under the death sentence.
On January 13, 1983, the two men shot to death Jackqueline Greene, Joe Norman and Joey Durham in a Lexington, Kentucky apartment. That night they attempted to dispose of the bodies by throwing them from the Brooklyn Bridge in Jessamine County, Kentucky.
---
Mitchell L. Willoughby
In Fayette County in 1983, this killer, along with Leif Halvorsen, executed a teenage female and two male victims inside a home they were remodeling. These killers shot the female eight times in the back of the head. They shot the younger male five times -- in the back, testicles, right arm, left leg, and right temple. They shot the other male three times -- in the back, the chest, and in the back of his neck.
Victims:
Jacqueline Greene
Joe Norman
Joey Durham


---
Mitchell L. Willoughby was convicted with Leif Halvorsen of 3 counts of murder, 2 of which brought death sentences. A codefendant, Susan Hutchens, received a 10 year term in exchange for testifying against the two men. The victims had been shot during a drug-related argument at a home in Lexington, Kentucky. Two bodies were found on a bridge, each bound to a heavey rock. A third was found in the river below the bridge.
Early one morning in 1992, a corrugated box arrived in the mail at my Boston studio. The package turned out to be a macabre calling card. Mitchell Willoughby, a prisoner we had written to, had sent one of his handmade sculptures. Well crafted, it was a miniature figure sitting in the electric chair, faithful to the smallest detail. I was not amused. But rejecting him for his perverse sense of humor would be missing the point. So, I wrote back.
The gift turned out of be a test. Mitchell Wiiloughby would react to my request to photograph him depended on how I would respond to his gift. From inside his prison, Mitchell was trying to screen out the tourists. My letters struck the right chord. With a minimum of preparation I was off to Eddyville, where the new Kentucky State Penitentiary stood.
It was one of the few prisons where I was allowed on death row. The state is very proud of its brand-new facility. Once inside, I was introduced to everyone. Some of the inmates were dressed in shorts & T-shirts; others, stepping out of the shower, were wrapped only in towels. Slowly, one by one, the guards and administrators were called away. In the commotion the metal door was closed, & I found myself outnumbered by the prisoners.
The inmates usually busied themselves with pool, checkers, chess, and a Universal workout machine. In the cavernous common room, dozens of men milled around, wandering in and out of their cells. To rid myself of the eerie feeling of being watched, I concentrated on the work at hand. Making a subject comfortable in front of a camera is a daunting task.
Mitchell Willoughby is a big man. He lifts weights & practices Tae Kwon Do when no one is looking (the martial arts are illegal in prison). Soft spoken, he didn't talk much; when he did, his comments were usually monosyllabic.
Mitchell's partner in crime shares the same cellblock; we talked with him briefly about his family. While we were speaking, we were interrupted by a man who we later found out had been on death row longer than anyone else in the United States. He had been sentenced to die in 1960. No one has been executed in Kentucky since 1962.
---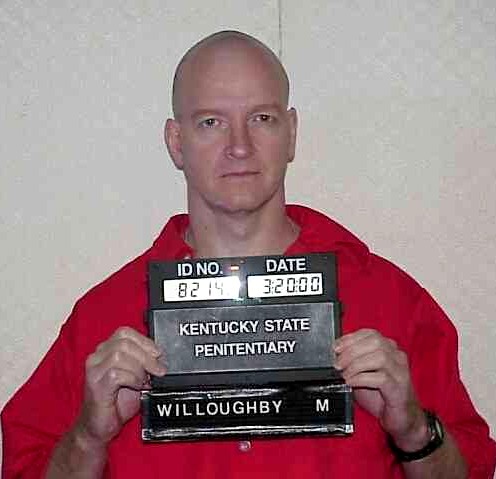 Mitchell Willoughby