Brandon Wilson (c. born in 1978) is incarcerated on Death Row at San Quentin State Prison for the murder of 9-year-old Matthew Cecchi in Oceanside, California on November 14, 1998.
Wilson was twenty years old when he followed the boy into the men's washroom at the Oceanside Harbor. Cecchi, who was at a family event, was escorted by his aunt to the washroom. She stayed outside near the door waiting for him. Wilson, a drifter from Milltown, Wisconsin, quickly took out a knife and pulled Matthew's head back and slashed his throat from ear-to-ear without making a sound.
Wilson left, walking past Matthew's aunt and hissing, "What's going on?" at her. This alarmed her, causing her to call out to her nephew. Hearing no answer, she entered the washroom and screamed when she found the little boy lying dead in a pool of blood.
Oceanside police immediately cordoned off the area in an attempt to find the killer, but Wilson was not caught until a few days later when he attacked a woman in Los Angeles.
The Trial
Brandon pleaded not guilty by reason of insanity and his trial began on September 13, 1999. Wilson told investigators he killed Matthew because God told him to do it and then to go on a killing spree. Wilson's public defender, Curt Owen, portrayed him as an insane young adult who heard voices. He had no permanent place of residence and he had been abusing LSD since he was 14.
Curt Owens told jurors that Wilson had experienced urges to kill since he was a teenager. At age 13 Brandon was profoundly affected by his parents divorce. The divorce apparently made Wilson develop a hatred against his mother. He had fantasies of killing her. Wilson believed he was a warrior for God. Wilson was also disturbed by the sudden death of one of his closest friends in a car accident.
According to his attorney, Brandon graduated high school and received a $25,000 settlement for injuries he sustained in a car accident. Brandon used the money to travel the country and find God.
But the jury rejected all those arguments upon viewing a police videotape of Wilson describing the attack on Matthew Cecchi. Brandon appeared happy and proud of his actions. He smiled and laughed several times as he demonstrated to a police officer how he attacked the boy. Brandon even admitted he knew his actions were wrong.
Conviction
On September 28, 1999, the jury quickly returned a guilty verdict. Brandon's reaction to the verdict was a happy one. During the penalty phase, Brandon took the unusual step to testify. He urged the jury to give him the death penalty. He told the jury society would be a better place without him. He admitted having no remorse for Matthew Cecchi, and told them he was capable of killing another child and enjoying it.
The jury agreed and gave him the death penalty. Just a few weeks shy of the one year anniversary Brandon Wilson was sent to deathrow at San Quentin State Prison.
Wikipedia.org
---
Judge makes it official: Brandon Wilson must die
By Harriet Ryan - CourtTV.com
November 4, 1999
SAN DIEGO, California (Court TV) — Unrepentant child killer Brandon Wilson was officially sentenced to death Thursday for the murder of a 9-year-old boy in a California public restroom.
Calling Wilson "beyond the pale of salvation," Judge John Einhorn brushed off a plea for mercy by Wilson's public defender and imposed the death sentence recommended Oct. 6 by a jury.
"Mr. Wilson, you have made real every parent's nightmare. By your twisted and selfish actions, you have take from us our most precious asset, that is our children," Einhorn said.
Wilson, a drifter and psychedelic drug user, slit Matthew Cecchi's throat Nov. 14 as the boy used the bathroom at the Oceanside, Calif. beach where his relatives were holding a family reunion. Wilson told authorities that he killed at the direction of God and chose Matthew because he was "innocent."
Family and friends filled the courtroom to offer support for the Cecchi family, which according to Sharon Cecchi, Matthew's mother, has "fallen apart" since the boy's death. Matthew's father, Lou Cecchi Jr. is battling cancer, and he and Sharon have decided to divorce.
In a letter read by family friend, Michael Lamph, Lou Cecchi Jr. told the court that Wilson, whom he described as a "punk" and a "freak", had destroyed "our happy family of four." Because of Wilson's heinous act, Matthew's father said he had become "a robot." "Divorce, cancer, and murder all in one year, I feel like an actor in a horror movie," wrote Cecchi.
His estranged wife delivered her own heart-breaking impact statement. She read letters from Matthew's classmates and spoke about the devastating "pain and loneliness" of her remaining child, Nicholas, 4.
Of Wilson, she said, "May he not relish in our pain."
"Let him see the face of a dying person every day and every night, and let that face be his own. This is what he wants, this is what the jury demanded. Let it be done."
Deputy Public Defender Curt Owen could do little to stop the death sentence. The judge rejected both of the motions he had filed asking for Wilson's sentence to be reduced to life in prison without the possibility of parole. In the first, a mandatory motion, he argued that mitigating circumstances, including Wilson's psychiatric history, youth and drug use, precluded the death penalty. In an eloquent second motion, Owen quoted Shakespeare and Clarence Darrow in an outright argument for mercy.
He wrote, "No, Brandon Wilson does not deserve mercy. Mercy is never deserved. Mercy is an act of grace, an act of grace which can only be bestowed when it is not deserved. Were it deserved, it would be merely justice."
While Wilson chose not to speak at his final sentencing Thursday, he took the stand last month to say he had no remorse and demanded that jurors execute him.
"I would do it again in a second if I had the chance," Wilson said. "I've explained to you my position here. My whole purpose in life is to help destroy your society. You people are here as representatives of that society. As such, you should do everything in your power to rid the world of me. Execute me."
After the judge imposed the sentence, the 65-year-old veteran defender called the case "a living hell" and said he planned to retire because of the cumulative effect of cases like Wilson's. He called his client "my worst opponent" and said, "He outdid me. He got what he wanted."
During the sentencing, Wilson wore his characteristic half-smile and sometimes looked bored. Only twice, did he lift his eyes from the defense table and follow the court action. He looked up first when Cecchi family friend Lamph, addressing him directly, seemed to mock his "emissary of God" defense.
"This was not an act of God. God had no role in this. It was Satan. And he made a fool of you," said Lamph. "I hope and pray you rot in hell for eternity." He also appeared interested when Einhorn mentioned San Quentin, where California's death row is housed.
---
Jury recommends death for Wisconsin drifter in child's slaying
By Bryan Robinson - CourtTV.com
October 6, 1999
VISTA, Calif. (Court TV) — Unable to put aside his admitted lack of remorse and sadistically gleeful reenactment of the slaying of 9-year-old Matthew Cecchi, California jurors Wednesday granted Brandon Wilson's wish and recommended his execution.
During deliberations on Tuesday and Wednesday, jurors asked for a readback of Wilson's testimony in the sanity and death penalty phase of his trial. They also asked to review Wilson's taped police confession and the Cecchi family's 911 call after finding the little boy gravely wounded in the Oceanside, Calif. public park bathroom.
Wilson's attorney, Curt Owen, tried to convince the jury to show mercy, despite his client's statement during his death penalty hearing. On Monday, after Cecchi's mother tearfully told the court how her son's loss had affected her and her family, Wilson took the stand against Owen's wishes and told jurors that he felt no remorse for the killing and would do it again "in a second." Wilson then explained that his purpose on earth was to help destroy society and that the jury should do everything in its power to get rid of him — through execution.
That statement, along with a disturbing videotaped confession where a smiling, nearly ecstatic Wilson shows police how he killed Cecchi, was too much for Owen to overcome. He argued that Wilson is mentally disturbed and should be sentenced to life in prison without parole, where he could receive treatment.
But the prosecution, led by David Rubin, said that Wilson's actions and words showed that he is a "selfish predator" who fully knew what he was doing when he slit Cecchi's throat last November. During the sanity and penalty phase of the trial, Rubin focused on Wilson's admission that on the day of the murder he was looking — "hunting" — for a victim, preferably a pure, young one. Wilson also confessed that he chose to kill his victim in a dark bathroom so no one would be able to stop him. Wilson, Rubin pointed out, said he chose to go to Oceanside because he thought the place was large enough for him to "slip through the cracks" and get away with murder.
Stressing the brutality of the slaying, Rubin also reminded jurors that medical examiners testified that Cecchi was conscious for 10 long seconds before passing out. As Wilson held Cecchi's head back, Rubin pointed out, the last image Cecchi could have seen was his own blood hitting the bathroom wall with each heartbeat.
Perhaps the only people who may have been able to effectively generate sympathy for Wilson would have been his parents. But, largely thanks to Wilson, they did not testify on his behalf. Wilson, who told jurors that he hated his mother and fantasized about killing her when he was 16, reportedly requested that she not testify at his penalty hearing. In addition, defense attorney Owen told the court in a hearing last Thursday that he has not been in contact with Wilson's father recently. The elder Wilson has not been seen at his son's trial since the video reenactment of the murder was played.
Wilson's involvement in Cecchi's murder was never at issue; he admitted killing the boy during his arraignment last year. Although Wilson pleaded guilty to the murder with a special circumstance of lying in wait, California law also allowed him to add a plea of not guilty by reason of insanity.
Wilson's defense attorney argued during the sanity phase of trial that his client thought he was an emissary of God placed on earth to kill and could not appreciate the wrongfulness of his actions when he attacked Cecchi. Last week, jurors rejected that defense after reviewing the videotaped confession where Wilson admitted knowing society's views on murder and decided he would face a death penalty hearing.
Wilson will be formally sentenced by the trial judge on November 4. He is entitled to an automatic appeal to the California Supreme Court, whether he is pleased with his death sentence or not.
---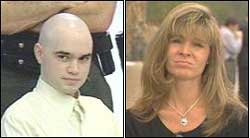 Matthew Cecchi's mother, Sharon, delivered a heart-breaking impact statement. She read letters from Matthew's classmates and spoke about the devastating "pain and loneliness" of her remaining child, Nicholas, 4. Of killer Brandon Wilson, she said, "May he not relish in our pain." (Court TV)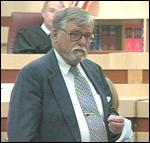 Brandon Wilson wanted to testify before the jury to aggrandize his evil image, according to his attorney Curt Owen, who repeatedly counseled his client not to take the stand. Wilson did agreed not to speak before the judge Thursday. (Court TV)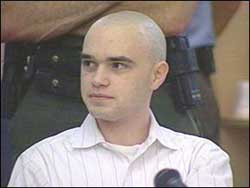 Brandon Wilson smiles as the jury grants his wish: a recommendation for the death penalty. (Court TV)