On 15 November, 1944, in a seedy downtown area, in a run-down hotel at the corner of Fourth and Main streets, a maid discovered the mutilated body of a prostitute, Virginia Lee Griffin, sprawled on a bed.
The street girl had been slashed open from her throat to her vagina and her entrails pulled out of her body. Her breasts had been cut off and an arm and a leg partly severed. The murder weapon, a razor-sharp carving knife, lay near the body.
A second mutilation murder was reported in another downtown hotel only three blocks away. The victim was another prostitute, thrity-eight-year-old Lillian Johnson. Her mutilations were less severe, but she was slashed from throat to knees.
Witnesses from both hotels gave similer descriptions to the police. They took the information, creating a dragnet around a twenty-block area. One officer spotted a man matching the description in a Fourth street bar. He was in a booth in deep conversation with a brunette in a tight red dress. He lit his cigarette with a matchbook from the hotel where Griffin had been killed.
Police arrested the man, and found that his fingerprints matched those found at both crime scenes. He easily confessed to both killings, admitting his compulsion toward bloodlust.
He told police that his first wife had left him because he would creep up on her when she was naked and slash at her buttocks with a razor. His favorite pasttime was kissing and licking the blood away while he appologised for his odd behavior. He stated that the fantasies had gotten out of control when he picked up the two prostitutes.
Steve Wilson was executed in the gas chamber of San Quentin Prison in September of 1946.
---
The Secret
Time.com
November 27, 1944
The shipyard barracks were quiet— too quiet—and on Sunday night rain drummed on the roof. Otto Stephen Wilson, 33, a fry cook in the yard commissary, looked at his face in the mirror. He could see why women smiled at him. With his black hair and neat mustache he resembled Robert Taylor, the actor. And women had no way of knowing what he was thinking, so secretly, when he smiled back at them.
Women had never given him comfort or peace. In the orphanage, in the Navy, in these last months of drifting, they had always subtly domineered over him. Before his wife left him, he had cut her with a razor. He was restless tonight, and lonely. Suddenly he made up his mind to get drunk and stay drunk. Before he went out he put his safety razor in his pocket. Even on a binge, he liked to stay neatly shaved.
In the cheap bars of Los Angeles' tenderloin he gulped his whiskey neat. After two days his hand was unsteady. But even after he bought the butcher knife, nobody could tell what he was thinking. When a woman smiled at him over a drink, he smiled back. She was a big, young woman, with lipstick smeared too heavily on her lips. Her name was Virgie. She was married, but her husband was away, and she liked a good time. He held her arm, gallantly, as they crossed the street in the rain and dark to the old Barclay Hotel.
She looked up unsteadily as they went in. "I got my horoscope told," she said. "Wednesday is my lucky day."
Nobody Knows.
Otto Wilson watched the woman take off her chartreuse suit and fold it neatly across a chair. When he hit her she fell across the bed. He choked her until she stopped breathing; then pulled her to the floor. After he took the butcher knife from his coat pocket he lighted a cigaret and drank from a bottle of whiskey. Then he knelt, knife in hand.
It was morning when he was through. On the floor lay a body, slashed and dismembered beyond recognition. He bathed and dressed and walked into the hall. A chambermaid smiled as he said, politely, "Please don't disturb my wife." He walked into the street.
Otto Wilson bought a ticket at the Million Dollar Theater, went in. As he watched The Walking Dead, a Boris Karloff horror picture, the thought kept buzzing through his head: "I have killed a woman, and no one here knows about it." When the picture was over he walked into another bar and ordered wine. He watched a woman at the bar. After a while she smiled. Her name was Lillian Johnson.
She could not tell what he was thinking. The woman pressed against him as they walked toward the ancient Joyce Hotel.
Do Not Disturb.
Otto Wilson smashed his fist against her as soon as she had taken off her clothes. Her neck was thin. After she had stopped breathing he remembered his knife—left behind at the Barclay. He walked to the washbowl, rubbed his face with soap & water, and shaved. Then he lifted out the razor blade, knelt beside the body on the floor, and pressed down with the thin bit of steel. He cut his hand. But he lingered awhile. On the way out he stopped before the desk clerk and said: "My wife is sleeping. Please don't disturb her."
Then he walked into the Red Front Bar, a few steps up the street. Nobody paid any attention to him. Soon, at both hotels, police were tramping the corridors, staring with disbelief at the ghastly things Otto Wilson had done.
When a policeman came into the bar, Otto Wilson was talking to another woman. The policeman came up behind him, looked at his cut hand, clapped a handcuff on his wrist.
At police headquarters Otto Wilson first politely denied, then politely confessed his crimes. In his cell, red-eyed, unsteady, but calm, he kept his black hair neatly combed. It was impossible to guess what he was thinking. Outside, his first victim's husband cried to police: "Leave me alone with that guy for five minutes and I'll save the state a lot of money!"
---
SEX: M RACE: W TYPE: T MOTIVE: Sex./Sad.
MO: Women dismembered in hotel rooms.
DISPOSITION: Executed Sept. 20, 1946.
---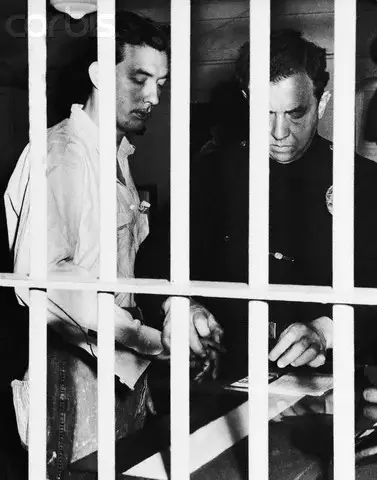 Otto Stephen Wilson (left) who, police say, confessed to the double mutilation slayings of Mrs. Virginia Griffin and Mrs. Lillian Johnson in Downtown hotels here, is fingerprinted behind bars by police officer Charles Pasco.