Two men were charged with murdering five family members during a December 21, 2002, robbery at their suburban Detroit home.
John Wolfenbarger, 31, and Dennis Lincoln, 27, were charged with five counts each of premeditated murder and felony murder.
Jeweler Marco Pesce, 38, his mother, Maria Vergati, 68 and Pesce's three children, Melissa, 6, Sabrina, 9, and Carlo, 12, were gunned down execution-style in Pesce's home. Police said the safe was open and the house ransacked. The killings happened after Pesce dropped his children off at his house in Livonia, then went to his office without entering the home, prosecutors said.
"We believe these three children walked into a home where the armed killers waited for them," Prosecutor Michael Duggan said. The burglars may have forced Carlo Pesce to call his father and ask him to come home after realizing the children didn't know the combination of the safe.
Wolfenbarger and Dennis, who had been cellmates also were charged with armed robbery, home invasion, being a felon in possession of a firearm and using a firearm during the commission of a felony.
The uncle of John Wolfenbarger testified in a preliminary hearing that his nephew bragged that he had done something that would make the national news.
Wolfenbarger's uncle, William Smith, 36, of Detroit, testified that he went to police after his nephew came to his home late on the night of the killings looking for a change of clothes and bragged that something he did would be shown on CNN.
Investigators suspect the two men began zeroing in on Pesce's house sometime in early December 2002. Pesce's 3,000-pound safe was filled with jewels, watches and other valuables.
The men were believed to have been cellmates in a Carson City prison and were paroled earlier in the year. Lincoln served nine years for armed robbery, and Wolfenbarger served eight years for a series of burglaries.
---
Facts
On the afternoon of December 21, 2002, Marco Pesce, an Italian immigrant who owned Italia Jewelry in Livonia, drove his three young children, Carlo, Sabrina, and Melissa, to visit their mother, Diane Pesce, who was in a residential drug treatment facility in Ann Arbor.
Marco picked up the children from their visit, then dropped them off at his home in Livonia at about 5:30 or 5:40 p.m., returning to work at approximately 6:00 or 6:15 p.m.
Marco's mother, Maria Vergati, who was visiting the family from Italy, was at the Pesce home at the time, and Marco did not exit his vehicle and go inside his home when he dropped off the children.
Shortly after Marco arrived back at work after dropping off the children at home, Carlo called Marco and told him to come home because Melissa had fallen and chipped her tooth. Marco left work immediately and returned home.
The next day Marco, his three children, and his mother were discovered dead in the Pesce home. They had each been shot to death on December 21, 2002. The house had been ransacked and the family safe had been emptied of jewelry and cash.
The evidence showed that Dennis Lincoln and his codefendant, John Wolfenbarger, carefully planned and prepared to rob Marco Pesce at his home.
Lincoln made a written statement to the police explaining his role in the crimes and describing how he and Wolfenbarger planned and prepared to commit their crimes.
Lincoln admitted that on December 19, 2002, he and Wolfenbarger, in separate cars, communicated by cell phone as they targeted Marco Pesce and watched Italia Jewelry. They attempted to follow Marco home, but could not tell which driveway he turned into.
The next evening, on December 20, 2002, Lincoln and Wolfenbarger followed Marco home again. This time, they succeeded in as certaining the location of Marco's home.
According to Lincoln, on December 21, 2002, he and Wolfenbarger purchased a clipboard, delivery receipts, and a teddy bear to further their plan to have Wolfenbarger pose as deliverymen to gain access to the Pesce family home. They also borrowed a pick-up truck from Wolfenbarger's friend to use when they committed the robbery.
According to Lincoln, late in the afternoon of December 21, 2002, Wolfenbarger drove the truck to the Pesce home, parked it in the driveway, and got out with the teddy bear and approached Vergati, who was in the garage. According to Lincoln put his hand in his coat pocket, which contained a .380 pistol, and Wolfenbarger and Vergati went inside the home.
Lincoln claimed that Wolfenbarger made a gesture with his hand, so Lincoln left the Pesce home in the pick-up truck and drove to Italia Jewelry to watch for Marco. Defendant and Wolfenbarger communicated by cell phone during this time.
According to Lincoln, Wolfenbarger told him that he told Carlo to call Marco at work and tell him that one of his sisters chipped her tooth to lure Marco home. Lincoln claimed that he fell asleep while he was sitting in the parked truck waiting for Marco.
Lincoln further claimed that he awakened at 6:21 p.m. and then drove to the Pesce home and picked up Wolfenbarger. Lincoln asserted that when Wolfenbarger got into the truck, he said, "five dead, Bro'."
Lincoln and Wolfenbarger then returned the truck to Wolfenbarger's friend and brought bags containing items from the Pesce home to Tracy Letts' home.
Lincoln denied being the shooter and claimed that he simply dropped off and picked up Wolfenbarger at the Pesce home. He also asserted that Wolfenbarger had determined that defendant did not need a gun because he would not go inside the Pesce home.
---
Defenders: Livonia Murder Is Allegedly Plotted, Planned
Investigation Goes Inside Shocking Crime
ClickonDetroit.com
January 30, 2003
One month ago, just days before Christmas, three children: Carlo, 12, Sabrina, 9, and Melissa, 6, are murdered along with their father, Marco, and grandmother Maria Vergati. They are shot, execution style, in the Pesce family home in an upscale suburban neighborhood.
For years, Marco Pesce makes jewelry. He's the popular owner of a local shop in a Livonia strip mall. It's here two ex-cons wait and watch, plotting to follow the businessman home to rob him.
Now for the first time, the Local 4 Defenders give you a personal glimpse into the Pesces' private lives.
Photos, shared by a family member, show the children in front of the Christmas tree: Melissa dancing, Sabrina at a Halloween party, and Carlo playing the keyboards.
Dad, Marco, and son, Carlo, pretend to hold up the Leaning Tower of Pisa during a family trip to Italy. In another photo, Marco gets a kiss from his mother, Maria.
In a plot lasting just a few short days, all five lives will be stolen in a home robbery by two ex-cons looking for cash and jewels, who are willing to murder to get them.
The Local 4 Defenders share exclusive new details in one of metro Detroit's worst murder scenes ever.
A cuddly looking stuffed animal, Cookie the teddy bear, is purchased by the alleged killers.
Investigators close to the case tell the Defenders the two ex-cons, Dennis Lincoln and John Wolfenbarger, pose as deliverymen, using the bear to lure the Pesce family into opening the door.
The men meet the grandmother at the garage where Wolfenbarger reaches for his gun and forces his way inside.
The ex-cons formulate their plan in a Livonia parking lot. For two days they watch through trees, keeping an eye on Italia Jewelry.
When Marco Pesce leaves for the day they follow him home.
The Defenders have discovered Pesce wasn't the first jeweler Lincoln and Wolfenbarger stalked. Several jewelers from Garden City, Dearborn, and Livonia were also targets. The Defenders discovered new documents which raise the question, should these career criminals have been out of prison and on the streets?
Never before seen documents reveal Dennis Lincoln's criminal history, which includes alcohol and drug abuse.
He robbed a gas station at gunpoint and spent eight years behind bars at a Michigan prison.
The Defenders obtained Lincoln's prison record, which shows misconduct and poor adjustment while locked up. He's labeled as a high-risk factor on his parole eligibility sheet.
The records also indicate several improvements in attitude and participation in father-nurturing classes. The repeat offender is released from prison last February.
After he's released, Lincoln gets a job working with the public and you may have come face to face with him.
He works at the information desk at Great Lakes Crossing in Auburn Hills. His next move is to Walden books at the same shopping center.
Parole records show two days after the Pesce family is murdered, Lincoln checks in with his parole officer. The ex-con reports no problems.
Lincoln's alleged partner in crime? John Wolfenbarger.
At 18, Wolfenbarger grabs headlines in 1989 when he robs several local homes, many while families are inside. He steals cash and jewelry and is convicted and sent to prison.
The Defenders have learned Wolfenbarger escapes from prison and commits more crimes while on the run. He's caught and serves more time.
Wolfenbarger's risk factor, according to his parole eligibility sheet, is listed as middle to high, but despite a long rap sheet and his escape, Wolfenbarger is released from prison last August.
Lincoln and Wolfenbarger met while serving time at the Boyer Correctional Facility in Carson City.
Once out, the two ex-cons reunite and it takes just five days for the men to plot and pull off one of the most horrible crimes in metro Detroit.
When it's over, five people are dead: Maria Vegati, her son, Marco Pesce, and three children.
---
Two Arrested for 'Worst Jewelry Crime in a Generation'
JCK-Jewelers Circular Keystone
Saturday, March 1 2003
Two men have been arrested and will stand trial for the Dec. 21 robbery and murders of a 38-year-old retail jeweler and his family in Livonia, Mich., a Detroit suburb. The murder of Marco Pesce, an Italian immigrant who owned the Italia Jeweler in Livonia; his mother, Maria Vergati (a resident of Italy who was visiting the family for the holidays); and Pesce's children—Carlo, 12, Sabrina, 9, and Melissa, 6—is the "worst crime in the U.S. jewelry industry in a generation," says the Jewelers Security Alliance in its report.
According to JSA, police reports, and the Detroit News and Livonia Observer newspapers, the two suspects, identified as Dennis Lincoln, 27, Flint, Mich., and John Wolfenbarger, 31, Detroit, were former prison cellmates with long criminal histories. Each was charged with five counts of premeditated murder and felony murder. Both pleaded innocent.
According to the Livonia Observer 's account of Lincoln's hearing on Jan. 10, the two suspects allegedly decided weeks before the murders to follow a jeweler home and rob him. Police said they targeted jewelry stores in Livonia and Dearborn, Mich., and selected Pesce several days prior to the robbery.
Posing as deliverymen bringing a teddy bear wrapped as a Christmas present, they watched the Pesce home until they saw Maria Vergati go into the house's garage. With the phony Christmas present in hand, Wolfenbarger allegedly approached her in the garage, then pulled out a gun, and directed her into the house, said the Observer.
After the Pesce children were dropped off at home after school, Lincoln reportedly said he went to the jewelry store to watch for Pesce. Meanwhile, says JSA, the robbers ordered the jeweler's 12-year-old son to phone his father and ask him to come home, claiming 6-year-old Melissa had fallen down and hurt herself. When Pesce arrived, he was forced to open the house's basement safe, which contained jewelry, watches, and other valuables.
Lincoln later told police he had fallen asleep in his car while watching the jewelry store and only awoke when Wolfenbarger phoned him to come to the Pesce home to pick him up. Afterward, the two went to Detroit where, says the Observer , "they began working at cleaning the jewelry and preparing to melt it down."
The bodies of Marco Pesce, his mother, and his children—who had been shot execution-style—were discovered at their home one day later, says the Detroit News . The newspaper reported that the suspects allegedly showed some of the stolen jewelry to Wolfenbarger's uncle, the leader of a local motorcycle gang. He reported them to the police on Dec. 23 because of the children's murder, he said.
The two suspects were arrested on Christmas Eve following an intense police investigation. During their Christmas Eve raids, police recovered the stolen jewelry—including a watch taken from Pesce's wrist—as well as the alleged murder weapon.
Because the murder occurred during the commission of a robbery, which also is a felony, the crimes are considered felony murders and carry a penalty of life imprisonment. Even if Lincoln wasn't in the Pesce home, he could be found equally guilty as if he had committed murder, his attorney told the Observer.
Relatives of the Pesce family have established the Carlo, Sabrina, and Melissa Light of Life Memorial Fund—named for the three murdered children—to help save the eyesight of children of poor Italian families who don't have enough money to cover medical bills.
---
Michigan: Murder Convictions For 2
The New York Times
May 10, 2003
Two men were convicted of murdering a jeweler and four family members in the robbery of $3,200 and jewelry from a safe in the victims' house in Livonia.
Separate juries found the men, John Wolfenbarger, 31, of Detroit, and Dennis Lincoln, 27, of Flint, guilty. They face mandatory sentences of life in prison without parole.
The jeweler, Marco Pesce; his children; and his mother, Maria Vergati, were found shot to death on Dec. 21. The verdict against Mr. Lincoln was reached last month but was sealed until the verdict against Mr. Wolfenbarger was reached.
---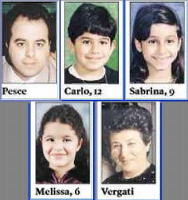 Livonia, Michigan jewelry store owner and his family who on Dec. 21 were shot to death in their home by recently-paroled robbers Dennis Lincoln and John Wolfenbarger, after the Pesce's had complied with the robber's requests and emptied the safe. Slain where jeweler Marco Pesce, 38; his mother, Maria Vergati, 68; and Pesce's three children, Melissa, 6, Sabrina, 9, and Carlo, 12.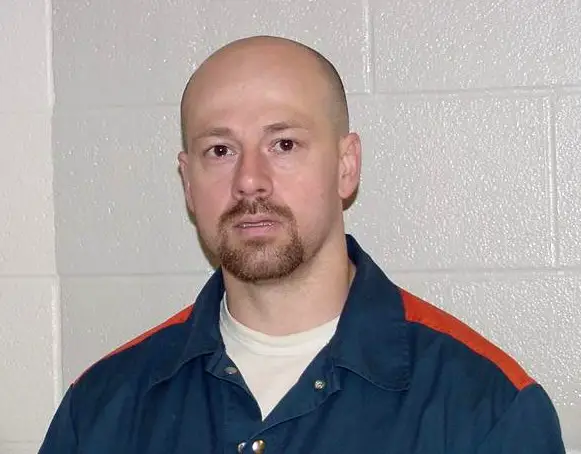 John Thomas Wolfenbarger