Woloson convicted in 1981 of slaying of SIUC student
Murder mystery finally solved
Daily Egyptian
Sunday, March 19, 2006
MURPHYSBORO - Few things remain in the grassy area where an SIUC student was raped and murdered nearly 25 years ago. Until Friday.
After a man was convicted of the 1981 murder of Susan Schumake late last week, yellow tulips and a smiley face balloon could be spotted at the area where she was killed across from the Physical Plant. The case was finally closed.
After the jury deliberated for about an hour and a half, the verdict Schumake's family and friends had waited for more than two decades was delivered. A Michigan man, Daniel Woloson, was found guilty of murdering the 21-year-old radio television student from Chicago Heights.
Schumake's brother John clutched a red rosary as high school and college friends of Schumake wept, holding one another's hand.
"Our little friend can finally rest in peace," said Mary Giobbi, a high school friend of Schumake who traveled from Oregon to hear the verdict.
The courtroom was filled with retired police officers who worked on the case and friends and family of Schumake. After the guilty verdict was read, a few sighs could be heard, but the courtroom was nearly silent.
Then the sound of chains echoed in the courtroom as deputies shackled Woloson and took him back to jail. He will remain in the Murphysboro jail until the judge sentences him on April 26.
Woloson, 46, was arrested and charged with Schumake's murder on Sept. 23, 2004, after the woman friends referred to as a "gentle spirit" was brutally raped and murdered on Aug. 17, 1981.
Advances in DNA technology helped create a DNA profile of the person who raped and killed Schumake. The DNA profile showed that there was one out 290 million people that it would match. It matched Woloson.
Schumake's body was found between the railroad tracks and Highway 51, along a pathway known then as the Ho Chi Minh trail. While the trail still remains, it is no longer used. After Schumake was killed, the pedestrian overpass near the Physical Plant was erected and named in her memory. A fence prevents access to the trail from the Brush Towers.
Cass VanDerMeer and Juli Claussen were students at the time of Schumake's murder and attended Woloson's trial. While plans for the overpass were discussed before Schumake's murder, they worked to get the bridge erected in Schumake's memory.
"Now we know justice can be done," VanDerMeer said. "I am glad we were here for the whole thing."
Claussen said a sense of closure was gained after Woloson was found guilty.
John Schumake said he and Susan were close friends and that his younger sister's murder affected his family tremendously. He said his father died shortly after Susan's death from what he said was a "broken heart".
"He didn't just hurt my sister, but he hurt Carbondale and southern Illinois. It was like an open sore," he said.
Jackson County State's Attorney Mike Wepsiec, who prosecuted Woloson, said finally hearing the verdict was almost surreal.
He said after the trial was delayed so many times, he was unsure of when it would actually happen. Woloson awaited trial for nearly 18 months after his arrest. His attorney, Public Defender Patricia Gross, made several motions to continue based on DNA contamination.
While the prosecution used DNA evidence to link Woloson to Schumake's murder, the defense claimed the evidence was contaminated and never linked Woloson to the crime.
But the jury thought otherwise. After four days of testimony last week, the jury deliberated for less than two hours. The 12 jurors heard testimony from 19 witnesses. The majority of the witnesses were retired police officers who worked on the case and DNA experts.
Woloson was 22 years old when he raped and murdered Schumake. Woloson was working at the Quadrangle Apartment, performing maintenance labor. He could not be charged with Schumake's rape because the statute of limitation ran out years ago.
While DNA linked Woloson to the murder, John Schumake said the determination of several police officers played an integral role in solving the 25-year-old mystery.
Lowell McGee, a retired SIUC police detective, said he had a feeling it was Woloson all along. He had interviewed Woloson days after the murder and set up another meeting, but Woloson never showed.
In 1981, he made the trip to the Joliet Corrections department to visit Woloson. Woloson was serving time for a parole violation on a prior burglary conviction.
Sgt. Paul Echols of the Carbondale Police Department started working at the department one week before Schumake was killed.
He was the last witness the prosecution called to testify. Echols kept in contact with the Schumake family over the years and discussed advancing DNA technology with state police.
When technology advanced, a DNA profile was made of the unknown male DNA found in Schumake's vagina after she was raped.
After Echols had a profile, he went back to the other suspects. Police first believed convicted serial killer John Paul Phillips was guilty of the murder. However, after exhuming his body when he died in 1993 and testing his femur for DNA, he was ruled out.
Besides Woloson, there were two other suspects the police continued to look at. DNA ruled both of them out as well. When Woloson was asked to provide DNA, he refused and denied any connection to Schumake.
Echols talked to Michigan police, conducted surveillance and finally got a break when cigarette butts from a car Woloson recently sold were obtained.
The DNA from the cigarette butts matched the unknown male profile linked to the murder. He obtained a search warrant and went to Michigan where he arrested Woloson for the murder.
While Schumake's friends and family thanked Echols for his determination, he was modest and said he was only a part of the investigation.
"I was part of a much, much bigger team effort," Echols said. "In my mind, he's been guilty for a long time."
During closing statements, Wepsiec told the jury to use their common sense and convict Woloson. He told them to imagine a scenario at a football field where the stadium could seat 290 million people. He said after everyone whose DNA did not match the DNA found at the murder scene would sit down, only one person would remain standing.
"And that's Daniel Woloson," he bellowed to the jurors.
Woloson remained quiet and emotionless through the entire trial. Gross explained to the jury that the prosecution's theory was simply a theory and not a reality.
She told the jurors to only pay attention to the realities of the case, which include the contamination of the DNA. The prosecution admitted that one of the DNA swabs was contaminated, but Wepsiec and DNA experts explained that the DNA slide used to create the profile was not.
"There is no evidence at all that connects Mr. Woloson to the crime scene," Gross said. "If you have any doubts about the contamination then you can find that the state has not proven to you beyond a reasonable doubt."
But the 12 jurors didn't have any doubts.
John Schumake said he plans to return to Carbondale - a place he once had horrible memories of - for Woloson's sentencing in April.
After Woloson was arrested, John Schumake created a Web site that he used to provide trial information and updates for family and friends. He wrote about the flowers, marking the spot where his sister died.
"I believe my father, mother and sister can stop pacing the clouds in heaven, concerned that a violent and dangerous predator is on the streets," he wrote. "They can rest now."
---
Woloson guilty of 1981 murder
By Andrea Hahn - The Southern
Saturday, March 18, 2006
JACKSON COUNTY - An ordeal that began nearly 25 years ago ended on Friday with the guilty verdict of Daniel Woloson, who had been charged in the 1981 murder of Susan Schumake.
Schumake, a Chicago Heights native studying radio and television at Southern Illinois University Carbondale, was raped and murdered on Aug. 17, 1981, as she used a common shortcut across campus known then as the Ho Chi Minh Trail.
Woloson, a 46-year-old Michigan man, was arrested in September 2004, after improved DNA technology contributed to making him a prime suspect.
"The DNA in this case doesn't lie," Jackson County State's Attorney Michael Wepsiec said during his closing argument. "The defendant is the person in this great whodunit. Daniel Woloson is the person who killed Susan Schumake."
"This makes me feel sorry for people where the verdict doesn't come out the way maybe it should," John Schumake, Susan's brother, said after the verdict was read.
The courtroom was filled to capacity with friends and family of Susan Schumake on Friday. John Schumake held a rosary while the verdict was read, crossing himself quietly before the jury came in for the reading.
Judge Donald Lowery warned the assembly that he wouldn't tolerate "outbursts of any kind" before the clerk read the verdict. There were no outbursts, but there were tears and hugs. One friend of the family noticed that John Schumake was shaking with emotion after a stressful week.
"I don't think I'll stop shaking for a long time," he said.
He thanked Sgt. Paul Echols, a Carbondale police officer who played a crucial role in the investigation that led to Woloson's arrest, retired police officer Lowell McGee and Wepsiec.
"Police officers like Lowell and Paul don't come along often enough," he said. "I thank you, and my father (now deceased) thanks you. He can't be here, but I feel it in my heart."
To McGee he said, "You were a good police officer. If you hadn't been, this day would not have come."
Closing arguments centered on the DNA evidence that was a critical part of the case against Woloson.
Wepsiec used a flow chart to explain how the biological evidence used to create a DNA profile of Susan's killer remained untainted, though other biological evidence in the case became contaminated.
"The statistics given to you (showing that Woloson's DNA matches the DNA profile created from the evidence) are reliable only if the testing procedures are reliable," argued Woloson's attorney, Public Defender Patricia Gross. "The reality is that contamination is an issue - it is a huge issue. Despite all the safeguards (at the state police forensic crime labs) contamination happens."
"Let's talk about the reality in this case," Wepsiec said. "There was absolutely no evidence presented in this courtroom that proved the slide (used to create the DNA profile compared to Woloson's DNA) was contaminated. There was no DNA (expert) witness called to show that these procedures were invalid... (Woloson) says he didn't know Susan Schumake, didn't see her, didn't have sex with her, didn't kill her. Then how did his DNA end up in her vagina? That's a great piece of reality right there."
In an interview after the verdict was read, Wepsiec said he has been with this case for nearly two years. He said he can't allow himself to become emotionally involved.
"You've got to be objective," he said. "You have to be able to respond to last minute motions and objections."
The story of how Woloson was brought to justice, however, is a dramatic one.
When Susan Schumake was killed, the obvious suspect seemed to be John Paul Phillips, a man later convicted of murder and suspected of killing several young women in the area. Though Phillips was never charged with Susan Schumake's murder, friends, family and many law enforcement officers were certain he was Susan's killer as well.
Not all police officers were convinced. One was Lt. McGee. McGee had questioned Woloson in 1981 after finding his duffel bag in the general vicinity of the murder. There wasn't hard evidence to support an arrest at the time, but McGee said Woloson's manner, lies about his alibi and flight from the area made him suspicious of the then 22-year-old drifter.
"From the day (Det. Bob Hopkins and I) picked him up, we just had that feeling," he said. "When he ran, we were convinced."
In 2001, Echols, then a crime scene technician in Carbondale, used DNA technology to exclude Phillips as a suspect.
Echols had applied the latest in forensic technology, including latent fingerprint recovery, to evidence in the Susan Schumake case as well as other open murder cases that had gone cold. He sent biological evidence to the state police forensic crime lab and a DNA profile of the killer was created.
Echols used a femur taken from Phillips' exhumed body to have a DNA profile created of the favored suspect. DNA proved Phillips was not the man who killed Susan Schumake.
Echols collected blood standards from two other suspects. They were excluded.
In 2004, Echols used DNA collected from cigarette butts in a car previously owned by Woloson to create a profile. It matched the killer's. It was enough to get him a court order demanding a blood standard from Woloson. That and Woloson's admission that he had Susan Schumake's backpack within days of her murder - an admission that also placed him within yards of the murder scene - contributed to the arrest warrant.
Woloson was arrested in Michigan on Sept. 22, 2004.
Mary Giobbi, a close friend of Susan Schumake, said the case has been a terrible nightmare for Susan's friends and family. They were told Phillips was the killer, she said, and they thought the case was closed.
"Then when they exhumed Phillips and found he wasn't it, it all started over again," she said. "I think the hardest thing was watching her dad become a broken man because of what happened to Susan."
"We were so young when this happened," Luanne Blue, another close friend, said. "She was cheated from so much."
John Schumake said the closure of the case would bring closure to Carbondale as well.
"This affected my whole family," he said. "He didn't hurt just my little sister. But it hurt Carbondale as well. Until this was closed, it was like an open sore."
Woloson was stoic throughout the trial, showing no visible emotion at any point during the testimony, nor when the verdict was read.
---
Man gets 40 years for SIU slaying
Thursday, May 18, 2006
The Associated Press
CARBONDALE, Ill. -- A paroled burglar who for more than two decades managed to avoid arrest in the killing of a Southern Illinois University student taking a shortcut across campus was sentenced Wednesday to 40 years in prison for her murder.
Daniel Woloson, 46, was given the maximum allowable under sentencing guidelines in place in 1981 when he strangled Susan Schumake, 21, of Chicago Heights.
Jurors deliberated less than three hours in March before convicting Woloson of first-degree murder. No one had been charged until Woloson was arrested in 2004 while living in Michigan, after DNA technology made him the prime suspect.
Authorities said Woloson was a convicted burglar out on parole at the time of the slaying, worked at a Carbondale apartment complex and was not an SIU student.
At the time of Schumake's murder, police focused their attention on John Paul Phillips, a man later convicted of murder and suspected of killing several young women in the area. Though Phillips never was charged with her murder, friends, family and many law enforcement officers were certain he was Schumake's killer as well.
When DNA tests in 2001 failed to link Phillips to the crime, investigators, notably Carbondale police Sgt. Paul Echols, turned their attention to another stack of potential suspects that included Woloson.
On Wednesday, Wepsiec heralded Echols for doggedly pursuing Schumake's killer over the years.
"But for the diligence and determination of Sgt. Paul Echols, this case would never have seen the light of day," the prosecutor said. "He deserves a tremendous amount of credit for bringing Mr. Woloson to justice."
A message left Wednesday with Patricia Gross, Woloson's public defender, was not immediately returned.
Illinois Department of Corrections records indicate Woloson was on parole for a 1979 burglary conviction in Sangamon County at the time of Schumake's murder. A parole violation was the last time Woloson was in state custody. He completed his parole in April 1983 and had not been arrested again in Illinois.
---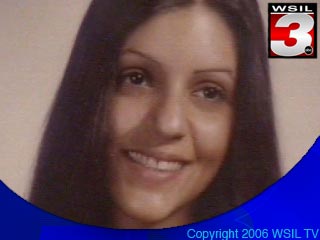 Susan Schumake, 21, the victim.