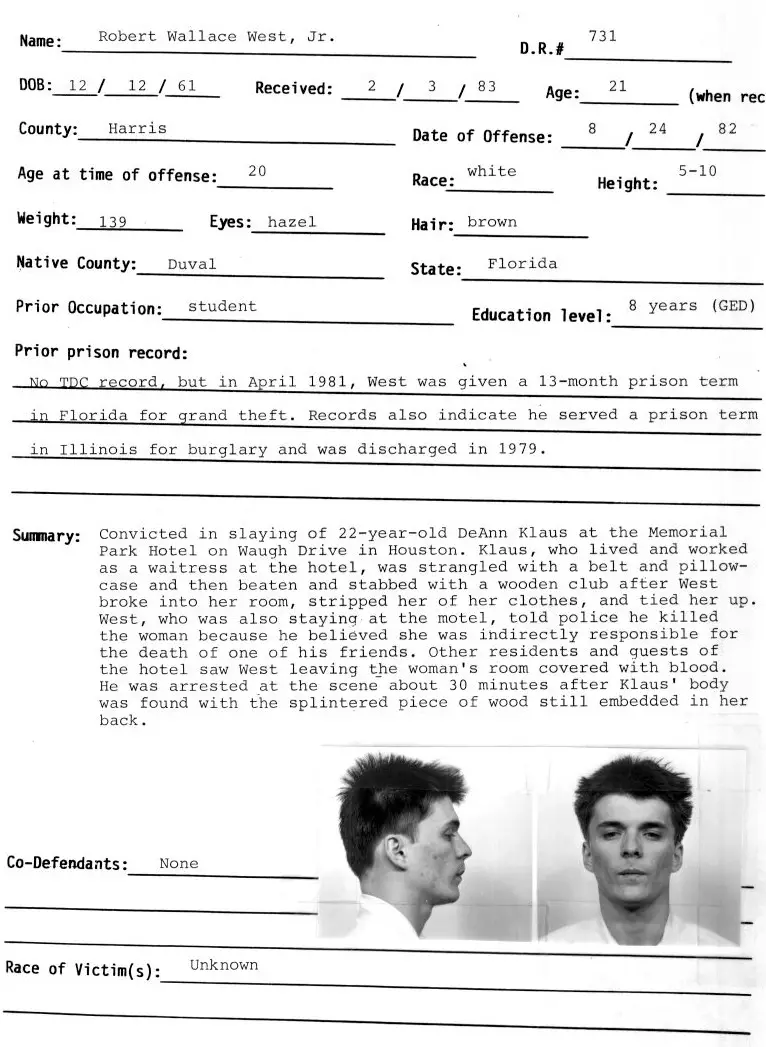 Date of Execution:
July 29, 1997
Offender:
Robert West #731
Last Statement:
I would like to apologize for all of the pain and suffering I put you all through. I hope this will give you closure now and later on down the line.

Bob, I appreciate you coming – Stacey and Jess.

I will wait for you –
Robert West Jr.
Age: 35 (20)
Executed: July 29, 1997
Education level: High school graduate or GED
Deanna Klaus, a 22-year-old waitress, lived one floor below West at a daily-rate motel in the Memorial area. West, believing Klaus was involved in the recent death of a friend, bound and beat her with a club on Aug. 24, 1982.
He, too, apologized just prior to his execution. But Klaus' mother said afterward, "I don't accept his apology. He's lying. Why did it take 15 years? I resent it when somebody gets all these chances."
---
92 F.3d 1385
Robert Wallace WEST, Jr., Petitioner-Appellant,
v.
Gary L. JOHNSON, Director, Texas Department of Criminal
Justice, Institutional Division, Respondent-Appellee.
No. 88-6108.
United States Court of Appeals,
Fifth Circuit.
Aug. 19, 1996.
Procedural Background
Factual Background
Discussion
In Thomas, supra, it was stated:
III. Admissibility of Confession
Conclusion