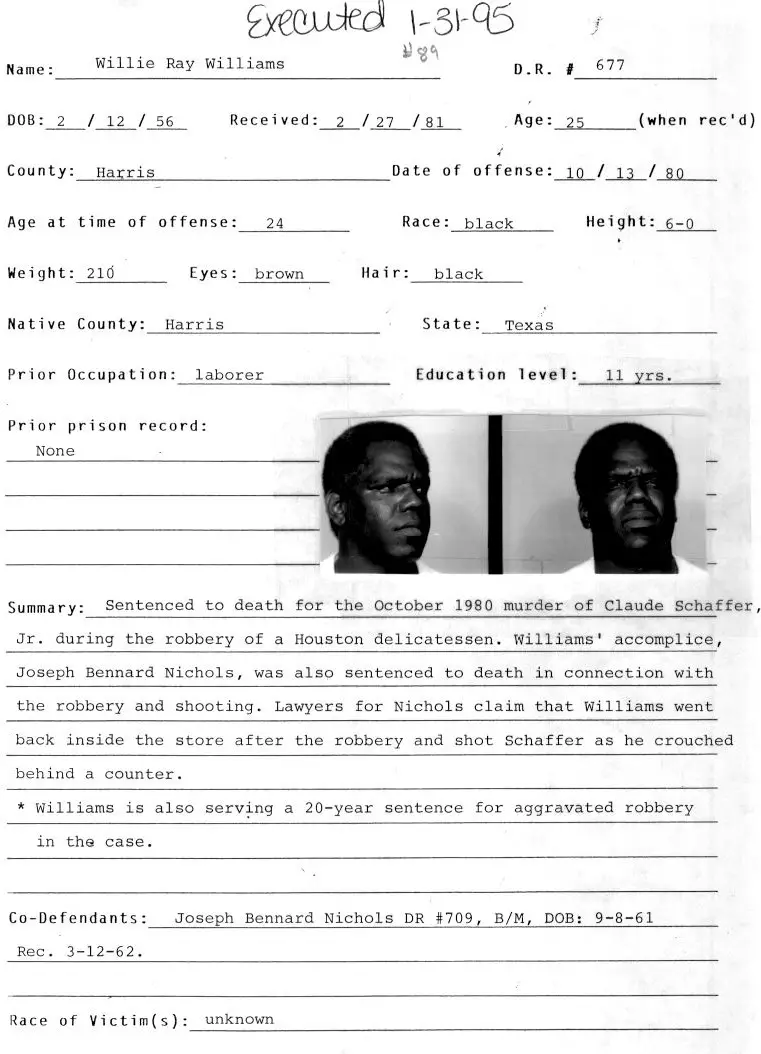 Date of Execution:
January 31, 1995
Offender:
Willie Williams #677
Last Statement:
There's love and peace in Islam.


Willie Williams
Age: 38 (24)
Executed: Jan. 31, 1995
Education level: 11th grade
Williams and Joseph Nichols both were sent to death row for killing Claude Schaffer Jr. on Oct. 13, 1980, while robbing the delicatessen where he worked. But prosecutors in their separate trials identified each man as the one who fired the fatal shot.
A federal district judge overturned the Nichols conviction because of the inconsistency, but that ruling was reversed by the 5th U.S. Circuit Court of Appeals.
---
Facts of the Crime
On October 13, 1980, Nichols and Willie Ray Williams drove to a spot near Joseph's Delicatessen and Grocery in Houston and entered the deli. Williams was armed with a .380 semi-automatic pistol; Nichols had a snub-nosed .38 revolver. Both men pointed their pistols at deli employee Claude Shaffer, Jr., who was behind the counter near the cash register.
When Shaffer saw the guns he began to bend over or squat down. Both Nichols and Williams then opened fire on Shaffer, who collapsed behind the counter. Deli employee Cindy Johnson testified that she was watching Shaffer after Nichols and Williams pointed their guns at him and that Shaffer never reached for a gun that he kept under the counter.
Investigators found a fully loaded .45 semi-automatic pistol on a shelf under the counter. There were no fingerprints on it and no .45 caliber fired bullets or empty shell casings were found.
After firing at Shaffer, Nichols and Williams ran to the door and Nichols went out. Williams either exited or partially exited and then turned and fired once more at Shaffer. Williams went behind the counter and grabbed the deli's cash box, then ran out of the deli with his gun and the cash box. Nichols and Williams then joined co-defendants Charlotte Parker and Evelyn Harvey in a waiting car and drove away. Nichols told Parker and Harvey "he had shot the man" and "he thought he shot him in the chest," and that Williams said he had run back into the deli and shot the man again. A few days later, Williams, Nichols, Parker, and Harvey were arrested.
Shaffer died from a single gunshot wound.


---
Willie Ray Williams was one of those young kids who got mixed up with the "wrong" crowd. He was only 17 by the time he was convicted of capital murder and sentenced to death. By that time he had already committed six other robberies that are known about. He already had the career of a criminal before he was even old enough to vote.
On Oct. 13, 1980 around 9 a.m., Williams and some friends Charlotte Parker, Evelyn Harvey and Joseph Nichols were all crammed into a blue Toyota when they decided to rob Joseph's Delicatessen and Grocery store in Houston. The girls stayed parked in the getaway car down the road while Williams and Nichols went in to rob the place. They went to the back of the store and Williams got a quart of beer from the cooler. They came up front and Nichols got a corn dog. They then both pulled their guns on 70-year-old deli employee Claude Shaffer Jr. and demanded that all the money be put into a sack.
Shaffer bent down as if to get a sack and came up from behind the counter with a gun. Nichols got scared and fired a shot. Shaffer then squatted down behind the counter to hide. Williams and Nichols started to run out of the store, but Williams turned around and saw Shaffer squatting with his back towards him. Williams then shot Shaffer in the back, killing him and ran back into the store to get the cash register box containing $8 and to look and see if he had hit Shaffer.
Williams was arrested three days later and confessed to the murder. He had a previous record that included three other robberies and later police found out two more robberies after the deli incident. Parker, who was a former girlfriend of Williams, testified against him in a plea-bargain attempt she had made with the prosecutor earlier to save herself.
"Parker really hurt Williams case during the trial," Blake Hall, one of Williams attorneys, said. "She's the one who told the police about all of the other robberies. She only did it because she was involved and she wanted to get off easier."
Williams tried to waive the jury trial, but that was impossible because it is mandatory in all capital punishment cases. This was an unusual case because Williams plead guilty to a capital murder case.
"I've never heard of that before," Joseph A. Garnett, another one of Williams attorneys, said. "It was strange because Williams lead counsel, Joe Cannon, had told him to plead guilty. He thought that since Williams committed the crime he would have a better chance at getting life imprisonment rather than the death penalty if he did so."
Needless to say Williams received the death penalty anyway. The jurors found Williams actions to be deliberate so they gave him the death penalty rather than life imprisonment.
"We tried to appeal on grounds of ineffective assistance of counsel, but the courts wouldn't go with it," Williams attorney Matt Pletcher said. "We also tried to appeal on the petty crimes that Parker had admitted as evidence because they were irrelevant to this case. We tried everything, but the governor wouldn't pardon him. I just felt really sorry for him."
Williams's execution was different from others and a first for Texas prison guards because two people were to be executed the same day. That day was Jan. 31, 1995, the same as Clifton Russell. They were kept in separate buildings so one wouldn't have to see the others being rolled out. Both were executed by lethal injection.