Authorities say Marcella Hope Yellowbear was tortured to death over a period of several weeks, starting around May 15, 2004, to July 2, 2004.
According to the testimony of the girl's mother, Macalia Blackburn (born December 20, 1981), who was sentenced to 60 years in prison for her role as an accessory, Yellowbear beat the girl daily in the couple's Riverton, Wyoming, apartment using a variety of objects, including the handle of a claw hammer, a sports sandal, a two-by-four, and a plastic stabilizer bar from a child's swingset.
Blackburn said she was too scared of Yellowbear to stop him from hurting the girl. Yellowbear had a history of domestic violence against the woman, a fact that came out in his roughly three-week trial, but only while the jury was absent as Judge David Park didn't want to prejudice the case.
Yellowbear continues to deny hurting the girl, blaming the abuse on Blackburn.
According to an affidavit from the Riverton Police Department, the girl suffered from "a skull fracture to the back of her head; numerous traumas to her head resulting in blood clotting between her scalp and her skull; a laceration below her chin extending to the underside of her tongue; a broken right arm; third-degree burns to her right hand fingers; large abrasions to her buttocks; a laceration and possible burn to the bottom of her left foot; numerous pinch and nail marks; deep tissue bruises over the course of her body; and distinct dehydration."
After he was convicted, Yellowbear filed a petition in U.S. District Court in Wyoming seeking to set aside the conviction on the grounds that only tribal and federal courts, rather than the state courts of Wyoming, had jurisdiction over the case.
His petition was supported by the Northern Arapaho and Eastern Shoshone tribes. Both Yellowbear and Blackburn are members of the Northern Arapaho Tribe, which shares the Wind River Indian Reservation with the Eastern Shoshone.
Yellowbear's lawyers argued for the venue change because the crime took place in Riverton, an incorporated city that is landlocked by the reservation. Felonies committed by American Indians within the boundaries of a reservation are heard in the federal court system, while misdemeanors are heard in the respective tribal courts of the reservation in which a particular crime occurred.
In 2008, Yellowbear filed a lawsuit against the Wyoming Department of Corrections claiming the state violated his constitutional rights by depriving him of 10 bald eagle feathers for use in religious ceremonies. In late July 2008, Judge Alan Bond Johnson of the United States District Court for the District of Wyomin approved a settlement allowing Yellowbear to get four eagle feathers.
ARAPAHOE -- The body of Marcella Hope Yellowbear rests in a small family cemetery on the Wind River Indian Reservation. The plot crests a hill southwest of Riverton, the city where she died on July 2, 2004, at the age of 22 months.
Investigators say she was severely abused and beaten in the days before her death. The back of her skull was fractured. Bruises, cuts and burns marked other parts of her body.
Several family members said "nobody will hurt you again" at the girl's funeral, according to Ruby Blackburn, her great-grandmother. Yet the funeral itself was a source of some conflict.
"We had to bury her without clothes," Blackburn said.
The girl's body had been sent to Colorado for an autopsy. Andrew John Yellowbear Jr., her father, and her mother's family then fought for control of her remains. A court order eventually settled the debate, sending the girl to the Blackburn cemetery.
At that point, Ruby Blackburn said, a week had passed. A funeral director advised against dressing the girl in a special outfit chosen for the occasion, and the casket was left closed.
Criminal proceedings and allocations of blame resulting from her death, however, are still open: Macalia Blackburn, her mother, remains in Fremont County's jail awaiting sentencing. The 24-year-old pleaded guilty in March to a charge of being an accessory to second-degree murder and is expected to testify against the man who fathered four of her children.
Andrew Yellowbear's trial on charges of first-degree felony murder is scheduled to begin Monday in Thermopolis. Fremont County prosecutors are seeking the death penalty for the 31-year-old.
The families of each parent remain bitterly divided about who is responsible for Marcella Yellowbear's death. Each side blames the other.
Both sides say the Northern Arapaho social services department that moved Marcella Yellowbear to different homes during her short life did too little too protect her when she was in danger.
The roots of that danger are difficult to unravel, as are the Blackburn and Yellowbear families. Andrew Yellowbear's mother is buried near her granddaughter in the Blackburn cemetery. Her name was Emily Rose Blackburn, and she apparently was adopted into the family at some point.
Half-sisters born a generation or two earlier also link the families.
Ruby Blackburn said she considers Andrew and Macalia to be cousins. That's one reason she and others discouraged the pairing.
"When they got together, we kept trying to stop it," Blackburn said. "We kept trying to split them up."
In spite of these efforts, Andrew Yellowbear and Macalia Blackburn had four children together. Marcella was born Aug. 15, 2002. Twins Consualo and Calista were born Sept. 20, 2003, and Tyrus was born Sept. 1, 2004, about two months after Macalia's arrest in connection with her daughter's death.
A rocky relationship
Police records and family members tell the story of a tumultuous relationship between and during those pregnancies.
On March 17, 2002, Blackburn and Yellowbear were arrested in Casper after police responded to the reported burglary of a television and stereo. The investigation revealed a fight, and Yellowbear was arrested on suspicion of felony assault. He told police that he became mad when Blackburn, who was then four months pregnant, wanted him to pawn the stereo she had taken, according to the arrest report.
Yellowbear later pleaded guilty to a misdemeanor charge of battery in connection with the fight. Blackburn pleaded guilty to a misdemeanor charge of criminal entry.
Marcella was born several months later and was quickly placed under the supervision of the Shoshone and Arapaho Tribal Court.
Another domestic fight was reported May 8, 2003. Blackburn was three months pregnant at the time. She told police that Yellowbear did not believe he was the father of the twins she was carrying and had punched her in the face, arms and stomach "numerous times" since the previous day, according to the investigating officer's report.
Although Yellowbear was first charged with aggravated assault, which is a felony, he later pleaded guilty to a lesser charge of battery against a household member. He served 113 days in jail and then was ordered to a year of supervised probation in April 2004.
The probation sentence was suspended a couple of months later following Yellowbear's arrest on suspicion of first-degree murder.
At that point, Marcella Yellowbear had been living with her parents in Riverton.
It is not clear precisely whose hands she passed through before returning to her parents. She stayed at times with Ruby Blackburn and at times with other relatives.
Velma Rhodes, administrator of Northern Arapaho Child Protective Services, said Marcella's case was closed before she was returned to her parents. As a result, she said, department social workers would not intervene in the case without further allegations of abuse or neglect.
"If we followed all the cases after they are closed, why, we'd be going bananas over here," Rhodes said. "I feel that we did what we are supposed to do."
Rhodes declined to talk in detail about the Yellowbear case, citing the upcoming murder trial and other unresolved issues. She did, however, confirm the authenticity of a document recording a report from an employee of another tribal service agency. The document, dated June 2, 2004, says Macalia Blackburn called to say she was taking care of Marcella in spite of her placement in another home.
According to the document, Marcella started living with her mother on May 21.
Ruby Blackburn put the date somewhat later, allowing only about a week between the time Marcella returned to her parents and the girl's death.
Many issues unresolved
Blackburn spoke about her great-granddaughter for a period of hours, expressing anger about what happened and regret that the situation remains unresolved. She became tearful toward the end of the conversation as she showed a photograph of Marcella taken at Christmas 2003.
"This was her last Christmas," Blackburn said. "There was nothing wrong with her."
Another time Blackburn described her as a "happy little girl."
Blackburn lives with her husband and several other family members in a yellow and white house near reservation town of Arapahoe. Andrew and Macalia's twins, now toddlers, live there, along with relatives of various generations.
The family cemetery is a short distance east of the house.
Lupe Blackburn joined her mother for portions of the conversation, adding a third chair to a small room at the front of the house on a chilly February evening. The room glowed from an electric heater, and activity inside the house could be heard at regular intervals as grandchildren and other family members passed in and out the front door.
Macalia was doing well in the months before her daughter's death, Ruby Blackburn said. She rented her own apartment. She was working, taking parenting classes and attending counseling sessions.
"The reason Macalia did all these things is she wanted Marcella back in her custody," Blackburn said.
A grandson and his girlfriend had helped raise Marcella at various times in the past, Blackburn said. That arrangement was not an option in May or June of 2004. Macalia asked for her daughter, Ruby Blackburn said, and she let her have her back. She said it was not apparent until later that Andrew Yellowbear was still in the picture.
The picture the Blackburns offered of the relationship between Andrew and Macalia in the days that followed and during earlier periods is one of abuse and secrecy. Yellowbear wouldn't let Blackburn speak with family and stopped her from attending classes, Ruby Blackburn said.
Both she and Lupe Blackburn had unflattering things to say about the Yellowbears in general, referring to examples of violence in the family's past.
"They grew up like that," Lupe Blackburn said. "They don't know anything about respect."
Yellowbear family's struggles
This opinion is mirrored somewhat in members of Yellowbear's own family. Martha Kilcrease, Andrew's sister, spoke of a series of killings in her family that claimed, among others, an uncle, an aunt and her father.
"Everyone we lost, we lost to homicide," Kilcrease said.
The violence has had an effect on how people view the family, Kilcrease said, leading perhaps to misinterpretation.
"They see us as having a lot of anger," she said. "We just want justice. Nobody ever gets punished for killing our family."
Justice in the case of Marcella Yellowbear appears an elusive thing, with the outcome of Andrew Yellowbear's trial uncertain and the custody of three children in dispute. Yellowbear and members of his family have sought visits with the twins, who are in Ruby Blackburn's care.
Neither family has access to the fourth child, who has been placed outside both families. Yellowbear has fought from jail to give the child his last name, and a court order last month appears to grant his request. Still, he has never seen the 18-month-old named Tyrus Anthony.
Kilcrease stridently defended her brother. He and Macalia did well with their twins, she said, yet fights were a part of their relationship, particularly when alcohol was involved. Andrew finished a jail sentence in the spring before Marcella's death. After the girl came to live with them, Kilcrease said, her brother "tried to bond" with the child.
Macalia was jealous, Kilcrease said.
"She specifically told them she used a 2-by-4 to beat Marcella in the head," Kilcrease said.
That statement and others are contained in the report filed by the Riverton detective who investigated the case. On July 3, according to the report, Macalia Blackburn told the investigator she was responsible for Marcella's injuries. Yellowbear, interviewed the same day, offered a similar version of events. Both said Marcella died after she was suspended in a closet by a strap through her bib overalls. They said Andrew Yellowbear was not home at the time.
On July 6, Blackburn told police she had been protecting Yellowbear and that he alone was responsible for the girl's injuries.
The changed account has been cast in varying light. The prosecution has argued that Blackburn suffered from the effects of an abusive relationship. According to this theory, they say, the altered story makes sense.
Yellowbear's attorneys have suggested that if such a theory is correct, it could call into question Blackburn's ability to testify in their client's trial. To the extent Blackburn suffered from abuse and what is called "battered woman syndrome," they argue, she could be considered an unreliable witness.
Kilcrease argued simply that Macalia told the truth when she was first interviewed. She questioned the fairness of an arrangement that now has the twins living with the Blackburn family.
"We are victims of this crime, too," Kilcrease said.
The sense of unfairness is shared. Lupe and Ruby Blackburn said they fear that some will see Macalia's plea to a reduced charge as an admission that she alone was responsible.
"Everyone is so quick to judge my niece," Lupe Blackburn said. "My niece did everything in her power to make sure her babies had a secure environment."
Such an environment, if it existed, did not last. The consequences continue to shake whole families.
"I'm sure glad this is going to be over with," Ruby Blackburn said. "This has been going on too long."
---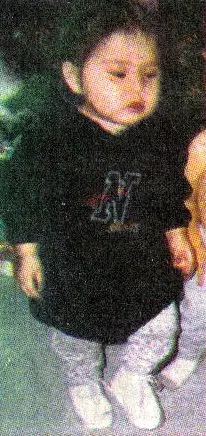 Marcella Hope Yellowbear, victim of child abuse.