Inquest into the Death of Jonathan Yeo: A Personal Perspective
Caveat.org
September 1992
On August 9, 1991, my daughter Nina, did not return home. I had last seen her that evening when she ran into the house to fetch some pants that needed tailoring. She was to go from the tailor to the racquet club to play tennis with her father. 'Bye, Mom,' she called as she ran out the door. That was the last time I saw her.
After Nina's body was found, and Jonathan Yeo was identified as the main suspect in her murder, questions emerged about his release on bail. Barbara Krever, a representative of the Attorney-General, was quoted in the press on Aug. 23 as saying: 'A lawyer for the Crown did everything humanly and legally possible to make sure Jonathan Yeo was prohibited from possessing a weapon when granted bail June 7.'
A reading of the transcript of the bail hearing made this statement not only appear ill-informed but also patently untrue. When similar statements were publicly endorsed on radio by Attorney-General Howard Hampton himself on Sept. 18, it became clear there would be no voluntary investigation into the bail hearing by his office.
Until this time, my family had been wrestling with personal loss and grief, but it had become apparent that a larger question was at stake--protection of the public. In Ontario, as in other provinces, justice is administered by government departments, and it is extremely difficult for the public to question the decisions made. That is why we decided to petiton the Federal Government for changes to the Criminal Code, the Bail Reform Act and the Parole Act.
When we learned there would be a coroner's inquest, my husband and I discussed the possibilities of legal representation, but because the fees quoted were so high and we had sustained a significant economic loss after Nina's death, we decided I would ask for standing at the inquest.
I knew I could not fill a legal function but with the clarity that comes from experiencing the hell of violent crime, I realized that all too often the victim is forgotten in the courtroom. The victim has no face. Here we were investigating the death of the killer. I did not want the jury to forget for one minute that Karen Marquis and Nina de Villiers were also part of the equation.
However, after five weeks of acting as counsel for my family, I decided that I needed expert counsel. Twelve skilled lawyers were representing the various individuals and departments involved, and someone equally knowledgeable was needed to cross-examine on Nina's and Karen's behalf, and by extension on behalf of society in general.
In the end it became clear that through their exhaustive work, Chief Coroner Dr. James Young, inquest counsel Ted Minden, and Inspector Jack Goodlett of the Ontario Provincial Police, had done everything possible to hold a sweeping investigation of the administration of Justice in Ontario. The 137 recommendations of the jury are spelled out in clear, simple terms and will not require a major restructuring of justice in Ontario.
However, there is a public perception that inquests are a cosmetic exercise and that their recommendations are all too frequently ignored. I too have shared this view. There is no legal obligation to respond to coroners juries' recommendations. It is time the Coroner's Act is given some "teeth ", to quote my lawyer, Mark Sandler. This inquest has cost an enormous amount of time, commitment, sacrifice, and above all, taxpayer's money. It would be a travesty if the recommendations were not considered and acted on with the same level of commitment.
Dr. Young, in his summation, discussed the three steps in solving a problem: Identifying it, suggesting possible solutions and implementing them. My fondest hope is that the jury's recommendations be addressed quickly, and that we, the public, be informed about their implementation or, when not possible, the reasons why. A free and frank opening of the process is essential if we are to regain trust in the justice system.
For four months I looked at the coroner's motto in the courtroom at 50 Main Street East in Hamilton: 'From the death of one we may learn to help lengthen the lives of many.' That says it all.
*****
On August 9, 1991, 19-year-old Nina de Villiers disappeared in Burlington, Ontario. Nine days later, her body was found in a marsh near Napanee, Ont. She had been murdered, shot in the back of the head. Two days after killing Nina, the man responsible, Jonathan Yeo, of Caistor Centre, Ont., murdered Karen Marquis, 29, of Moncton, New Brunswick, in a similar fashion. Not long after that, he fatally shot himself during a police chase.
Three months before the killings, Yeo was charged in Hamilton with sexual assault, forcible confinement and uttering death threats after threatening a woman with a gun and knife. Soon after his arrest, he was released on $3,000 bail with no firearm restrictions, despite the fact that he had allegedly used a gun and a knife during the assault.
On the evening of Nina's murder, Jonathan Yeo was detained by U.S. immigration officials in Niagara Falls as he attempted to cross the border into the U.S. He claimed to be heading to Florida, even though a condition of his bail required him to be home by 10 p.m. each evening. In his car he had live ammunition and a .22 calibre rifle, the subsequent murder weapon of the two women. Although a U.S. customs and immigration official notified Niagara Regional Police and the Hamilton-Wentworth Police, neither force decided to arrest Yeo--and so he was released.
---
The de Villiers Petition
CAVEAT.org
On August 9, 1991, Nina de Villiers was abducted and murdered, while jogging in Burlington, Ontario, by Jonathan Yeo, a man out on bail who had a long history of violence.
Nina's tragic murder led to an outpouring of emotion from friends and strangers alike. The messages reflected the fear that gripped the community -- the realization this could happen to anyone, that society is not protected by the justice system. In response to these concerns, the de Villiers family, along with some friends, decided to launch a petition to give Canadians a means of voicing this fear.
On February 7, 1994, The de Villiers Petition, signed by 2.5 Million Canadians, was presented to Justice Minister Allan Rock, in Ottawa. Due to public demand, CAVEAT continues to circulate the petition to allow concerned Canadians, who have not already done so, to sign it.
From April to August, 1992, a Coroner's Inquest examined Jonathan Yeo's eleven year history of attacks on women and how he had continually slipped through cracks in the Justice and Mental Health systems.
The inquest revealed that, prior to killing Nina de Villiers, Yeo had been released on $3000 bail, with no weapons restrictions, after being charged with sexual assault and using a firearm. Yeo tried to leave the country, but was stopped at the border by a U.S. customs officer.
The officer reported to Canadian Customs that Yeo seemed dangerous and had a firearm, his bail release form, and a suicide note. Canadian Customs officers felt they had no legal right to separate Yeo from his weapon, even though he was in violation of his bail by trying to leave the country. Yeo was allowed to return freely to Canada.
One hour later, Yeo abducted Nina in Burlington and killed her using the same rifle he had used in the previous assault for which he was out on bail. Next, he went on to murder Karen Marquis in New Brunswick and then shot himself during a police pursuit in Hamilton, Ontario.
The jury of the Yeo Inquest produced 137 recommendations aimed at preventing such a tragedy from happening again. CAVEAT came into formal being as a voice committed to seeing that these recommendations are acted upon.
CAVEAT wants an integrated justice system that shares information and is accountable for the decisions. We seek justice, not revenge. We believe that the protection of the public must be the overriding goal of the justice system, and that the offender's rights should not be greater than those of the victim.
National Petition
Soon after the death of their daughter Nina in August, 1991, a national petition was launched by Priscilla and Dr. Rocco de Villiers, with the assistance of Hamilton Mountain M.P., Beth Phinney. The response to the petition was overwhelming, and as a result, CAVEAT soon came into being. In just a little more than 2 years, 2.5 Million Canadians had added their names to the petition.
On February 7, 1994, the de Villiers Petition, was presented to Justice Minister Allan Rock, in Ottawa. Priscilla and Rocco de Villiers later met with Prime Minister Jean Chretien to discuss the petition.
The de Villiers Petition appears as follows: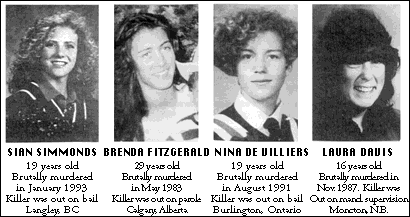 PETITION
TO THE HOUSE OF COMMONS
IN PARLIAMENT ASSEMBLED
"We, the undersigned residents of Canada, in support of the parents of Nina de Villiers, draw the attention of the House to the following:
"THAT the murder of Nina de Villiers on the ninth of August, 1991, has exposed serious deficiencies in the criminal justice system. There are many vulnerable persons who have little protection under the current system. Women, children and disabled persons are at particular risk;
"THAT crimes of violence against the person are intolerable and constitute the most abhorrent crime society faces;
"THAT current criminal law does not require bail hearings in crimes of violence to be presided over by Judges;
"THAT current criminal law may require only a simple signature on a document, with no money actually posted, as surety for the release of accused perpetrators of crimes of violence;
"THAT sentencing in crimes of violence does not appropriately reflect society's abhorrence of violence in order to act as a true deterrent, and to protect the public by removal of the offender from society;
"THAT the risk to society posed by the early release of a violent offender appears to be of secondary consideration to the rights of the individual criminal;
"THAT the statutes governing the criminal justice system in Canada must be revised to reflect societal attitudes.
"THEREFORE, your petitioners request that Parliament recognize that crimes of violence against the person are serious and abhorrent to society and amend the Criminal Code of Canada, the Bail Reform Act of 1972 and the Parole Act accordingly.