Women serial killer sentenced to death
Nation.com.pk
June 16, 2011
SIALKOT - District & Sessions Judge Manzoor Hussain Dogar Wednesday sentenced to death 'serial killer Muhammad Yousaf Mughal and fined him Rs0.7 million in a notorious murder case registered by the Muradpur Police. Earlier, the police produced the accused in the court amid tight security.
According to the precaution, convict Muhammad Yousaf had bludgeoned to death an old woman Khurshida Baigum (65) after looting gold ornaments. The culprit kidnapped her from her house in Pakka Garha locality of Sialkot city on September 17. The convict had thrown her body near the banks of Marala-Ravi-Link (MR Link) Canal near Motra-Daska.
Convict Muhammad Yousaf Mughal had been a serial killer, as he had killed as many as thirteen women after looting them from various parts of Sialkot district during the last two years. In only one of such case, the DSJ Sialkot awarded him death sentence, life imprisonment and Rs.0.7 million fine to him.
---
Targeting Elderly Women: Serial killer sentenced to death
Tribune.co.pk
June 16, 2011
SIALKOT: A local court sentenced a serial killer, charged with abducting and killing 13 elderly women, to death on Wednesday.
The killer, who is to undergo life imprisonment before hanging to death, is yet to face 12 other murder cases. The killer, identified as Muhammad Yousaf, is said to be involved in 22 robberies, mostly in the limits of Cantt, Ugoki, Kotwali, Motrah and Sadder Sialkot police stations.
District and Session Judge Sialkot Manzoor Hussain Dogar also imposed a fine of Rs700, 000. The accused will have to serve an additional six months if he is not able to pay the fine. Yousaf, a bachelor and a mechanical engineering graduate, was charged with kidnapping elderly and single women and killing them.
Published in The Express Tribune, June 16th, 2011.
---
Killer of 13 old women given death sentence
Faisal Khawer Butt - Pakobserver.net
Thursday, June 16, 2011
Sialkot—A court here sentenced Serial killer of women sentenced to death, life imprisonment and fine. According to details District and Session Judge Sialkot Manzoor Hussain Dogar awarded death sentence, life imprisonment and Rs.7,00000 as fine to Muhammad Yousaf s/o Muhammad Sharif on Wednesday.
The Yousaf had kidnapped and then murdered an old woman Khurshid Bibi in Pakka Garha area under the limits of Muradpur police station in September last year.
Yousaf was facing charges of abducting and ultimately murdering 13 elderly women in Sialkot. Aapart from this he had also committed 22 robberies and dacoities in the areas under the limits of Cantt, Ugoki, Kotwali, Motrah and Sadder Sialkot police stations.
Police arrested Yousaf on 21.09.2010 from Pakka Garha area when he was taking along an old woman with him on motor bike. Unmarried and mechanical engineering diploma holder accused used to kidnap old and single women by offering them help in getting some financial support from the projects like Benazir Income Support Programme. Later on the accused used to kill the women with the help of some blunt tools and bricks or strangulate.
---
Serial killer arrested in Sialkot
TheNews.com.pk
September 30, 2010
SIALKOT: The police claimed to have arrested a serial killer involved in the murders of 12 poor and old women.
Addressing a press conference in his office on Wednesday, DPO Bilal Siddique Kamyana said that Muhammad Yousaf, son of Muhammad Sharif, was arrested near Pakka Garha in the Muradpur police limits on Tuesday when he was taking an old woman on his motorcycle to kill her.
He claimed that during last three and a half months, Yousaf had killed Amina Bibi of Narowal, Salima Bibi of Adalatgarha village, Salima Bibi of Kamanala village, Salima Akhtar of Mohallah Mubarikpura, Rasool Bibi of Bhabrianwala village, Amina Bibi and Khursheed Begum of Pakka Garha village, Razia Begum of Mujahid Road and Roshan Bibi of Kotli Loharan village.
He added that three other women killed by the accused were not identified. The DPO said that Khursheeda Bibi of Christian Town was badly injured by the accused and being treated in a hospital. He said that the accused had also targeted Azmat Bibi, Sughran Bibi, Rasheeda Bibi and Nazir Begum who survived luckily.
DPO Bilal Siddique Kamyana said that the accused used to pick old and poor women on the pretext of providing them financial support through Zakat fund or Benazir Income Support Programme, took them to remote and deserted areas on his motorcycle and later killed them with bricks, stones, blunt weapons or strangled them to death. The DPO said that all the murdered women were between 65 and 75 years.
He said that the accused basically was a resident of Gujranwala's Rana Colony, but he was living in a rented house at Adalatgarha village near Sialkot city. He stated that the accused, still a single, was mentally sound. He added that after a number of blind murders of aged women, policemen in civvies were deployed at General Bus Stand and other areas. "In addition, information provided by an injured woman also helped the arrest of the accused," he said.
The DPO said that cases against the accused were registered at Cant, Kotwali, Uggoki, Muradpur, Motra and Sialkot Sadr police stations. The blind murders of so many women during the last few months had caused panic and fear among citizens. Yousaf, the serial killer, told journalists that he was a cancer patient and wanted to get money for his treatment by looting and killing old women.
---
Pakistan: Man who killed 25 women arrested
Ndtv.com
September 22, 2010
Islamabad: Police in Sialkot city of Pakistan have arrested a serial killer on charges of robbing and murdering 25 elderly women over the last year, Express TV reported.
Police said the accused, Muhammad Yousaf, had admitted to murdering 25 women. "I used to approach them with an offer to double their money. After trapping them in this manner, I used to take them to areas where there was nobody around," he informed the police.
The accused also revealed that he "used to stone these women to death before making off with the valuables and other belongings in their possession".
"I only targeted elderly woman because they were mostly simpletons," police quoted him as saying.
The accused used to live in Bahrain before he moved to Gujranwala in Pakistan. He told police that he had rented a place in Adalat Nagar area of Sialkot for such activities.
The accused would be presented in court on Thursday.
Gujranwala division has one of the highest crime rates among the districts of Pakistan.
Moreover, reports of females being subjected to torture and robbery have figured in the local media since a long time.
"We managed to arrest him (Yousaf) after tracking him through specially-tasked informers who roamed the area," a police officer said.
---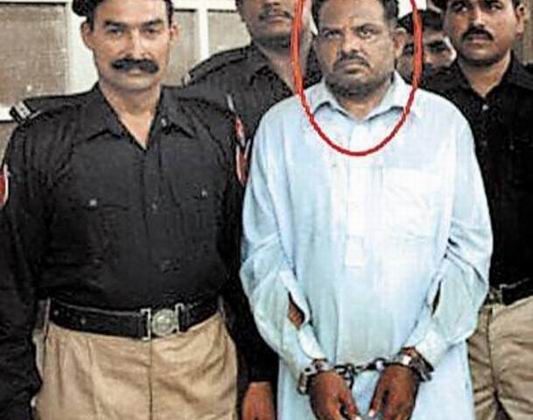 Muhammad Yousaf